Stockton News May 17, 2018

WHAT WE'RE TALKING ABOUT
Jersey Shorecast

The Lloyd D. Levenson Institute for Gaming, Hospitality & Tourism hosted the 10th annual Jersey Shorecast, which featured academic and industry experts on the outlook for the upcoming tourist/business season at the Jersey Shore on May 15.
Sports Betting
This week's U.S. Supreme Court decision clearing the way for legalized sports betting in New Jersey has led to multiple media interviews for Rummy Pandit, executive director of the Lloyd D. Levenson Institute of Gaming, Hospitality & Tourism. In fact, an Associated Press article that refers to Pandit as a gambling analyst has been picked up across the country, appearing in more than 240 media outlets, including The Washington Times and The New York Times.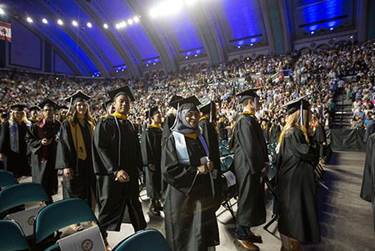 Commencement 2018 Photos
More photos
from Stockton University's Commencement ceremony on May 11 are now available.
AC UPDATE
Production Services took drone footage of Stockton's post-Commencement celebration on the Atlantic City Boardwalk outside Jim Whelan Boardwalk Hall on May 11.
Check it out
!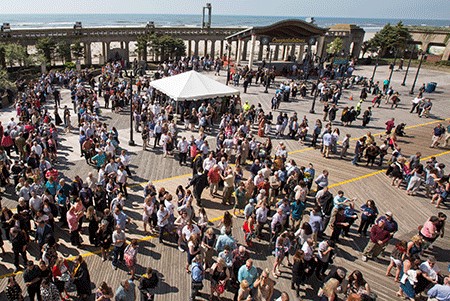 SPOTLIGHT ON
From 'Little Brother' to Stockton Graduate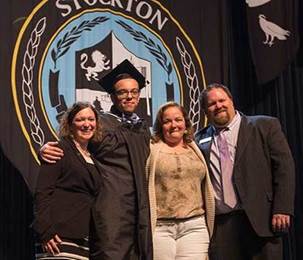 Steven Radwanski, director of Residential Life, had a special experience at the University's Commencement on May 11. About 10 years ago, Radwanski joined the Big Brothers program. He had a chance to watch his "little brother," Terence Williams, graduate from Stockton with a Bachelor of Arts in Communication Studies.
"When I first graduated from Stockton and began working at the University, I felt a need to be connected to the community and joined the Big Brothers program," Radwanski said. "Terence and I met when he was in seventh grade, and he and his family have become an essential part of my family.""Steve has been a huge influence on my life for work and school," Williams said. "Not only do I now have an education, but a mentor, brother and friend for life.""A moment that really hit home for me this weekend was when Terence's mother and I were celebrating and we said, 'we did it!' At that moment, I felt like a proud family member because Terence has worked so hard to overcome a lot to graduate, and I could not be happier for him," Radwanski said.
Pictured: Jennifer Radwanski, director of New Student and Family Programs, Terence Williams, Terence's mother, Tiffany, and Steven Radwanski.
FRAME-WORTHY
Community BBQ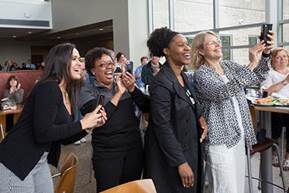 Faculty and staff enjoyed good food, music and company during the Stockton University Community barbeque on May 17.
John Gray, assistant dean of Education, and Jonathan Johnson, director of Community Wellness and Health Education, brought the "sunshine on a cloudy day" with their impromptu performance of "My Girl" with the Stockton Faculty Band at the barbecue. (Video captured by Shilon Anderson, executive assistant to the executive vice president & chief of staff & board liaison.)
WHAT'S TRENDING #STOCKTONU
Facebook: Laurel or Yanny? Which do you hear when listening to the audio clip? SNJ Today interviewed speech and hearing expert Amee Shah to discuss the science behind the variation in listeners' interpretation.
Snapchat: Associate Professor of Environmental Science and Geology Daniel Moscovici's Environmental Studies Regional Planning class took over Stockton's Snapchat last week on their field trip to the Adirondack mountains. There are four brief videos detailing their trip, where they learned about forest management, land management and regional planning.
Facebook: #WildlifeWednesday: New Jersey's oldest osprey, a male tagged in 2001 as a chick, returned to its nest on Delaware Bay this spring. Ospreys typically live for a decade, but this male is now 17 years old.
FROM THE SIDELINES
Lacrosse Teams Capture ECAC Championship Titles
Stockton University women's lacrosse team captured its first postseason championship with an 11-7 victory over Marywood University on May 13. The Ospreys won the 2018 Eastern College Athletic Conference (ECAC) Division III Championship for the first time in the five-year history of the program. Stockton's men's lacrosse team edged host Muhlenberg College 14-12 to win the ECAC championship for the first time since 2002 and second in school history.
ROLE CALL
President Harvey Kesselman announced several announcements regarding personnel and reorganization that will take effect on July 1, 2018:
John Iacovelli

, dean of Enrollment Management, has announced his retirement, effective June 30, 2018.
Bob Heinrich will be reassigned to oversee enrollment management as the University's Chief Enrollment Management Officer reporting directly to the president.
Scott Huston will assume the role of Chief Information Officer.
Later this month, Adrian Wiggins will be joining Stockton as director of Campus Public Safety. The Campus Police, Security, and Emergency Management will now report to Don Hudson, vice president for Facilities & Operations.
Campus Public Safety will have a dotted line reporting relationship to the Vice President for Student Affairs as will the Office of Athletics & Recreation. An expanded Board of Trustees Student Affairs Committee will include Student Affairs, Campus Safety and Security, and Athletics & Recreation.
Stockton Affiliated Services, Inc. (SASI) will again report to the Division of Administration & Finance.
The William J. Hughes Center for Public Policy will report to the Provost. The Lloyd D. Levenson Institute of Gaming, Hospitality & Tourism (LIGHT) will be housed in the School of Business.
---
Did You Know?
Stockton now offers University employees and all members of their households access to the Deer Oaks Employee Assistance Program(EAP), a free and confidential program that offers a wide variety of counseling, referral and consultation services. Did you know Stockton's EAP provides services and resources on retirement and financial resources? Learn more.
UPCOMING EVENTS
Spring 2018 - Take a Jitney Shuttle Tour to Stockton's Atlantic City Campus
Learn more about living and learning at Stockton in Atlantic City. Mobile tours will all leave from the Campus Center. The following tours include a walking tour and take about two hours.
Tour Dates:

May 24 – 10 a.m. July 10 – 10 a.m.
June 5 – 11 a.m. July 17 – 3 p.m.
June 18 – 2 p.m. July 31 – 11 a.m.


For more information, contact Haley Baum or Brian Jackson.