Stockton News - Friday, May 11, 2018

WHAT WE'RE TALKING ABOUT
Congratulations, Class of 2018!


New Jersey Gov. Phil Murphy told the more than 2,000 graduates at Stockton University's Commencement on May 11 to be the "doers" who will become the state and nation's next leaders.
"It is simply not enough to tweet and consider that as actual participation in our cultural, political and social dialogue," he said to a crowd of some 13,000 graduates and guests in Jim Whelan Boardwalk Hall. "In these times, perhaps more than ever in our history, we need doers of deeds, not people who take their comfort in lobbing memes from their smartphones."

More than 250 students also received doctoral and master's degrees on Stockton's main campus in Galloway, N.J. on May 8.
Office of Continuing Studies Receives Grant Awards
Stockton's Office of Continuing Studies has been awarded a total of $1,580,294 in funding from the Atlantic County Workforce Development Board for three program initiatives.

"This is the third year of these awards, and they are our largest to date," President Harvey Kesselman wrote in an email to University faculty and staff. "More importantly, they help Stockton fulfill its role as an Anchor Institution in what is an economically challenged region."

The Workforce New Jersey to Work program ($737,108) offers marginalized and displaced workers the skills needed to re-enter the workforce. This includes adult education classes, as well as – new this year, and in partnership with Stockton's Levenson Institute for Gaming, Hospitality & Tourism (LIGHT) – specific coursework leading to hospitality-industry-recognized credentials.

The Job Placement and Retention program ($543,186) extends these efforts through job placement and retention services for both Stockton's Workforce New Jersey participants, as well as other disadvantaged job seekers.

The final grant ($300,000) provides education, training and job placement services to out-of-school youth. LIGHT is also a partner on this program, as is JEVS, a community-based partner, which offers case management services.

Kesselman recognized the work of Associate Vice President for Academic Affairs Michelle McDonald, Director of Continuing Studies Bahiya Cabral-Johnson and Executive Director of LIGHT Rummy Pandit.

"This is vital work in our community, and Stockton has earned a reputation for offering quality programming, and strong job placement success rates," Kesselman said.
AC UPDATE
Listen to the Press of Atlantic City
podcast
, "Atlantic City Story: How Stockton will become an engaged neighbor" featuring an interview with Claire Abernathy, assistant professor of Political Science and faculty co-chair of Stockton's Political Engagement Project, as well as students and specialists who plan to live on Stockton's new Atlantic City campus.
SPOTLIGHT ON
Three Students Present at Yale University Bouchet Conference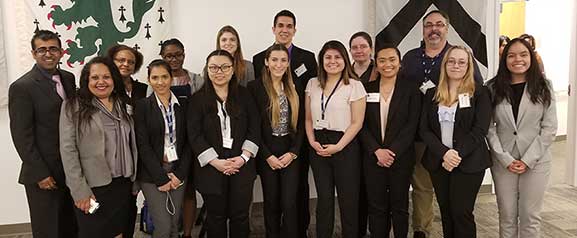 Three Stockton University undergraduate students presented their research posters at the 2018 Yale Bouchet Conference on Diversity and Graduate Education held at Yale University on April 26-28. The three participating Stockton students were Tiffany Roach, Emily Descano and Jessica Perez. Valerie Hayes, chief officer for Institutional Diversity & Equity, said it was a great honor for Stockton and the students since it is unusual for undergraduate students to be chosen to present at the conference.

Washington Internship Program
Seventeen Stockton University students completed internships in Washington, D.C., this semester, landing placements at the Department of Homeland Security, the Sierra Club D.C., the Federal Trade Commission and more.

Quain Named 'Mr. Mature America'
Bill Quain, a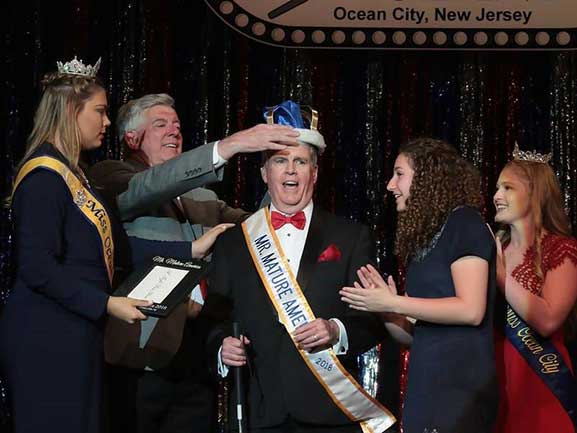 ssociate professor of Hospitality & Tourism Management Studies, was crowned "Mr. Mature America" on April 14 in Ocean City.

"The entire pageant was a really fantastic experience," said Quain, who had a chance to meet some of the other recent pageant winners from the area.

As Mr. Mature America 2018, Quain will be making appearances, as well as fulfilling other duties for the next year. This summer, he will be involved with the Miss New Jersey Pageant and ride in a limo in the parade.

"One of the biggest challenges, I faced in the pageant was working within the limits of my disability. But the other contestants helped me all the way," explained Quain, who is legally blind. "For example, in the opening number, we did a group dance routine. During rehearsals, the guys learned to keep an eye on me. We worked out some 'cues' to keep me on the stage."

Quain was recently asked to participate in The Ms. Senior New Jersey Pageant on June 6. He will play his banjo ukulele and sing "On the Way to Cape May," which is the act that he did in the talent portion of Mr. Mature America.
FRAME-WORTHY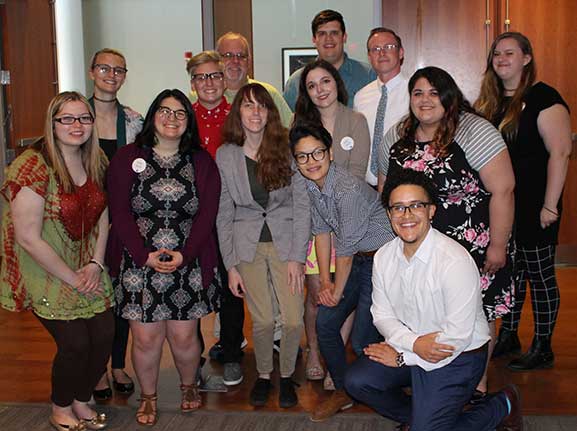 Lavender Graduation Pinning Ceremony
Graduates who are a part of the LGBTQIA+ community received a pin and certificate as recognition of their achievements during the inaugural Lavender Graduation Pinning Ceremony on May 7.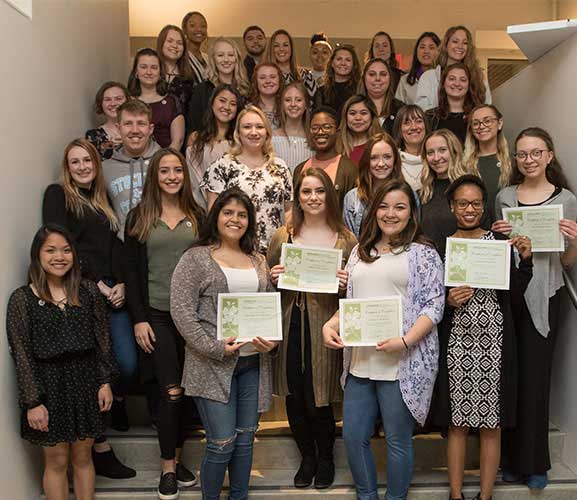 Holistic Health Minor Graduation
Graduates of the Holistic Health Minor received certificates and pins during a ceremony on April 17. View more photos.
Dr. Jo France Stow Office of Development & Alumni Affairs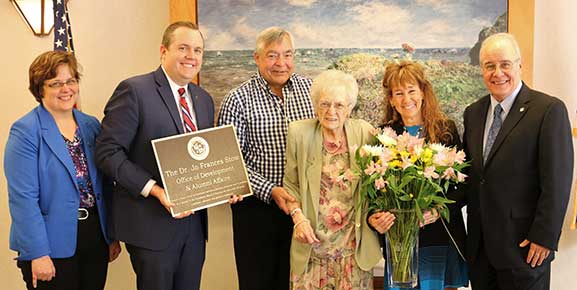 Dr. Jo Frances Stow, longtime faculty and Foundation board member, was honored at Seashore Gardens on May 1. The Board of Trustees approved naming the Dr. Jo France Stow Office of Development & Alumni Affairs for her years of extraordinary service to Stockton in February. Pictured from left to right: Executive Vice President & Chief of Staff Susan Davenport; Interim Chief Development Officer & Executive Director of the University Foundation Dan Nugent; Dr. Stow's nephew Charles Smith '89; Dr. Jo Frances Stow; Foundation Board Member Gayle Gross; and President Harvey Kesselman.
New Citizens Take Oath at Naturalization Ceremony


Thirty-two people took the Oath of Allegiance as naturalized citizens of the United States in a ceremony at the Stockton University Campus Center. The Stockton Center for Community Engagement offers naturalization classes and will begin offering those classes at Stockton's new Atlantic City campus this fall.
WHAT'S TRENDING #STOCKTONU
Facebook: Associate Professor of Hospitality and Tourism Management Studies Donna Albano says the new Atlantic City campus will offer students a one-of-a-kind opportunity to live, study and work in a tourism-mecca. "I don't know if any other program in the country that has something like this." Many courses toward the Hospitality & Tourism Management Studies degree program will be offered at the new campus

Twitter: #StocktonU President Kesselman tells grads to "Remember to be more than just your position. Be more than just your title. Be the one who makes an impact. In other words #BeExtra."

Twitter: "Trust yourself, hold your head high, and put one foot in front of the next and you will end up exactly where you need to be," student speaker Michael D'Imperio tells fellow grads. #StocktonU #BeExtra #CommencementWeek
FROM THE SIDELINES
Stockton Honors Top Student-Athletes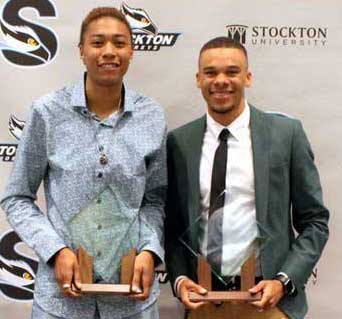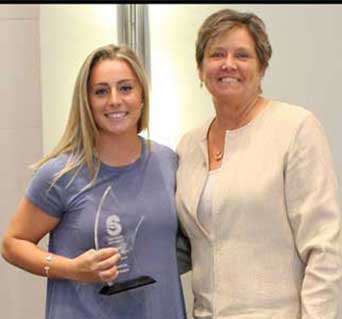 Men's track & field standout Jared Lewis, a senior, was voted Stockton Male Athlete of the Year for the third straight time. Women's basketball player Sasha Williams, also a senior, was chosen Stockton Female Athlete of the Year. Senior softball player Daniela Marinaro received the Student-Athlete Advisory Committee Unsung Hero Award. Read more.

Stockton Teams Each Second in NJAC Championships
Stockton University's track & field equaled its best men's finish ever at the NJAC Outdoor Championships, second place, and edged The College of New Jersey by six points for second place on the women's side.
ROLE CALL
Michelle McDonald has been appointed associate vice president for Academic Affairs and chief officer for Academic Programming, Atlantic City effective July 1, 2018. McDonald will continue to supervise a number of key areas in Academic Affairs including Stockton's additional locations, with the addition of Stockton's new campus in Atlantic City. The University community is encouraged to continue to share with Provost and Vice President for Academic Affairs Lori Vermeulen and McDonald all of your ideas pertaining to academic programming in Atlantic City in addition to other ideas for the ways that Academic Affairs programming can be brought to bear as an anchor institution in the city.

Did You Know?
Stockton now offers University employees and all members of their households access to the Deer Oaks Employee Assistance Program (EAP), a free and confidential program that offers a wide variety of counseling, referral and consultation services. Did you know Stockton's EAP provides services and resources on retirement and financial resources? Learn more.
UPCOMING EVENTS
Thursday, May 17
–
Stockton Center on Successful Aging's (SCOSA) Annual Festival
Spring 2018
- Take a Jitney Shuttle Tour to Stockton's Atlantic City Campus
Learn more about living and learning at Stockton in Atlantic City. Mobile tours will all leave from the Campus Center. The following tours include a walking tour and take about two hours.
Tour Dates:
May 24 – 10 a.m. July 10 – 10 a.m.
June 5 – 11 a.m. July 17 – 3 p.m.
June 18 – 2 p.m. July 31 – 11 a.m.
For more information, contact Haley Baum or Brian Jackson.
Stockton News | View More News