Stockton News, June 7, 2018

WHAT WE'RE TALKING ABOUT
Kesselman Elected Vice-Chair of the New Jersey Presidents Council
Stockton President Harvey Kesselman was elected by the presidents of the 57 New Jersey public and private colleges/universities for a two-year term as vice-chair of the New Jersey Presidents Council (NJPC).
In addition, Kesselman has just completed his first year of a two-year term as chair of the Presidents of the New Jersey Association of State Colleges and Universities (NJASCU). "These are important statewide higher education positions that work closely with the governor, leadership of the legislature and Office of the Secretary of Higher Education (OSHE), and the first time that a Stockton University president has held either leadership position," wrote Executive Vice President & Chief of Staff Susan Davenport in an email to faculty and staff this week.
---
Cyclists Pedal for Scholarships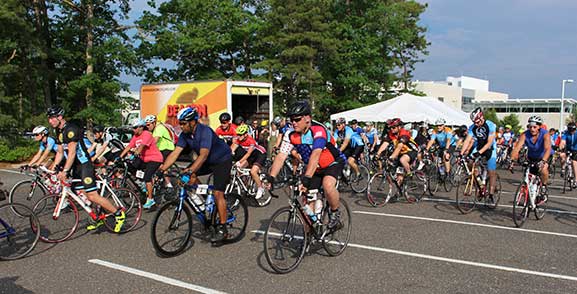 The 10th Annual G. Larry James Legacy Bike Ride was held on June 2. The event, in memory of 1968 Olympic gold medalist G. Larry James, who was a longtime staff member at Stockton, registered 160 participants and raised more than $25,000. This brings the total raised in 10 years to about $180,000 said Associate Dean of Students Craig Stambaugh, who organizes the race each year with help from a crew of volunteer staff and students from Stockton.
AC UPDATE
Land to Sea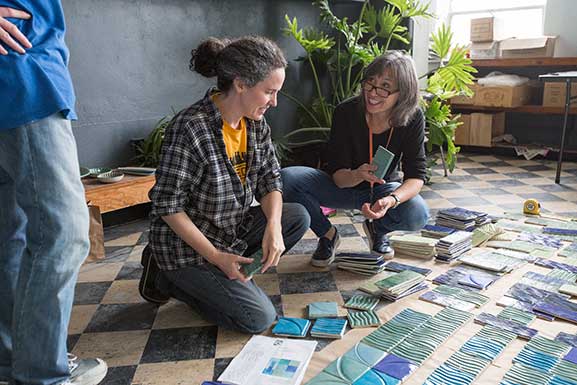 MudGirls Studio Founder and Director Dorrie Papademetriou and Linda Hirst lay out ceramic tiles on the floor of MudGirls Studios in St. Michael's Loft in Atlantic City. The ceramic tile design will be installed on a fireplace at Stockton's new Atlantic City campus. The textures and colors are inspired by the sea and the pines, representing Stockton's main campus in Galloway and the new campus in Atlantic City. Watch a video to learn more about MudGirls Studio and the project.
---
Take a Jitney Shuttle Tour to Stockton's Atlantic City Campus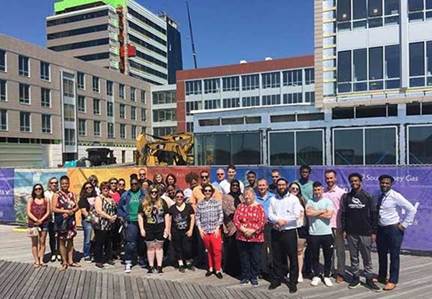 Learn more about living and learning at Stockton in Atlantic City. Mobile tours will all leave from the Campus Center. The following tours include a walking tour and take about two hours.
Tour Dates:

June 18 – 2 p.m. July 17 – 3 p.m.
July 10 – 10 a.m. July 31 – 11 a.m.
For more information, contact Haley Baum or Brian Jackson.
SPOTLIGHT ON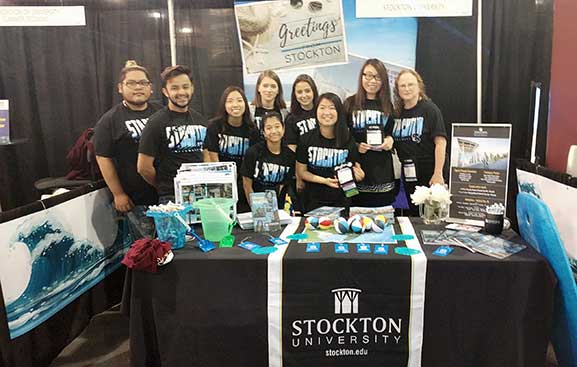 JY Zhou
, internationalization specialist, and
Lois Spitzer
, associate professor of Teacher Education, took seven students to the 70th anniversary NAFSA 2018 conference in Philadelphia May 29-June 1. NAFSA (Association of International Educators) is the largest conference in international education with around 10,000 participants from over 100 countries.
"The students had a truly global experience and talked with people from all over the world about traveling, studying, working and living abroad,
"
Spitzer
said.
"
We heard amazing speakers such as Laura Bush, former first lady of the United States and an advocate for literacy, education and human rights, Bill Nye, scientist, author and inventor, Joyce Banda, former president of the Republic of Malawi, and Terry Gross, renowned journalist and long-running host and co-executive producer of
Fresh Air
on National Public Radio."
Zhou said the Stockton group was able to host a booth and "broadcast Stockton to the world" through the support from the 2020 Learning Initiative.
"What I liked the most is that after a four full-day experience at NAFSA, our students all found their unique connections with international education: they discovered strong passion for global learning, identified possible career pathways and internship positions in international education, communicated with academic programs in another country, and expanded their understanding on diversity and inclusion in higher education," Zhou
said.
Students on the trip included
Amanda Zhou
,
Jorge Tellez
,
Alejandra Londono
,
Kateryna Drach
,
Anuj Patel
,
Sabrina Sarwar
,
and
Puiman Chan
, an international student from Southern China.
"Dr. Zhou and I bonded with these wonderful students, and in sharing hopes and dreams for their futures, eating wonderful food and collecting gifts from all over the world, we all came away with a renewed appreciation that we are all global citizens," Spitzer said.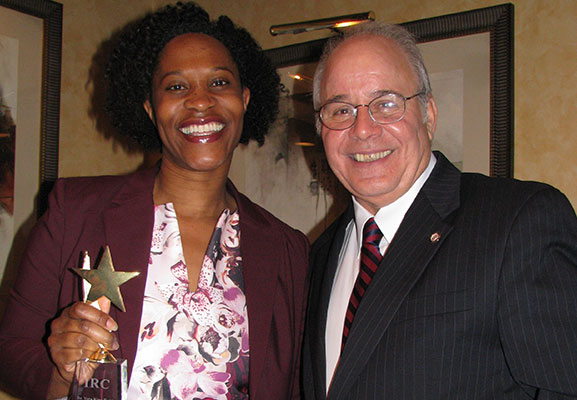 Donnetrice Allison
, president of the Faculty Senate, professor and coordinator of Africana Studies, and professor of Communication Studies, received the Vera King Farris award at the Dr. Vera King Farris Luncheon at the Gourmet. It is an invitation only lunch for former winners and
James Gwathney
,
coordinator for Intramurals and Recreation
,
coordinates it.
"I
was totally surprised and caught off guard by this honor, but proud to be selected among such a great group of recipients, many of whom are my mentors,
"
Allison
said. "I was also honored to receive an award in the name of Dr. Vera King Farris, who I never had the pleasure to meet, but I have heard so much about
."
FRAME-WORTHY
Chinese Delegation Visits AC, Stockton University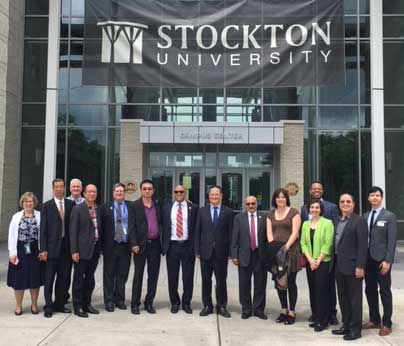 Officials of Atlantic City's sister-city Zhanjiang, China, visited Atlantic City and Stockton University as part of their North America tour, with stops in Canada, USA, and Mexico. The five member delegation led by the President of Zhanjiang Overseas Friendship Association, Zhong Li, visitedStockton University's main campus in Galloway and the new campus in Atlantic City on June 1.
WHAT'S TRENDING #STOCKTONU
Twitter: It's orientation season here at #StocktonU! June 6 was our Military & Veterans Orientation! Members of our #stocktonfinaid team participated in the event, welcomed our new students into the @Stockton_edu family & helped them to understand their benefits!
FROM THE SIDELINES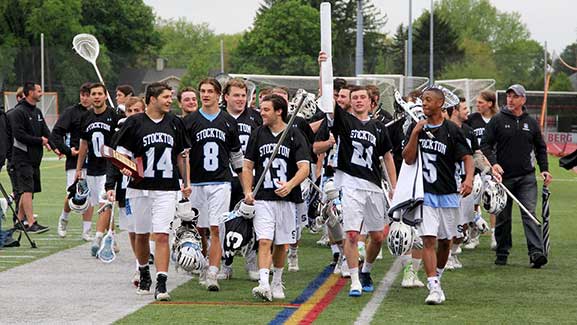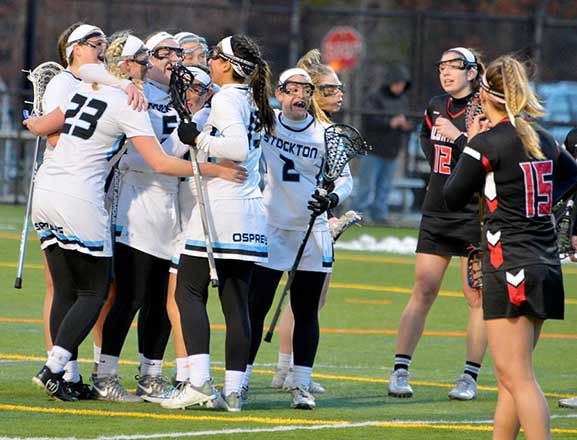 The Stockton men's lacrosse team continued its run of recent success with 12 wins while playing an independent schedule, culminating with their first ECAC Tournament title since 2002 and the second in school history.
The Stockton
women's lacrosse team
captured the program's first postseason championship by winning the 2018 ECAC title. Along the way, the Ospreys won 11 games, the second-most in the program's five-year history and set new records under head coach
Cristina Maurizi
.
Senior
Hannah Bibeault
was voted
to the Google Cloud Academic All-America Division III Softball Third Team by the College Sports Information Directors of America (CoSIDA). Bibeault, a Health Science major with a 3.97 grade point average, completed her four-year career as a pitcher for the Ospreys last month.
ROLE CALL
Did You Know?
Stockton now offers University employees and all members of their households access to the Deer Oaks Employee Assistance Program(EAP), a free and confidential program that offers a wide variety of counseling, referral and consultation services. Did you know Stockton's EAP provides services and resources on relocation? Learn more.
UPCOMING EVENTS
Saturday, June 23
-
Visual Arts Alumni Triennial Exhibition Opening Reception
- f
eaturing
w
orks by 36
a
lumni, including Stockton staff members
Jena Brignola
,
professional services specialist, Graphics;
Darya Hrybava
, professional services specialist, William J. Hughes Center for Public Policy;
and
Gary Schenck
, professional services specialist, Graphics
.