Stockton News, June 28, 2018

WHAT WE'RE TALKING ABOUT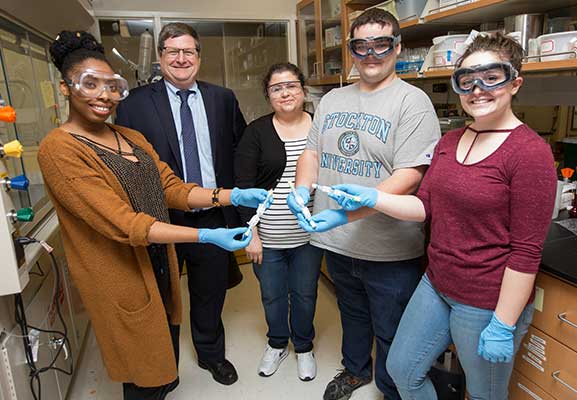 Mission 12
A Stockton University science experiment will launch to the International Space Station (ISS) aboard the SpaceX Falcon 9 on Friday, June 29, in search of answers that could enhance medicine for patients. (Left)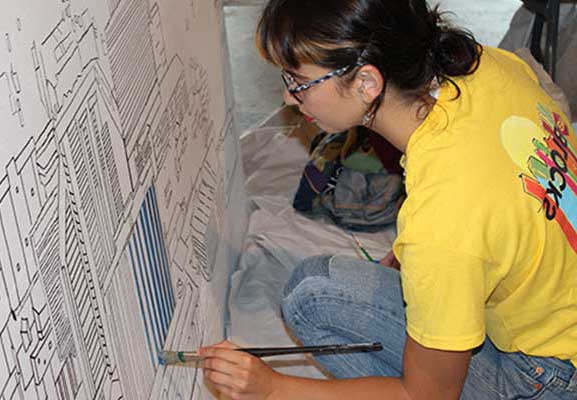 48 Blocks
From making peace flags to painting murals and helping children decorate playgrounds, Stockton University faculty, staff, students and alumni played an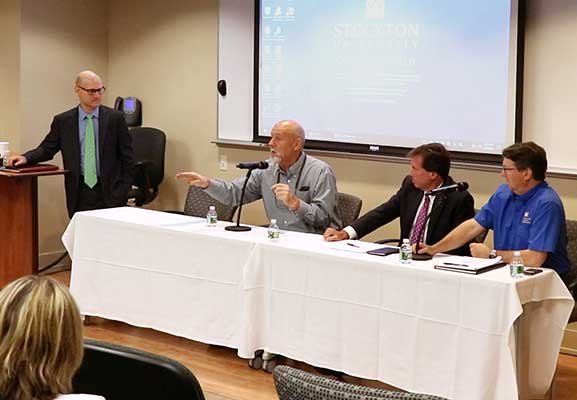 enthusiastic role in the second annual 48 Blocks Atlantic City celebration June 22-24. (Right)
Beach Report
A Stockton report shows that New Jersey's beaches are in better shape than they were before Hurricane Sandy at the New Jersey Beach Report at Stockton's Carnegie Center on June 27. (Left)
AC UPDATE
Take a Jitney Shuttle Tour to Stockton's Atlantic City Campus
Learn more about living and learning at Stockton University Atlantic City.Take a Jitney shuttle tour to the new campus in Atlantic City. The following tours leave from the Campus Center, include a walking tour and take about two hours.
Tour Dates:

July 10 – 10 a.m. July 31 – 11 a.m.
July 17 – 3 p.m.
For more information, contact Haley Baum or Brian Jackson.
SPOTLIGHT ON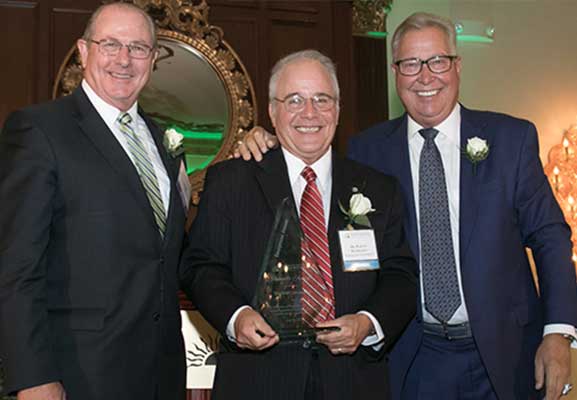 Stockton Honored at Pinnacle Awards Reception
Stockton University received the Education Award from the Chamber of Commerce of Southern New Jersey at its 2018 Pinnacle Awards Reception on June 19 at Lucien's Manor in Berlin, N.J. President Harvey Kesselman accepted the award on behalf of the University.
---
Pedro J. Santana Receives the NLC New Jersey Change Maker Award
The New Leaders Council honored Pedro J. Santana, dean of students, with the New Jersey Change Maker Award recognizing Progressive Action, Leadership, and Advocacy in Education on May 31.
Andrea McChristian, associate counsel for New Jersey Institute for Social Justice (NJISJ) and a 2018 New Leaders Council Fellow, presented Santana with the award.
"Pedro Santana has been described by students as the epitome of changing the world," McChristian said. "As dean, Santana has devoted his life to uplifting and helping both his students and the Atlantic County community. He is often quoted as saying 'We can change the world, one child at a time.'"
"In his role as dean, he has been an incredible mentor and advocate to countless students and a strong advocate of education specifically with helping minority communities and groups have access to higher education," McChristian said. "He has served as an advocate for the Stockton Educational Opportunity Fund and Sankofa, a student retention initiative for minority male students at Stockton University."
This past year, Santana organized the Change the World Youth Conference for over 300 students across Atlantic County who aspire to dream big. He also produced a documentary entitled "From Boys to Men: Rising To Success In Atlantic City" to capture local stories of Atlantic City youth.
The mission of the New Leaders Council (NLC) is to train and support the next generation of progressive political entrepreneurs who are leading industries, setting trends, and building institutions that support robust civic and political life in a global America. NLC believes in recruiting emerging leaders from outside of the traditional power structures, engaging them on both local and national levels, and equipping them with the skills necessary to lead civic lives – not only for elected office, but also in their communities and workplaces.
"I am extremely humbled to have received this acknowledgement from the New Leaders Council," Santana said.
Stockton's Residence Hall Association (RHA) attended the national leadership conference of the National Association of College and University Residence Halls at Arizona State University from May 25-28.
---
Stockton's RHA Attends National Leadership Conference
Darius Edwards, complex director for Housing III and adviser for the Residence Hall Association, and four student delegates had the opportunity to meet with peers and colleagues from institutions across the country and Canada sharing ideas and giving advice. After a social during their first night, the group affectionately became known as the "Stockton Cacti" for wearing a wool cactus costume in Arizona heat.
"The conference was truly an eye opening experience. As this was the first time Stockton has ever attended this national conference, we were excited to lead this initiative and put Stockton on the radar of thousands of higher education influencers," Edwards said.
With over 2,500 attendees, the conference offered over 200 educational sessions to student delegates and advisers to increase knowledge of organization, programming, advocacy, recognition and promotion of transformative diversity and inclusion initiatives on campuses.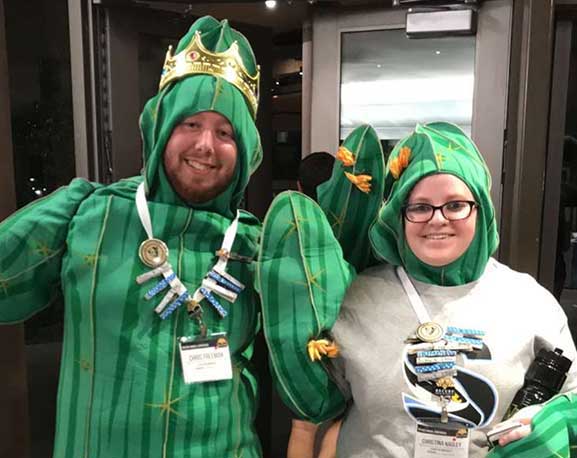 "I was most pleased to learn that NACURH is completely student-run," Edwards said. "Through conversation and sessions, I now know how to get Stockton students involved in the national organization and our regional affiliate; the Central Atlantic Affiliate of College and University Residence Halls, also known as CAACURH."
"We already had the excitement and willingness to do the work. Now we have the tools and support of a national organization to enhance the Stockton residential student experience for the better," Edwards said.
The students who attended as RHA delegates were: Christopher Freeman, vice-president, Ashley Yeager, president-elect, Casey Astalos, treasurer-elect and Christina Nagley, philanthropy chair
---
Business Faculty Members Take Students to NJCPA Convention
Barry Palatnik, assistant professor of Business Studies, Accounting; Leo Previti, assistant professor of Business Studies, Accounting; and Jean Abbott, assistant professor of Business Studies, Accounting, brought nine students to the New Jersey Certified Public Accountant (NJCPA) Convention at the Borgata in Atlantic City from June 12-15.
"We are the only college in the state that brings students to this event," Palatnik said. "It's a great opportunity to introduce our Accounting students into the profession."
The convention is designed to discuss key issues like the future of business, how best to address clients' concerns about tomorrow, career paths as an individual CPAs and the individual's role in the reputation and longevity of the CPA profession.
"The New Jersey CPA Annual Convention offers Stockton accounting students an engaging and impacting opportunity to bridge the gap between academics and practice," Palatnik said.
Dan Barbera, a Stockton alumnus, sponsored the payment for students to attend the convention.
"I feel so privileged to have had this opportunity to learn and network with many wonderful professi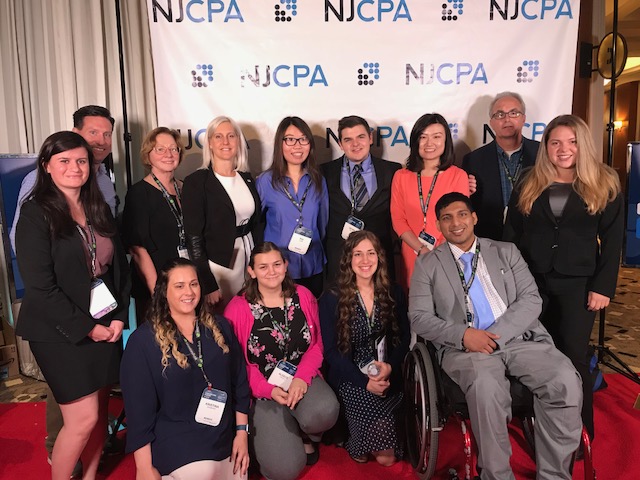 onals," said Puiman Chan, one of the Accounting students who attended the convention. "As one of this year's NJCPA scholarship recipients, I found my passion and confidence in the Accounting field have increased through their continual encouragement and sharing of their knowledge, skills and experience during my time at the convention."
"The seminars, exposition booths, and keynote speakers were insightful, informative and left a lasting impression," said Lucia Dudo, another Accounting student. "After the convention, ideas ran through my mind about how I can grow professionally and what I can do to maintain my growth. Looking into my future, I see an endless amount of possibilities because of my experience at the NJCPA Convention and Expo. I know I can change those possibilities into my reality."
Additional students who attended the conference were Jiyun Hao, Kristina Skidmore, Farhaz Aziz, Devin Hulse, Aleece Errico, Natalie Pifer and Kristin Solano
FRAME-WORTHY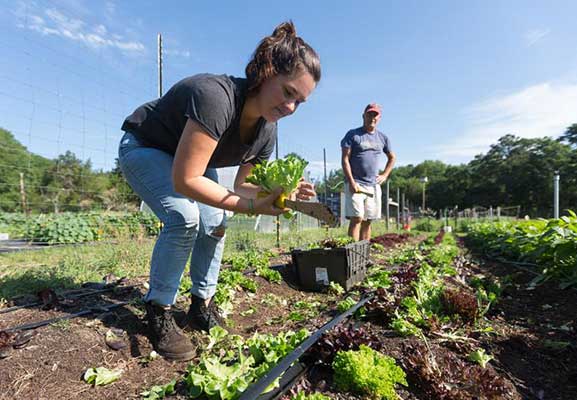 Stockton's Sustainable Farm
Stockton's 1.5-acre, off-grid sustainable farm is a laboratory for students of all majors offering hands-on opportunities in agriculture, beekeeping and alternative energy research. Ron Hutchinson, associate professor of Biology, oversees the student interns, who help keep the farm running throughout the semester.
WHAT'S TRENDING #STOCKTONU
Instagram: Kramer Hall hosted an Instagram takeover during Hammonton's Third Thursday June 21, which included the opening reception of the Noyes Signature Artist Exhibition and live music.
Facebook: Check out our countdown to the opening of #StocktonAC
UPCOMING EVENTS