Stockton News, June 14, 2018

WHAT WE'RE TALKING ABOUT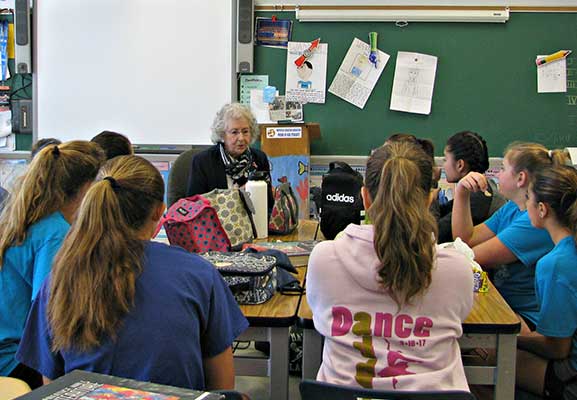 Remembering Anne Frank
The Sara & Sam Schoffer Holocaust Resource Center commemorated Anne Frank's 89th birthday June 12 with a program for eighth grade students at the Northfield Community School featuring Holocaust survivor, Maud Dahme of Flemington, N.J.
Donors Recognized for Support of Student Relief Fund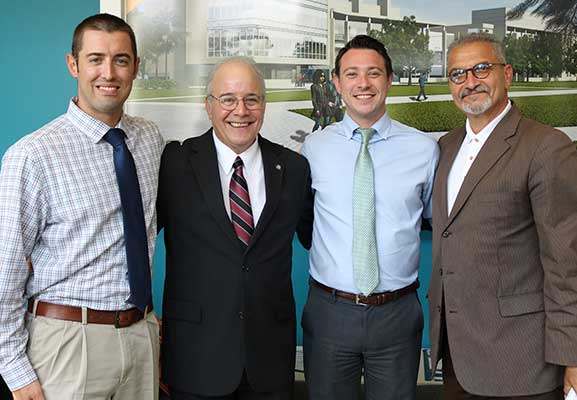 Stockton recently honoredVince Papaccio, executive vice president & chief operating officer of Reliance Medical Group in Northfield and friends for their assistance in supporting the Student Relief Fund for the second year.
Take Free Ancient Greek and Latin Courses This Summer
Stockton is offering free weekly classes in Ancient Greek and Latin this summer. The classes, taught by Stockton students, are low-pressure and fun and designed to introduce interested members of the community to the languages, or help students maintain their language skills over the summer break.
AC UPDATE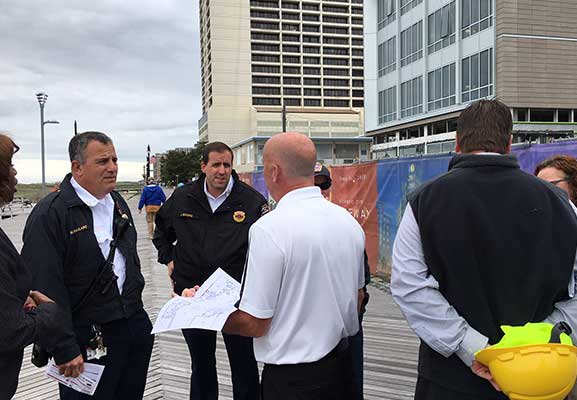 Preparing Fire Evacuation Routes
Stockton staff along with Atlantic City Fire Department, New Jersey Division of Fire Safety, Stockton University Police Department and emergency management began a walk-through and route planning for emergency fire evacuations at Stockton University Atlantic City on June 11. Staff present were: Stockton Police Lt. Cindy Parker, Manager of Environment/Health/Safety Chris Corea, Emergency Management Coordinator Michael Bradeis, Deputy General Counsel Ellen Bailey, Chief Operating Officer, Atlantic City Campus Brian Jackson, Director of Telecommunications & Network Infrastructure Joseph Loefflad and Assistant Dean of Students, Atlantic City Haley Baum.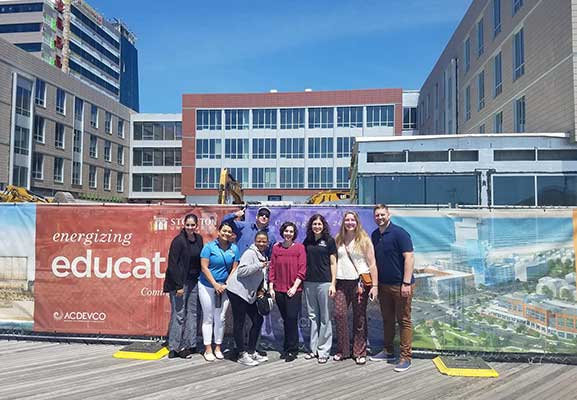 Stockton University Atlantic City Tours
The Office of Student Development toured Stockton University Atlantic City on June 12.
Chief Operating Officer, Atlantic City Campus Brian Jackson and Assistant Dean of Students, Atlantic City Haley Baum conducted a tour on June 11 for the Student Orientation Leaders led by Jennifer Radwanski. director of New Student and Family Programs.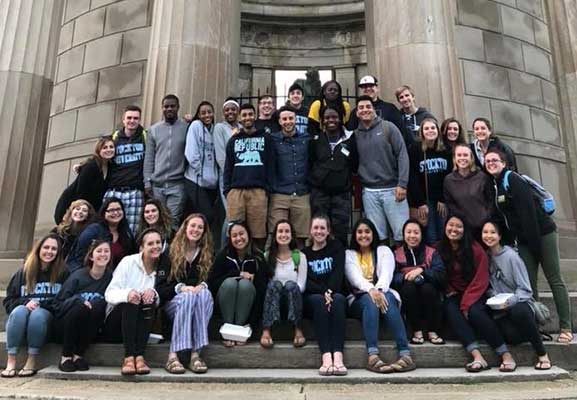 Want to take a tour? Learn more about living and learning at Stockton University Atlantic City.Take a Jitney shuttle tour to the new campus in Atlantic City. The following tours leave from the Campus Center, include a walking tour and take about two hours.
Tour Dates:

July 10 – 10 a.m. July 31 – 11 a.m.
July 17 – 3 p.m.
For more information, contact Haley Baum or Brian Jackson.
SPOTLIGHT ON
Stacey Rose, assistant director of Student Rights & Responsibilities, received the Presenter Award at the Title IX Summit on June 11 and 12 at Rowan University.
Rose was accepted last year to showcase the Title IX program she developed for her post-graduate certificate program in Sexuality Education through the University of Michigan. Under the title "Let's Talk About Sex," Rose demonstrates this program during the fall and spring welcome weeks.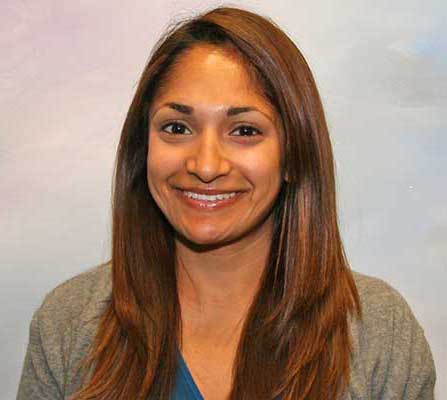 "The summit is a great time to learn more about best practices in Title IX and upcoming legislative issues that will impact the work we do on campus," Rose said. "It also allows us to connect with other colleagues across the country who do the same work."
"I received amazing feedback from the planning committee about the program. The planning committee said I had rave reviews from participants and someone called it 'brilliant,'" Rose said.
The committee then requested that Rose present the program again this year where she received the Presenter Award.
"The award was the best recognition I could receive. It was given based on the feedback from the previous summit," Rose said. "Being acknowledged for this program I've worked on for the last few years is an amazing feeling."
Richard Jones, the vice president for Student Life and Dean of Students at Rowan, presented the award to Rose. Rose said when Jones presented her with the award, he told her she was the "Beyonce of Title IX."
"Educating students about sexual violence and harassment in a way that is engaging, fun, educational, and thought provoking is something that is difficult. But I am passionate about it." Rose said. "The response from both my colleagues and students gives me hope we can change the culture around consent, sexual violence and sexual harassment."
FRAME-WORTHY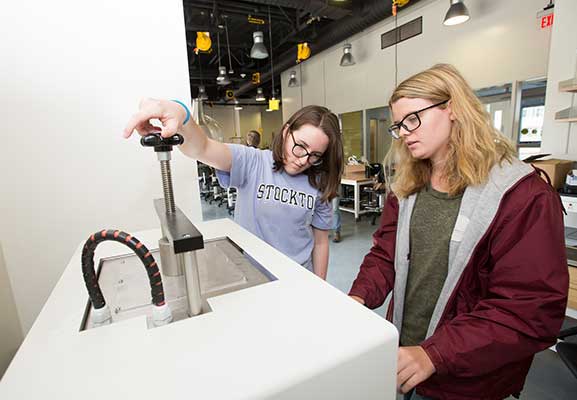 Students Help Prepare New Sustainability Lab
Patrick Hossay, associate professor of Sustainability, and students helped prepare the new Sustainability lab in the new Health Sciences Center.
Supervisor Safety Development Program
The Risk Management Environmental Health and Safety Office (RMEHS) in conjunction with the National Safety Council (NSC) recently conducted anothe
r three-day Supervisor Safety Development Program (SSDP) at the Lodge at Lakeside. The SSDP trains supervisors/managers/employees to incorporate best safety practices into their daily activities. A key feature of the program requires participants to demonstrate they have acquired the knowledge and skills from training and are prepared to implement them in the workplace.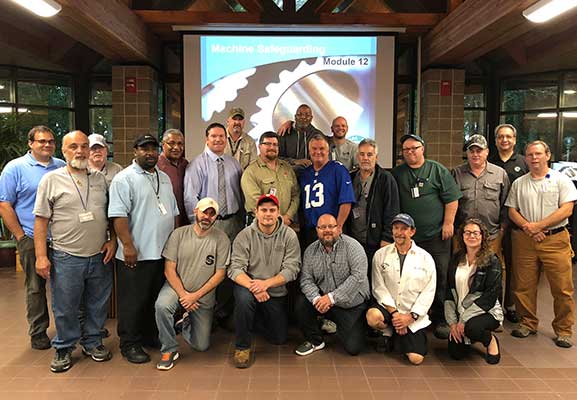 Participants in the training program included: Joseph Petrilli, electrician, Jeff Langel, carpenter, Joe Vannucci, carpenter, Al Miller, repairer, Gordon Elam Sr., storekeeper, Michael Shockley, electrician, Katherine Hibbert, associate director of Facilities Management & Plant Operations, William Mauroff, assistant head groundsworker, Charlie Lane, senior operator of Refrigeration Services, Tim Hayek, operator of Refrigeration Services, Jim Brown, assistant head groundsworker, Angel Rodriguez, crew supervisor, Daniel Mendez, crew supervisor, John Chase, plumber, Daniel Snyder, assistant housekeeper supervisor, Ron Anderson, crew supervisor repairer, James Pullaro, crew supervisor of Building Maintenance Programs, Austin Steck, locksmith, David LoSasso, repairer, Chris Corea, manager of Environment Health & Safety, and John Vasquez, an instructor from the National Safety Council.
WHAT'S TRENDING #STOCKTONU
Facebook: #TransformationTuesday: These views take you from the F-Wing science lab in 1976 to one of our newest research labs in the Unified Science Center 2.
Instagram: The @stockton_sust_farm has been busy growing a rainbow of produce. #growyourown #modfarm #jerseyfresh #stocktonu
ROLE CALL
Marielena Dottoli joined Stockton as a program assistant in the Office of Financial Aid effective May 14. Dottoli graduated with a Communication Studies degree from Stockton this past May. As an undergraduate student, Dottoli spent two years as a student worker in Event Services and Campus Center Operations. She also worked in the Office of University Relations & Marketing as an intern and TES.
---
Did You Know?
Stockton now offers University employees and all members of their households access to the Deer Oaks Employee Assistance Program(EAP), a free and confidential program that offers a wide variety of counseling, referral and consultation services. Did you know Stockton's EAP provides services and resources on relocation? Learn more.
UPCOMING EVENTS