Stockton News, July 19, 2018

WHAT WE'RE TALKING ABOUT
Tuition and Fees Approved for 2018-19
Stockton University will hold its tuition and fee increase to 2.5 percent for the 2018-19 academic year.
The decision, approved by the
Board of Trustees
July 18, continues Stockton's commitment to controlling the cost to students while expanding academic offerings and facilities to meet growing enrollment.
AC UPDATE
Save the Date! Join Us for this Historic Event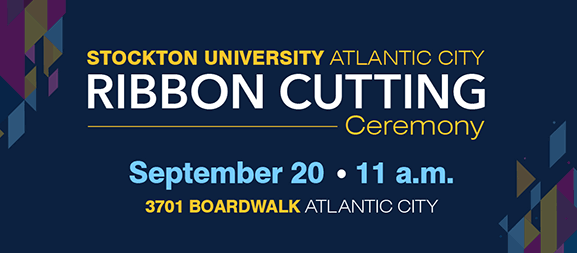 ---
Atlantic City Creates University District Around Stockton
Atlantic City's City Council on July 18 approved the designation of a new University District surrounding the new Stockton University Atlantic City campus.
The designation supports Stockton's role as a state-designated Anchor Institution in the city. It is intended to promote investment and development in academic and related uses within the boundaries of the district.
---
Facebook: Check out our countdown to the opening of #StocktonAC
---
Take a Jitney Shuttle Tour to Stockton's Atlantic City Campus
Learn more about living and learning at Stockton in Atlantic City. Mobile tours will all leave from the Campus Center. The following tours include a walking tour and take about two hours.
Tour Dates:
July 17 – 3 p.m.
July 31 – 11 a.m.
For more information, contact Haley Baum or Brian Jackson.
SPOTLIGHT ON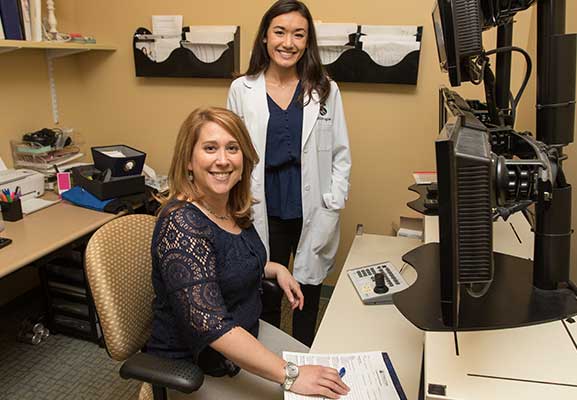 Amanda Copes, director of the Speech & Hearing Clinic (seated in photo), was one of only 20 speech pathologists chosen to attend an intensive workshop on stuttering therapy. Copes participated in the workshop, "Using Cognitive Approaches to Working with People Who Stutter," in Boston, from June 25-29. The workshop was co-sponsored by the Stuttering Foundation and Boston University.
"This intensive workshop introduced us to the principles of Cognitive Behavior Therapy and Solution-Focused Brief Therapy, both which help us as clinicians tap into recognizing our clients as the 'experts' in their communication, even if we as speech-language pathologists are considered the 'communication specialists'," Copes said. "A message that I received about working with families of children who stutter that can be transferrable to many aspects of any one person's holistic life is to learn to see what's right – focus on the positive, acknowledge it and use it as a foundation to build upon."
FRAME-WORTHY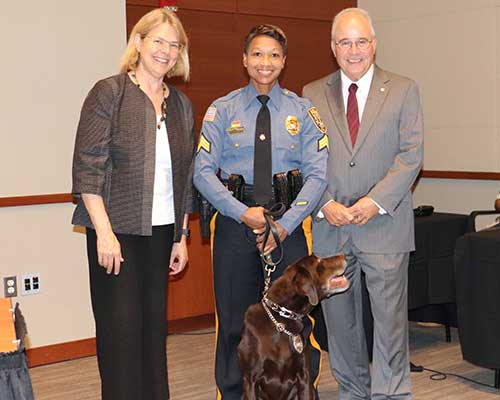 Top Dog
The Board of Trustees Honored Sgt. Tracy Stuart and Hemi for coordinating the National Detector Dog Trials competition at Stockton in May, and for taking first place in the explosives division. Stuart presented President Harvey Kesselman with a dagger from the U.S. Police Canine Association in appreciation for his support.
In case you missed it, check out the coverage of the 2018 National Detector Dog Trials. Participants included officers and their canine partners from more than 100 teams from 11 states and a team from Mexico. Teams associated with the FBI, CIA, New York Police Department and NY Metropolitan Transportation Authority Police Department were included.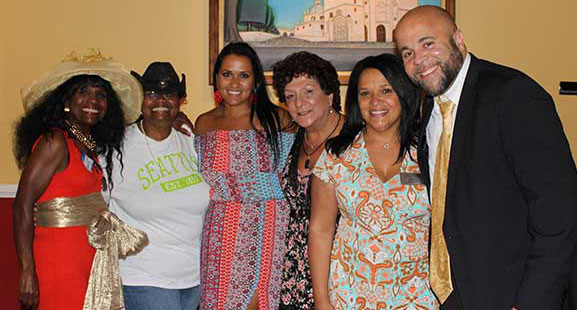 UNIDOS Summer Networking Event
UNIDOS hosted its first social event celebrating the founding of the organization on July 12 at El Nuevo Mariachi Loco in Hammonton. Stockton faculty and staff were invited to network and celebrate the new organization and its mission to bring together La Comunidad at Stockton University.
WHAT'S TRENDING #STOCKTONU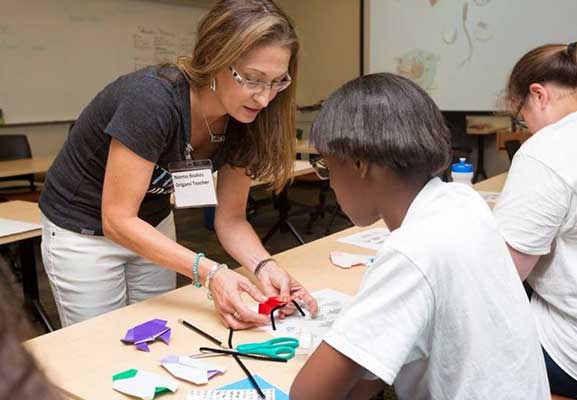 Facebook: A stingray and a sea turtle greeted AAUW Tech Trek campers as they entered an origami workshop led by Norma Boakes, associate professor of Education. Campers left with their own animated paper models powered by tiny motors.
ROLE CALL
On July 16, President Harvey Kesselman announced the realignment of the reporting of the Bursar's Office from the Associate Vice President for Administration & Finance to the Chief Enrollment Management Officer. The Chief Enrollment Management Officer will now oversee the offices of Undergraduate Admissions, Financial Aid and the Bursar. The Bursar's Office will maintain a dotted line reporting relationship to the Associate Vice President for Administration & Finance as responsibility for collection of University-related receivables (non-student accounts receivable) will remain with Administration & Finance.
UPCOMING EVENTS
Monday, July 23-Friday, July 27 – Summer Art Camp at the Noyes Museum of Art - Openings Available (Children 6-13)
---
Saturday, August 25 - Stockton Day at Steel Pier in Atlantic City
---
Summer 2018 - "Salute to Stockton" Lecture Series