Stockton News, July 12, 2018

WHAT WE'RE TALKING ABOUT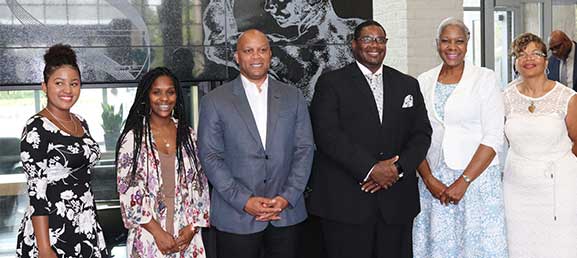 Stockton Celebrates 50 Years of EOF Support for Students
Stockton celebrated the 50
th
anniversary of the signing of the legislation that created Educational Opportunity Fund (EOF) with a
program that highlighted
a Stockton EOF participant from each of the five decades on July 12.
View more
photos from the celebration.
Read more
about Stockton's EOF program.
AC UPDATE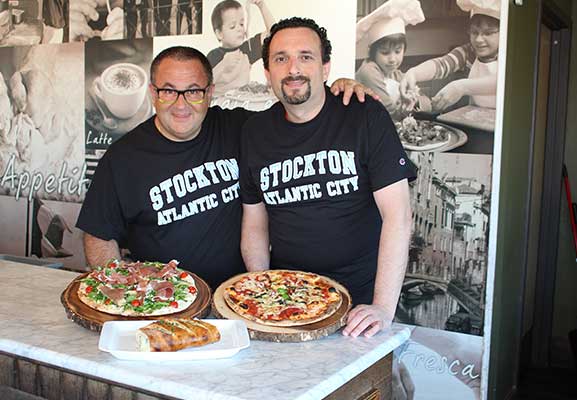 Carluccio's Pizza Joins Chartwells at Atlantic City Campus
Carluccio's Coal-Fired Pizza of Northfield will expand to the shore, joining Chartwells Higher Education to provide a variety of food options for students and the general public at Stockton University Atlantic City.
Carluccio's, which was featured on the Food Network Show "Diners, Drive-Ins and Dives" with Guy Fieri, will offer a variety of pizza, calzones, stromboli and Carluccio's meatballs. Owner Carlo Citera said they may also try some new varieties of pizza.
---
Facebook: Check out our countdown to the opening of #StocktonAC
---
Take a Jitney Shuttle Tour to Stockton's Atlantic City Campus
Learn more about living and learning at Stockton in Atlantic City. Mobile tours will all leave from the Campus Center. The following tours include a walking tour and take about two hours.
Tour Dates:
July 17 – 3 p.m.
July 31 – 11 a.m.
For more information, contact Haley Baum or Brian Jackson.
SPOTLIGHT ON
Stockton Athletes broke a school record this year, with more Ospreys earning spots on the 2017-18 New Jersey Athletic Conference All-Academic Team than ever before for their work in the classroom. A total of 138 Stockton student-athletes qualified, earning a 3.20 GPA or higher.
FRAME-WORTHY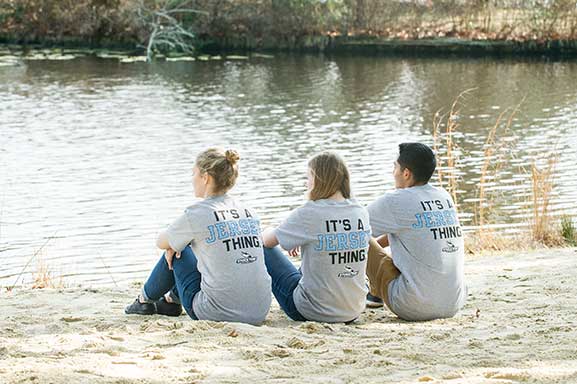 Students enjoy the beautiful view of Lake Fred during a photo shoot this past spring.
Instagram: #FullServiceGas #TheShore #StocktonU #itsajerseything
WHAT'S TRENDING #STOCKTONU
Twitter: #NJACACBusTour brought 30+ guidance counselors from across the country to check out the #StocktonU campuses and programs. #StocktonAC #NJACAC #Pinelands
Special thanks to Stockton graduate and Mayor of AC Frank Gilliam for taking the time to introduce himself to guidance counselors, who also took a tour of Stockton University Atlantic City.

ROLE CALL
Congratulations to Cheryl Kaus, who retired as dean of the School of Social & Behavioral Sciences, on June 30. For the past 14 years, Kaus provided leadership to one of the largest schools at Stockton and hired 45 of SOBL's 69 current faculty. She led the development of the school's two graduate programs in Criminal Justice and Social Work, as well as the newest master's program in Counseling. Kaus provided leadership to the development of SOBL's four interdisciplinary minors in Gerontology, Behavioral Neuroscience, Childhood Studies, and Victimology and Victim Services. She also supported the creation of the Stockton Center for Successful Aging and the Child Welfare Education Institute. She played a substantial role in labor relations, serving for some time as chief negotiator for the management team. Most recently, Kaus led establishment of an internship coordinator position in Academic Affairs.
UPCOMING EVENTS
Thursday, July 19 - Pinelands Summer Short Course 2018
---
Monday, July 23-Friday, July 27 – Summer Art Camp at the Noyes Museum of Art - Openings Available (Children 6-13)
---
Saturday, August 25 - Stockton Day at Steel Pier in Atlantic City
---
Summer 2018 - "Salute to Stockton" Lecture Series