Stockton News, August 24, 2018

WHAT WE'RE TALKING ABOUT
Marine Scientists Use Sonar to Tell NJ's Revolutionary War History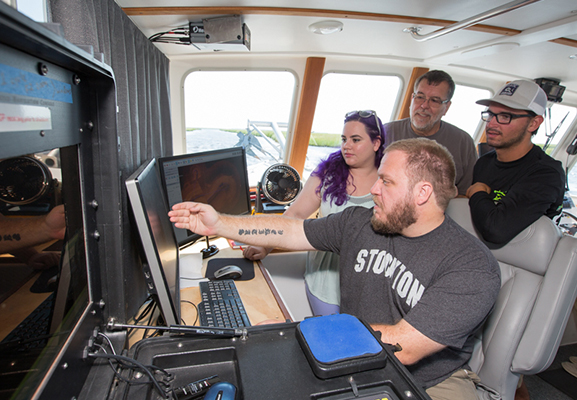 A Stockton University research team, working out of the Marine Field Station, is using sonar to make acoustic images that will map four identified wrecks.
AC UPDATE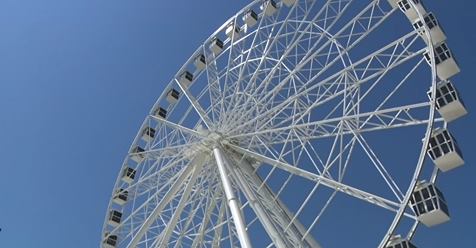 Facebook: Take a 15-minute ride over the Atlantic Ocean in The Wheel At Steel Pier to see #StocktonAC! Heather Perez, special collections librarian, shares the history of the Steel Pier in a recent NJTV news feature.
---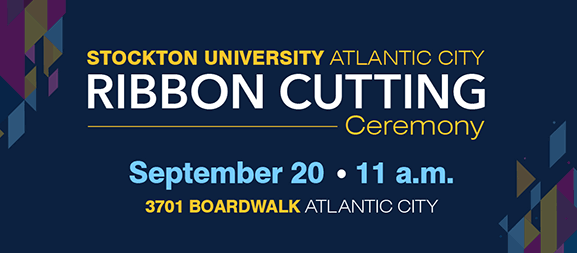 SPOTLIGHT ON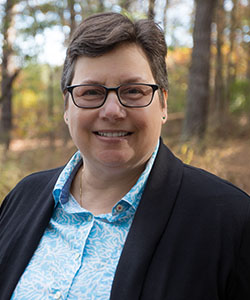 Distinguished Professor of Economics Deborah Figart has been chosen to join a select group of experts as part of the Faculty of Advisors of Public Banking Associates (PBA), a national collegium of economists, bankers and public policy experts providing research and consulting to government officials and agencies considering creation of publicly-owned banks.
Figart gained this recognition after writing a report in April titled "Exploring a Public Bank for New Jersey: Economic Impact and Implementation Issues" in response to Gov. Phil Murphy's support for the concept. With the public banking concept gaining momentum around the country, PBA provides exclusive consultancy and has experience working within virtually all the markets currently considering this approach.
"We're thrilled to have Dr. Figart join our work" said Walt McRee, president of PBA and chair emeritus of the Public Banking Institute. "Her analysis and quantification of the bank's impacts have set the stage for a more informed understanding of what a state bank can do for New Jersey. New concepts such as this are typically resisted until they are portrayed in the light of factual data."
---
India Karavackas, director of the Office of Global Engagement, was recently recognized by NJ State Assembly Representatives Vincent Mazzeo and John Armato for her volunteer work as board president for AVANZAR, formerly known as The Women's Center (TWC) of Atlantic County.
"I have received so much personal satisfaction from my volunteer work with AVANZAR. I've witnessed the agency grow and become stronger. Not many people realize that it is the lead statewide social service agency for human trafficking in addition to its historical work in the area of domestic violence and sexual assault," said Karavackas. She has been on the board since 2009 and serving as president since 2017.
"It's a very exciting time for the agency; we're moving in a direction that is more inclusive and responsive to pressing community needs," Karavackas said.
Karavackas received the recognition at an unveiling event for the organization's new name. The name change from TWC to AVANZAR, which means "to move forward" in Spanish, better represents the organization's services offered and leverages inclusiveness within the agency.
---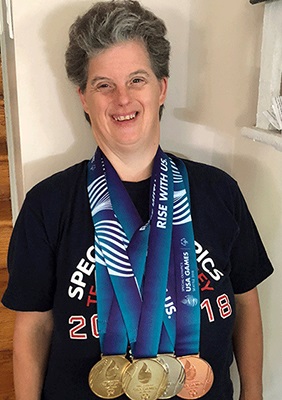 Tracy Musarra of Chartwells at Stockton recently competed at the 50th Anniversary of the Special Olympics in Seattle.
Musarra was among the 60 athletes who represented New Jersey at the 2018 USA Games.
Musarra competed in four swimming events and won two gold, one silver and one bronze.
FRAME-WORTHY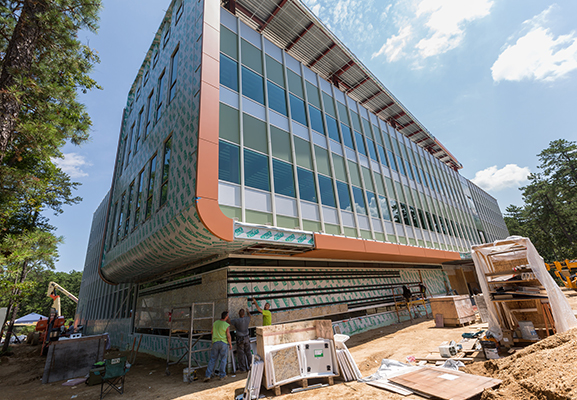 Check out the latest construction
photos
of the first building planned for the National Aviation Research & Technology Park, Stockton's nonprofit auxiliary organization.
WHAT'S TRENDING #STOCKTONU
Instagram: #StocktonU Marine Science graduates presented a decade of research supported by an undergraduate scholarship internship program named in memory of Stacy Moore Hagan at tonight's American Fisheries Society annual meeting. Pictured in the middle is Roland Hagan, a Stockton Marine Science graduate, who established the scholarship program to honor his wife and to continue her legacy in marine science by giving students hands-on research opportunities.
OSPREY NOTES
Project Requests to University Relations & Marketing
With the beginning of another academic year, University Relations & Marketing is experiencing a very high volume of project requests. To manage everyone's needs and provide the best possible customer service, effective immediately, project requests must be submitted four weeks in advance to ensure timely delivery. As a reminder, production times vary for each of our departments/services. A representative from the University Relations & Marketing team will contact you within three business days to further assist you with your project needs.
---
Register for Parking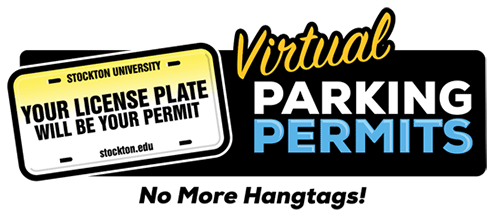 License plates are the new parking permits at Stockton University. Learn more and re-register your vehicle for the new academic year at stockton.edu/parking.
UPCOMING EVENTS
Saturday, August 25 - Stockton Day at Steel Pier in Atlantic City
---
Monday, September 17 -Constitution Day
---
Thursday, September 20 -Stockton Atlantic City Ribbon Cutting Ceremony
---
Thursday, September 27 - Annual Golf Classic