Stockton News, August 2, 2018

WHAT WE'RE TALKING ABOUT
Menendez, Booker Announce $226k in Federal Funding to Support Stockton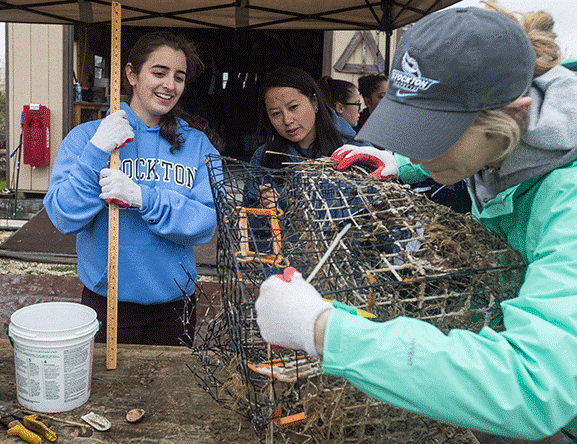 U.S. Senators Bob Menendez and Cory Booker announced on August 1 the awarding of $226,299 in federal funding from the National Oceanic and Atmospheric Administration (NOAA) to support Stockton University's efforts to break the cycle of lost and abandoned crab traps in New Jersey coastal bays. Mark Sullivan, associate professor of Marine Science, Steve Evert, manager of Stockton Marine Field Station, and Peter Straub, dean of the School of Natural Sciences & Mathematics, and professor of Biology, began this initiative with their first funded project in 2012.
---
Stockton Among 'Great Colleges to Work For'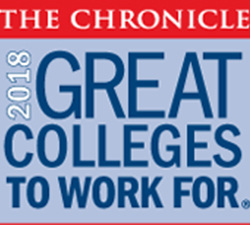 Stockton University has been recognized as one of the 2018 "Great Colleges to Work For" by The Chronicle of Higher Education. Stockton was identified as excelling in 2 of 12 categories: "Teaching Environment (Faculty Only)" and "Tenure Clarity & Process (Faculty Only/4-year Only)."Register Your Vehicle(s) for the 2018-2019 Academic Year.
---
Stockton Completes Sale of Seaview Hotel & Golf Club
Stockton University completed the sale of Stockton Seaview Hotel & Golf Club to KDG Capital LLC of Florida for $21,070,000 on July 31.
---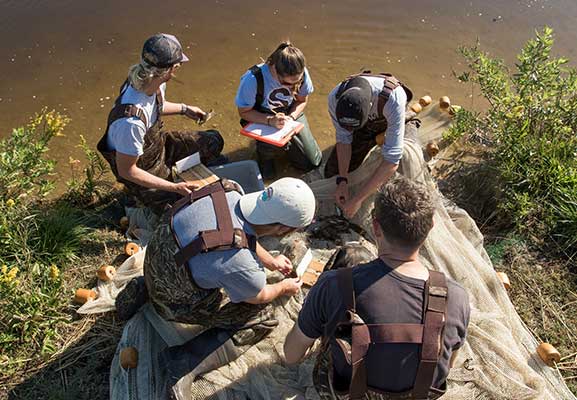 Read The Essential Elements
The School of Natural Sciences & Mathematics debut its inaugural issue of The Essential Elements, a biannual web-based publication designed for students, alumni and friends of NAMS, this week.
AC UPDATE
Save the Date! Join Us for this Historic Event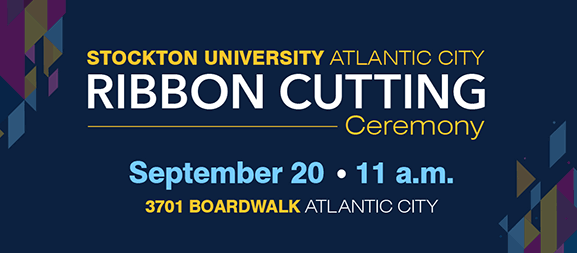 SPOTLIGHT ON
Stockton Offers Victimology Course
On July 29, a week-long postgraduate Course on Victimology, Victim Assistance and Criminal Justice began at Stockton and will end on August 5. The course, offered by Stockton in cooperation with The World Society of Criminology, includes international experts and students who will share victimological research across multiple disciplines. This is the first postgraduate course of its kind to be offered in the United States. Distinguished Professor of Criminal Justice Janice Joseph is coordinating the event. Dawn Beichner of Illinois State University and Stockton faculty: Deeanna Button, associate professor of Criminal Justice, Guia Calicdan-Apostle, associate professor of Social Work, Jess Bonnan-White, associate professor of Criminal Justice, and Kim Schanz, assistant professor of Criminal Justice are co-coordinating the event. Participants will also be attending a field trip to the United States Holocaust Memorial Museum in Washington, D.C. on August 3.
---
Stockton Community Garden Hosts Hammonton Farm Workers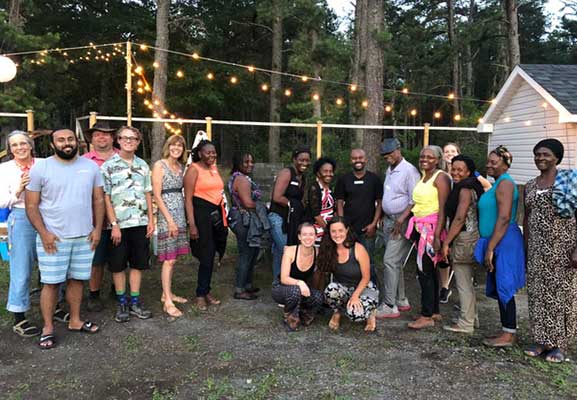 Caitlin Clarke
, sustainability coordinator,
Joe Rubenstein
, professor of Anthropology, and the Stockton Community Garden hosted a
garden barbecue
for a group of Haitian farm workers attending the Migrant Worker Outreach program's English as a Second Language (ESL) summer session to practice English and network with the Stockton student gardeners.
Jersey-fresh produce grown, harvested and cooked by the students was on the menu. A special moment was shared when the ESL students identified an herb similar to mint growing in the garden that had eluded the Stockton gardeners, explained Clarke.
The farmers, familiar with the herb that grows in Haiti, explained that it's used in tea and aids digestion. The dinner was a great way for the farmers who work long days seven days a week to relax, said Clarke.
FRAME-WORTHY
Ability Fair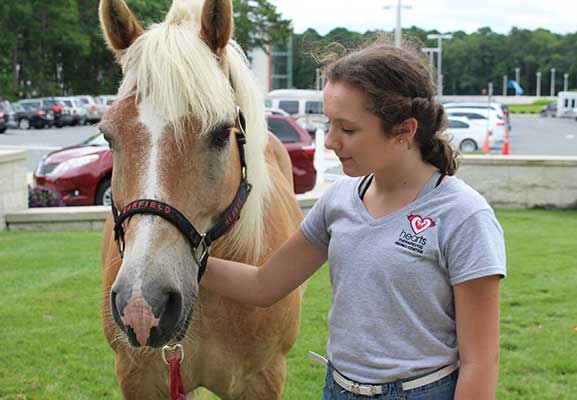 Bacharach Institute for Rehabilitation held its 4
th
Annual Ability Fair on
July 31
at Stockton. This free event was a showcase of over 60 exhibitors featuring products, providers and services, including a therapy horse (pictured) through Hearts Therapeutic Riding Center named "Garfield," designed to improve the health and well-being of adults and children of all ages with physical challenges. Stockton representation at the fair included the Speech & Hearing Clinic and the School of Social & Behavioral Sciences' Brain Research Lab.
---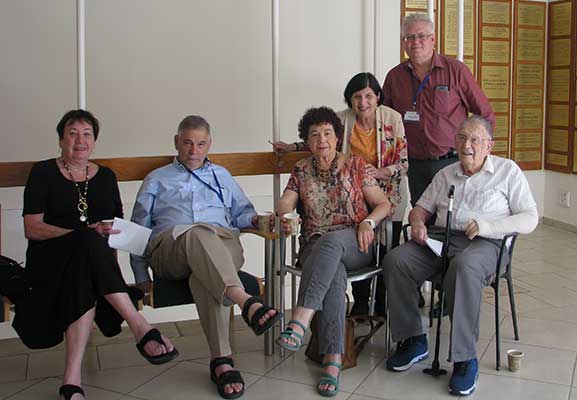 Yad Vashem's Summer International Educator Conference
Michael Hayse, associate professor of Historical Studies, and Gail Rosenthal, director of the Sara & Sam Schoffer Holocaust Resource Center, were invited to participate in Yad Vashem's Summer International Educator Conference titled "Time, Place, and Relevance for Holocaust Education." Both Hayse and Rosenthal were moderators at the conference where there were 400 historians and educators representing 54 countries. During the conference, there was a Stockton University reunion and filming session for those who were Ida E. King Distinguished Visiting Professors of Holocaust Studies: (pictured left to right) Nili Keren (Spring 2011 & 2012 -2013), Michael Berenbaum (1999-2000), Dahlia Ofer (Spring 2008), Gail Rosenthal, Michael Hayse and Yehuda Bauer (1995-1996 & Spring 2002).
WHAT'S TRENDING #STOCKTONU
Facebook: Perseverance pays off. After transferring schools, Ike Ejikeme had to start over, and it wasn't always perfect. But, he chose to lead by example, and so can you. Read Ike's story at stockton.edu/choose.
FROM THE SIDELINES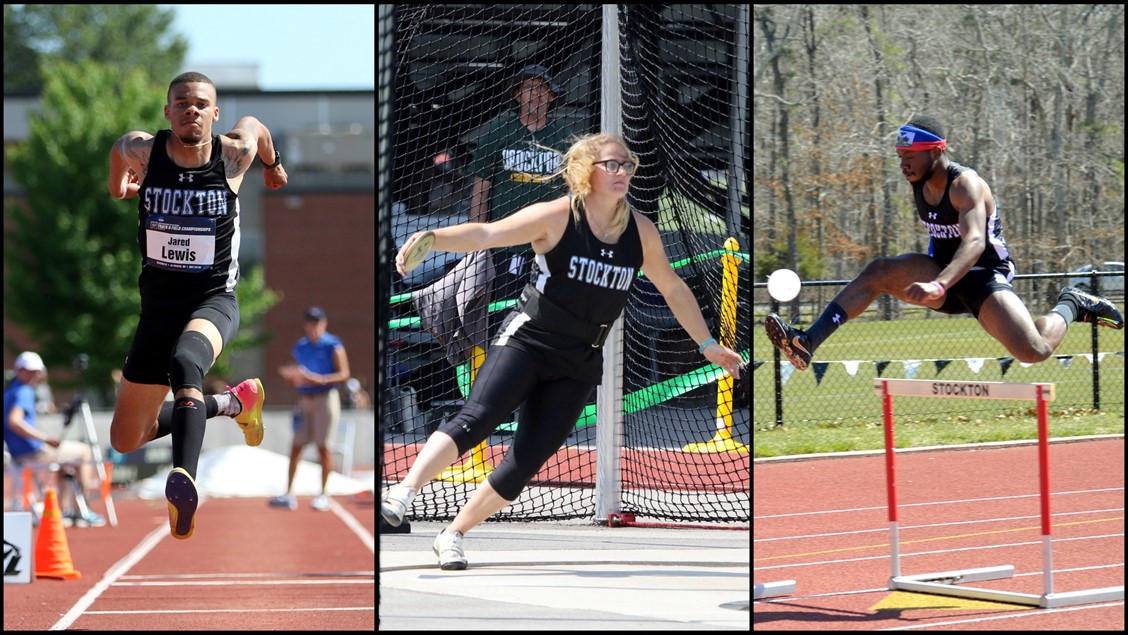 The Stockton University men's and women's track & field squads each qualified for All-Academic Team honors from the United States Track & Field and Cross Country Coaches Association for the 2018 season. The Ospreys were among 185 women's teams and 106 men's teams that earned the distinction by recording a cumulative team grade point average of 3.00 or higher.
OSPREY NOTES
E-mail Signatures & Away Messages
University Relations & Marketing has developed e-mail signature and away message templates for the community to use.
The e-mail signature page provides two approved templates, as well as guidelines to include a quote or support a Stockton initiative in your signature. The away message page offers customizable fields that can be used for both short and long term leaves. Instructions are provided on both pages detailing the steps to implement changes to your signature and away messages on PC, Mac and Office 365.
Please take some time to review these two pages and adjust your

signatures and away messages as needed. The University's

Brand Guide

is available as a reference for all best practices for consistency in communication for the Stockton brand, and University Relations & Marketing's

service request form

is available to offer support for all staff and faculty.
---
New Academic Calendar on OU Campus
UPCOMING EVENTS
Saturday, August 25 - Stockton Day at Steel Pier in Atlantic City
---
Summer 2018: "Salute to Stockton" Lecture Series