Stockton News - Sept. 30, 2022
WHAT WE'RE TALKING ABOUT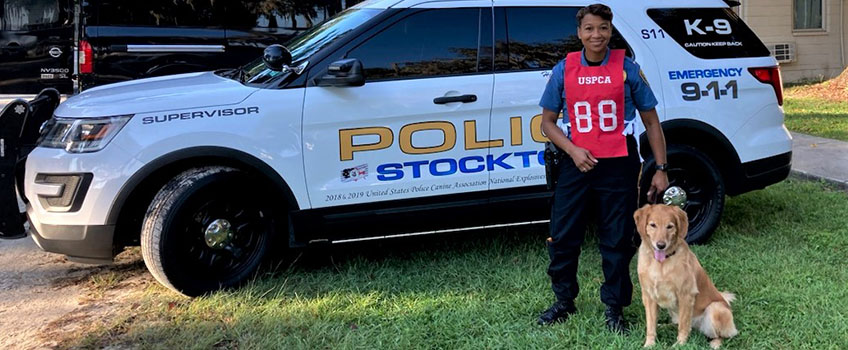 K-9 Freya is Top Dog at National Detector Dog Trials
K-9 Freya proved she has what it takes to be top dog at the United States Police Canine Association (USPCA) National Detector Dog Trials in Georgia last week.
Freya, a 6-year-old golden retriever, and handler Lt. Tracy Stuartcompeted in the annual event for narcotics, accelerant and explosives detection dogs in Lowndes County, Georgia, Sept. 18-23. The Stockton University duo faced explosives detection teams from all levels, including local, county, state, federal and military K-9 units.
The teams were tested in general odor recognition as well as searching parcels, vehicles and rooms. The competition tests both the handler and the dog who must work together to locate the hidden explosives.
Stockton's team took first-place honors in the parcel and vehicle searches and placed first overall in the explosives detection competition.
📰 In the News: Downbeach.com, Cat County 107.3, The Press of Atlantic City
---
Annual Brunch Celebrates Diversity, Culture at Stockton
"We are not a melting pot; don't buy that idea. We are a cultural mosaic."
Distinguished professor of Criminal Justice Janice Joseph's words resonated with the audience as she addressed the crowd of students, staff and faculty in attendance for the kickoff brunch of Multicultural Month.
The Multicultural Brunch is a staple program at Stockton University that has occurred for around 20 years and, in Joseph's words, has grown stronger every year.
"Multiculturalism is about diversity, inclusion and acceptance," Joseph said. "As we celebrate this month, students and faculty are having all kinds of events. Please attend them so that you can learn a lot more about the different cultures here at Stockton."
STOCKTON UNIVERSITY ATLANTIC CITY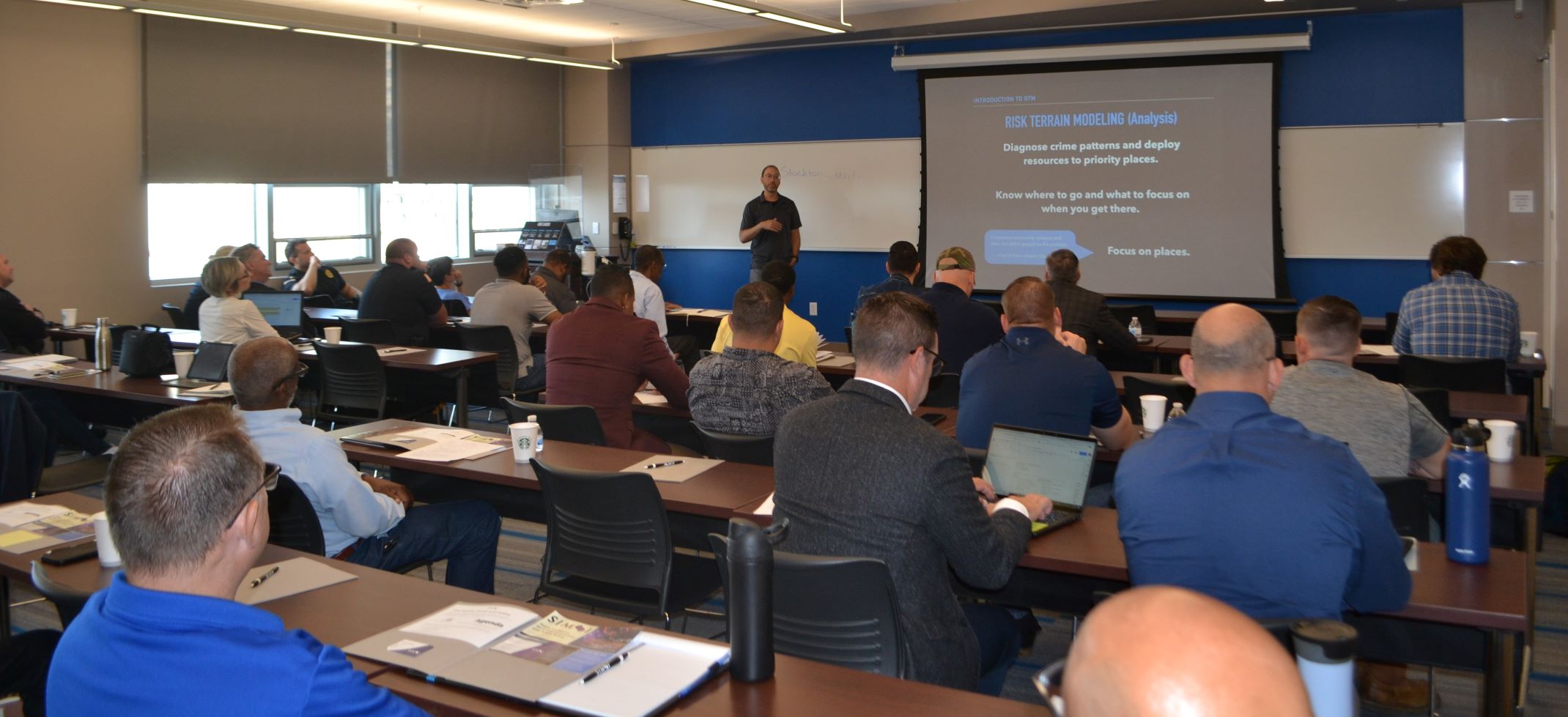 Workshop Brings Citizens, Police Together to Reduce Crime
The School of Social and Behavioral Sciences co-hosted a Risk Terrain Modeling (RTM) workshop for 34 individuals from law enforcement, government and higher education at Stockton Atlantic City Sept. 16.
The interactive workshop let participants see first-hand how popular data analysis techniques drive decision-making for fair and effective resource deployments. RTM software was originally tested in Atlantic City 5 years ago and is now used around the world to diagnose crime patterns and prioritize places in need.
"Crime prevention with data-informed community engagement is evidence-based practice. It's equitable and effective public safety," explained Nusret Sahin, assistant professor of Criminal Justice, who coordinated with ACPD and Simsi to host the workshop at Stockton. "Atlantic City has already benefited from RTM through prior research, and I'm glad to see people from all over coming to learn practical information they can take back home to replicate best practices."
SPOTLIGHT ON: CHRISTINA JACKSON, BETSY ERBAUGH
Black women in New Jersey experience seven times the rate of pregnancy-associated death compared to their white counterparts. Additionally, Black women experience 3.5 times the rate of infant death compared to white women. These troubling statistics are ones that Associate Professors of Sociology Christina Jackson and Betsy Erbaugh began addressing in research related to First Lady of New Jersey Tammy Murphy's Nurture NJ campaign, specifically the need for a maternal and infant health center in Trenton.
Partnering with Stockton and Kean University's Watson Institute, the New Jersey Economic Development Authority (NJEDA) administered a grant in spring 2022 to conduct a landscape analysis and collect data from Black women and other women of color about their vision for the center and reproductive journeys in Trenton.
Erbaugh and Jackson, serving as project PIs, have conducted community-engaged research across New Jersey, particularly in Vineland, Atlantic City and Atlantic County, over the last 7-10 years. The Sociology and Anthropology program is known for conducting similar, collaborative work. Sreelekha Prakash, assistant professor of Health Science, and Alysia Mastrangelo, professor of Physical Therapy, have also been tremendous assets to the project, contributing their proficiency in health science research.
WHAT'S TRENDING

@ #STOCKTONU

Twitter: Stockton University made the 2022 @MilitaryTimes Best for Vets colleges list. More than 400 military-affiliated students attend #StocktonU each semester.
Facebook: Stockton University's Solidarity Park honors our faculty and staff who are committed to the preservation of a fair and equitable workplace from the podium to the pines. Community members gathered to dedicate the new space this month.
Instagram: Did you know #StocktonU has a car club? Next week, the @StocktonCarClub is hosting a DIY steering wheel restoration session to help you modernize an old wheel. Stop by the @stocktonstudev Get Involved Fair today to meet other student groups and the @stocktongreeks.
FROM THE SIDELINES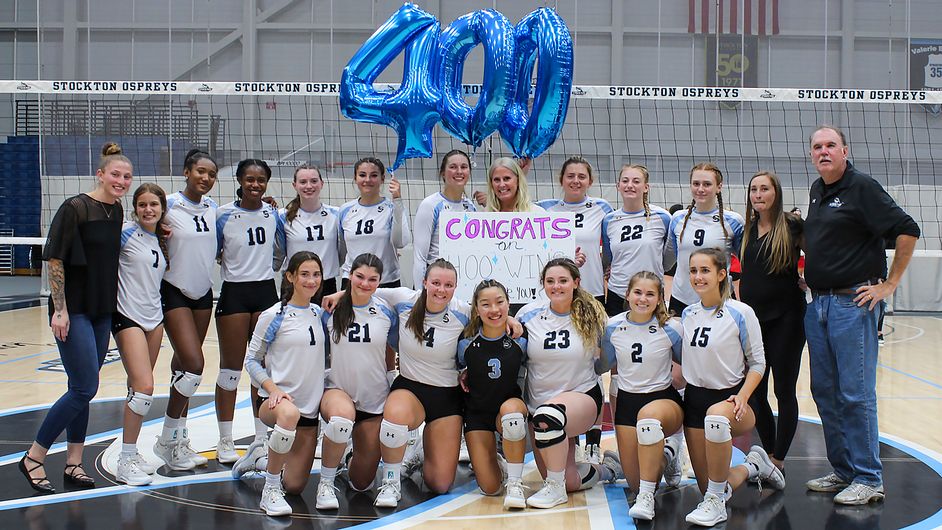 Stockton Sweeps Montclair State 3-0; Walker Earns 400th Career Win
The Stockton women's volleyball team swept the visiting Montclair State Red Hawks 3-0 on Sept. 27. The scores were 25-21, 25-20 and 25-17, giving head coach Allison Walker her 400th career win at the helm of the Ospreys. Haley Green topped all players with 16 kills on the night.
The match started tight with nine ties in the first set. With the set tied for the last time at 20-20, Stockton ripped off four of the last five points to take the set at 25-21. Two kills by freshman Kate Louer, a spike from Emma Capriglione, and an ace and a kill from Green captured the set.
---
Stockton Finishes Third at Ursinus Fall Invitational
The Stockton women's golf team finished third at the Ursinus Fall Invitational, which was held on Sept. 27 at Ravens Claw Golf Club. The tournament featured seven teams overall, with the Ospreys posting 443 as one of three squads that registered a team score.
Stockton finished just four strokes behind Ursinus. NCAA Division II team Bloomsburg University won the tournament with 335. Ella van Schalkwyk led the Ospreys with a 94 that put her in a three-way tie for ninth out of 21 golfers in the field.
---
🗓️ View the full schedule of upcoming athletic events here
OSPREY NOTES
Presidential Nominations Sought
The search for Stockton's next President has begun. An overview of the Presidential Profile can be found here. The next President will succeed Dr. Harvey Kesselman, who will retire as President on June 30, 2023, after a five-decades-long tenure of extraordinary contributions to the University in a variety of leadership roles. For those who may wish to nominate a colleague or view the job posting, visit here.
Continual updates on the search process are available on the Presidential Search webpage.
---
Stockton Forms Alumni Council on Engagement
Stockton recently announced the creation of the Alumni Council on Engagement, which will work to strengthen relationships with current and future alumni as lifelong partners of Stockton, its mission and traditions.
"We see the council as a key driver to enhancing alumni engagement at Stockton, which is one of the university's top priorities," said Sara Faurot, director of Alumni Relations. "And in turn, our hope is that this level of engagement will inspire a tradition of lifelong loyalty."
The council will work in partnership with University Advancement to build a strong community of alumni through rewarding volunteer opportunities, strategic communications, philanthropic efforts, new initiatives and a variety of annual events. Members will also make recommendations and support university staff to deliver a meaningful, lasting alumni experience.
---
Limited Access to Pomona Road Entrance Weekdays through Oct. 14
There will be limited access to the Pomona Road/Vera King Farris Drive entrance to the Galloway campus weekdays, now through about Oct. 14, from 7 a.m. - 3:30 p.m. Travelers are encouraged to use alternate routes during these times. Pomona Road will be operating one lane from Exit 44 on the Garden State Parkway to the Vera King Farris Drive intersection.
The roadway and intersection will operate regularly after 3:30 p.m. daily and on weekends.
All members of the university community are encouraged to allow extra time for their travel to campus. Guidelines for entrances and exits during construction hours and a detour map are available at stockton.edu/alerts.
For questions, contact project manager Skip West at Charles.West@stockton.edu and visit stockton.edu/alerts for updates.
---
Read the SCOSA October Newsletter
Read the Stockton Center on Successful Aging (SCOSA)'s October newsletter for interesting upcoming events and newly added programming.
UPCOMING EVENTS