Stockton News - September 25, 2020
WHAT WE'RE TALKING ABOUT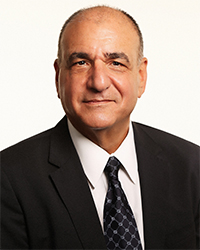 Raymond Ciccone Named Board of Trustees Chair
Stockton alumnus Raymond R. Ciccone of Surf City was named chair of the Stockton University Board of Trustees at the Sept. 23 meeting, held via Zoom.
Andrew Dolce was approved as vice chair, and Nelida Valentin as secretary.
"Ray's involvement at Stockton has prepared him to hit the ground running," said outgoing chair Leo Schoffer. "As chair I know he will bring creative and interesting ideas to the board."
President Harvey Kesselman said as an alumnus, Ciccone has been a dedicated supporter of the University.
In other business, Jaiden Chavis was sworn in as the new Student Trustee Alternate. Former alternate Tyler Rodriguez becomes the new Student Trustee, replacing Nadira Anderson, whose term ended.
---
Stockton, NJTV to Sponsor 2nd District Congressional Debate Oct. 8
The William J. Hughes Center for Public Policy at Stockton University and NJTV, New Jersey's public television network, will co-sponsor a live debate between 2nd Congressional District candidates, Democrat challenger Amy Kennedy and Republican incumbent Jeff Van Drew, at 8 p.m. on Thursday, Oct. 8.
The debate, televised from the Fannie Lou Hamer Event Room at the Stockton Atlantic City campus, will be aired live on NJTV (check local listings). NJTV will also stream the event on its news division site at NJSpotlightNews.org, its NJ Spotlight News YouTube Channel, as well as its social media accounts; in addition, Stockton will stream the debate on the Hughes Center website.
📰 The Press of Atlantic City and InsiderNJ posted about the debate.
---
President's Annual Report: A Year of Unprecedented Challenges

Throughout the last academic year, Stockton University shifted its priorities to respond to the COVID-19 virus, and was moved to action inspired by the antiracism protests against police brutality. Faculty, staff and students adapted to virtual learning and found creative ways to thrive in a digital and physically distanced space.
The 2020 Annual Report highlights our community's achievements in Learning, Engagement, Global Perspectives and Sustainability, as well as Osprey news from the sidelines, giving highlights from our generous donors and more.
WE'RE HERE TO HELP
Resources Available to Staff, Faculty
There are many resources and best practices being made available to staff and faculty working remotely that can be found by visiting Information Technology's website. September's Tech Tip focuses on setting up Duo on a new device.
In addition to assistance with technology available from ITS, Stockton provides faculty and teaching staff with professional development, training, teaching ideas, resources and individual consultations via the Center for Learning Design.
Stockton has set aside classrooms students can use for remote learning and/or study space on the Galloway and Atlantic City campuses. Locations will be posted on the campus calendar and TV monitors and are included in the Return to Campus FAQ. Masks are required and COVID-19 room capacity limits apply.
Stockton is compiling notices of confirmed positive COVID-19 cases in a dashboard on the Coronavirus home page. The dashboard will be updated daily.
The Student Assistance Resources page has information for students whose academic progress may be affected by the COVID-19 pandemic.
WHAT'S TRENDING @ #STOCKTONU

Facebook: Stockton University Los Latinos Unidos helped the Hispanic Association of Atlantic County collect, pack and distribute 500 backpacks filled with essentials for local youth.
Instagram: Stockton mourns the passing of Supreme Court Justice Ruth Bader Ginsburg. At the 2019 Commencement, President Harvey Kesselman paid tribute to Ginsburg in his speech to the graduates, "Lessons from a Fighter."
Twitter: Happy #FirstDayofFall, Ospreys 🍂
OSPREY NOTES

File FAFSA Starting Oct. 1
The time is coming, Ospreys! Get your FAFSA done, starting Oct. 1! Encourage students to file their FAFSA applications as soon as possible to avoid missing out on any aid they may be eligible for. Direct them to fafsa.gov.
World Language Tables Return for Fall Semester
🌎 16 languages being offered
Stockton World Language Tables (SWLT) will meet 12:30-1:30 p.m. every Thursday through Dec. 3 (except Nov. 26) via Zoom.
The SWLT provides a welcoming and no-pressure environment to practice world language skills. All students, faculty, staff and community members who want to learn, practice, polish or share their language skills are welcome to join this student-led activity. Weekly theme information can be found here.
Stockton's global partner institutions are invited to join the language tables virtually, so this might be a good global learning activity between Stockton students and our partner university students. This fall, 16 languages are being offered – Arabic, Bengali, Sylheti, Creole, French, Malagasy, German, Gujarati, Hindi, Malayalam, Singlish, Mandarin, Pashto, Portuguese, Spanish, and Urdu.
For more information, contact Jiangyuan (JY) Zhou, interim director of the Office of Global Engagement, at Jiangyuan.Zhou@stockton.edu.
Enrollment Verification Reminder for Faculty
As the fall semester is quickly approaching, faculty are reminded to confirm student attendance at the beginning of each course after the add/drop period. The Office of Financial Aid will use this information to make adjustments to student financial aid disbursements based upon the confirmed number of credits.
Each instructor will be responsible for verifying student attendance or participation in an academic activity. For online courses, faculty are reminded to include an assignment or discussion activity during the drop/add period so that the student's attendance can be confirmed.
The link to complete Enrollment Verification can be found under the faculty tab within the goStockton portal.
For more information and a list of frequently asked questions, visit stockton.edu/enrollmentverification.
UPCOMING VIRTUAL EVENTS
Upcoming Events Hosted by the Office of Development and Alumni Relations
Oct. 4:Virtual Open House
Oct. 6: Fannie Lou Hamer Human & Civil Rights Symposium
Oct. 7-8: Ospreys Give