Stockton News - Sept. 24, 2021
WHAT WE'RE TALKING ABOUT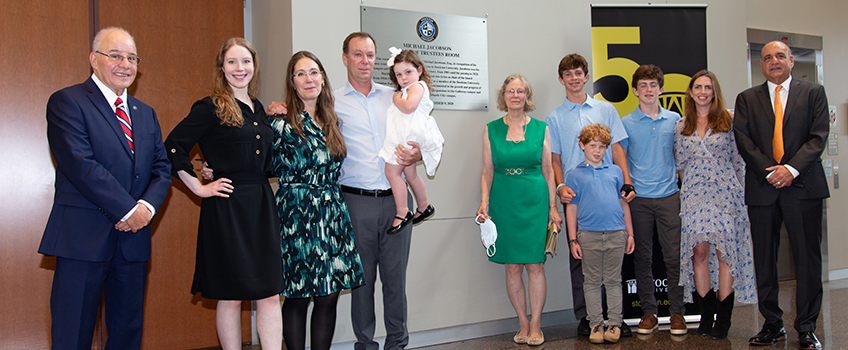 Plaque Unveiled for Michael Jacobson Room
On Sept. 22, the Stockton University Board of Trustees formally recognized the naming of the trustees' meeting room in the Campus Center in memory of former trustee Michael Jacobson.
Jacobson's widow, Sarah, and a large group of family members attended the unveiling of a plaque installed outside of the Board of Trustees room.
"This is a fitting tribute," said President Harvey Kesselman. "When you look around the Stockton campus, there isn't much that Michael was not a part of."

---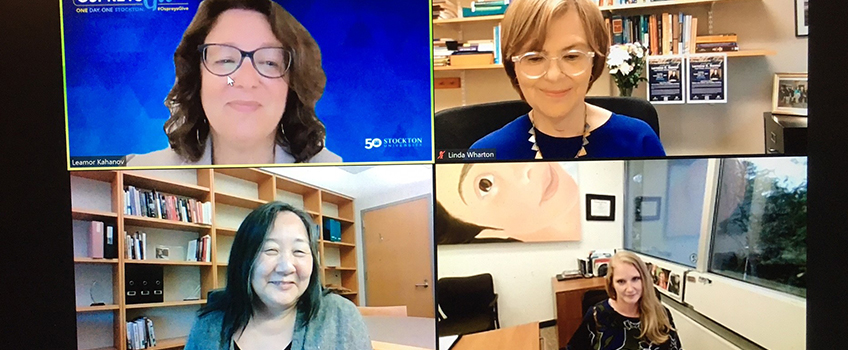 Constitution Day Speaker Calls for 'Culture of Care'
We need to create a "culture of care" and also strong laws that value everyone, Lorraine K. Bannai told attendees at the annual Constitution Day lecture via Zoom on Sept. 21.
A legal scholar and author, Bannai spoke on "Anti-Asian Hate: History, Law, Culture and Coalition-Building" and included examples from her own family during World War II.
"What is most heartbreaking to me is that more people did not speak out," Bannai said.
---
Stockton Earns 4th National Diversity Award
Stockton University has received its fourth national Higher Education Excellence in Diversity (HEED) Award from INSIGHT into Diversity magazine in Washington, D.C. The award recognizes the diversity and inclusion efforts of the university, which also previously won awards in 2016, 2017 and 2018.
"The fact that this is our fourth award is a tribute to the ongoing, campus-wide commitment of University faculty, staff and students," said President Harvey Kesselman.
📰 In the News: The Press of Atlantic City, Burlington County Times
---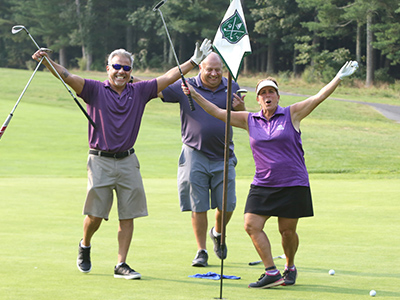 Foundation Golf Classic Raises $99,460
The Stockton University Foundation's annual Golf Classic, held Sept. 14 at Seaview, raised $99,460 to support University students.
Nearly 200 guests attended the tournament, which included outdoor dining, an awards ceremony and chances to win prizes through a 50/50 raffle, golf foursome raffle and a Prize Grab.
📰 In the News: Downbeach.com
STOCKTON UNIVERSITY ATLANTIC CITY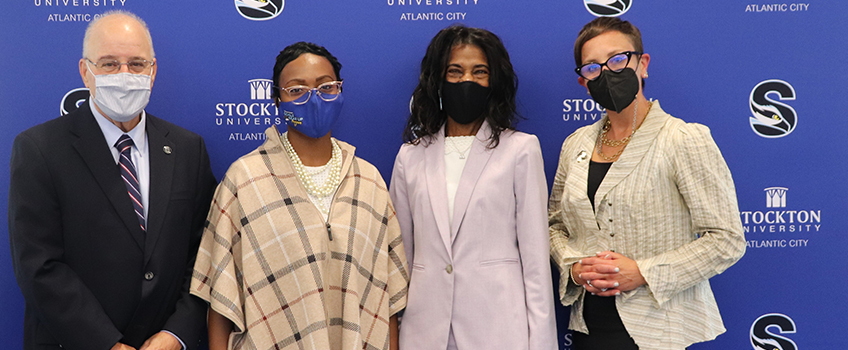 College Course Offered to H.S. Students in A.C., Pleasantville
High school students from Atlantic City and Pleasantville who are in the GOALS GEAR UP program at Stockton University or the Boys and Girls Club of Atlantic City Teen Center will have the opportunity to take a free college course through a new partnership announced Sept. 20.
The two-credit course, "African Americans and the Shaping of Pop Culture," will be offered in a hybrid format beginning in January. There will be both Zoom and in-person elements.
📰 In the News: The Press of Atlantic City
WHAT'S TRENDING @ #STOCKTONU

Facebook: Happy Fall!
Twitter: The Stockton Performing Arts Center curtain will rise again!
Instagram: What's your favorite club/org at #StocktonU? 🎭🎮
FROM THE SIDELINES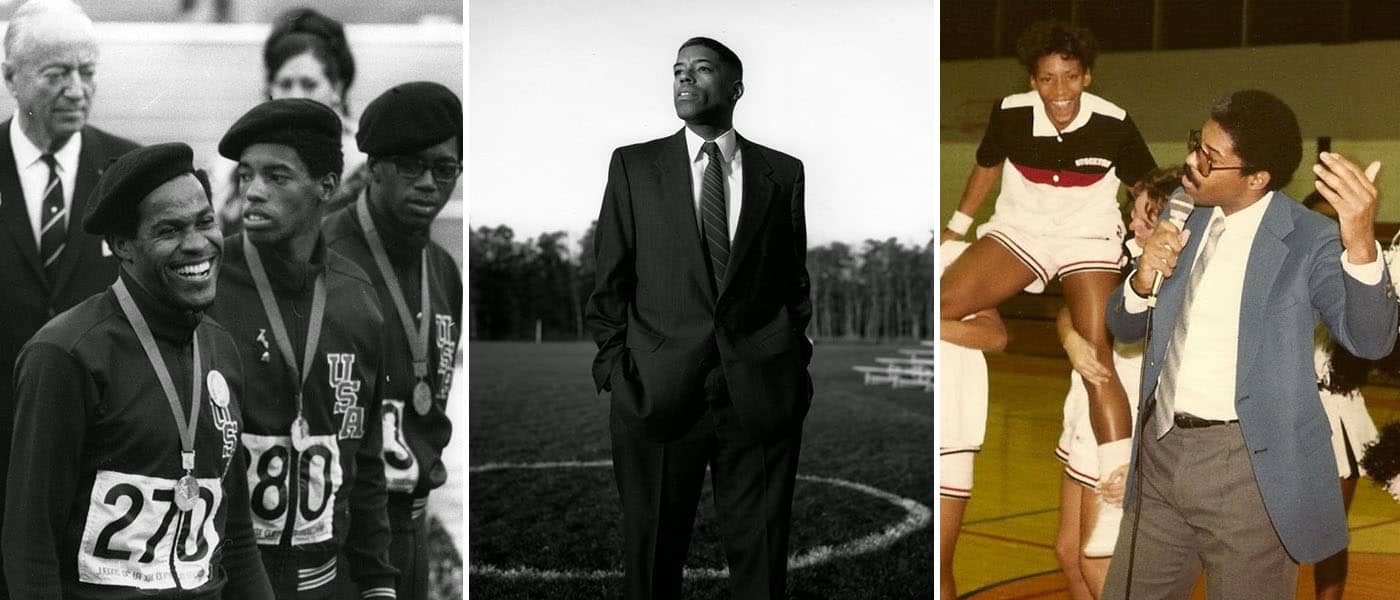 The Impact of G. Larry James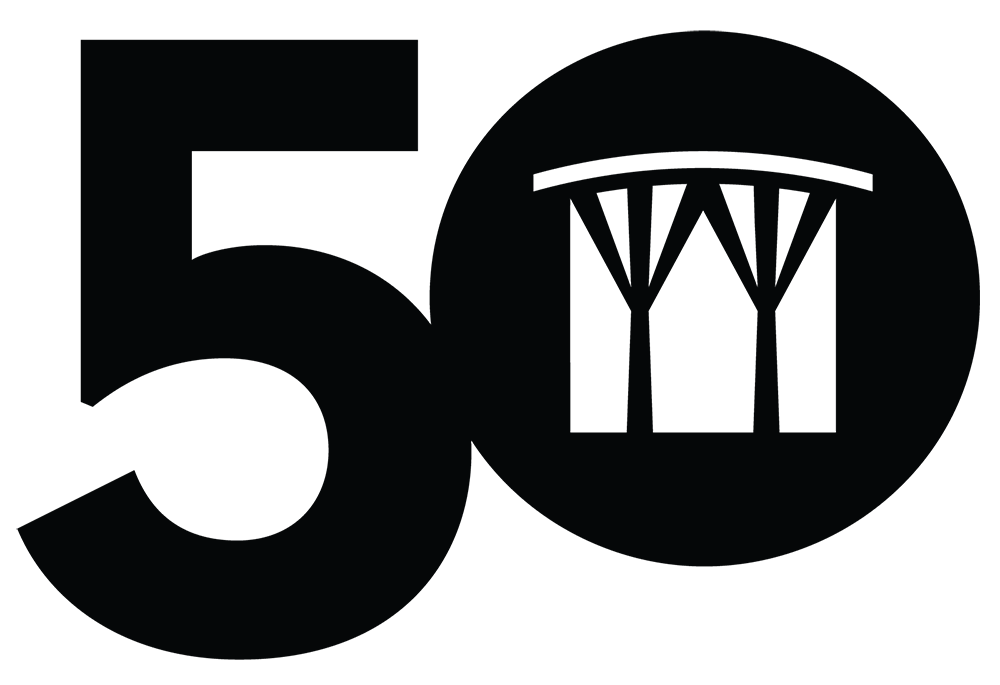 Stockton University is celebrating its 50th anniversary of teaching during the 2021-22 school year and that's quite a milestone. Stockton Athletics has accomplished some milestones of its own during the last half-century as well.
A golden anniversary offers the opportunity to reflect on accomplishments over those five decades. Over the next 10 months we'll look back on some of the greatest sports moments in Stockton Athletics history, and remember some of its greatest athletes.
You can't mention Stockton's sports history without talking about the late, great G. Larry James, who spent 36 years at Stockton as a coach, athletics director and dean and helped shape the positive identity of the sports programs and the school in general.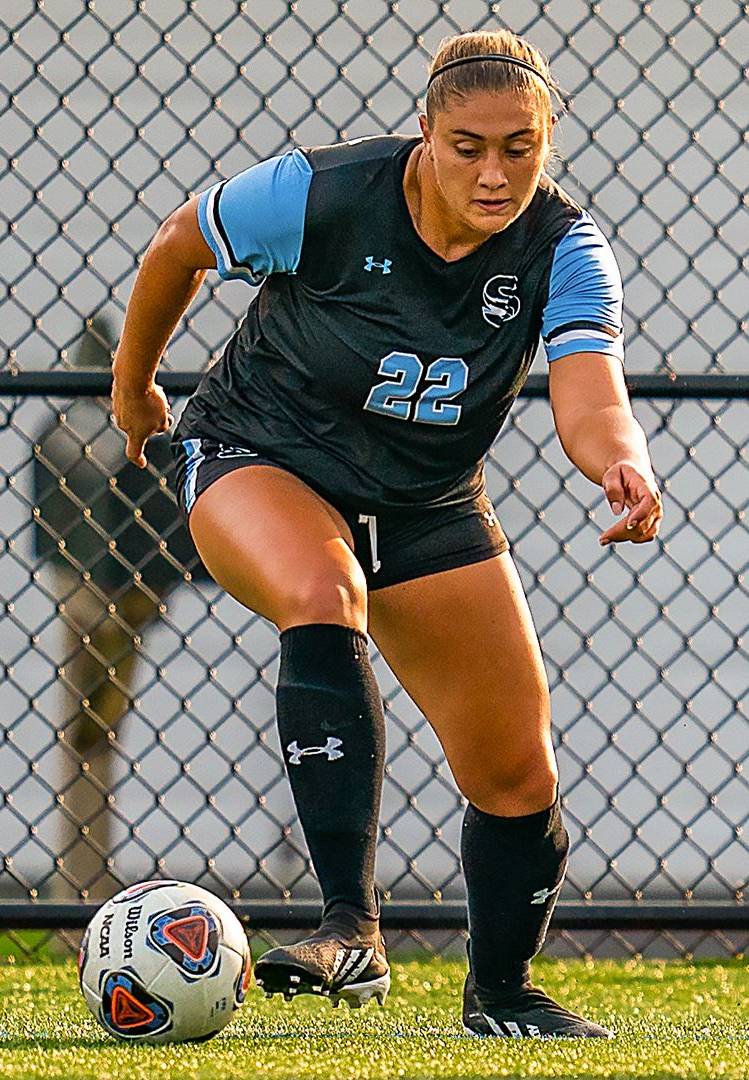 Stockton Records Sixth Consecutive Win, 6-0
Stockton University (6-1-1) scored three goals in a 15-minute span of the first half and cruised to its sixth consecutive win, 6-0 over John Jay (2-3) at G. Larry James Stadium on Sept. 22. Ten Ospreys recorded a point in the victory.
Jessica Heitmann got the scoring started by converting a feed from Sydney Williams with 15:12 gone in the game.
🗓️ View the full schedule of upcoming athletic events here.
WE'RE HERE TO HELP
Resources Available to Staff, Faculty
🧠 Stockton provides faculty and teaching staff with professional development, training, teaching ideas, resources and individual consultations via the Center for Teaching and Learning Design. Visit here for information on upcoming professional development events being offered.
SUPPORT4U: A variety of counseling, referral and consultation services are available to Stockton employees and household members through the Employee Assistance Program. Learn more here.
COVID-19 Information
REMINDER: All unvaccinated employees, including those with approved medical or religious exemptions, are required to complete daily temperature and symptom checks, and, if randomly selected, COVID testing, on days they are on campus, Monday through Friday. Screenings take place at lot 8A on the Galloway campus and in B115 at the Residential Complex in Atlantic City. Details are on the Campus Operations During COVID-19 website; shuttles are available.
Stockton's University Resilience Operations Committee (UROC) has developed a set of FAQs to address common questions and concerns about returning to campus. Should you have a question that is not addressed in the FAQ, email UROC@stockton.edu.
💉 Faculty, staff and students can check with their local providers and schedule a COVID-19 vaccination appointment.
💉 Free walk-in COVID-19 vaccination clinics are scheduled at the Galloway campus for the following dates: West Quad 103: Sept. 27 and 28; and Oct. 4, 5, 11 and 12 from 2-5 p.m. Pfizer and Johnson & Johnson vaccines will be available.
COVID-19 testing information can be found at the NJ COVID-19 Information Hub.
OSPREY NOTES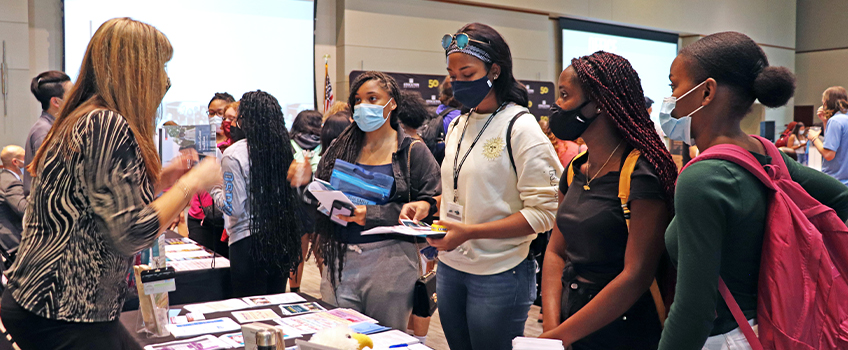 Nearly 250 Students Show Up at the Glow Up
Stockton's third Glow Up successfully connected students with on-campus leadership positions, with a focus on increasing the number of students of color engaged in campus activities and providing departments with a more diverse applicant pool when filling student positions. Students spoke directly with staff from over 25 campus departments and organizations to learn about the opportunities available to them at the Sept. 15 event.
"They say the third time's a charm, and the third installment of the Glow Up was our best event yet," said Darius Edwards, coordinator for Inclusive Communities and Social Justice Education at Stockton and this year's event organizer. "Connecting nearly 250 students to opportunities that can develop them personally and professionally can truly make a world of difference in a student's Stockton career."
NJECC Campaign Underway
The New Jersey Employees' Charitable Campaign is underway and runs through December, supporting a wide variety of charities and causes. They range from small local organizations to large and well-known national and international groups.
To make a gift through payroll deduction, you can register and donate through the NJECC online giving portal or fill out a paper pledge form. Learn more about featured causes and how to donate here.
Read the SCOSA Newsletter
Read the Stockton Center on Successful Aging (SCOSA)'s October newsletter for interesting upcoming events and newly added programming.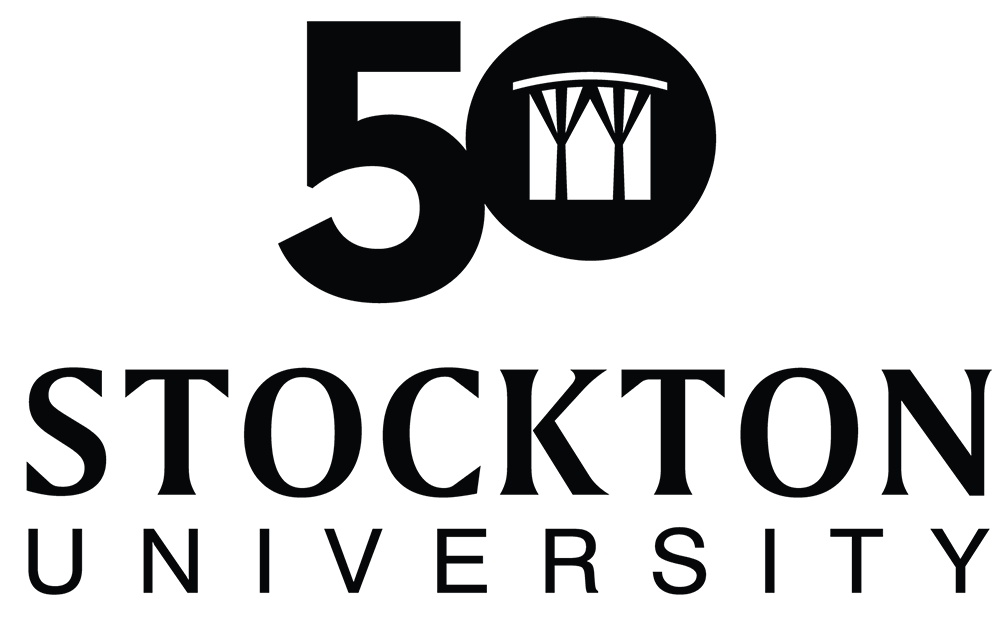 50th Anniversary Branding Available for Use
University Relations and Marketing created branding for the campus community to use in celebration of Stockton's 50th Anniversary. Here you can find 50th logos and PowerPoint templates for download, and email signatures can be found here.
UPCOMING EVENTS