Stockton News - Sept. 23, 2022
WHAT WE'RE TALKING ABOUT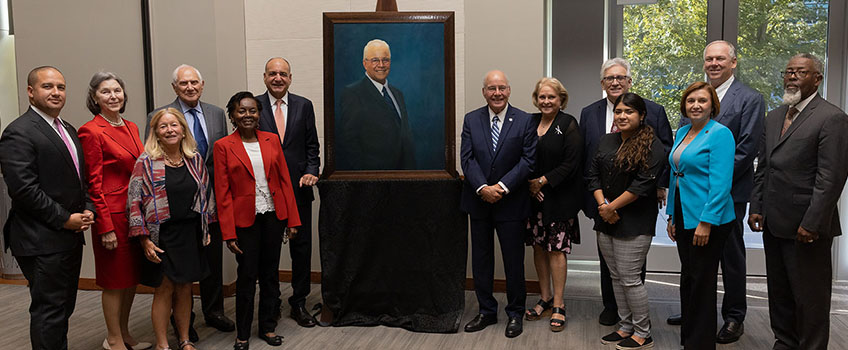 Stockton Unveils Portrait of President Harvey Kesselman
Stockton University unveiled a portrait of President Harvey Kesselman at a meeting of the Board of Trustees Wednesday.
"For more than 50 years, Stockton has been a second home to me, so I guess it's only fitting that I have a picture hanging on the wall," Kesselman said.
The portrait will join those of past presidents Richard E. Bjork, Peter M. Mitchell, Vera King Farris and Herman J. Saatkamp, Jr., which hang outside the Michael Jacobson Board of Trustees Room.
Those portraits were commissioned in 2016 by Kesselman, who wanted to honor the contributions of each of his predecessors.
---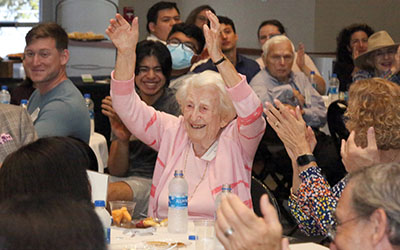 New Digital Archive Brings Together Holocaust Survivors
Henry Ackerman only recently realized the extent of his parents' experiences in Europe during and after the Holocaust.
"She really didn't want to talk about anything," said the second-generation survivor from Vineland about his mother, Eve.
Now, a new project by Stockton University's Sara & Sam Schoffer Holocaust Resource Center has brought him closer to his parents than every before. The center on Sunday launched teh Holocaust Survivors of South Jersey Digital Archive and Website at the university's Campus Center Event Room.
The project, which includes more than 1,500 names of survivors who lived in Atlantic, Cape May and Cumberland counties, has two main components — a digital archive that will reside at the center and a website featuring individual profiles of some survivors.
STOCKTON UNIVERSITY ATLANTIC CITY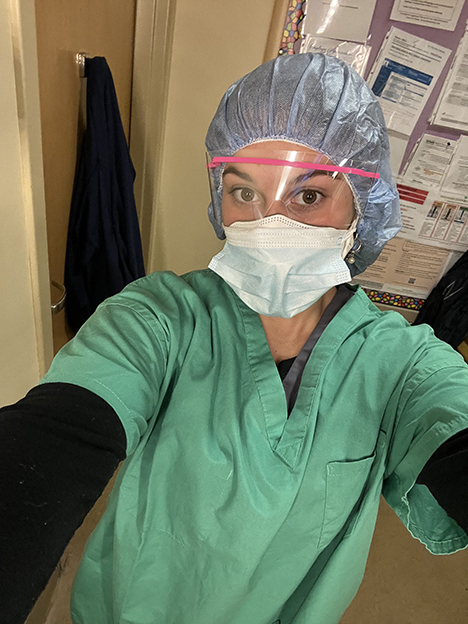 Live, Work, Learn Program a Big Success for Students
Any doubts Stockton University senior Natalie Giovinazzi had about becoming a nurse were lifted this summer thanks to the school's Atlantic City Summer Experience - Live, Work, Learn program.
"I feel like I'm so prepared now," said Giovinazzi, of Swedesboro, who worked primarily as a patient care associate with AtlantiCare. "I know what to expect and what's expected of me. It just made me so much more comfortable going into my senior year."
The Health Science major was one of 130 students who spent the summer getting paid to work for an Atlantic City business, staying for free at the Stockton Atlantic City Residential Complex on the Boardwalk and earning four credits in a free career-readiness and leadership class.
PHOTOS: Above, Giovinazzi prepares to enter the newborn intensive care unit as part of her job as a patient care associate with AtlantiCare. Below, Gregory Copeland studies in his dorm room at the Stockton Atlantic City Residential Complex.
SPOTLIGHT ON: IRVIN O. MORENO-RODRIGUEZ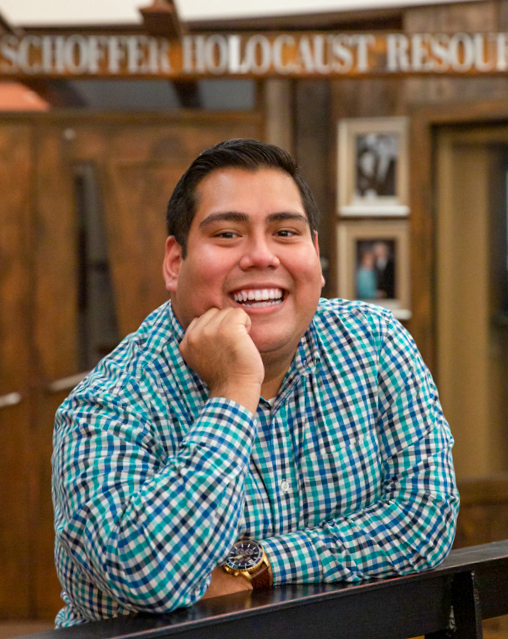 Moreno-Rodriguez Named a Top Young Latino Leader of South Jersey
Irvin O. Moreno-Rodriguez, assistant director of the Sara and Sam Schoffer Holocaust Resource Center at Stockton, was recently named one of the 30 Under 35 Top Young Latino Leaders of South Jersey by Front Runner New Jersey.
Each year during Hispanic Heritage Month, Front Runner La Prensa, a column in Front Runner Jersey, recognizes young Latinos who are making a positive impact in their communities in a variety of ways.
When asked how he felt after being selected as Front Runner La Prensa's Class of 2022, Moreno-Rodriguez said, "I would like to thank my Stockton University family for all the support and kindness they have shown me after being named one of New Jersey's [top Latino leaders]. It is an honor to be recognized for the meaningful work conducted at the Sara and Sam Schoffer Holocaust Resource Center and within my Atlantic County community."
Additionally, Stockton proudly ranks 7th in the nation among public colleges and universities with the highest graduation rates for Hispanic students.
WHAT'S TRENDING

@ #STOCKTONU

Twitter: Stockton University made the 2022 @MilitaryTimes Best for Vets colleges list. More than 400 military-affiliated students attend #StocktonU each semester.
Facebook: Stockton University's Solidarity Park honors our faculty and staff who are committed to the preservation of a fair and equitable workplace from the podium to the pines. Community members gathered to dedicate the new space this month.
Instagram: Did you know #StocktonU has a car club? Next week, the @StocktonCarClub is hosting a DIY steering wheel restoration session to help you modernize an old wheel. Stop by the @stocktonstudev Get Involved Fair today to meet other student groups and the @stocktongreeks.
FROM THE SIDELINES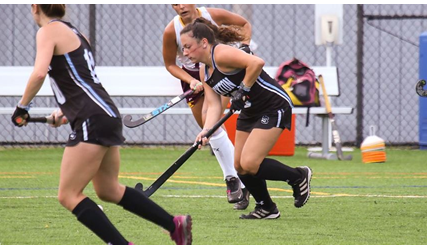 Stockton Downs Moravian 2-1 in Shootout
FIELD HOCKEY: Stockton University (5-2) captured their fourth straight victory with a thrilling 2-1 win over Moravian University (2-5) in a shootout on Wednesday evening. Goalkeeper Kylie Mitchell stopped all four Moravian attempts in the shootout to help the Ospreys to the victory.
After a scoreless first half, Stockton broke through for the first score. Jamilyn Hawkins poked in her second goal of the season during the third period at 38:04. Hawkins potted the score after freshman Miana Alessandroni pushed a pass that Hawkins converted. The assist was Alessandroni's first career point.
---
🗓️ View the full schedule of upcoming athletic events here
OSPREY NOTES
Limited Access to Pomona Road Entrance Weekdays Sept. 26 - Oct. 14
There will be limited access to the Pomona Road/Vera King Farris Drive entrance to the Galloway campus weekdays, Sept. 26 through about Oct. 14, from 7 a.m. - 3:30 p.m. Pomona Road will be operating one lane from Exit 44 on the Garden State Parkway to the Vera King Farris Drive intersection during these times.
The roadway and intersection will operate regularly after 3:30 p.m. daily and on weekends.
All members of the university community are encouraged to allow extra time for their travel to campus. Guidelines for entrances and exits during construction hours and a detour map are available at stockton.edu/alerts.
For questions, contact project manager Skip West at Charles.West@stockton.edu and visit stockton.edu/alerts for updates.
---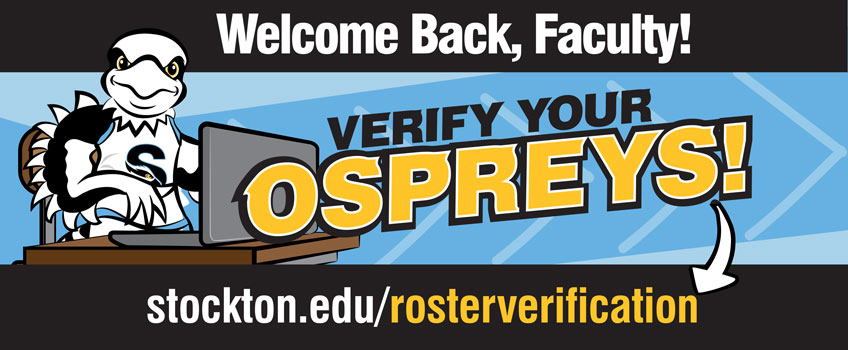 Roster Verification Reminder for Faculty: There''s Still Time!
Attention all faculty! The deadline to Verify your Ospreys has passed, but it's not too late!
If you haven't done so already, log in to your goStockton portal and confirm your student's attendance/academic activity through the Roster Verification link within the "Faculty" tab.
Each instructor is responsible for verifying student attendance or participation in an academic activity.
As a reminder, the Office of Financial Aid uses this information to make adjustments to student financial aid disbursements based on each student's confirmed number of credits. Adjustments will be made soon, so complete this process now!
For more information and a list of frequently asked questions, visit stockton.edu/rosterverification.
---
URM Introduces New Templating Software
University Relations & Marketing is driving on-brand content creation across the University by providing access to Marq, a web-based design and brand templating platform.
URM has created a variety of branded design templates to help clients quickly create high-quality marketing and promotional materials. These templates are intended to assist with smaller projects that may be needed ASAP. The Graphics department will continue to support the creative needs of the campus and production requests should be submitted as usual.
For more information about the software and to apply for a license, visit the Marq guidelines site. Any additional questions should be directed to Ed Wuillermin, director of Creative Services, or Karen Quinn, graphics supervisor.
UPCOMING EVENTS