Stockton News - Friday, Sept. 20, 2019
WHAT WE'RE TALKING ABOUT
Funds Announced for Scholarships, Blee Honored at Sept. Board Meeting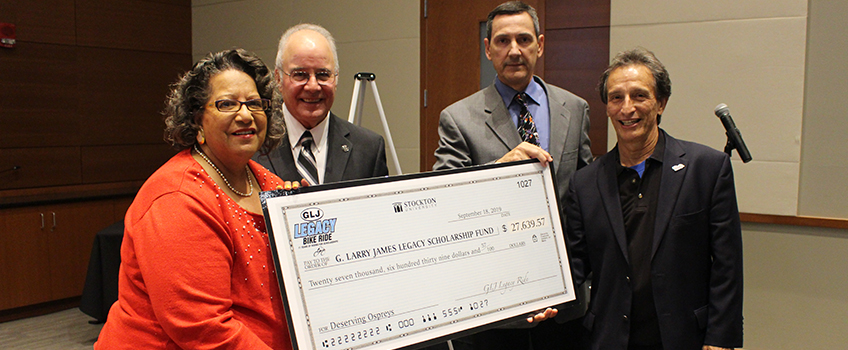 The 11th annual G. Larry James Legacy Bike Ride at Stockton in June raised more than $27,600 for student scholarships.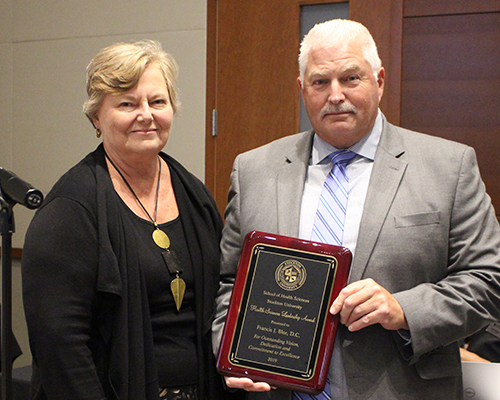 Ride coordinators Assistant Vice President Craig Stambaugh and Professor Arnaldo Cordero-Roman presented a check for $27,639.57 at the Sept. 18 Board of Trustees meeting.
The late G. Larry James was a longtime administrator at Stockton and a gold and silver medalist in track and field at the 1968 Olympics. He was known as "The Mighty Burner."
Additionally, Dr. Frank Blee, right, was given the Stockton University School of Health Sciences Leadership Award at the meeting. The award is given annually to an individual who has made important and enduring contributions to health care who has positively impacted students and surrounding communities.
---
More than 200 Attend First Cannabis Expo
From a state Senator, to a former N.Y. Giants football player and a host of students, more than 200 people interested in the future of the cannabis industry came to the Stockton University Campus Center Sept. 13 for the first N.J. Cannabis Career Fair and Business Expo.
Keynote speaker state Sen. Troy Singleton told participants that advocates and supporters of legalizing recreational marijuana in New Jersey must make their voices heard quickly if action is to be taken on legislation this year.
The expo garnered a lot of media attention including a feature in the SNJDC Chronicle, NJ 101.5, News12, NJ.com, and the Press of Atlantic City.

---
Author Shares Insights on U.S. Supreme Court at Constitution Day
U.S. Supreme Court Chief Justice John Roberts is very aware of his role in preserving the independence of the court, author, journalist and CNN legal analyst Joan Biskupic said at the annual Constitution Day lecture Sept. 17 at Stockton University.
Biskupic, whose most recent book is "The Chief: The Life and Turbulent Times of Chief Justice John Roberts," told an overflow crowd in the Campus Center Event Room that a review of Roberts' votes reflect his concern that the court not look partisan.
"We are going to see more of him trying to preserve the reputation of the court, and not just do what is expected," Biskupic said.
STOCKTON UNIVERSITY ATLANTIC CITY
GEAR UP Grant Will Expand College Bound Program in A.C.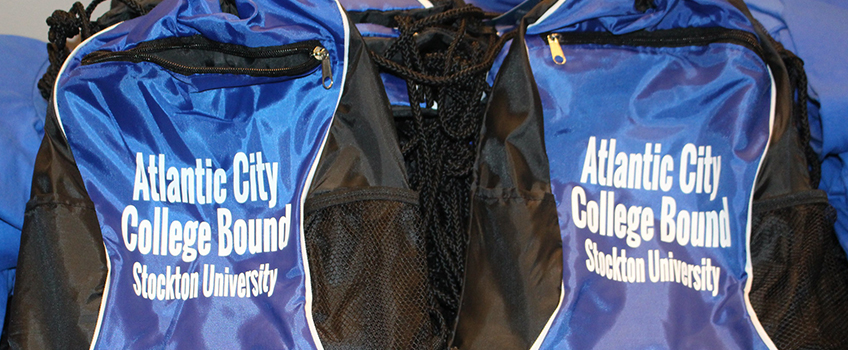 Stockton University has been awarded a seven-year federal grant, Gaining Early Awareness and Readiness for Undergraduate Programs (GEAR UP), which will allow the university to increase the number of students currently in Stockton's College Bound program.
The expanded Stockton University College Bound program will continue to serve students in grades 7-12 from Atlantic City and Pleasantville. Participants will attend Saturday Academy at Stockton University Atlantic City where they will receive academic, career and financial counseling, mentoring, college and career exploration, and attend college tours and educational field trips. Transportation and meals will be provided during Saturday Academy, college tours, and educational field trips.
---
Catch a Movie Sept. 27 at Stockton Atlantic City
"Fall Cinema in the City" is featuring Late Night at 8 p.m. on Sept. 27 in the Stockton University Atlantic City residential classrooms B119/120. Attendees are asked to bring their Stockton IDs.
SPOTLIGHT ON
Visiting Archivist Catalogs Works of Constantelos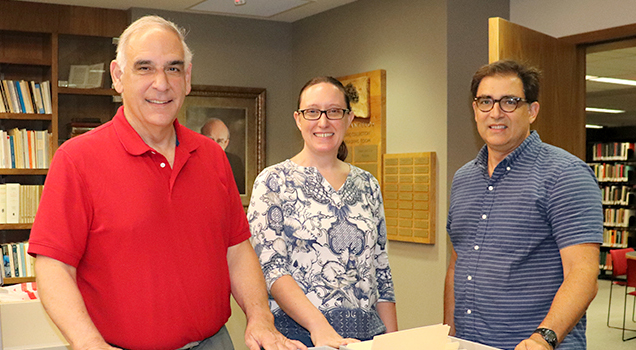 William Samonides looked very comfortable as he sat among an array of boxes in the Constantelos Reading Room at Stockton University. Samonides, who received his doctorate from Harvard, had pretty much called this space home since July 8, when he began the task of processing the papers of Professor Demetrios Constantelos.
Constantelos was a Distinguished Research Scholar in Residence and the Charles Cooper Townsend Sr. Distinguished Professor of History and Religious Studies, Emeritus, at Stockton. He authored 15 books and was also a "Mayflower" faculty member, meaning he began work here in Fall 1971 when classes were held at the Mayflower Hotel in Atlantic City.
PHOTO: From left to right, visiting archivist William Samonides; Heather Perez, special collections librarian and University Archivist; and Tom Papademetriou, professor of History and director of Hellenic Studies.
FRAME-WORTHY
Stockton Students Learn to Get Involved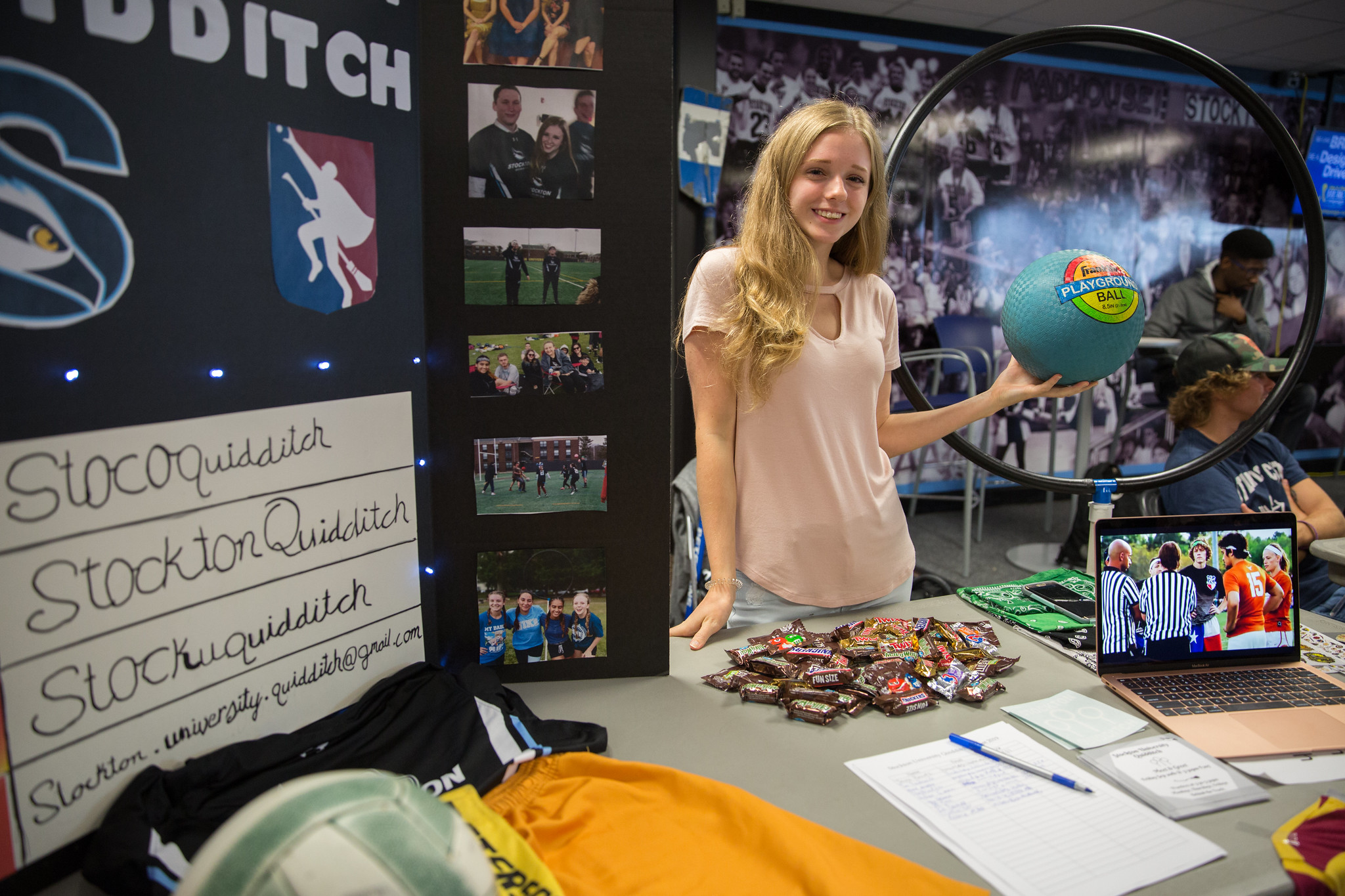 Students learned the many ways they could become an active Osprey during the Get Involved Fair, Sept. 17-18, at the Galloway campus.
Over 150 organizations, fraternities, sororities, community partners and Stockton offices participated in the fair, including the Stockton Surf Club, the Stockton Music Union and the Chemistry Society, to name a few.
View a flickr gallery from the event.
WHAT'S TRENDING #STOCKTONU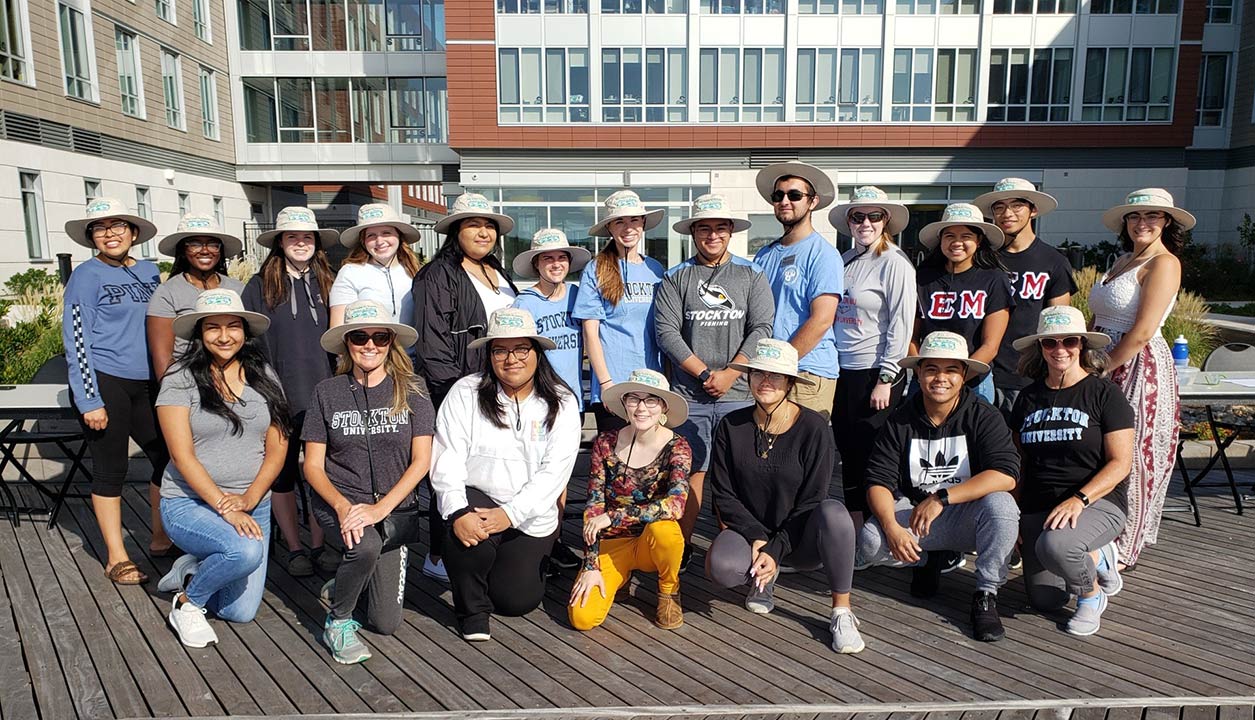 Facebook: Stockton's New Angles for Success Program supported Officer Dennis McGurk 18th Annual "Hooked on Fishing, Not on Drugs" Fishing Tournament and Instructional Saturday, Sept. 14, on the beach in front of Stockton Atlantic City.
FROM THE SIDELINES
Stockton Sweeps Cabrini for Third Straight Win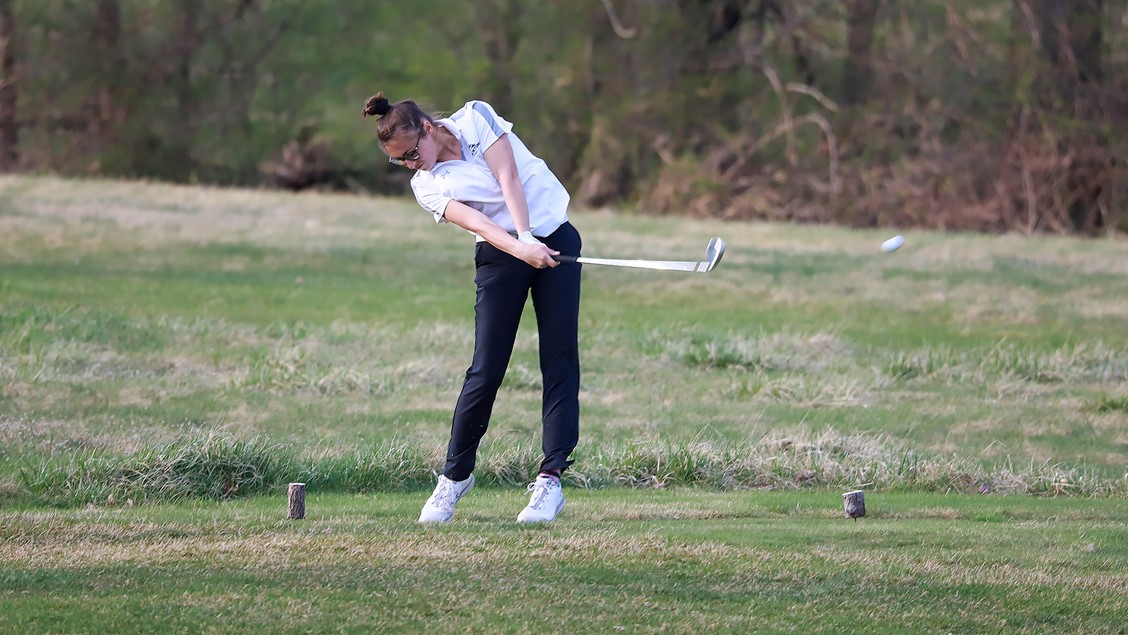 Stockton Makes Intercollegiate Debut at Ursinus Invitational
Stockton University made its debut as an intercollegiate women's golf team at the Ursinus Invitational, which was held at Raven's Claw Golf Club on Sept. 17. Three Ospreys competed in the tournament for Stockton, which was one of 11 teams that played.
Danielle Elia was the top finisher for the Ospreys as she tied for 13th out of 40 golfers with a 91. Elia also played for Stockton last year when women's golf was a club sport.
MORE FROM THE HIGHLIGHT REEL:
OSPREY NOTES
Stockton World Language Tables Return for Fall Semester
Stockton World Language Tables (SWLT) will meet 12:30-1:30 p.m. every Thursday through Nov. 21 (except Oct. 10) in the C/D Atrium.
The SWLT provides a welcoming and no-pressure environment to practice world language skills. All students, faculty, staff and community members who want to learn, practice, polish or share their language skills are welcome to join this student-led activity. You may bring your own lunch to the tables; cookies and coffee will be served.
For more information, contact Jiangyuan (JY) Zhou, interim director of the Office of Global Engagement, at Jiangyuan.Zhou@stockton.edu.
Continuing Studies Offers a Variety of Courses this Fall

The University's Office of Continuing Studies is hosting a variety of classes for personal and professional enrichment, ranging from mindfulness and yoga to how to make wine and beer this fall.
UPCOMING EVENTS
Tuesday, Sept. 24: Annual Stockton University Golf Classic
Thursday, Sept. 26:Freshman Convocation
Friday, Sept. 27: A Night in Havana, 2019 Nuestro Puebla Awards
Wednesday, Oct. 2-Thursday, Oct. 3:Ospreys Give
Now-Sunday, Oct. 6: "100 Faces of War," a traveling exhibition from the Smithsonian
Sunday, Oct. 6: Open House