Stockton News - September 18, 2020
WHAT WE'RE TALKING ABOUT
Stockton Ranked 7th In U.S. News Ranking of Northern Regional Public Universities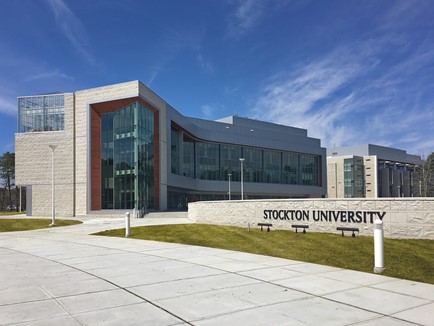 Stockton University remains among the top 10 public universities in the North according to the 2021 U.S. News & World Report College Rankings released this week.
Stockton is ranked 7th among the 62 public colleges and universities and is 34th among 176 public and private universities included in the Best Regional Universities-North.
Stockton president Harvey Kesselman said Stockton prides itself on providing a quality education that is both affordable and accessible to a diverse population of students.
---
Students Raise Flag for Hispanic Heritage Month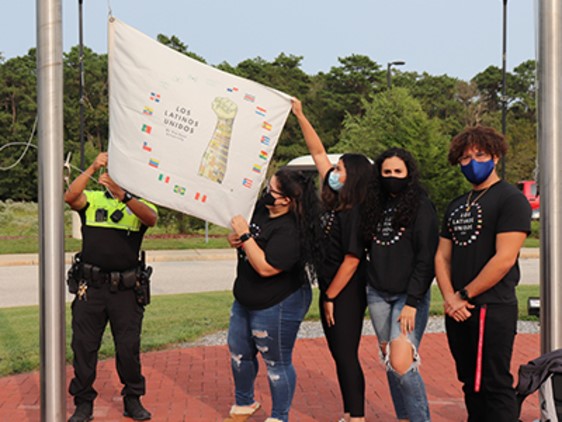 The crowd was a bit smaller, and masked, but the enthusiasm marking the beginning of Hispanic Heritage Month was contagious on Sept. 15 as members of the student group Los Latinos Unidos raised their flag in the Arts and Sciences building circle to kick off a month of activities.
Club president Kiara Velez-Padilla said that while this is not a typical semester, they wanted to celebrate the best they can.
"The traditions are important to us," she said. "We want us to have a sense of community here and share our culture and heritage. We want to create a space where everyone feels comfortable."
She said Latinos are known for being passionate, dedicated and resilient, and their plans for the month, from Sept. 15-Oct. 15, demonstrate those traits.
---
Stockton Student Research Shows Impact of Pandemic on Atlantic Co. Food Insecurity
The coronavirus pandemic and resulting lockdown caused food insecurity to spike in Atlantic County, where workers were already struggling to feed their families, according to a student research paper published today by the William J. Hughes Center for Public Policy at Stockton University.
The research paper by Stockton student Garrett Bolton found that economic conditions following the March lockdown threatened food security all over New Jersey. But Atlantic County was especially hard hit because of the outsized impact of business closures on the Atlantic County casino industry and the regional hospitality economy, Bolton's research found.
In April, Atlantic County's unemployment rate rose to 33.8%, more than double that of the state (16.3%) and national (14.7%) rates. In June, the county experienced the highest year-over-year unemployment rate increase (379%) of any county in the United States, according to the paper.
WE'RE HERE TO HELP
Resources Available to Staff, Faculty
There are many resources and best practices being made available to staff and faculty working remotely that can be found by visiting Information Technology's website.
In addition to assistance with technology available from ITS, Stockton provides faculty and teaching staff with professional development, training, teaching ideas, resources and individual consultations via the Center for Learning Design.
Stockton has set aside classrooms students can use for remote learning and/or study space on the Galloway and Atlantic City campuses. Locations will be posted on the campus calendar and TV monitors and are included in the Return to Campus FAQ. Masks are required and COVID-19 room capacity limits apply.
Stockton is compiling notices of confirmed positive COVID-19 cases in a dashboard on the Coronavirus home page. The dashboard will be updated daily.
The Student Assistance Resources page has information for students whose academic progress may be affected by the COVID-19 pandemic.
FRAME-WORTHY
💡 Chemists Discover Bright Idea for New Lighting Material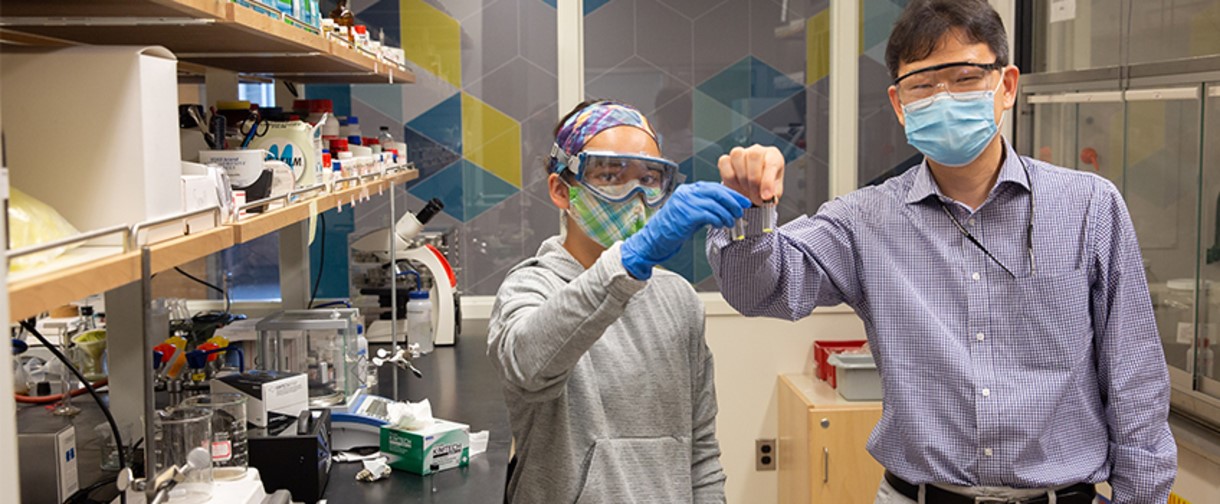 Senior Chemistry and Biochemistry major Kathleen Ngo discovered a bright idea for a new type of light source after using an unexpected chemical during her research with Wooseok Ki, assistant professor of Chemistry.
Ki's research looks for alternatives to rare earth elements that can be used to synthesize the phosphors that illuminate organic LEDs, which are used to light digital displays and indicator lights.
The periodic table of elements is where Ki started his search. Tin is an affordable and abundant element that can be bonded to an organic molecule to make a metal complex. When the precursors of a metal complex are mixed with a liquid solution at room temperature, crystals grow within a day. The sparkly crystal is a phosphor, and when UV light hits the crystals, they luminesce.
WHAT'S TRENDING @ #STOCKTONU

Facebook: #StocktonVoices - When someone or something changes your life for the better, the best way to say thank you is to do the same for others. The Educational Opportunity Fund (EOF) changed Angel Hernandez's life, and now he is changing lives at Stockton.
Instagram:Sun or Moon? Drop an emoji in the comments to let us know what you think. We asked #StocktonU professors to explain the unusually hazy skies resulting from western wildfire smoke drifting east in the jet stream air currents.
Twitter: What's your favorite student club/organization? There are over 200 ways to get involved at #StocktonU!
OSPREY NOTES
Enrollment Verification Reminder for Faculty
As the fall semester is quickly approaching, faculty are reminded to confirm student attendance at the beginning of each course after the add/drop period. The Office of Financial Aid will use this information to make adjustments to student financial aid disbursements based upon the confirmed number of credits.
Each instructor will be responsible for verifying student attendance or participation in an academic activity. For online courses, faculty are reminded to include an assignment or discussion activity during the drop/add period so that the student's attendance can be confirmed.
The link to complete Enrollment Verification can be found under the faculty tab within the goStockton portal.
For more information and a list of frequently asked questions, visit stockton.edu/enrollmentverification.
UPCOMING VIRTUAL EVENTS
Upcoming Events Hosted by the Office of Development and Alumni Relations
Sept. 21: Annual Golf Classic
Sept. 22: Constitution Day
Sept. 22-24: Get Involved Fair
Sept. 9-30: SCOSA Online Short Course: Lady Lazarus: Sylvia Plath & Mythmaking