Stockton News - Sept. 16, 2022
WHAT WE'RE TALKING ABOUT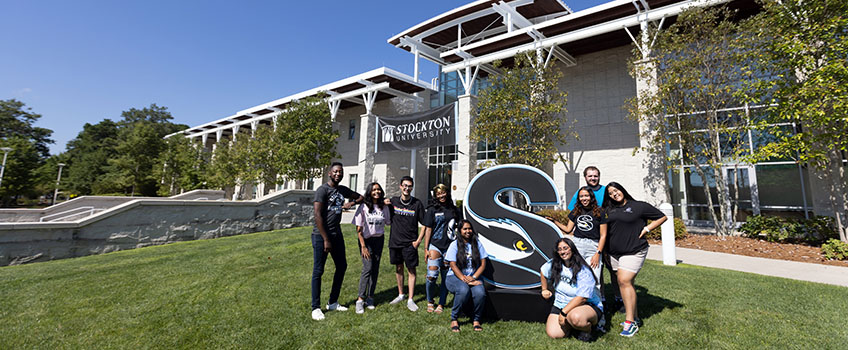 Stockton Included in 2023 U.S. News Top Universities List
Stockton is among the Top 100 Public National Universities, according to the 2023 U.S. News & World Report College Rankings released this week.
Stockton ranked 91 out of 227 public colleges and universities in the nation and No. 182 of 440 in the Best National Universities ranking. Stockton is ranked among institutions like Princeton University, Temple University, Columbia University and Florida State University.
Previously, Stockton ranked 7th in the Best Regional Universities-North but is now included in the national rankings for 2023 due to its broad range of degree programs and increase in the number of doctoral degrees conferred.
"We have kept our promise to make a Stockton degree more valuable each and every day," President Harvey Kesselman said.
📰 In the News:Patch.com, New Jersey 101.5, Downbeach.com
---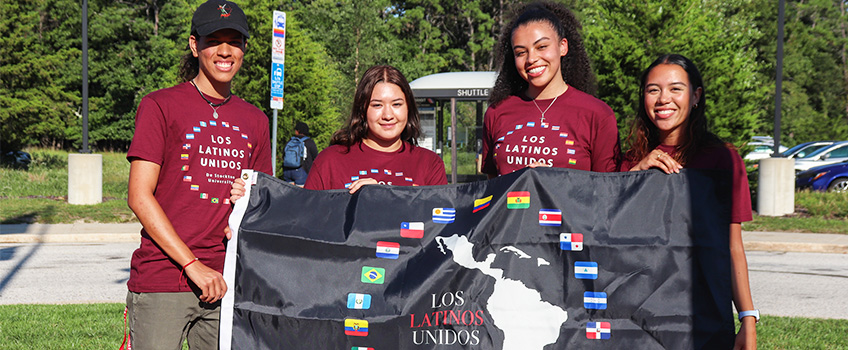 Hispanic Heritage Month Flag Raising Attracts Crowd
Stockton kicked off a month of programs and activities in honor of Hispanic Heritage Month by raising a flag symbolizing the unity and strength of the Hispanic/Latin community on Sept. 15.
National Hispanic Heritage Month traditionally honors the cultures and contributions of both Hispanic and Latin Americans and celebrates the heritage rooted in all Latin American countries. The new Los Latinos Unidos (LLU) flag, which displays the Caribbean and Central & South America surrounded by different national flags, will fly in the Arts & Sciences Circle.
Jessica Grullon, associate director of Admissions, opened the ceremony reminiscing about her time at Stockton as a commuter student and acknowledged how much the University has changed since then, crediting both her mentors and the hard work of the student organization LLU.
---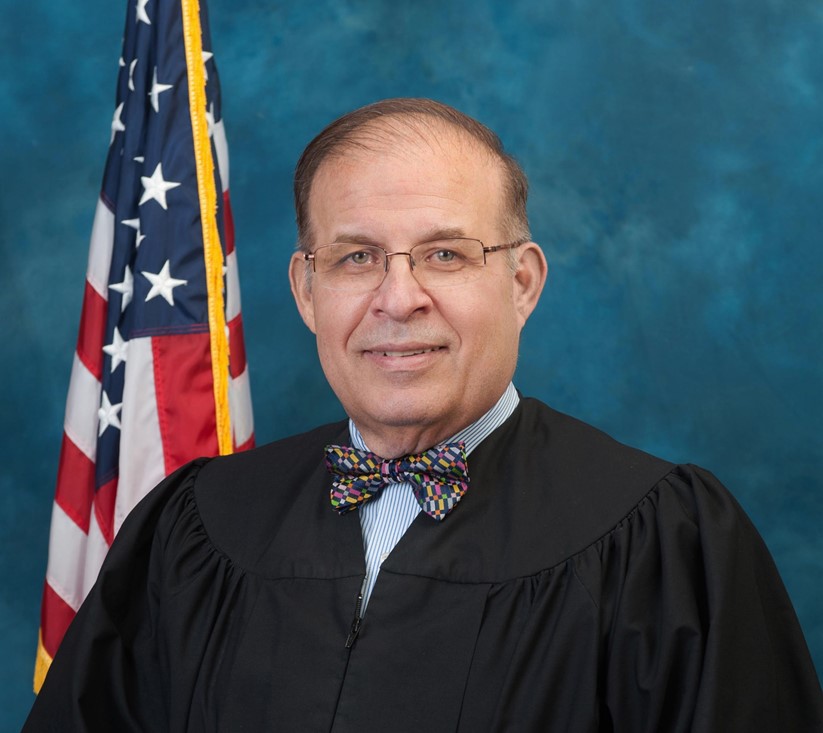 Retired Judge Mendez Joins Hughes Center as Analyst
Julio L. Mendez, a retired assignment judge of the N.J. Superior Court, will work with the William J. Hughes Center for Public Policy at Stockton in the coming year to engage students and participate in public programming centered around the law.
"The most important part of this for me is to work with and to inspire Stockton students," said Mendez, who retired March 1 as assignment judge for the Atlantic-Cape May County vicinage. "I want them to see how legal issues affect so many areas of the lives and careers of people and not just lawyers."
📰 In the News: Downbeach.com, The Press of Atlantic City, NJBIZ
STOCKTON UNIVERSITY ATLANTIC CITY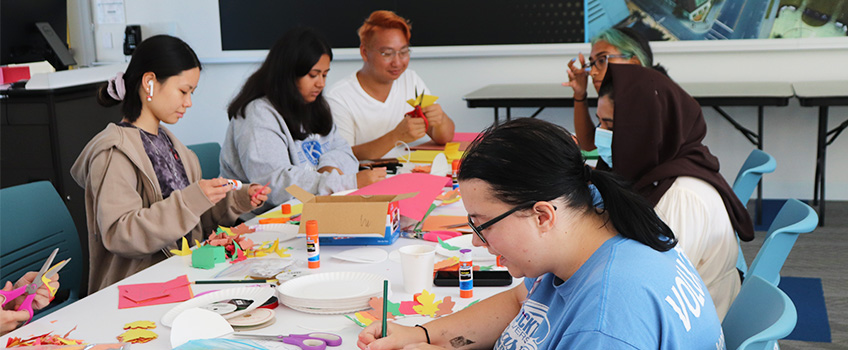 New Students Give Back During Fall Day of Service
"It was spontaneous, but like, a fun spontaneous."
That's how Ryan La, vice president of Circle K, described the New Student Day of Service, which happened during (and next to the finish line of) the famous Ironman Race on Sept. 10.
Around 60 students weaved through racers, cyclists and orange barriers along the Black Horse Pike to the John F. Scarpa Academic Building at Stockton University Atlantic City for a day of education, service and fun.
Each fall term, the Stockton Center for Community Engagement and Service-Learning (SCCESL) and the Office of Student Development work together to create a day where new students give back to the community through various service projects.
---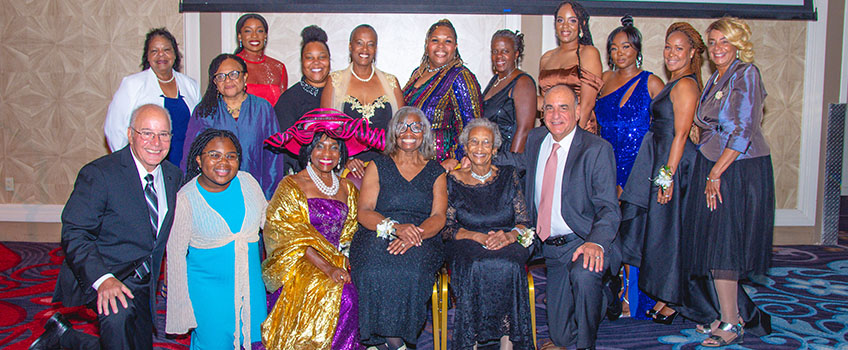 Evening of Excellence Honors Black Alumni
More than 140 guests came together to honor the tremendous achievements, leadership and service of Stockton's Black alumni at the university's inaugural Evening of Excellence at the Tropicana Atlantic City. The event also recognized faculty and staff who have supported Black student success at Stockton, including President Harvey Kesselman.
Ayisha Lee '14/M.B.A. '17, assistant director of Alumni Relations, and Ashlee Roberts, executive director, Student Affairs Planning and Operations, were emcees of the Aug. 26 event. Together, they planned the event both to recognize excellence and to raise funds in support of the new Multicultural Center at Stockton.
SPOTLIGHT ON: JANICE JOSEPH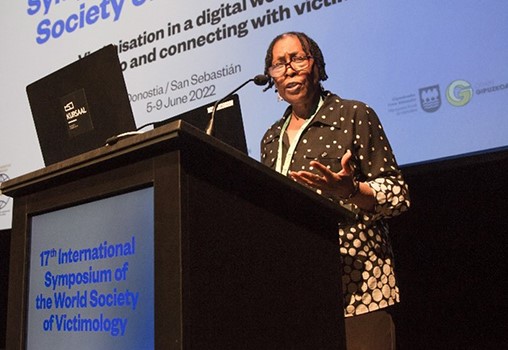 Distinguished Professor of Criminal Justice Janice Joseph added another distinction to her career when she was elected president of the World Society of Victimology in June.
Joseph, who is the first person of African descent to be elected to this position in the organization, was selected during the 17th International Symposium of the World Society of Victimology, which was held in San Sebastian, Spain.
The WSV is regarded as the most prominent professional victimology organization in the world with headquarters in Monchengladbach, Germany. The society is an international, nongovernmental organization, which has special consultive status with the United Nations Economic and Social Council, as well as with the Council of Europe. Its world-wide membership includes victim assistance practitioners, social scientists, social workers, physicians, lawyers, civil servants, volunteers, university academics of all levels, and students.
"It is a great honor to be elected president of WSV," Joseph said. "I am excited in my new role as president of the WSV and will continue to represent WSV and Stockton University with honor and integrity across the globe."
FRAME-WORTHY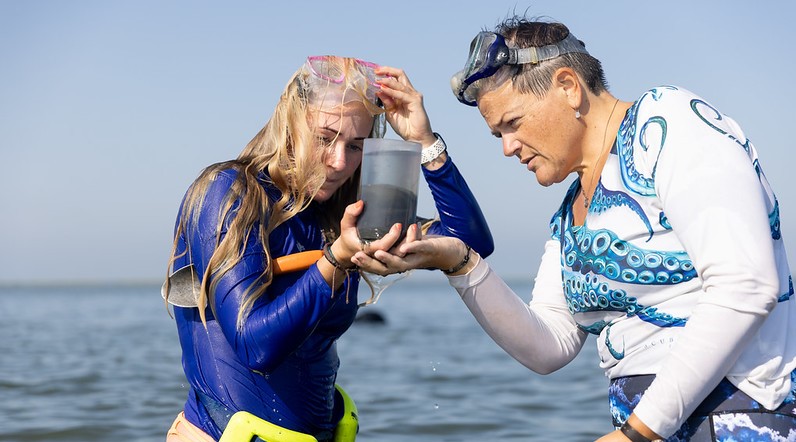 🦪 Oysters Help Eelgrass Take Root in the Barnegat Bay
A young bay scallop sprouts a sticky thread from its shell to cling to a blade of eelgrass—it's holding on for its life to avoid suffocation on the muddy bay bottom.
Waterfowl dunk headfirst into a seagrass meadow to nibble on the shoots.
A school of juvenile fish seek shelter in the bright green ribbons of swaying grass that dampen the force of the waves and tide. They're hiding from predators lurking in the nearby wide-open water.
Monitoring has revealed eelgrass decline in the Barnegat Bay since 2004, making it harder for the species that depend on the grass for survival, but research is sprouting hope.
Marine creatures in the Barnegat Bay now have a growing seagrass habitat after years of a barren bay bottom following Stockton University's underwater planting and research project.
Elizabeth Lacey, associate professor of Marine Science, found a shallow water site off Bunting Sedge with just the right amount of sunlight for seagrass to photosynthesize and suitable soil and water characteristics. All that was missing was the eelgrass.
WHAT'S TRENDING

@ #STOCKTONU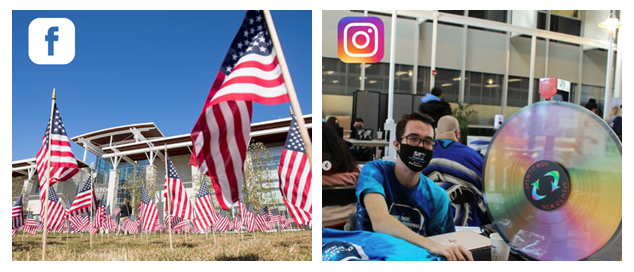 Facebook: Today, we remember those we lost on September 11, 2001, and pay tribute to the first responders who served our country. #neverforget
Instagram: What orgs should you check out at the Get Involved Fair? 💭
FROM THE SIDELINES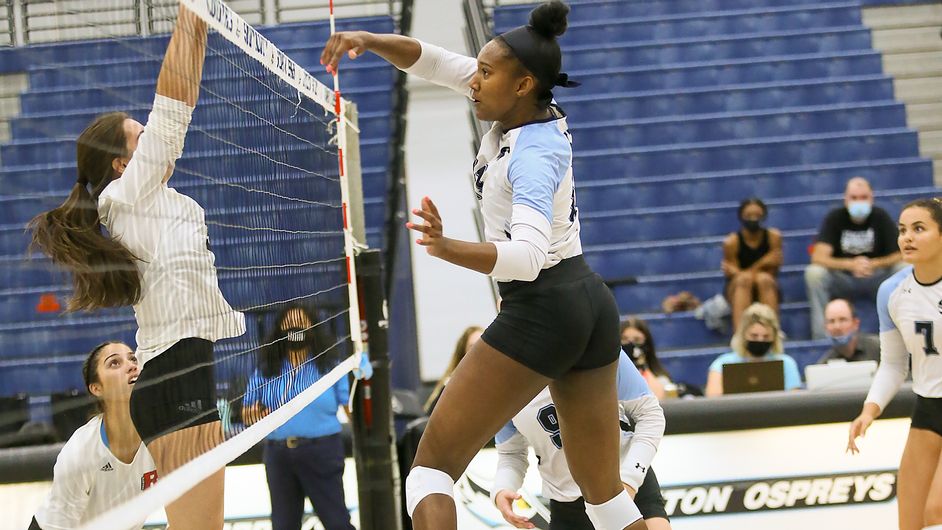 Stockton Outlasts Drew in Five Sets
The Stockton volleyball team won the first two sets, dropped the next two, and then regrouped to win the fifth set 15-12 for a 3-2 victory over Drew University on Sept. 15. Kate Louer led three Ospreys in double figures with 18 kills.
Camille De La Torre and Haley Green chipped in with 11 and 10 kills respectively. Louer and De La Torre, both freshmen, established career highs in kills on the night. Louer also finished with a career-high 14 digs.
---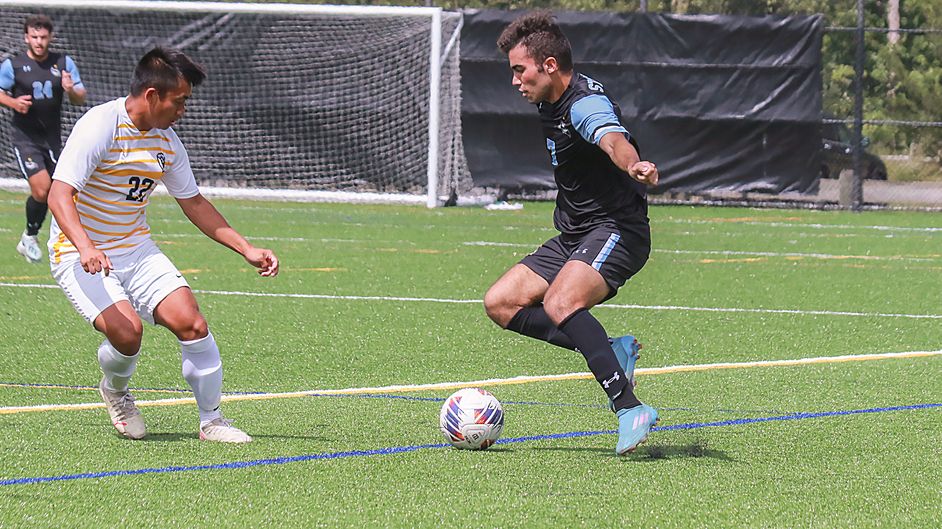 Stockton Pulls Out 2-0 Win Over Neumann
The men's soccer team extended their unbeaten streak to five straight matches with a hard-fought 2-0 victory over Neumann University on Sept. 14. Freshman Aiden Hoenisch and senior Sean O'Leary tallied the goals for the Ospreys.
The home squad dominated play in the first half, controlling the ball and pace of play, keeping the Knights bottled up in their own end. Stockton broke through at 29:42 when a handball was called in the Neumann box, giving the Ospreys a penalty kick. Hoenisch fired his second goal of the season into the top right corner for a 1-0 lead.
---
🗓️ View the full schedule of upcoming athletic events here
OSPREY NOTES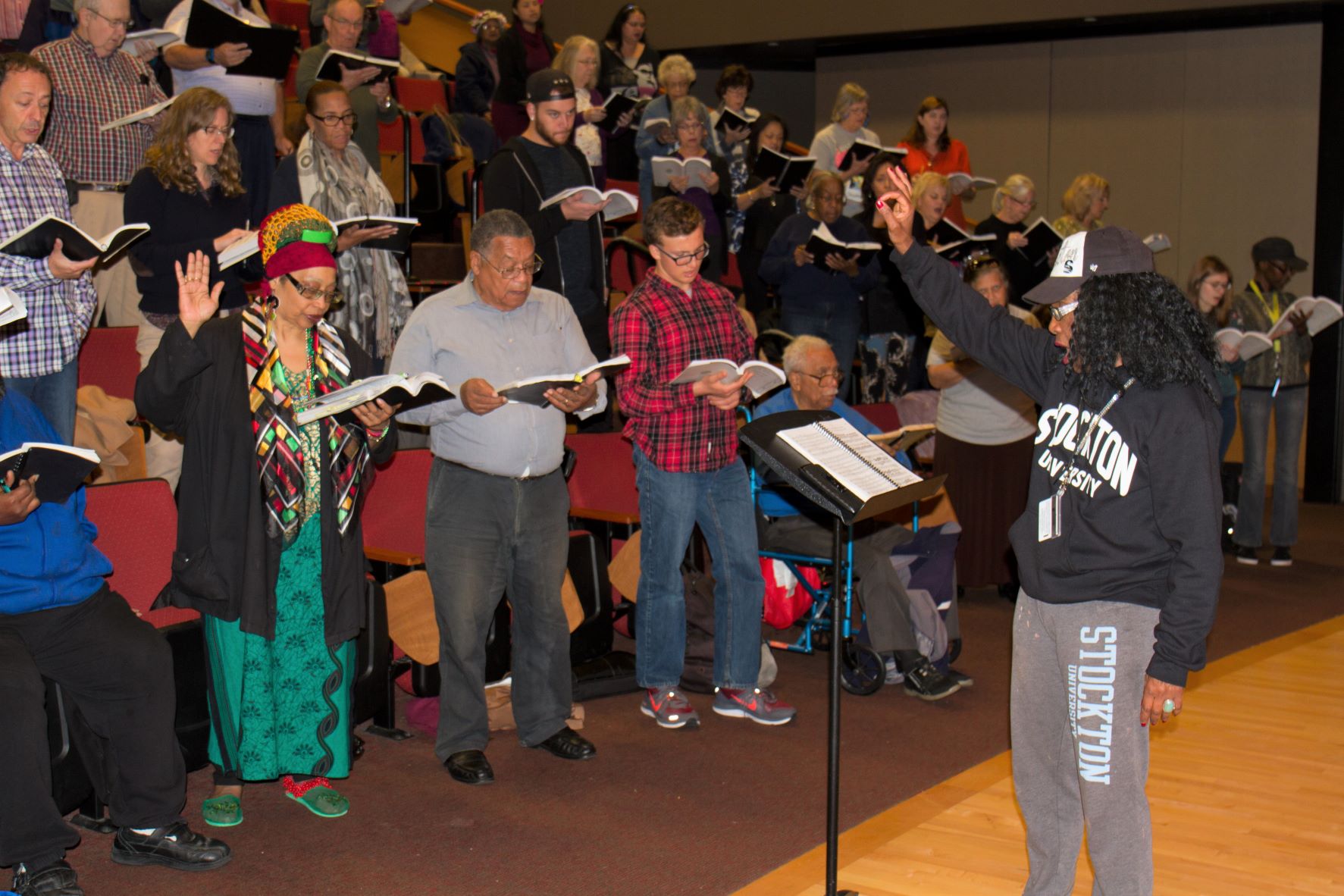 Singers Sought for Relaunched 'Messiah' Performance
The Stockton University Performing Arts Program is recruiting singers for the production of "Messiah Relaunched…We're Back!," set for Dec. 4.
All members of the community interested in singing are welcome. Rehearsals begin Monday, Sept. 26, from 7-9:15 p.m., in the Alton Auditorium at the Galloway campus. In addition to Mondays, there will be Sunday rehearsals from 3-6 p.m. in H102, also at the Galloway campus.
Stockton Professor of Music Beverly Vaughn will lead the production, which includes Stockton students, members of area choirs, and community members.
Sign up here.
For more information, contact the School of Arts and Humanities at 609-652-4505 or arhu@stockton.edu.
---
📮 REMINDER: Bulk Mailing Procedures
Please ensure the mailroom is given two weeks notice for all bulk mailings.
This is necessary for proper scheduling at the bulk mail center as well as to maintain the appropriate funds in the University account. The bulk mailing days will remain Tuesdays and Fridays.
For all bulk mailing requests, please complete a form via this link. Bulk mailings consist of 500 pieces of mail or more. For full requirements and tips, please review this document.
---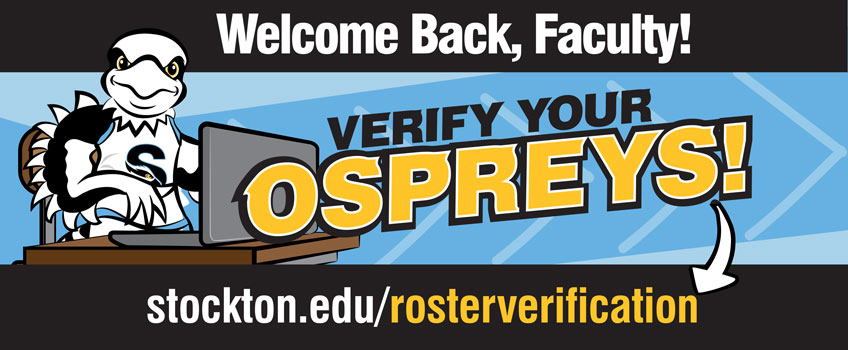 Roster Verification Reminder for Faculty
Welcome back, faculty! As the fall semester is underway, it's time to Verify your Ospreys!
New this year, faculty are reminded to complete the Roster Verification process by confirming student attendance/academic activity. The Roster Verification process is to be completed by Tuesday, Sept. 20. The Office of Financial Aid will use this information to make adjustments to student financial aid disbursements based upon each student's confirmed number of credits.
Each instructor will be responsible for verifying student attendance or participation in an academic activity. For online courses, faculty are reminded to include an assignment or discussion activity during the add/drop period so that the student's attendance can be confirmed.
The link to complete Roster Verification can be found under the faculty tab within the goStockton portal.
For more information and a list of frequently asked questions, visit stockton.edu/rosterverification.

UPCOMING EVENTS