Stockton News - Friday, Sept. 13, 2019
WHAT WE'RE TALKING ABOUT
Stockton Rises to 7th in 2020 U.S. News Rankings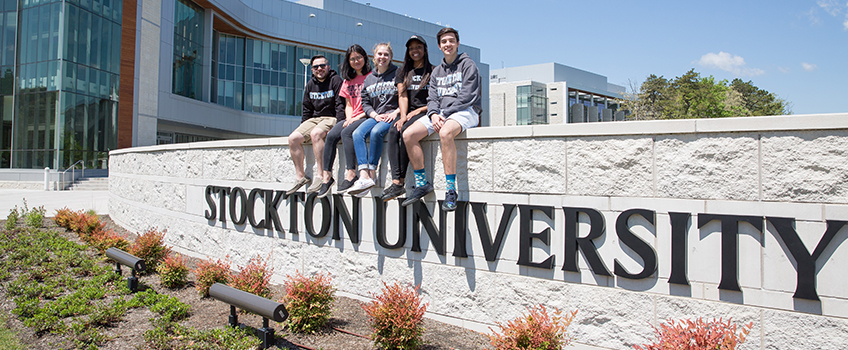 Stockton University has again improved its ranking among Regional Universities in the North, placing 7th among public universities in the 2020 U.S. News and World Report Best College rankings released this week.
The university rose from 9th in 2019 to 7th in 2020. Stockton is also ranked 32nd among the 170 public and private universities in the North region, up from 41st in 2018 and 35th in 2019.
The Press of Atlantic City posted about the ranking.
---
Ye Olde Tymers Club Donates Assets to Stockton Scholarships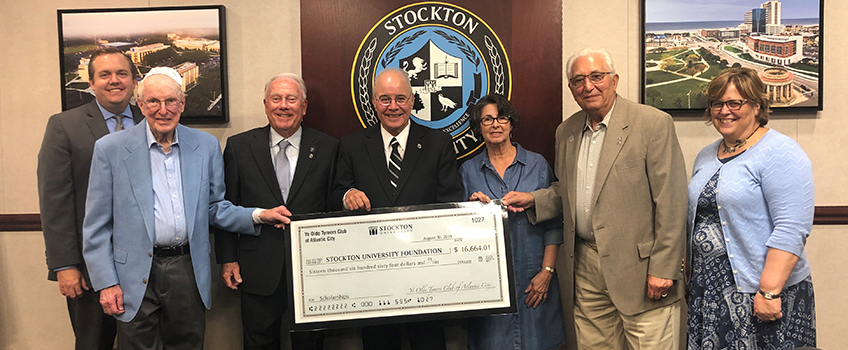 The remaining members of the Ye Olde Tymers Club of Atlantic City – Jerry Greenberg, Jim Goldsmith, and Tony Musarra – generously donated the group's assets of more than $16,000 to the Stockton University Foundation during a ceremony on Aug. 30.
"Today, we celebrate the generosity of the Ye Olde Tymers Club of Atlantic City," Stockton President Harvey Kesselman said. "For more than 12 years, they have had a profound impact on our students."
The Press of Atlantic City covered the donation.
STOCKTON UNIVERSITY ATLANTIC CITY
Staff, Students at NJ Family Festival with First Lady Murphy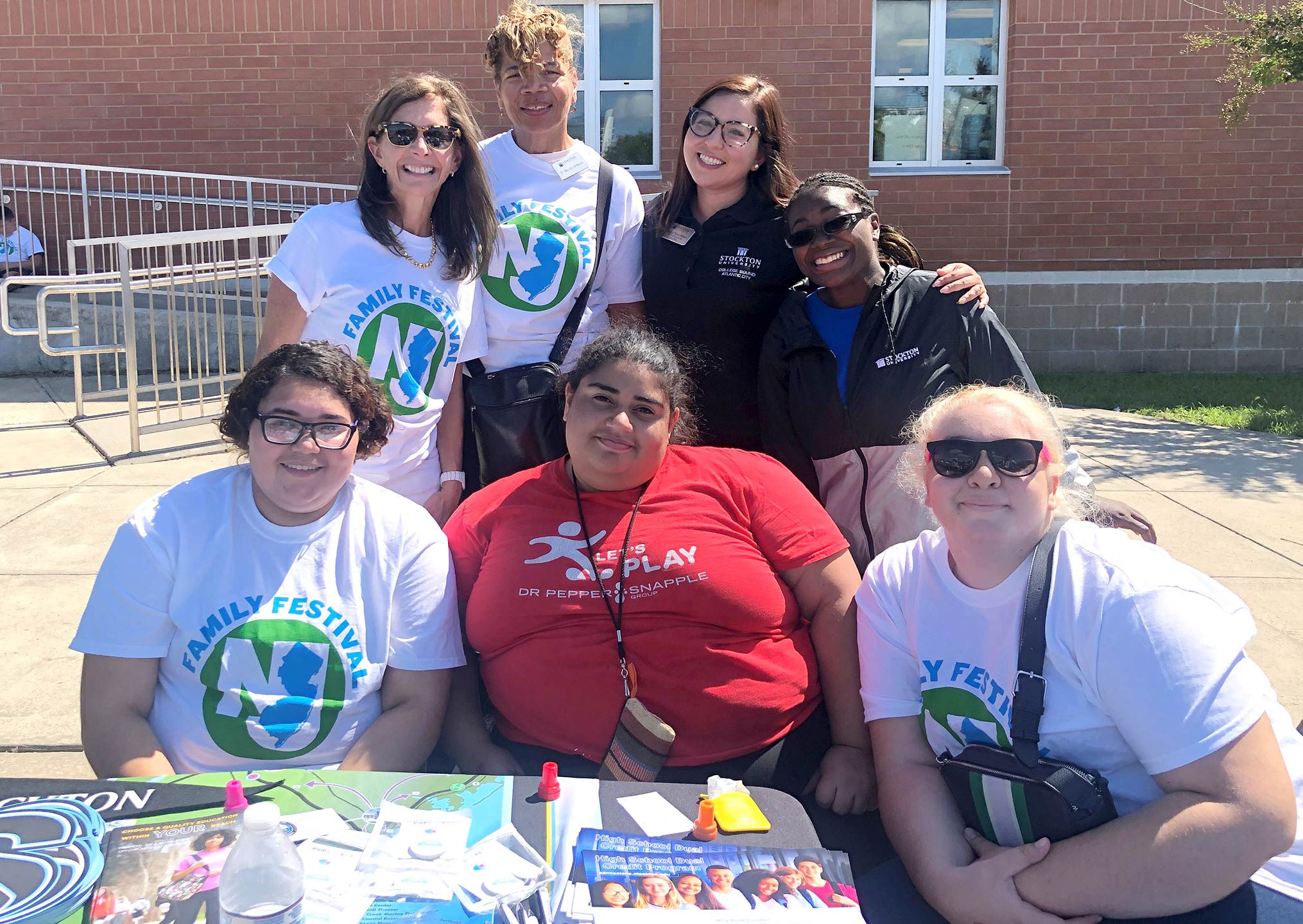 Stockton University staff and students at the NJ Family Festival, hosted by First Lady Tammy Murphy, on Saturday, Sept. 7, at Pennsylvania Ave. School in Atlantic City.
"It's critical that our Atlantic City residents are aware of the opportunities right in their backyard," said Roxana Perez Nieves, lead academic/career counselor for the College Bound Program. "Being from Atlantic City and a first-generation Stockton alumnus, I understand firsthand how programs like College Bound and EOF can be life-changing."
College Bound is kicking off their Academic Year program on Saturday, Oct. 26. For more information on how to get involved please contact us via email, CollegeBound@Stockton.edu.
PHOTO: From left, First Lady of New Jersey Tammy Murphy; Maralyn Mason, executive director, Educational Opportunity and Success Programs; Roxana Perez Nieves, lead academic/career counselor for the College Bound Program; with Stockton Service-Learning students and alumni.
---
Day of Service at Stockton Atlantic City Spreads Positivity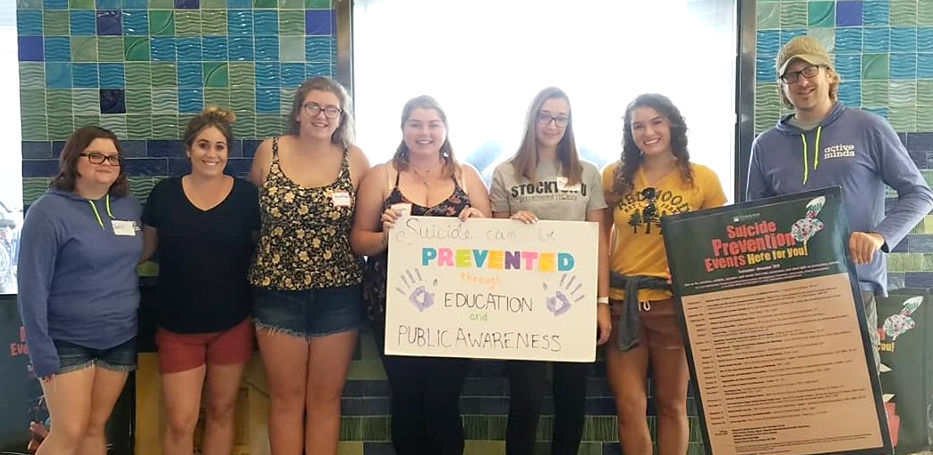 The Fall Day of Service, hosted by the Office of Service-Learning and Student Development, was held on Saturday, Sept. 7 at Stockton Atlantic City. Activities included jitney tours, a clothing drive, beach clean-up and mental health awareness.
Nate Morell, assistant director of Counseling Services at Stockton, shared photos of Active Minds and the Suicide Prevention Team spreading messages of positivity in Atlantic City. They painted sand dollars as well.
Check out this Instagram highlight from some of the day's events.
---
Catch a Movie Tonight at Stockton Atlantic City
"Fall Cinema in the City" is featuring Booksmart at 8 p.m. TONIGHT in the Stockton University Atlantic City residential classrooms B119/120. Attendees are asked to bring their Stockton IDs.
SPOTLIGHT ON
Moscovici Explores the Science of Wine in Australia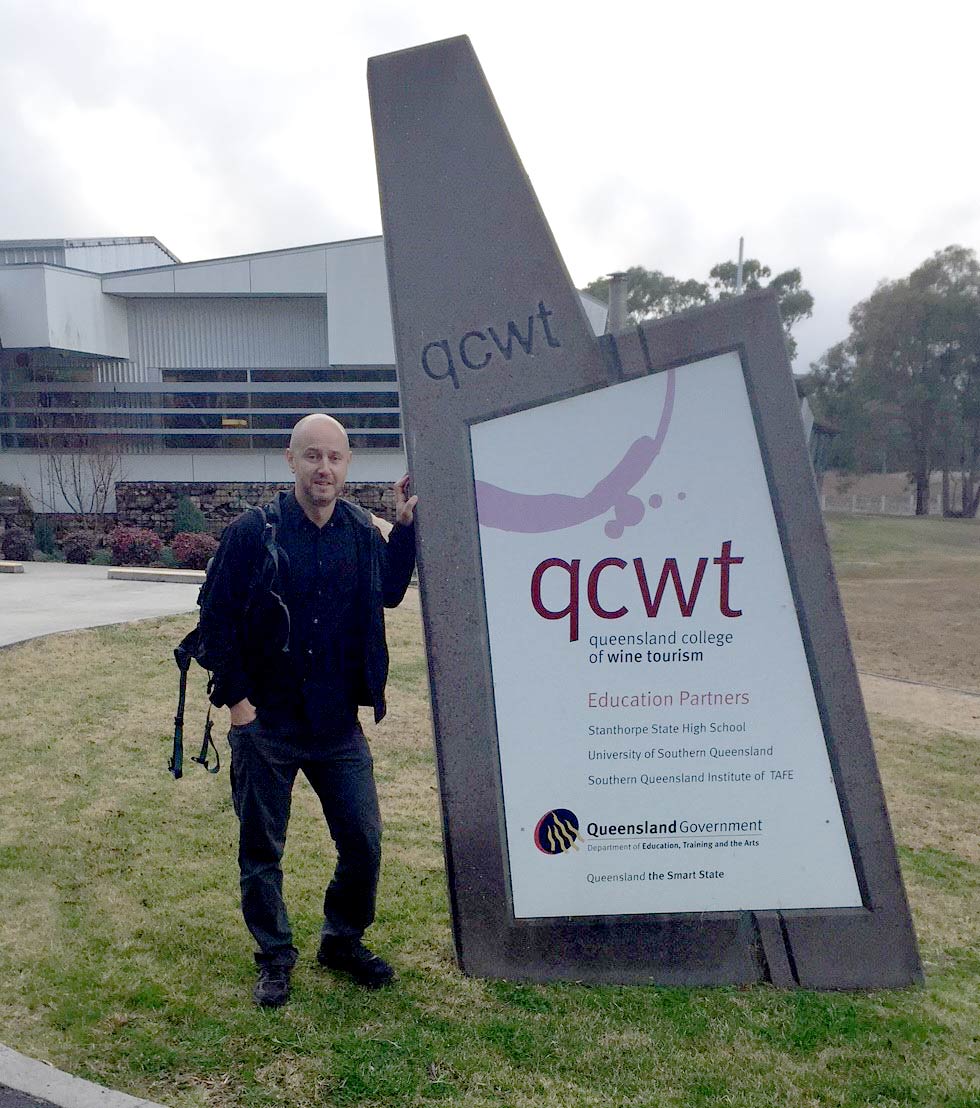 Daniel Moscovici, associate professor of Environmental Science and Geology, received a Fulbright Scholarship this summer at the University of Southern Queensland (USQ) in Toowoomba, Australia, where he looked at the science and sustainability of wine. There is a lot more behind that glass of red or white on your dinner table than you may realize.
During his time at USQ, Moscovici met with many faculty members at the university to find ways to incorporate sustainability into their teachings. He also developed and recorded two lectures which the university will be able to use in their online courses indefinitely. Moscovici helped expand curriculums for USQ's Wine Science major, Master of Sustainability in Science and specializations in Sustainable Development.
FRAME-WORTHY
Picture Stockton…Remembering 9/11 with a Campus Memorial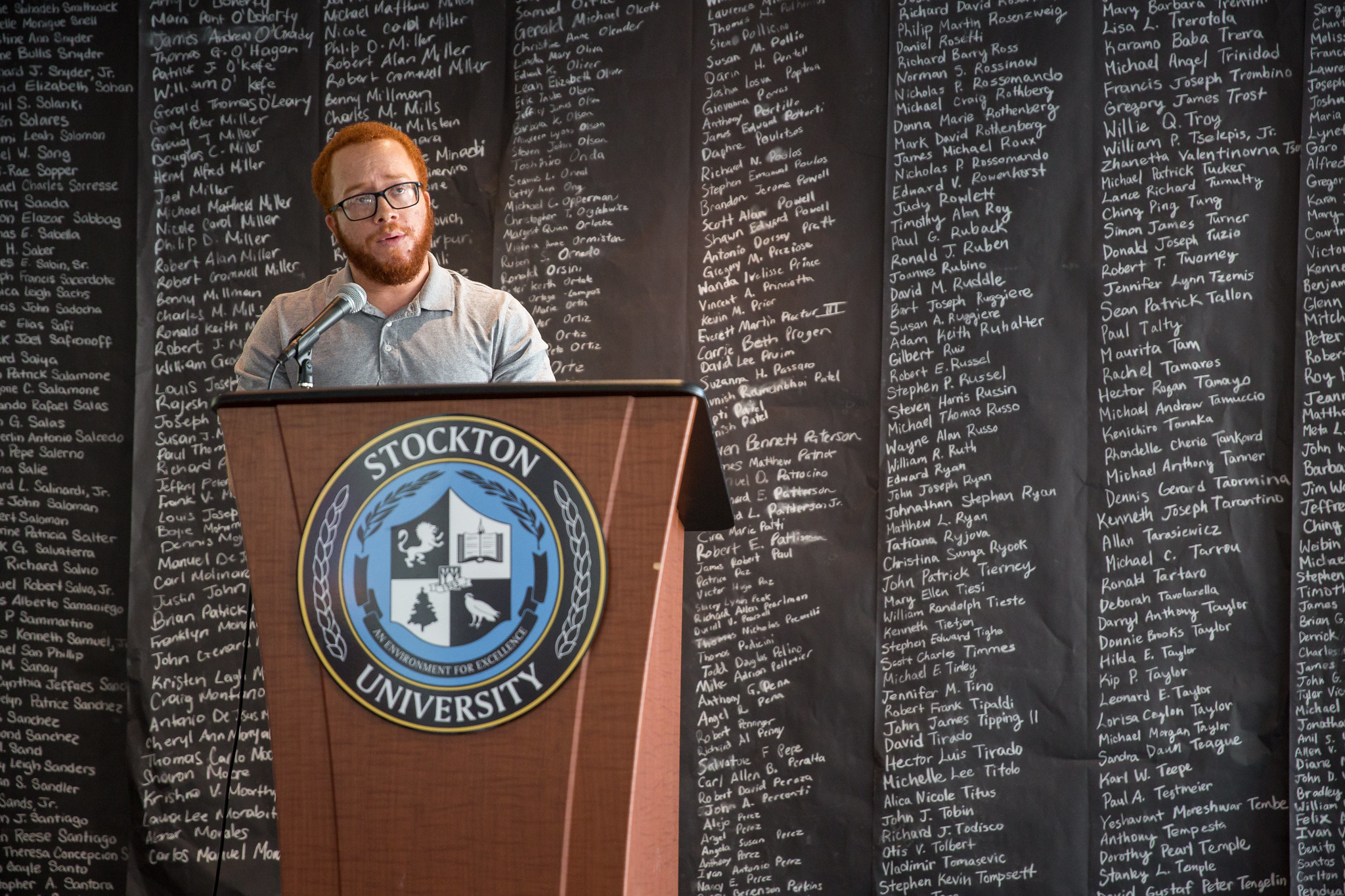 Student senators and their friends spent the past week writing by hand the names of each 9/11 victim who was killed during the attacks.
All 2,977 names are on display in the Campus Center coffeehouse. The streams of paper spanning the height of the walls have converted the space into a visual memorial. Next to the names is a banner that reads, "Gone, but not forgotten.
Angel Cordero, the SVO president and a post 9/11 veteran, said, "I share a bond with those who were immediately impacted by the attacks. We remember today, and tell these stories, because the 3,000+ people who perished cannot. We keep their memories alive through reflection, remembrance and respect."
WHAT'S TRENDING #STOCKTONU
Twitter: Hola Eagles fans! Stockton's radio WLFR 91.7FM has the rights to broadcast this season's Eagles pre-game shows and regular season games beginning Sunday in Spanish. Local listeners can tune in to 91.7FM or through mobile apps. Visit stockton.edu/wlfr for details. Go Birds!
FROM THE SIDELINES
Stockton Sweeps Cabrini for Third Straight Win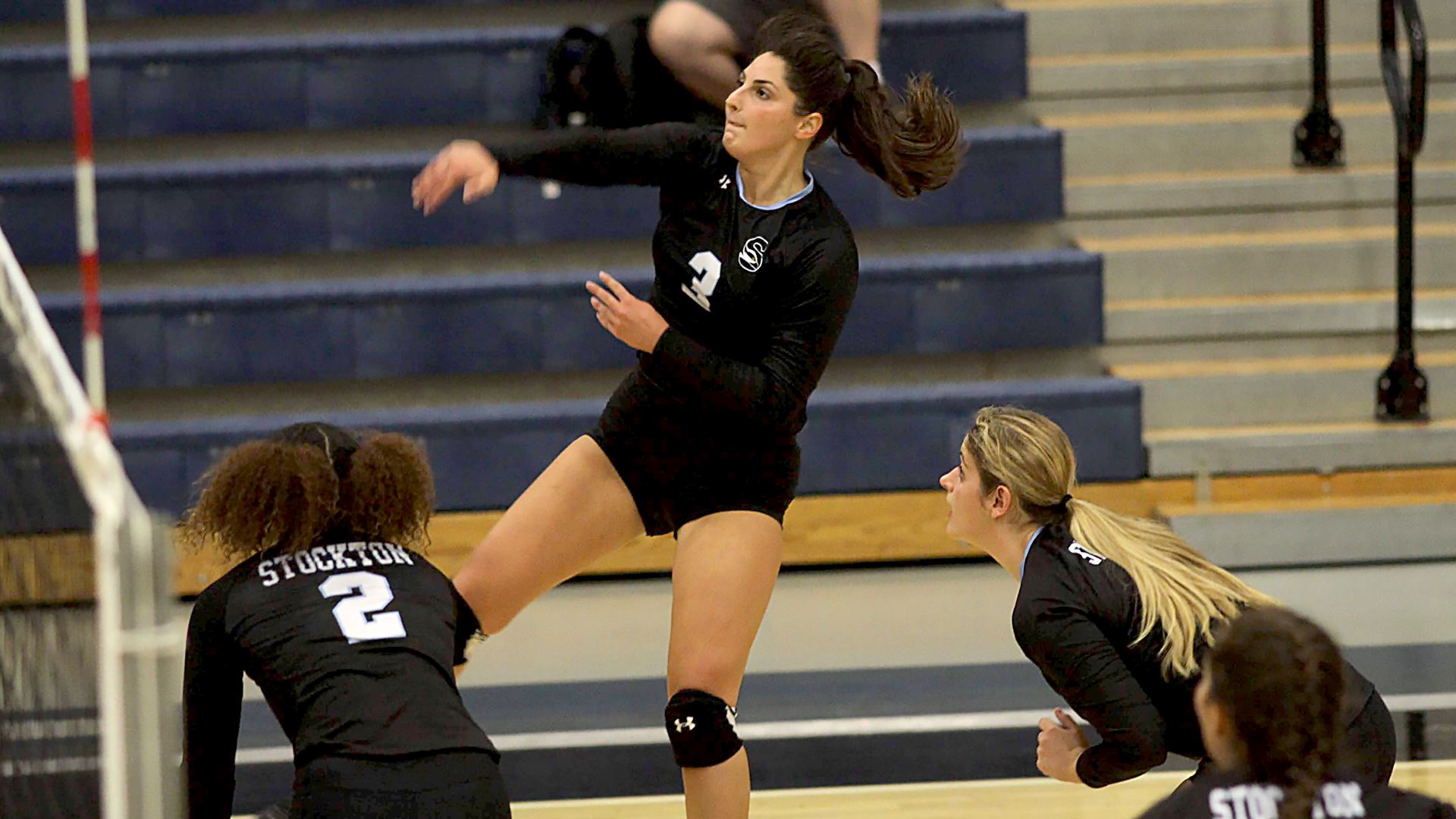 Stockton University (7-1) swept Cabrini (4-1) 3-0 for its third straight win and seventh in eight matches this season. The Ospreys relied on a balanced attack, with 14 players seeing action in the match.
Jocelyn Holobetz paced Stockton with nine kills followed by Charlotte Leon with eight kills. Leon and Julie Kohlhoff contributed four blocks apiece.
MORE FROM THE HIGHLIGHT REEL:
OSPREY NOTES
Strategic Planning Implementation Teams Forming in October; Applications Due Sept. 16
Applications and nominations are now being accepted for the Strategic Planning Implementation Teams which will form in October. Applications/nominations are due by Sept. 16. For more information and to complete the nomination/application form, visit here.
Revised Ethics Webpage Launched
The Office of Institutional Diversity and Equity introduced their revised Ethics webpage earlier this month. The page now includes quick links to various topics; drop down features containing information on online ethics training and ethics forms; questions and answers on ethics forms; and general questions and answers on selected topics.
UPCOMING EVENTS
Tuesday, Sept. 17-Wednesday, Sept. 18: Get Involved Fair
Tuesday, Sept. 24: Annual Stockton University Golf Classic
Thursday, Sept. 26:Freshman Convocation
Friday, Sept. 27: A Night in Havana, 2019 Nuestro Puebla Awards, sponsored by UNIDOS and The Hispanic Association of Atlantic County
Wednesday, Oct. 2:Ospreys Give
Now-Sunday, Oct. 6: "100 Faces of War," a traveling exhibition from the Smithsonian