Stockton News - Sept. 9, 2022
WHAT WE'RE TALKING ABOUT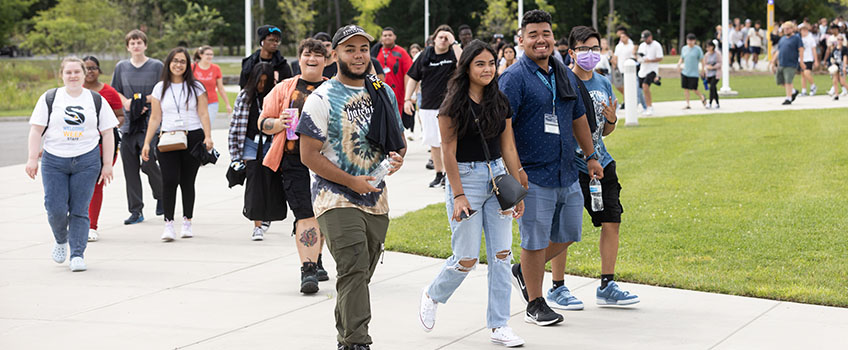 Stockton Sees 16% Increase in New Students
Stockton welcomed one of its largest first-year student classes, with more than 1,550 new students enrolled for the fall semester.
First-year student enrollment at Stockton jumped 16% over fall 2021, and more than 3,000 total students live on campus.
Notably, Stockton saw a 54% increase in applications — more than 11,000 — as students increasingly make Stockton their top choice for pursuing a college degree.
"Stockton is receiving national attention for our thriving campuses in Galloway and Atlantic City with cutting-edge labs for studies in the sciences and health care fields, the most accomplished faculty in all disciplines, and our dedicated staff," said President Harvey Kesselman.
---
SRI & ETTC Gets Grant to Promote K-12 Computer Science
Twenty-six years ago, Stockton started the Educational Technology Training Center (ETTC) to create a regional network among school districts to improve education through technology.
That mission has come full circle with a recent $333,313 grantfrom the state to create a new K-12 Computer Science regional hub, said Patty Weeks, the director of the Southern Regional Institute and ETTC in the School of Education at Stockton.
📰 In the News: New Jersey Business Magazine, The Press of Atlantic City, Patch.com
---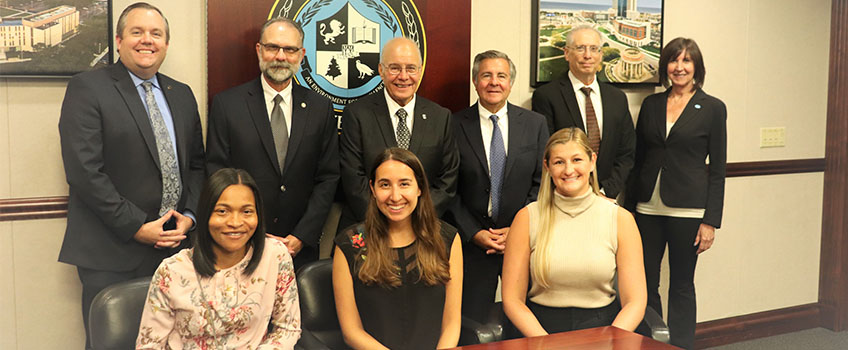 Ten Stockton Students Receive Hollander Scholarships
The Hollander Memorial Foundation is continuing its long-term support of students with a renewed commitment to the Stockton University Foundation.
The foundation will continue providing $50,000 annually to award ten students in health sciences programs each $5,000 scholarships.
For Nadira Morgan, who hopes to become an ICU nurse, the scholarship was essential to completing her accelerated Bachelor of Science in Nursing program.
📰 In the News: The Press of Atlantic City, Downbeach.com
---
New Program Story Space Helps Students Connect
Story Space, the brainchild of the Office of Student Development, hosted its first session, aptly titled "New Beginnings," on Sept. 6 in the Campus Center.
The program was inspired by a similar initiative in Floyd, Virginia, that Parth Thakkar, coordinator of student life programming, attended while pursuing his master's degree.
During the program, Thakkar and his friends listened to randomly selected community members as they shared their experiences in a circle, surrounding their theme.
FRAME-WORTHY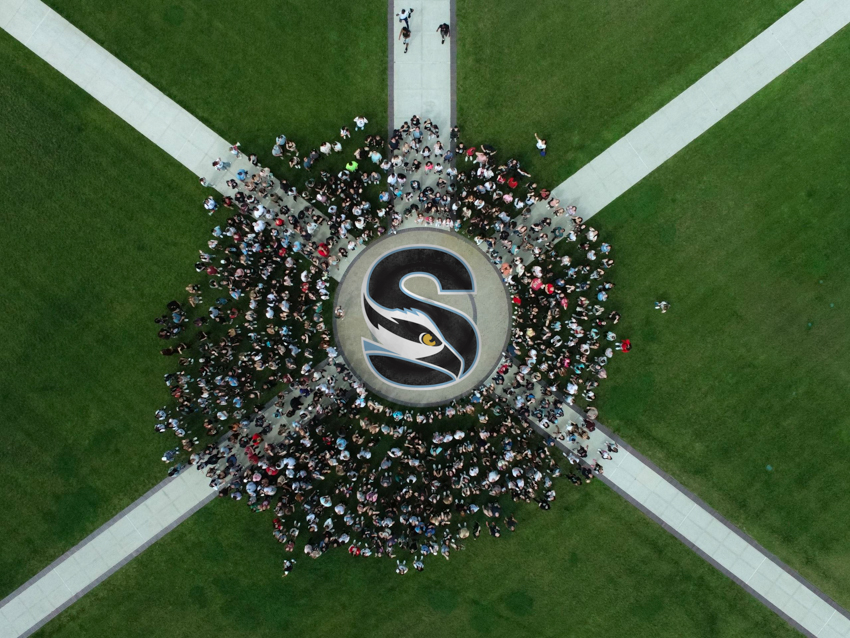 Picture Stockton...Welcoming Ospreys to Campus 🦅🎊
About 1,500 students, one of the largest classes of first-year students, are now Ospreys.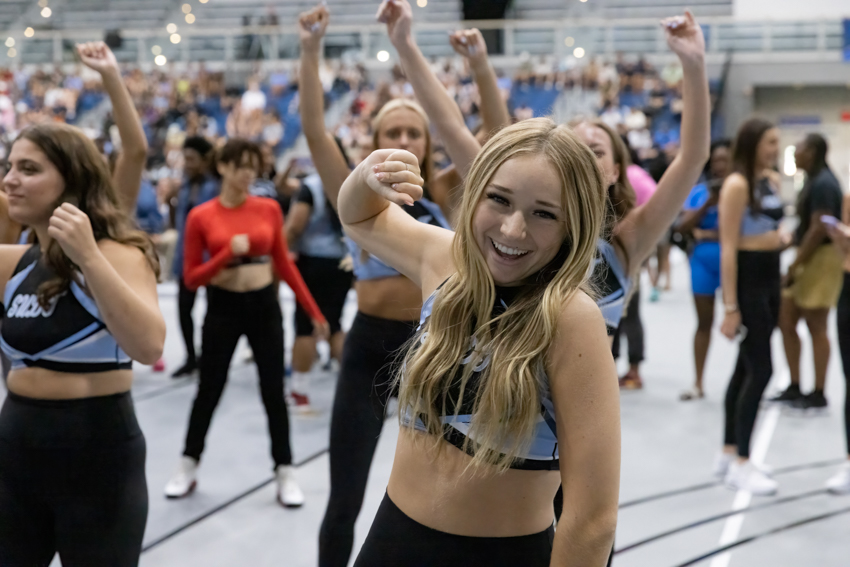 Welcome Week activities united strangers, forged friendships and showed new students that they can choose their own path to success.
Best of luck to all our Ospreys this semester.
WHAT'S TRENDING

@ #STOCKTONU
Instagram: You don't ever have to feel isolated. That is what Dalia Moamed, a senior Psychology major with a concentration in mental health, wants all students to know.
Twitter: The soccer field is ready for sod, and the track is ready for a new surface. In the meantime, the newly renovated lacrosse field will host our soccer teams this season.
Facebook: Week one is flying by, Ospreys. It's looking like perfect beach or Lake Fred weather for the weekend.
FROM THE SIDELINES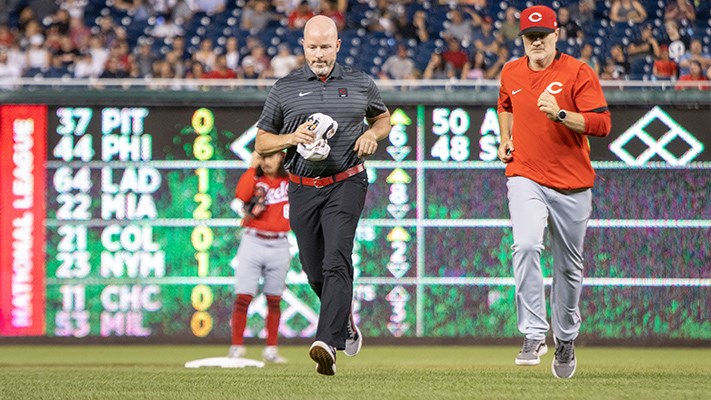 Former Osprey in First Year as Cincinnati Reds Head Trainer
Stockton alumnus Sean McQueeney is in his first season as thehead athletic trainer for the Cincinnati Reds. McQueeney, who previously worked for two other Major League Baseball organizations, returned to the diamond this year after eight years working as a physical therapist for several private companies.
"This is the fulfillment of a dream I've had for a long, long time," McQueeney said. "As a kid I had hoped to be a professional baseball player, and once I realized that was not my future I was determined to become the Head Athletic Trainer for an MLB team. A big goal for my first year has been to really soak in the opportunity and joys of being with a Major League Baseball team and be thankful that I get paid to watch MLB games."
Stockton Draws with Misericordia 1-1
The Stockton men's soccer team (2-1-1) scoredin the 68th minute to pull out a 1-1 draw against Misericordia (2-0-1) on Sept. 7. Owen Kitch tallied his second goal in as many games for the Ospreys.
After a scoreless, tense first half, the visitors broke through for the first goal with just 3:35 gone in the second stanza. Trent Wallfired a volley that hit off the bottom of the crossbar and went in for the 1-0 lead.
---
🗓️ View the full schedule of upcoming athletic events here
OSPREY NOTES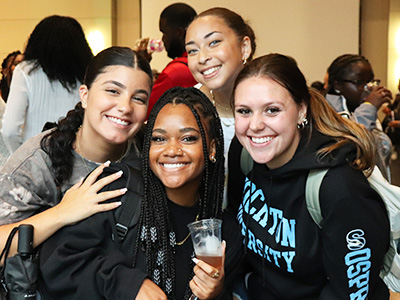 SPACES Welcomes New Students to Stockton
As music blared and the smell of empanadas and egg rolls wafted through the Campus Center Event Room, more than 300 students, staff and faculty celebratedthe beginning of the fall semester at the annual fall SPACES Welcome Reception on Sept. 6.
Launched in 2018, SPACES is a program that encourages diversity and inclusion through connection. The twice-a-year Welcome Reception, which boasts free multicultural food, a live DJ and door prizes, is one of their staple programs.
---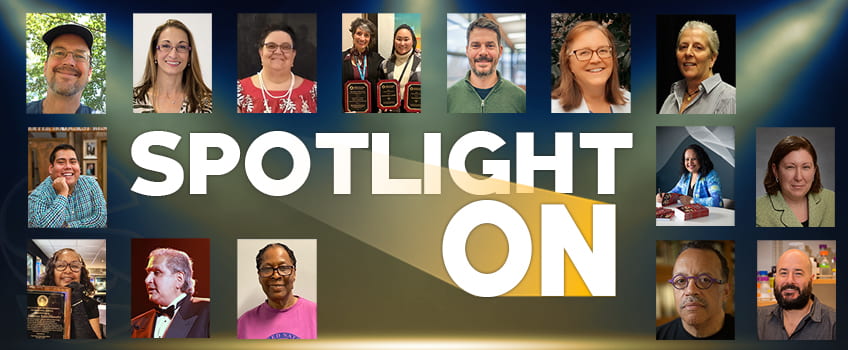 Webpage Puts Spotlight On Faculty, Staff
Our Stockton faculty and staff are always seeking to expand their knowledge and repertoire to best guide our Ospreys while also enriching their own skill sets. Here, we showcase their achievements and accomplishments that represent the University through grant-funded research, presentations, publications and more.
If you are a staff or faculty member who is interested in being considered for a "Spotlight On" feature, emailAmanda McCullough, editor of Stockton News, for more information and guidelines.
---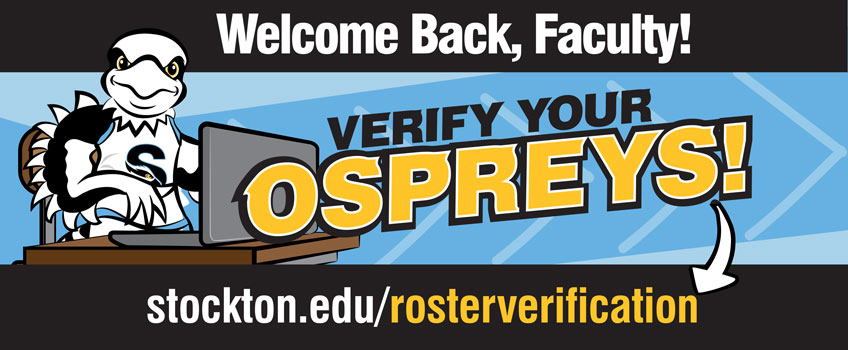 Roster Verification Reminder for Faculty
Welcome back, faculty! As the fall semester has begun, it's time to Verify your Ospreys!
New this year, faculty are reminded to complete the Roster Verification process by confirming student attendance/academic activity beginning after the add/drop period on Tuesday, Sept. 13. The Roster Verification process is to be completed by Tuesday, Sept. 20. The Office of Financial Aid will use this information to make adjustments to student financial aid disbursements based upon each student's confirmed number of credits.
Each instructor will be responsible for verifying student attendance or participation in an academic activity. For online courses, faculty are reminded to include an assignment or discussion activity during the add/drop period so that the student's attendance can be confirmed.
The link to complete Roster Verification can be found under the faculty tab within the goStockton portal.
For more information and a list of frequently asked questions, visit stockton.edu/rosterverification.

UPCOMING EVENTS