Stockton News - October 30, 2020
WHAT WE'RE TALKING ABOUT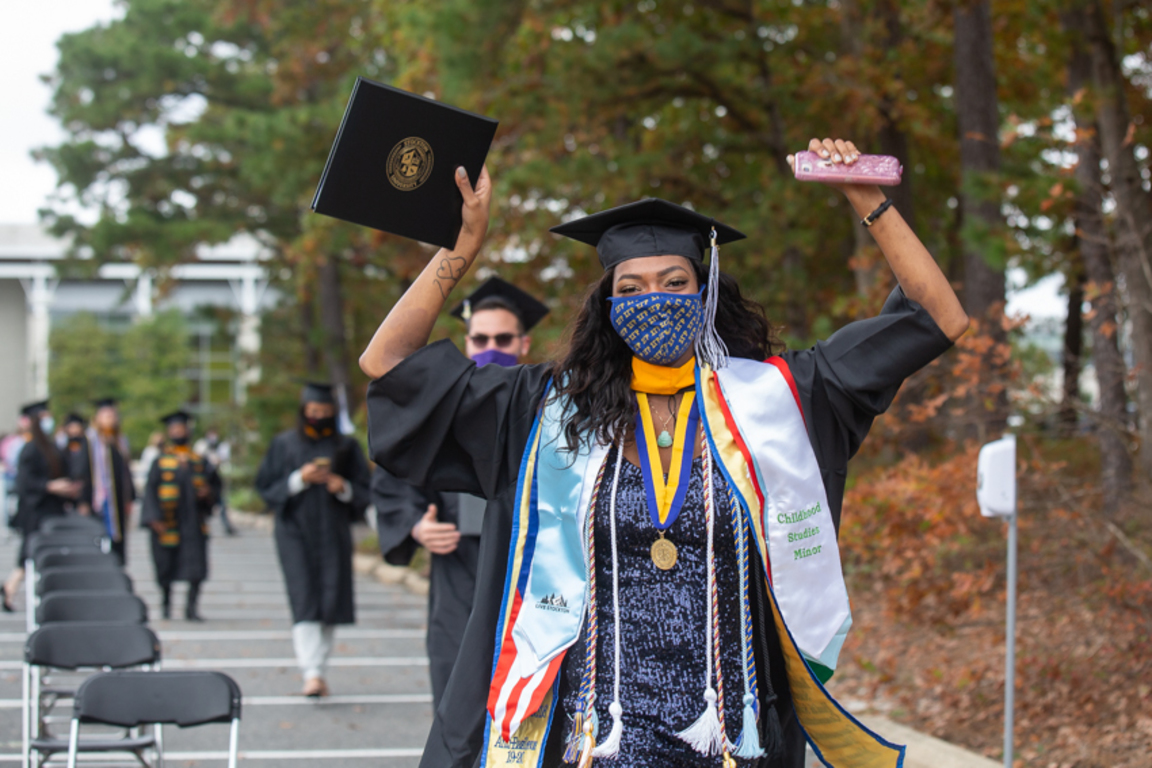 Nearly 1,000 Return for Special Commencement
They waited five months to do it, but nearly 1,000 members of the Class of 2020 at Stockton University finally got to walk across a stage and hear their names announced as Stockton hosted eight separate socially-distanced outdoor Commencement ceremonies on the Galloway campus Oct 23.
📸 To view a photo story and see more images from the commencement ceremonies, visit here.
📰 The Press of Atlantic City featured a photo gallery from the day.
Alumni Honored at Annual Coining Ceremony
Class of 2020 graduates with ties to the military were finally honored and presented with Stockton challenge coins in a virtual ceremony Oct. 22.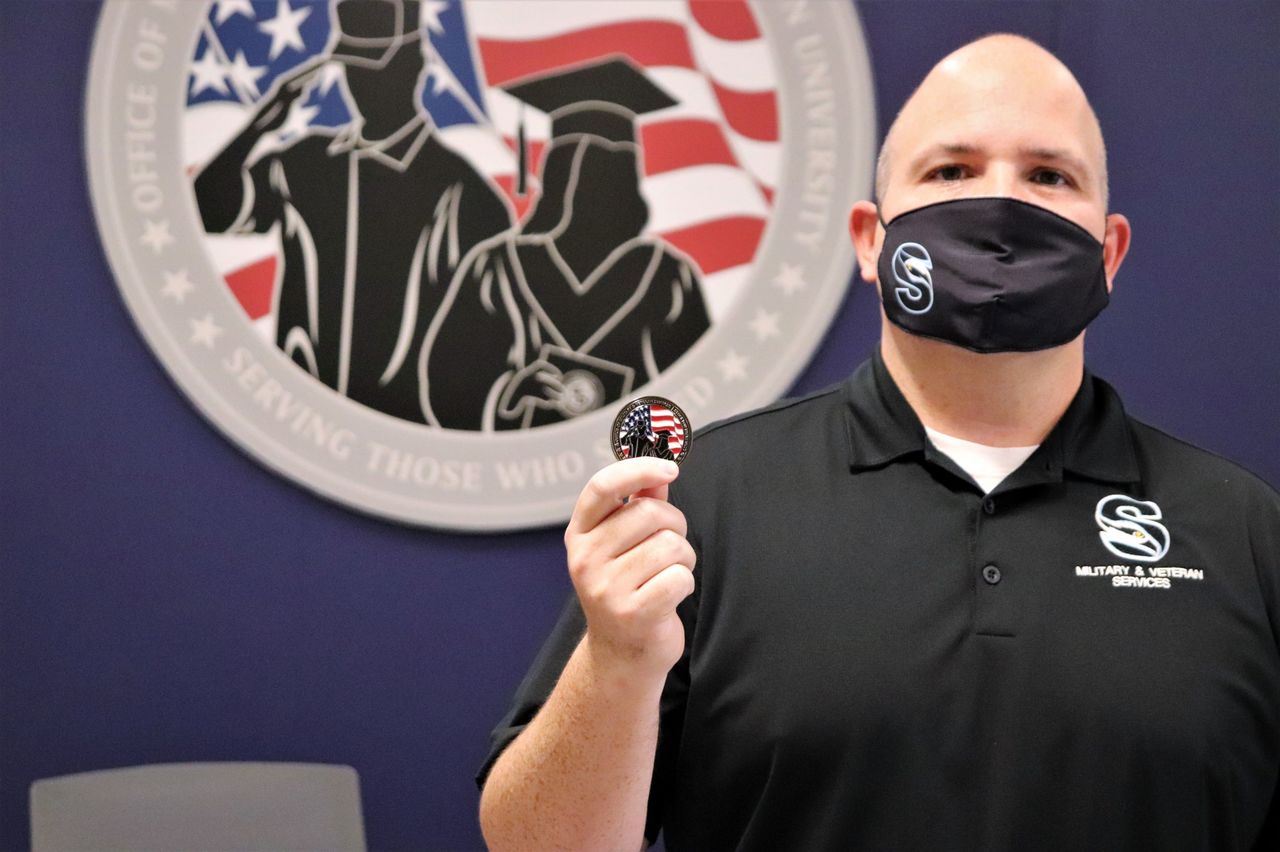 Seventy seniors were eligible to receive the coins last spring. However, due to the ongoing coronavirus pandemic, the ceremony was postponed.
Director of the Office of Military and Veteran Services Jason Babin, right, said of the Zoom ceremony: "While we wish you could be here with us during this important event, the entire Stockton community, from the president and the provost to the staff and faculty, want to congratulate you on your amazing accomplishment, and we look forward to your many future successes."
---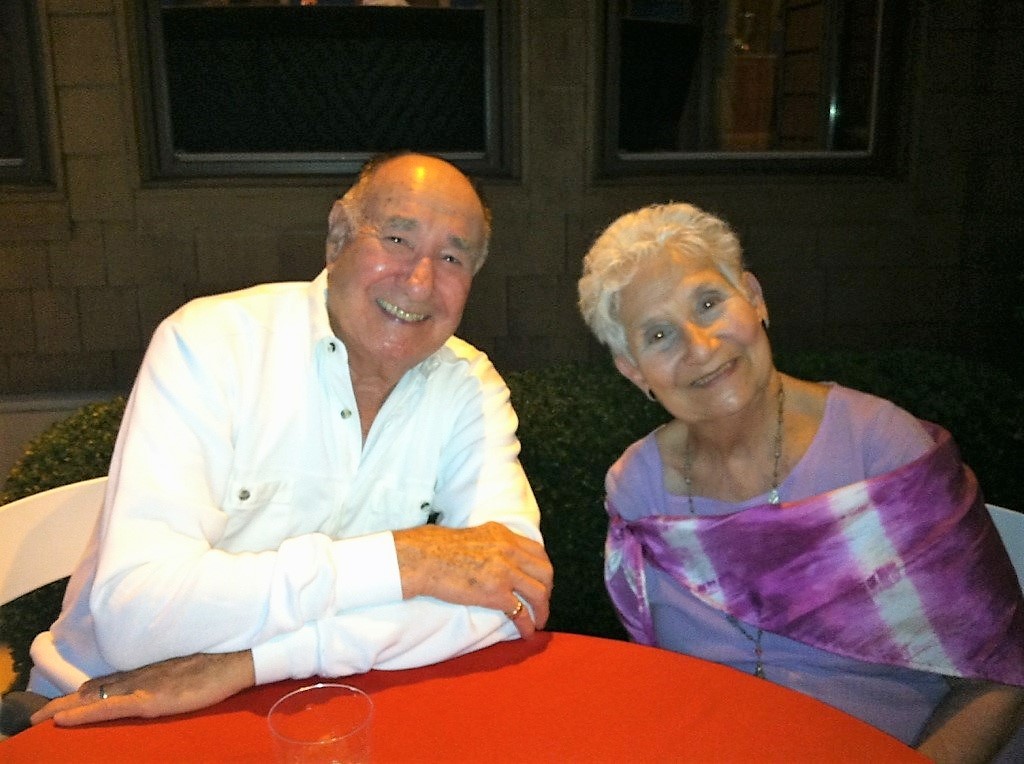 Stockton Receives Gift from Weinstein Estate
Former Stockton University trustee Judge Gerald Weinstein passed away in December 2019. But through his estate, Stockton students will continue to benefit from his generosity and concern.
A bequest from his estate will continue the legacy of Judge Weinstein, who had previously endowed two funds at Stockton.
---
Students Spend Day Making a Difference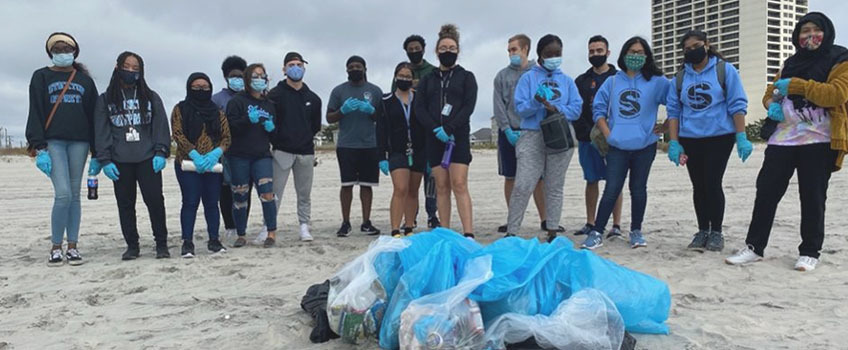 More than 100 Stockton students grabbed their masks and spread across Atlantic County on Saturday, Oct. 24 to participate in 10 projects for Make a Difference Day.
Paige Richards, the AmeriCorps Changebuilder coordinator at Stockton, who organized the event, said it was a major accomplishment to adjust the day's events for COVID-19 pandemic guidelines, but in some ways, the pandemic made the projects all that more meaningful.
---

Tune in to WIBG this Saturday, Oct. 31 at 11 am on either 101.3 FM or 1020 AM to listen to the first edition of Stockton Now. Stockton Now is a monthly conversational news magazine that highlights the people and programs at Stockton University. Hosted by Chad Roberts, general manager of WLFR, October's episode features President Harvey Kesselman talking about what it takes to lead in 2020; Chris Catching, vice president for Student Affairs and Nordia Johnson, interim director of Academic Achievement Programs, discussing targeted student success programs; and Interim Provost Michelle McDonald on academic programming for today and tomorrow.
WE'RE HERE TO HELP
Resources Available to Staff, Faculty
🚫 The I-Wing weight room and Sports Center fitness room are temporarily closed for cleaning and sanitizing in accordance with COVID-19 guidelines and precautionary measures. They are expected to reopen Monday, Nov. 2.
WHAT'S TRENDING @ #STOCKTONU
OSPREY NOTES
Faculty, Staff, Students Participate in AfriVIPE Virtual Interprofessional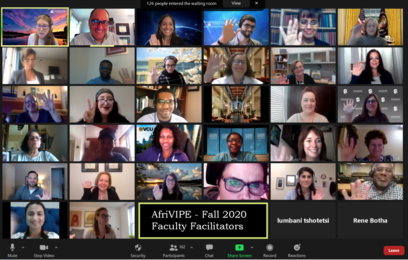 Education Event
Students and faculty from Stockton's graduate programs in Counseling, Nursing, Occupational Therapy, Communication Disorders and Social Work participated in AfriVIPE, a Virtual Interprofessional Education event on Oct. 26.
The event included 320 participants from around the world who gathered on Zoom to collaborate while planning care for a patient named Patricia, according to Peg Slusser, dean of the School of Health Sciences and one of the faculty facilitators for the event.
"Thanks to the expert planning, persistence, problem solving and the very broad skill set of our own Renee Cavezza [program assistant] and Stockton's IT team, the experience went off without a glitch," Slusser said. "Students and faculty facilitators from throughout Africa, the United Kingdom, and the United States were expertly disbursed to 29 separate break-out rooms where international, interprofessional teams collaborated to provide complex patient care."
File FAFSA Starting Oct. 1
The time is coming, Ospreys! Get your FAFSA done, starting Oct. 1! Encourage students to file their FAFSA application

s as soon as possible to avoid missing out on any aid they may be eligible for. Direct them to fafsa.gov.
🍂 It's almost time to "fall back!"
This is a friendly reminder to set your clocks back one hour as Daylight Saving Time ends at 2 a.m. Sunday, Nov. 1.
UPCOMING VIRTUAL EVENTS
Upcoming Events Hosted by the Office of Development and Alumni Relations