Stockton News - Oct. 29, 2021
WHAT WE'RE TALKING ABOUT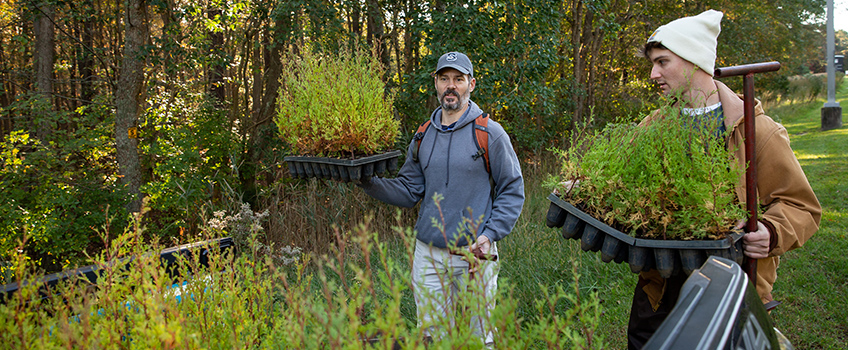 Atlantic White Cedar is Taking Root for a Comeback at Stockton
The Atlantic white cedar acts just like its name sounds—a seeder—but the historically dominant species dwindled as the aromatic and rot-resistant wood was harvested and hardwood species took its place.
On Stockton University's campus there is a clearing in a wetland forest that was once a cedar swamp. Matthew Olson, assistant professor of Environmental Science, and Kyle Caccamesi, a senior Environmental Science major, met Bob Williams, of Pine Creek Forestry, at the empty spot to give what Williams' calls a "prolific seeder" a second chance.
---
Hughes Center Conducts Polls on Upcoming Elections
The Stockton Polling Institute of the William J. Hughes Center for Public Policy conducted two polls this week that focused on New Jersey's upcoming elections.
A poll on Oct. 26 indicated that Democrat Vince Mazzeo leads Republican Vince Polistina in the competitive State Senate race in New Jersey's 2nd Legislative District, but the State Assembly candidates are essentially tied.
On Oct. 28, polling results showed incumbent Democratic Gov. Phil Murphy leads Republican challenger Jack Ciattarelli 50% to 41% when voters leaning toward a candidate are included.
---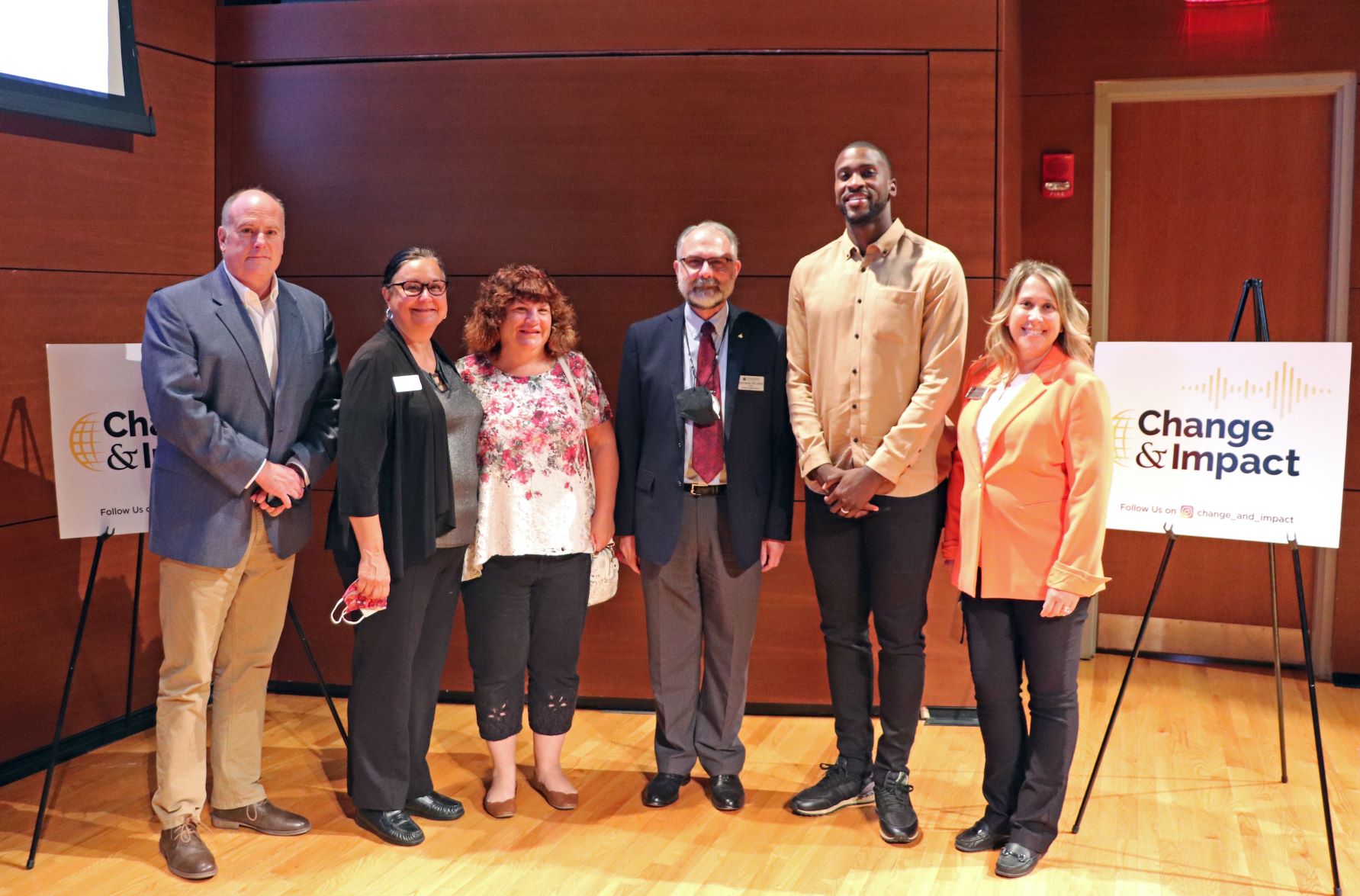 NBA Star Shares Story about Success and Stuttering
While Michael Kidd-Gilchrist has been making hoops in the NBA since 2012, he has been jumping through them for longer after developing a stutter as a young child.
Kidd-Gilchrist recently teamed up with Joe Donaher, speech language pathologist and academic and research program coordinator at Children's Hospital of Philadelphia, to raise awareness and create change in the stuttering community through the Change and Impact Initiative, the center of a panel discussion at Stockton on Oct. 15.
Donaher and Kidd-Gilchrist spoke candidly about what it means to be a person who stutters, what it means to be a speech language pathologist (SLP) working with people who stutter and the importance of the relationship between the two.
STOCKTON UNIVERSITY ATLANTIC CITY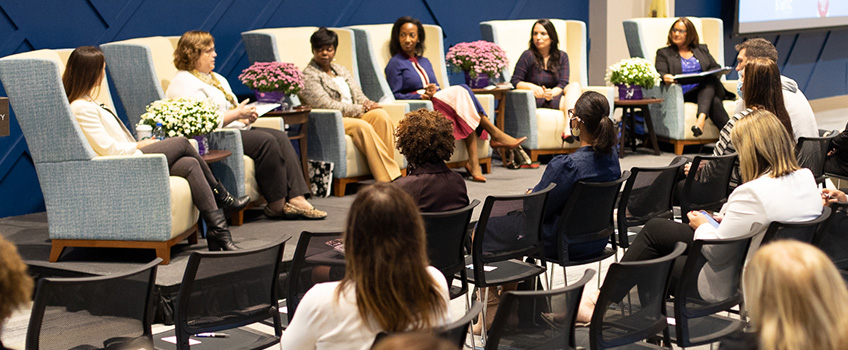 Panel Discusses Diversity and Inclusion in Business
Achieving true diversity and inclusion in business takes a plan, goals, strategies, commitment, and the input of stakeholders at every level speakers in the "Women in Leadership: Diversity, Equity and Inclusion Panel" said at the Stockton Women's Leadership Council (SWLC) conferenceat the Stockton Atlantic City campus Oct. 22.
The five women on the panel came from different backgrounds and different industries, but shared the common goal of promoting diversity, equity and inclusion at all levels.
Grace Chow, vice president of food and beverage at Hard Rock Hotel & Casino Atlantic City said past concerns about not addressing gender, race, religion or marital status in the workplace were designed to prevent discrimination. Today, she said, the discussion is about bringing issues into the light.
---
Change in Shuttle Schedule Begins Nov. 1
The Atlantic City / Galloway shuttle will operate on a new schedule starting on Monday, Nov. 1. Modifications have been made to weekday evening and weekend departure times and can be viewed here.
SPOTLIGHT ON: MARIANA SMITH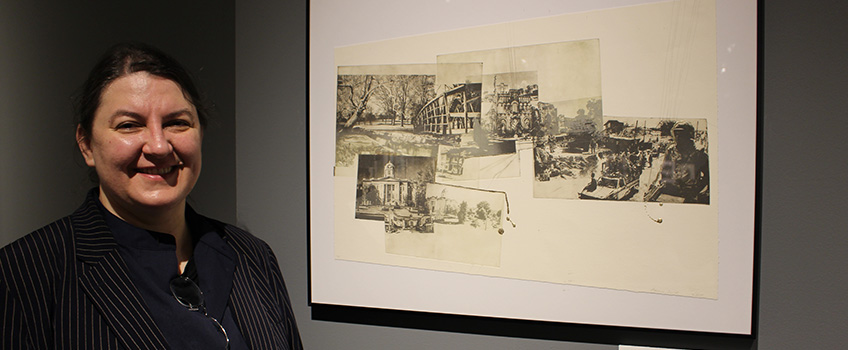 Exhibit Tells Veterans' Stories Through Art
Stockton Associate Professor of Art Mariana Smith never met the Army soldier who wrote about taking a wrong turn and getting his vehicle stuck in an alley during his first week in Somalia.
But she tried to interpret that feeling of being a soldier in a new land through her art as part of the Experiencing Veterans and Artists Collaboration (EVAC), on display from Oct. 27-Nov. 17 in the Stockton University Art Gallery in upper L-Wing.
"I feel that it's an important message," Smith said. "I'm in my studio making art, but artists also have a civic responsibility to be part of the community. It's an honor to be part of this."
WHAT'S TRENDING @ #STOCKTONU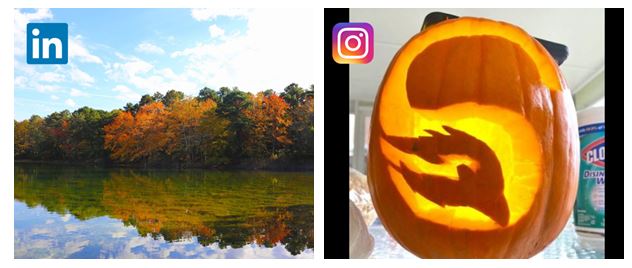 LinkedIn: Lake Pam is stunning in fall's finest this week 🍂
Instagram: Getting into the 🦅 spirit on #NationalPumpkinDay 🎃
FROM THE SIDELINES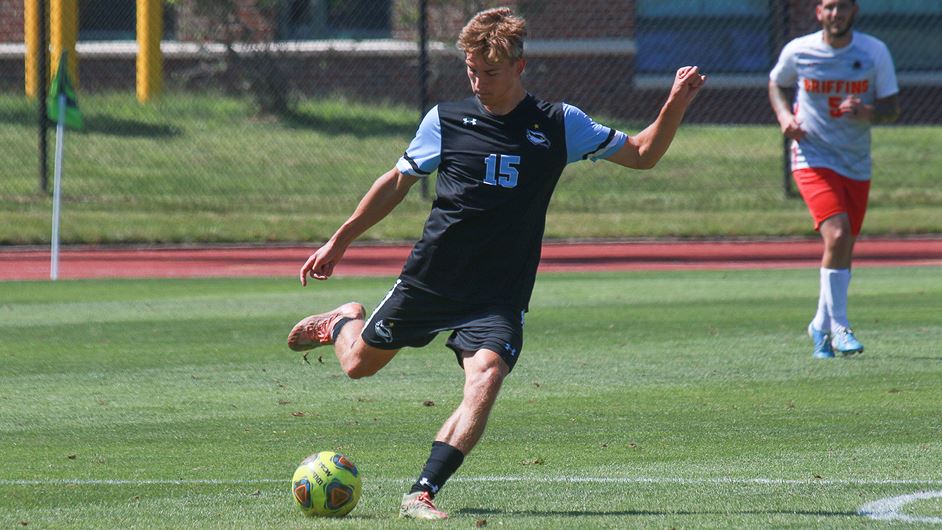 Stockton Reaches NJAC Tournament With 2-0 Win
MEN'S SOCCER: Stockton University earned a much-needed victory, with a 2-0 whitewash over The College of New Jersey on Wednesday night. Freshman Joseph Carbone (pictured) scored both goals to help propel the Ospreys into the NJAC Tournament starting tomorrow, Oct.30.
The first half was a scoreless affair, with Stockton pushing the action for most of the frame. The Ospreys had four shots in the period with three on net but came away empty. Carbone, Sebi Morrello and Peter Kozlej all had great opportunities but were turned away by TCNJ net minder Julian Franco.
---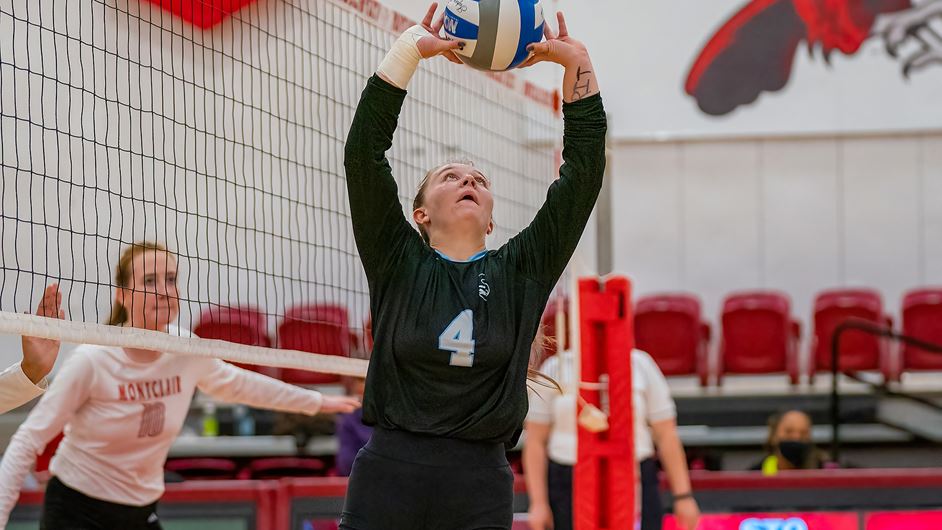 Stockton Downs Ramapo 3-1 in Final NJAC Tilt
VOLLEYBALL: Stockton University captured a tough 3-1 win over Ramapo College on Oct. 26. The Ospreys won by scores of 25-13, 18-25, 31-29, 25-15 in the last regular-season NJAC match. Freshman Teleyah Witherspoon led the Ospreys with 10 kills and a career-high eight blocks.
Stockton qualified for the NJAC Tournament as the number three seed and will host the first round next Tuesday, Nov. 2.
🗓️ View the full schedule of upcoming athletic events here.
'ROLE' CALL
In an email on Oct. 25, Leamor Kahanov, provost and vice president for Academic Affairs, shared the following administrative changes:
AmyBeth Glass, associate provost for Academic Affairs
Jennifer Kosakowski,interim executive director of the Office of Research and Sponsored Programs, effective Nov. 8
Ariane Hutchins-Newman, interim assistant provost, effective Nov. 2
Emily Bell, administrative assistant to the Provost
In addition, there are several other realignments that have occurred. The Manahawkin Instructional Site is now under the School of Health Sciences. The William J. Hughes Center and the Hammonton Instructional Site are now reporting to the School of Social and Behavioral Sciences. The Sam Azeez Museum of Woodbine Heritage is now under the School of General Studies.
WE'RE HERE TO HELP
Resources Available to Staff, Faculty
💻 Information Technology Services is sharing tech training tips with the Stockton community. This week's tip focuses on how to access the Class Photo Roster. Learn more here.
Stockton provides faculty and teaching staff with professional development, training, teaching ideas, resources and individual consultations via the Center for Teaching and Learning Design. Visit herefor information on upcoming professional development events being offered.
SUPPORT4U: A variety of counseling, referral and consultation services are available to Stockton employees and household members through the Employee Assistance Program. Learn more here.
COVID-19 Information
💭 Health care professionals from AtlantiCare and Stockton will address questions about the COVID-19 vaccine, boosters, testing and additional topics related to the COVID-19 pandemic and fall and winter seasons at a Zoom session at 4:30 p.m. on Thursday, Oct. 28. AtlantiCare's Director of Infection Prevention Acute Care Services Gemma Downham and Stockton's Associate Director for Health Outreach, Promotion and Education Zupenda Davis-Shine will participate. Zoom information will be shared the day of the info session. If you would like to submit a question, email the University Resilience Operations Committee at UROC@stockton.edu.
With the increase of COVID-19 infections in the region's schools and daycare centers, the university will allow for up to 10 days (cumulative) of COVID-19 related leave where an employee is authorized to work from home by their manager/Divisional Executive. If you are unable to work from home or not approved, you must use accrued leave. Please contact the Office of Human Resources at 609-652-4384 for further instructions, including the need for documentation from the daycare facility, school, or physician confirming the need for childcare, along with a statement that there is no other person available to provide childcare.
Reminder: If you are feeling sick with COVID-19 symptoms, don't forget to update your COVID-19 reporting form via the goStockton portal in the "Employee" tab. If you are feeling ill, do not come to campus, notify your manager and see your doctor if necessary.
Stockton has added new information to the COVID-19 FAQ lists and has posted anew set of FAQs with information from AtlantiCare about health questions related to COVID-19. Questions not in the FAQ can be emailed to UROC@stockton.edu.
👉 Eligible employees who get a booster vaccine may now add that information to their vaccination status through the portal on the Stockton website at go.stockton.edu/employee.
OSPREY NOTES
Public Comment Sought for Master of Science in Communication Disorders Program Accreditation
In accordance with the Council on Academic Accreditation's (CAA) Public Comment policy and procedures, the CAA is seeking public comment as part of its review of the master's program in speech-language pathology at Stockton University that has submitted an application for continued accreditation and is anticipating a virtual site visit on Nov. 29-30, 2021.
Individuals who wish to provide input may do so in two ways. For more information about comment requirements and how to submit, please view the full announcement here.
Contact Amy Hadley at Amy.Hadley@stockton.edu if you have questions.
Celebrate Diversity: October Issue of the Stockton CCDIE Digest
Welcome to the October issue of Celebrate Diversity, a publication of the Committee on Campus Diversity and Inclusive Excellence. The digest provides Stockton students, faculty, staff and alumni the opportunity to reflect on current thinking of diversity and inclusion issues in higher education and the world around us.
Submissions are welcome for future issues and can be emailed to Valerie.Hayes@stockton.edu or Kameika.Murphy@stockton.edu.
External Funding Highlight Book for Fiscal Year 21
The Office of Research and Sponsored Programs has published the External Funding highlight book for Fiscal Year 21. External awards boasted over $9,000,000.00 in combined funding received. Representing external funding for FY21 are 32 Principal Investigators highlighted in this year's publication, each contributing to an array of research projects spanning various disciplines and adding to the continued growth and success of Stockton University.
50th Anniversary Virtual Background Available
If you are interested in celebrating Stockton's 50th anniversary virtually, University Relations & Marketing has an official background available for download here that can be used on Zoom, Teams and Skype.
UPCOMING EVENTS