Stockton News - Oct. 28, 2022
WHAT WE'RE TALKING ABOUT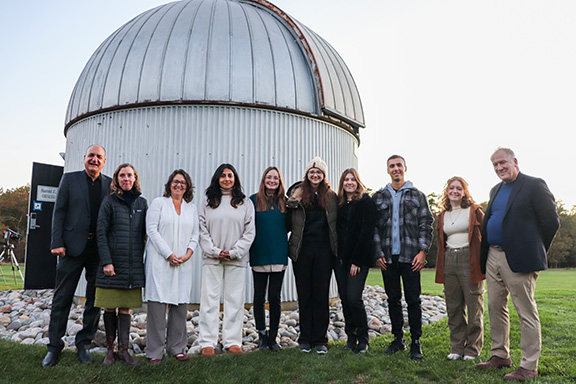 New 🔭 Telescope Offers a Look 'Deeper into the Heavens'
The new telescope at the Harold E. Taylor Observatory may only be one inch larger, but it's light years better, said Stockton Physics Professor Joseph Trout.
The 17-inch PlaneWave CDK17 telescope was officially unveiled to the public on Oct. 20 before a crowd of more than 100 alumni and supporters who got the chance to view the rings of Saturn and the moons of Jupiter on a clear, cool night.
"It's a true testament to our Stockton spirit," said Leamor Kahanov, provost and vice president for Academic Affairs, at the dedication ceremony outside the observatory. "Students develop, the faculty facilitate and guide, and the staff across the entire University collaborate to make something like this happen."
---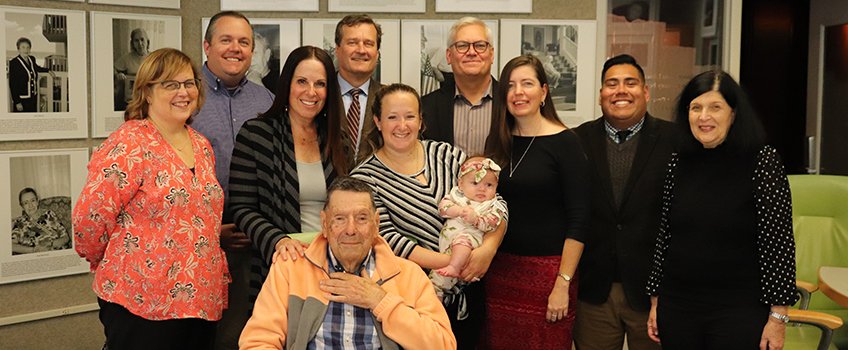 New Endowed Scholarship Will Honor Local Holocaust Survivor
For most of her life, not many people knew that Ruth Kessler was a survivor of the Holocaust.
"I was the only one who knew her Holocaust story," said her daughter Michele Taroff. "She never talked about it. My brothers never knew."
And Kessler continued to keep mostly quiet about her experience as part of the Kindertransport for many years – until her granddaughter, Dani Hong, approached "mom mom" in eighth grade to ask if she would talk to her class.
"I saw her face turn white and she just looked at Dani and said, 'OK.' And that was the beginning of her telling her story, which she never thought was important enough," Taroff said.
Her important story and family's legacy will live on with Stockton students as part of the Ruth Fisch Kessler Memorial Endowed Scholarship. Taroff and her husband, Scott, have set up the scholarship, which will go to a Stockton undergraduate student with a demonstrated interest in Holocaust and Genocide Studies. The family announced the gift in a ceremony at Stockton's Sara & Sam Schoffer Holocaust Resource Center on Oct. 12.
---
💭 Relevant Read: In time for the ⚾️ World Series, the Nolan Ryan Memorabilia exhibit has been extended to Feb. 26, and this super fan could not be more thrilled. (Go, Phils!)
STOCKTON UNIVERSITY ATLANTIC CITY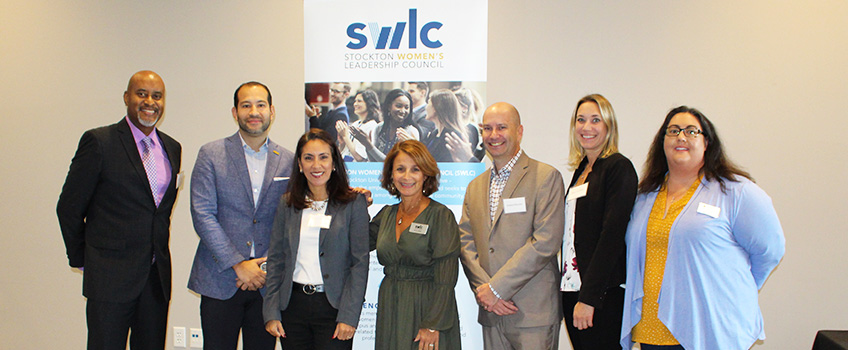 'Equity in Action' Day Draws Business and Community Leaders
Leaders dedicated to supporting and promoting the Hispanic community participated in a day of learning with the Stockton's Women Leadership Council (SWLC), the Office of Continuing Studies, Meet AC and the National Hispanic Corporate Council (NHCC) on Oct. 21.
"Today, we celebrate Hispanic leaders of Atlantic City. They make up 30% of our local population and growing and we're proud to tell that story here," said Meet AC's Howard Munves.
Eduardo Arabu, executive director of the NHCC, shared valuable insights and statistics about the Hispanic population and how businesses can support the population during his keynote speech.
---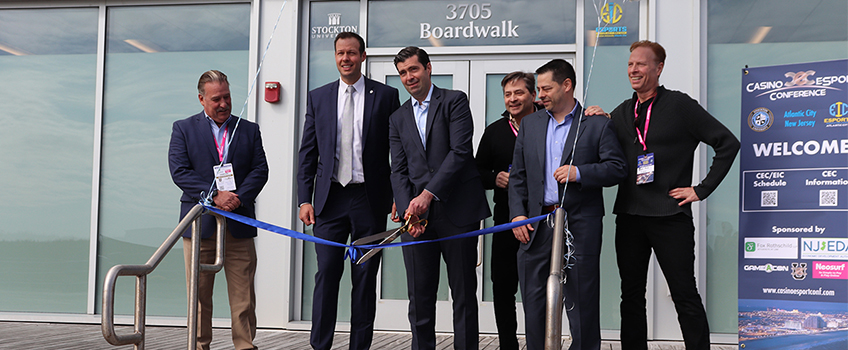 Esports Innovation Center Ready to Attract New Business
The ribbon cutting on Oct. 18 of the Esports Innovation Center (EIC) at Stockton is helping to put New Jersey and Atlantic City on the map as one of the leaders in this new and growing industry.
That's the message Tim Sullivan, the Chief Executive Officer of the New Jersey Economic Development Authority (NJEDA), wanted to make clear during his keynote address at the first Casino Esports Conference (CEC) on the East Coast, held at Stockton's Atlantic City campus on Oct. 18 and 19.
📰 In the News: The Press of Atlantic City, NJBIZ, Bollyinside, Las Vegas Sun
FRAME-WORTHY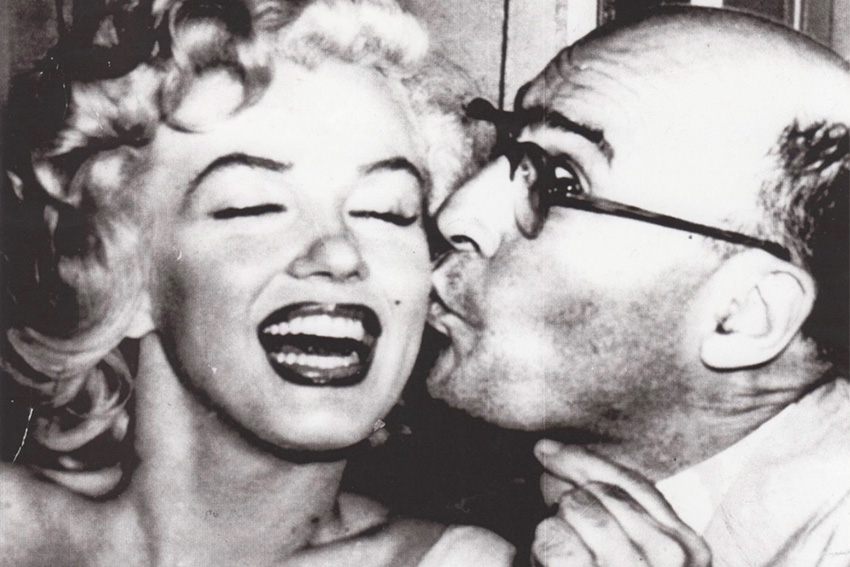 📸 Picture Stockton … Southern NJ Through Different Lenses
From the glitz of Miss America to the secret Underground Railroad stops, the annual Al Gold Memorial Lecture highlightedthe disparate times of South Jersey through photography in the lower Stockton University Art Gallery on Oct. 20.
The memorial lecture, which has been on campus for about 10 years, is named after Atlantic City's first chief photographer, Al Gold (pictured above kissing Marilyn Monroe on the cheek). Gold photographed many parts of Atlantic City's rich history, including the Miss America pageants and celebrities on the Boardwalk. He held his post in the city from 1939 until his death in 1964.
Vicki Gold-Levi, Al's daughter, now works as a picture editor, author, collector and Atlantic City historian. To keep her father's memory and timeless photos alive, she and Wendel White, distinguished professor of Art, created the lecture series.
WHAT'S TRENDING

@ #STOCKTONU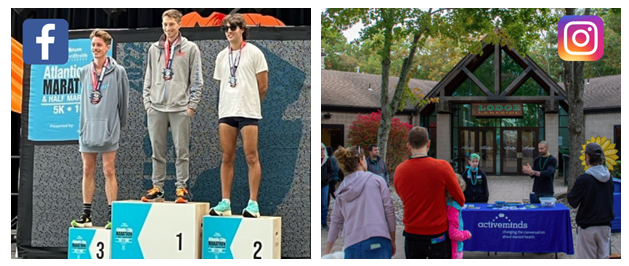 Facebook: Congratulations to Chris Shaw for soaring into 🥈 in the AC Marathon on Sunday! This was the senior's second marathon, averaging 6:11 per mile. In true South Jersey style, Chris' dad, Eric, said, "It was a great day watching Chris come in second at the marathon and the Phillies making it into the World Series."
Instagram: Ospreys gathered for the Suicide Prevention and Awareness Walk on Saturday, hosted by @stocktonactiveminds and @stocktonswc. 💜
FROM THE SIDELINES
Stockton Ranked Ninth in D3hoops.com Preseason Poll
The Stockton men's basketball team was rankedninth in the D3hoops.com men's basketball preseason poll, which was released Oct. 26. The Ospreys will open the 2022-23 season on Nov. 12 with a neutral-site game against Baruch College at the Penn State Harrisburg Tip-Off Tournament.
Stockton boasts nine returning letter winners from last year's squad that went 26-5, won the NJAC championship and reached the third round (Sweet 16) of the NCAA Tournament. The squad's 26 wins last season tied the second-highest total in program history.
2022 NABC First Team All-American DJ Campbell headlines the list of returnees. Campbell also was NABC District 4 Player of the Year, NJAC Player of the Year, NABC District 4 First Team, D3hoops.com All-Region 4 First Team and NJAC First Team. He led the NJAC in scoring a year ago (19.9 ppg).
---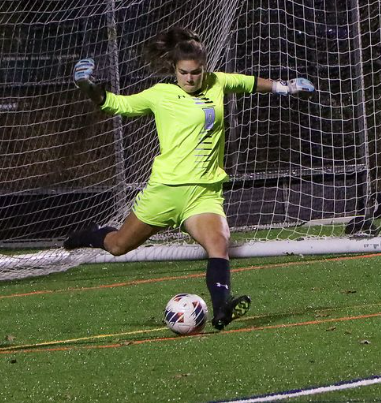 Stockton Ties #19 Rowan 0-0 in Regular Season Finale
The Stockton women's soccer team finished the regular season on Oct. 26 with a 0-0 tie at Rowan, which is unbeaten and ranked 19th in the United Soccer Coaches Association Division III poll. With the draw, Stockton denied the Profs first place in the conference.
Freshman goalkeeper Morgan Keil made eight saves to record the third shutout of her rookie season. The Ospreys were outshot 18-2 in the game, with fellow freshman Logan Shaw registering the only shot on goal for Stockton.
---
🗓️ View the full schedule of upcoming athletic events here
OSPREY NOTES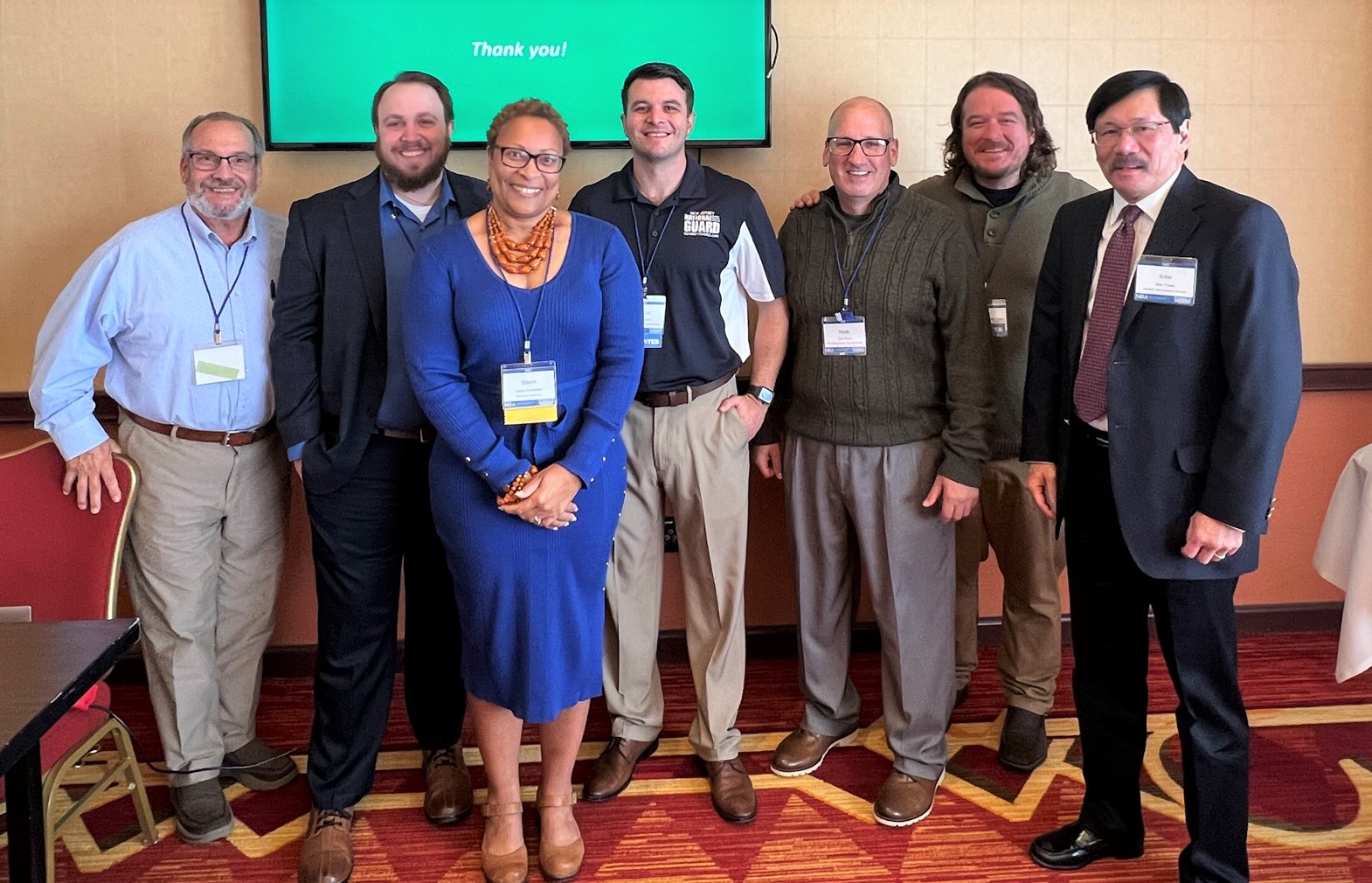 Ed.D. in Organizational Leadership Alumni Present at Conference
Ed.D. in Organizational Leadership alumni and Cohort 4 members Mark Rizzo, Joseph Sippel and Sean Lenahan led a symposium, "Educational, Transitional, and Self-Efficacy Challenges Servicemembers and Veterans Face: From Classroom to Workplace" at the 2022 Northeastern Educational Research Association (NERA) Conference held Oct. 19-21 in Connecticut.
Rizzo (New Jersey Army National Guard) presented on Educational Mismatches in Military Leadership Training, Sippel (New Jersey Army National Guard) presented on Challenges for Student Veterans, and Lenahan (U.S. Department of State) presented on Veterans Finding Full-Time Permanent Federal Employment.
Dissertation chairs John Young, Kevin Coopersmith and Bohdan Christian accompanied the program alumni alongside current doctoral student Sherri Richardson (Cohort 6). Coopersmith chaired the session, and Young led an in-depth discussion on the presentations in closing.
"The NERA conference was a fantastic experience. Mark, Joe and Sean led an excellent presentation that showcased how the Ed.D. in Organizational Leadership program's practitioner focus can connect with strong, applied research," Coopersmith said. "It was a great opportunity for program alumni, students and faculty to learn more about connecting and applying research in practice. It also allowed us to kick off our Pathways to Publishing initiative to highlight the incredible opportunities that work in academia offers our past, current and future students."
The Ed.D. in Organizational Leadership program's strong turnout at the conference was part of the program's new Pathways to Publishing initiative, which is focused on supporting past and current students in further exploring and contributing to academia.
---
🎃 Come Vote on Pumpkin Carvings through Oct. 31
The Office of Financial Aid is hosting a pumpkin carving contest through Monday, Oct. 31. The three submissions from Campus Center offices are displayed in the upstairs hallway by the Office of Financial Aid.
Each pumpkin will be voted upon by coin (people so inclined can drop coins into the "bank" by each pumpkin to vote). The pumpkin gathering the highest dollar total will have all funds collected donated to the foundation program they chose. The three funds available for voting are the Military & Veterans Student Relief Fund, the WLFR Fund and the Women's, Gender, and Sexuality Center Fund.
---
Anchor Economy Initiative Seeks Research Fellowship Applications
The Coalition of Urban and Metropolitan Universities (CUMU) shared a new research fellowship in partnership with the Anchor Economy Initiative at the Federal Reserve Bank of Philadelphia. This fellowship is a unique opportunity for researchers from CUMU member institutions, of which Stockton is a member, to have a platform to advance scholarship leveraging the Federal Reserve Bank of Philadelphia's Anchor Economy Dashboard. The digital tool shows anchor impacts for the entire U.S. by region and a new reliance index, demonstrating how dependent regional economies are on these institutions. The fellowship is geared toward those individuals and institutions committed to higher education's role as anchor institutions.
Faculty, staff or graduate students are encouraged to apply by Nov. 28.
UPCOMING EVENTS