Stockton News - Friday, Oct. 25, 2019
WHAT WE'RE TALKING ABOUT
'Ospreys Give' Raises More Than $350,000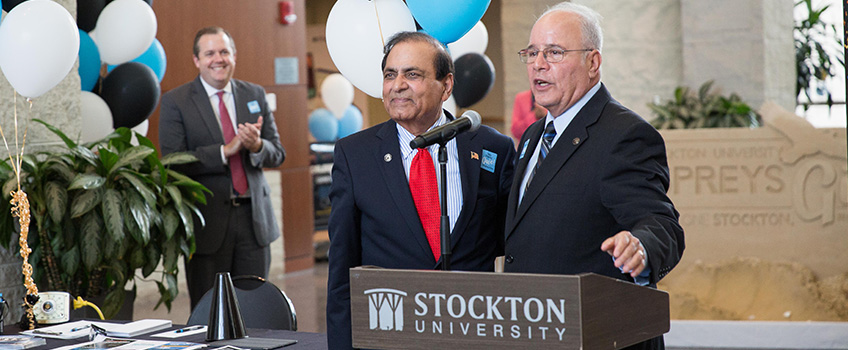 Stockton University's second 24-hour Ospreys Give Campaign in October raised a record $350,697 for the Stockton Foundation to benefit student scholarships and programming.
Among the 677 gifts received was a significant new endowed scholarship fund from Pravin Khatiwala of Ventnor, CEO of PND Properties.
"The generosity of our Stockton community members, alumni and supporters who contributed to this campaign is incredible," said Daniel Nugent, Stockton chief development officer and executive director of the Foundation.
---
Women's Leadership Panel Shares Successes, Failures

More women are getting leadership roles in government and business, but it takes a concerted effort by both women and men to achieve equity in the workplace, speakers at the second Stockton Women's Leadership Council speaker series told more than 100 women, and a few men, at the second Stockton Women's Leadership Council speaker series at Stockton University Atlantic City on Oct. 18.
---
The Wake Up Project Supports Student Mental Health
Proceeds from The Wake Up Project's Charity Wakeboard Competition and Food Truck Festival in July will help support suicide prevention and mental health awareness at Stockton University.
The Wake Up Project founder, Vincent Giardino of Mays Landing, a 2018 graduate of Stockton, presented a $3,000 check to representatives of the Stockton Foundation and the campus chapter of Active Minds at a reception on Oct. 16.
STOCKTON UNIVERSITY ATLANTIC CITY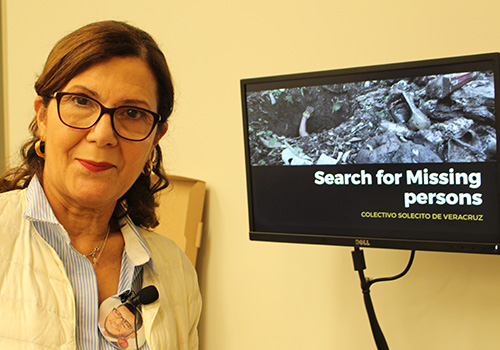 Mother's Group Founder Shares Stories of Loss in Mexico
Thousands of innocent people, most of them young men, have gone missing in Mexico, victims of drug cartels and violence.
Lucía de Los Ángeles Díaz Genao, co-founder of Colectivo Solecito de Veracruz, shared her story of how the kidnapping of her son, who is still missing, empowered her to form a group to raise awareness of the crisis.
"We are desperate for people to know what is going on," Genao told students and community members at a series of talks at Stockton's Galloway and Atlantic City campuses on Oct. 17-18 and as part of a panel on immigration, refugees and responses to state violence.
Catch a Movie Tonight at Stockton Atlantic City
"Fall Cinema in the City" is featuring Us at 8 p.m., tonight, in the Stockton University Atlantic City residential classrooms B119/120. Attendees are asked to bring their Stockton IDs.
SPOTLIGHT ON
Stockton Students Compete at Chowderfest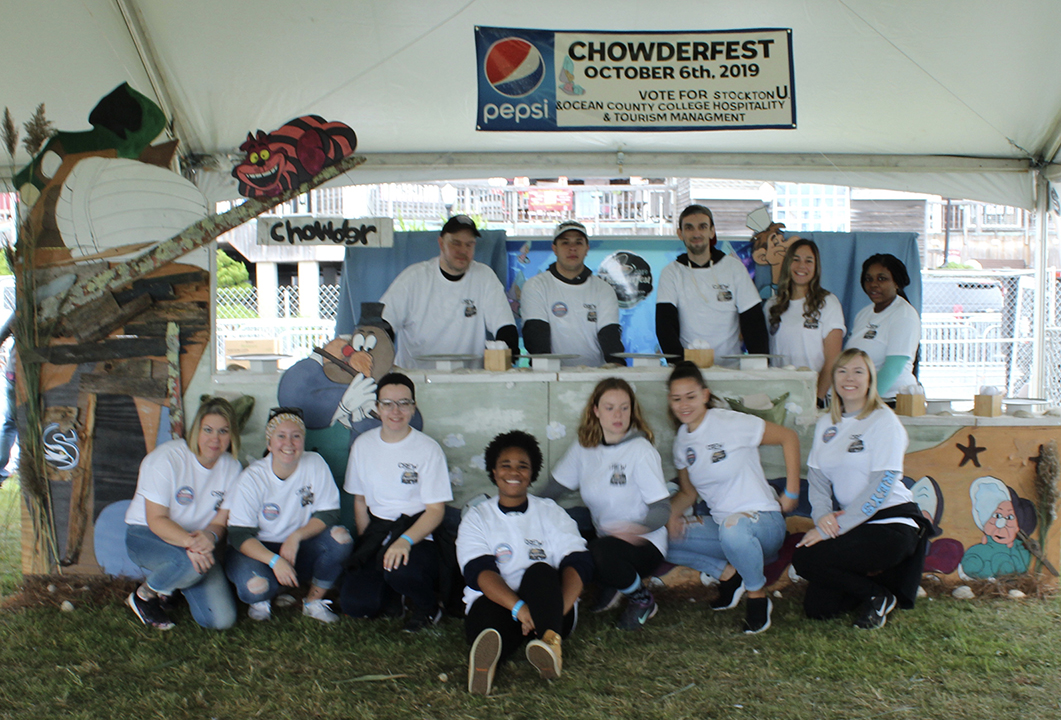 Members of the EVENT-ive Club at Stockton University partnered with Ocean County College to participate in Chowderfest on Oct. 6 in Long Beach Island. Many club members are students in the new Event Management Area of Interest in the Hospitality, Tourism and Event Management program. Noel Criscione-Naylor, assistant professor of Hospitality, Tourism and Event Management Studies, is the club's adviser. The students competed in the Chowder Cook-Off Classic portion of the weekend, and while they did not place, it provided a variety of valuable learning experiences.
Leading up to the event, students worked for several weeks creating a handmade booth design and decor inspired by Alice in Wonderland's Carpenter and the Walrus story, to elevate the patrons' overall experience. It was also the only fully accessible ADA compliant booth present.
The students served over 15,000 cups of chowder, engaged with locals and tourists, and of course had time for fun and games.
Several students worked the 12-hour event and other staff and students assisted in the preparation including, Aqueelah Muhmmad, Kathleen Drum, Colin Redmann, Riley McKenna, Breanna Betts, Alexis Villalta, Michael Raguso-Failla, Kayla Gutnikova, Philip Young, Lauren Towlen, Aniya Smith, faculty adviser Noel Criscione-Naylor, and HTMS Internship Coordinator Tara Marsh.
"Our students produced a spectacular booth concept and focused on all the small details that made our participation stand out in a crowd. We had a small idea and were able to bring it to life way beyond what I imagined," Criscione-Naylor said. "I have walked away from this event extremely proud of our accomplishments and look forward to our next endeavor that will further showcase our Stockton distinction."
FRAME-WORTHY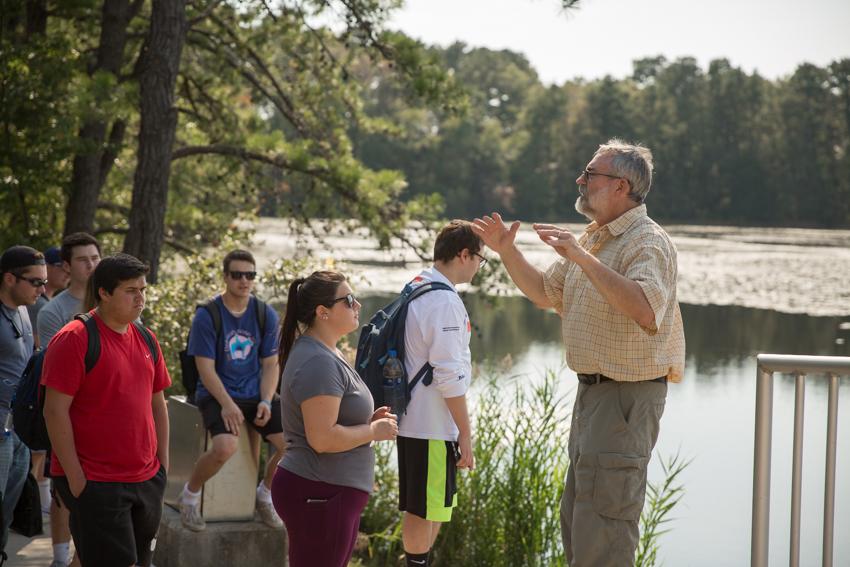 Picture Stockton: During the Ice Age
Easily overlooked evidence of a landscape shaped during the Ice Age becomes visible on a walk with a geomorphologist through Stockton's Pinelands campus.
Mark Demitroff, an adjunct instructor who studies the Ice Age and reconstructs what the Pine Barrens environment looked like over time, guided a campus nature tour to show students in his class, "The Pine Barrens," that hints from the frozen past are hiding in plain sight.
There was a time when Galloway Township was within 100 miles of a massive continental ice sheet that ended at Exit 11 on the New Jersey Turnpike. Although the ice sheet never reached Stockton's campus, the cold, dry and windy conditions still had an impact on our climate and geology.
WHAT'S TRENDING #STOCKTONU
Instagram Highlight: Paint Away for PCAA, hosted by Sigma Delta Tau.
FROM THE SIDELINES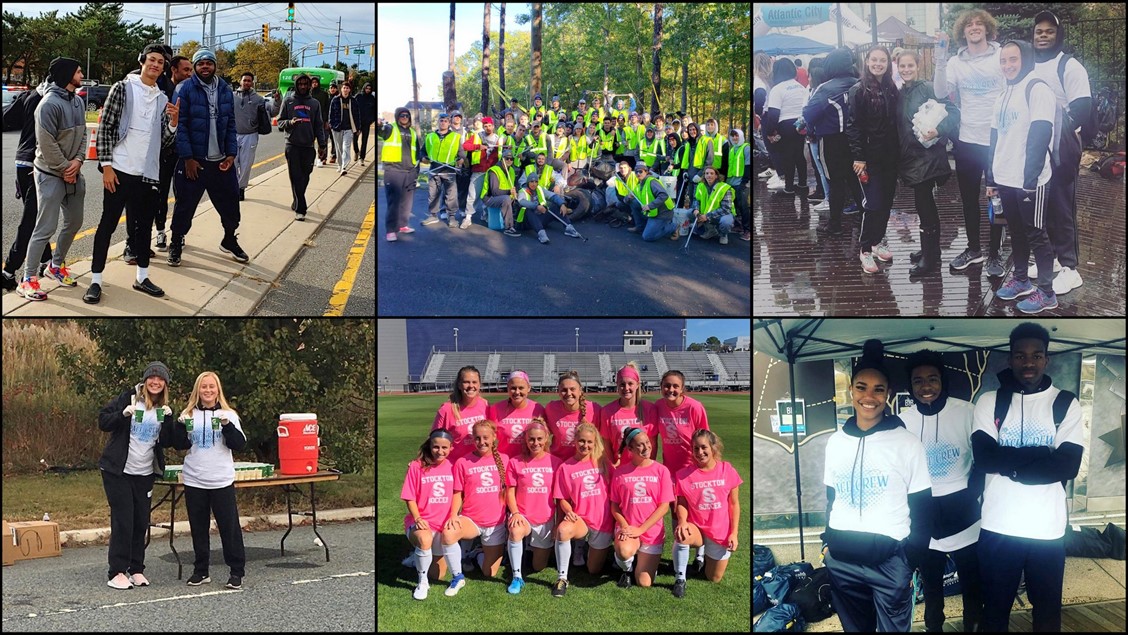 Ospreys Lend a Wing at Local Events
Student-athletes from several Stockton University teams volunteered at a pair of local events while another squad raised awareness and money for the fight against breast cancer during a full weekend of community service for Stockton Athletics.
The Stockton men's lacrosse team participated in Galloway Township's annual Make a Difference Day on Oct. 19. The Ospreys helped clean up a neighborhood in the community. Also on Saturday, the Stockton women's soccer team wore pink t-shirts during warmups and collected donations for the Susan G. Komen Foundation as part of Breast Cancer Awareness Month.
MORE FROM THE HIGHLIGHT REEL:

Some of this weekend's highlights include Women's Rowing at Head of the Schuylkill, Oct. 26; Men's Soccer vs. Jersey City University, Oct. 26; and Women's Soccer vs. Jersey City University, Oct. 26. Go Ospreys!
For more upcoming sports games, check out the schedule.
OSPREY NOTES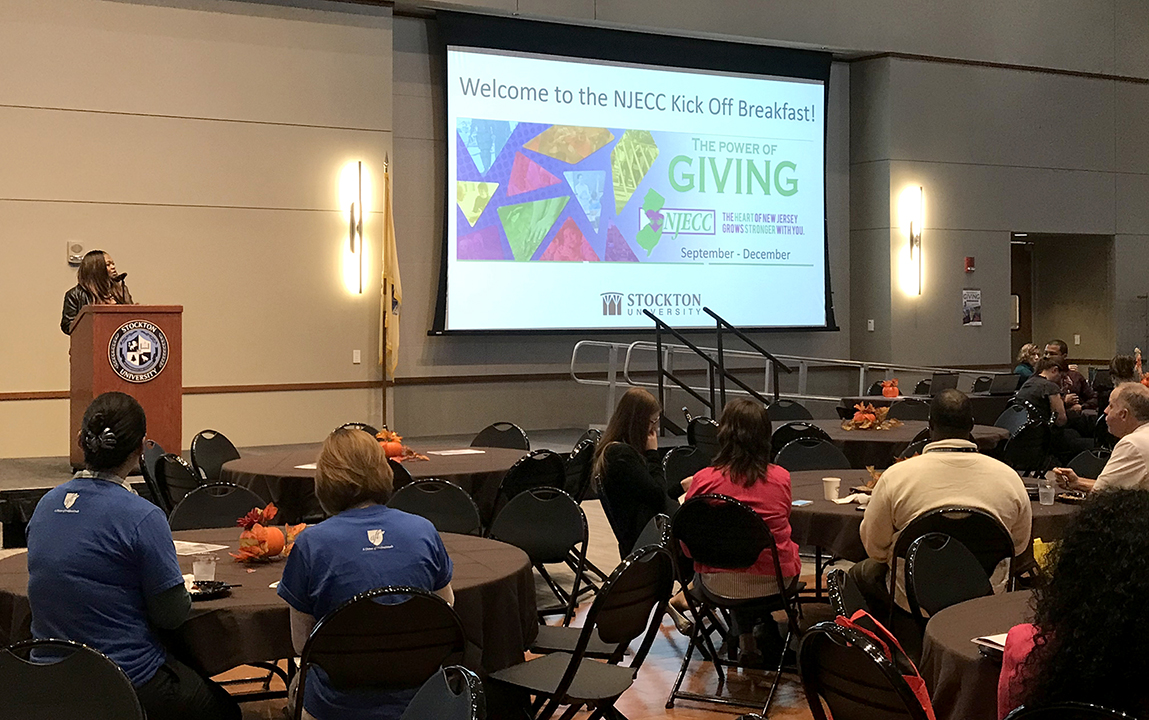 NJECC Campaign Underway
The New Jersey Employees' Charitable Campaign kicked off with an employee breakfast on Wednesday, Oct. 23 in the Campus Center Event Room. Additionally, a kick-off lunch is planned for Stockton Atlantic City from noon-2 p.m., Oct. 30, outside the Fannie Lou Hamer Event Room.
The campaign runs through Dec. 31 and supports over 800 charities.
If you plan to make a gift through payroll deduction, you can register and donate through the NJECC online giving portal or fill out a paper pledge form. If you plan to make a one-time donation, please fill out a paper pledge form. Email stocktonnjecc@stockton.edu or stop by Human Resources (J115) to request a paper pledge form.
Upcoming SCOSA Events this Fall
The Stockton Center on Successful Aging (SCOSA) is offering a number of interesting events this fall including "Day of the Dead: Death and Dying in Different Cultures" and "Day of the Dead: Death Cafe," both on Nov. 1, at the Galloway campus. View events or register to attend here.
Conversations with President Kesselman Oct. 29, Nov. 6

Staff and faculty are invited to join President Kesselman for an engaging group discussion on key issues facing Stockton on the following dates: 12:30-1:45 p.m., Tuesday, Oct. 29 , in Room 316 of Stockton Atlantic City's Academic Center; or 12:45-2 p.m., Wednesday, Nov. 6 , in Campus Center Meeting Room 5 at the Galloway campus.
Fall's theme is "The Value of a Stockton Degree in an Age of Anti-Intellectualism."
RSVP to Kathryn Mason at Kathryn.Mason@stockton.edu or ext. 4521 by Oct. 25, and indicate your date of choice. Registration is limited to the first 25 guests for each venue. Light refreshments will be served.
FAFSA Fridays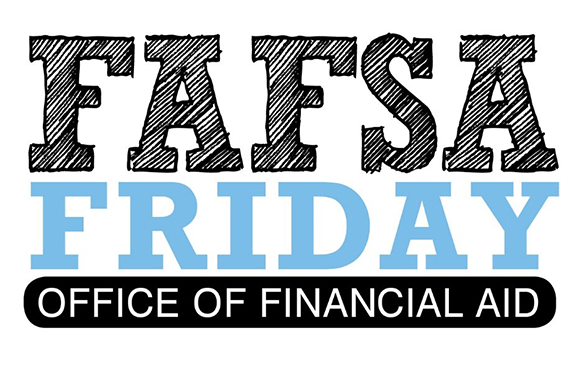 Do you have students who are looking for financial aid assistance? The Office of Financial Aid is hosting "FAFSA Fridays" from 1-3 p.m. every Friday, Oct. 11-Nov. 22, and Dec. 6, in the F210 computer lab to assist students with the financial aid process. Encourage your students to file their FAFSA applications by Stockton's March 1 priority deadline and NJFAMS applications for State aid by April 15. Students who miss these deadlines may miss out on aid they are eligible for.
Continuing Studies Offers a Variety of Courses this Fall

The University's Office of Continuing Studies is hosting a variety of classes for personal and professional enrichment, ranging from mindfulness and yoga to how to make wine and beer this fall.
UPCOMING EVENTS
Sunday, Nov. 3: Open House
Tuesday, Nov. 5: Transfer Admissions Day in Manahawkin
Thursday, Nov. 7: Transfer Admissions Day in Hammonton
Thursday, Nov. 7-Friday, Nov. 15:First-Gen Week
Friday, Nov. 8:38th Annual Council of Black Faculty and Staff Awards Dinner
Thursday, Nov. 14: Hughes Center Honors