Stockton News - October 23, 2020
Stockton Mourns Passing of Trustee Michael Jacobson

WHAT WE'RE TALKING ABOUT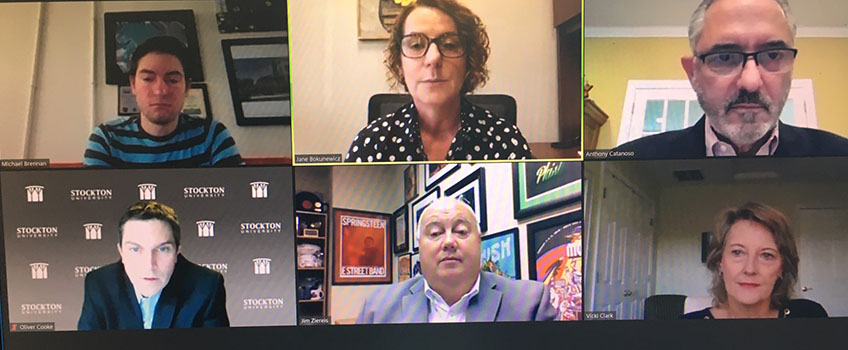 Panelists See Bright Spots, Pitfalls of COVID-19 Impact
Jersey shore businesses that could adapt to COVID-19 regulations were able to weather the unprecedented summer season, speakers at the 1st annual Jersey Shoreview said during the Zoom webinar Oct. 22, presented by the Lloyd D. Levenson Institute of Gaming, Hospitality and Tourism at Stockton University.
Prospects for the winter and next year, they added, will depend on the status of the coronavirus, consumer confidence, and businesses' ability be continue to be creative and adapt.
"Stay focused and don't give up hope," said Jim Ziereis, vice president of hotel sales, Tropicana Atlantic City. "Creativity will be necessary to move us along."
---
Election, Pandemic and Racism
The William J. Hughes Center for Public Policy conducted several polls within the last few weeks that examined public opinion regarding the national election, the government's response to the pandemic, and racism
The poll that focused on the upcoming presidential election found former Vice President Biden leads Republican incumbent President Donald Trump by 20 percentage points, 56%-36% among likely voters, including those leaning to one candidate or the other.
Results from the pandemic response poll showed 80% of respondents felt the COVID-19 pandemic represents a major problem, while 16% said it is minor and only 2% said it is not a problem at all.
The third pollof 721 adult New Jersey residents found that 65% see racism and racial inequality as a major problem and 24% said it is a minor problem. Seven percent do not think racism is a problem at all.
---
🎓 Watch Commencement Ceremonies Live
Click here to view any of the eight ceremonies happening today to celebrate the Spring 2020 Commencement, formally.
Congratulations, Ospreys
WE'RE HERE TO HELP
Resources Available to Staff, Faculty
There are many resources and best practices being made available to staff and faculty working remotely that can be found by visiting Information Technology's website.
In addition to assistance with technology available from ITS, Stockton provides faculty and teaching staff with professional development, training, teaching ideas, resources and individual consultations via the Center for Learning Design.
🧪 Stockton has updated information on its agreement with AtlantiCare to assist employees seeking COVID-19 testing. Details are on the Office of Human Resources website.
Stockton is compiling notices of confirmed positive COVID-19 cases in a dashboard on the Coronavirus home page. The dashboard is updated daily.
The Student Assistance Resources page has information for students whose academic progress may be affected by the COVID-19 pandemic.
SPOTLIGHT ON: MARY LOU GALANTINO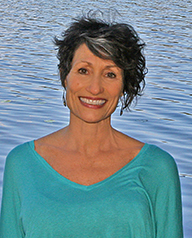 COVID-19 changed the landscape of our day-to-day lives in many ways, but how did it impact patients amidst a cancer diagnosis and treatment? Distinguished Professor of Physical Therapy Mary Lou Galantino, who is also a practicing clinician at Christiana Rehabilitation Services and collaborates with colleagues at Specialty Rehabilitation serving the Helen F. Graham Cancer Center and Research Institute, has begun unpacking those answers through research.
With October earmarked in honor of National Breast Cancer Awareness Month, this research holds a special place for Galantino. "I see cancer survivorship from this kaleidoscope of many different perspectives­‑ as a clinician, a researcher and as a survivor - I feel blessed to be a long-term survivor and it is a gift to offer hope to other people."
WHAT'S TRENDING @ #STOCKTONU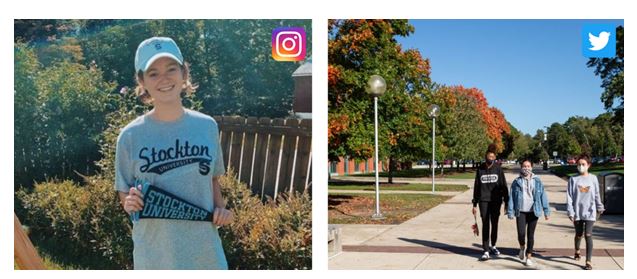 Instagram: Everyone, this is Sarah. Sarah, this is...everyone else 👋
Twitter: Did you know? 38% of the Fall 2020 undergraduate student body are transfer students. The average GPA of the current undergrad transfer student body is 3.27. The transfer student body encompasses students 18-60+ years old.
OSPREY NOTES

File FAFSA Starting Oct. 1
The time is coming, Ospreys! Get your FAFSA done, starting Oct. 1! Encourage students to file their FAFSA applications as soon as possible to avoid missing out on any aid they may be eligible for. Direct them to fafsa.gov.
UPCOMING VIRTUAL EVENTS
Upcoming Events Hosted by the Office of Development and Alumni Relations
Oct. 29: Poetry Reading with Reginald Dwayne Betts, Holocaust Survivor Film Showing
Nov. 9:Ida E. King Memorial Lecture
Nov. 12: Virtual Open House
Nov. 17: "Leading in the New Normal" a Virtual Panel Conversation