Stockton News - Oct. 22, 2021
WHAT WE'RE TALKING ABOUT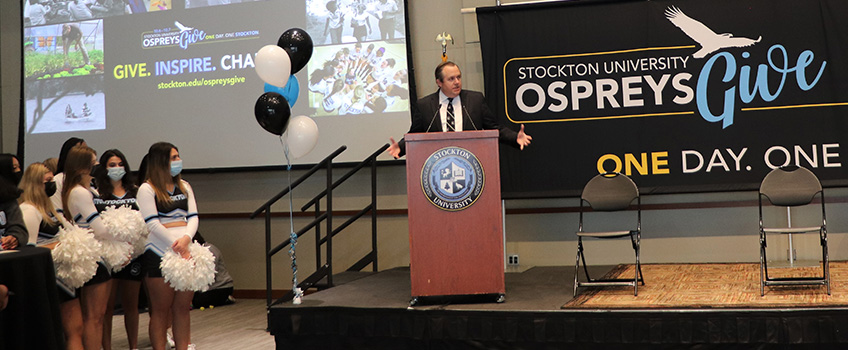 'Ospreys Give' Raises $116,337
The Stockton University Foundation's fourth annual Ospreys Give raised$116,337 for student and University programs. A record 763 donors contributed during the 24-hour event from Oct. 6-7, exceeding the anticipated goal by 38%.
The theme of this year's fundraising event centered around the University's 50th anniversary and asked donors to support University priorities to help keep students first, advance academic programs and centers, strengthen the community, advocate for social justice and equity and inspire athletic excellence.
---
Accelerated Nursing BSN Program Expands
In order to meet increasing demand for nurses, Stockton University is expanding its Accelerated Nursing BSN program in Manahawkin and will, for the first time, offer a spring cohort starting in January 2022.
The Accelerated Nursing program is designed for someone who already has a bachelor's degree and now wishes to become a registered nurse (RN) with a Bachelor of Science in Nursing (BSN). The 15-month program includes summer sessions with classes and labs held at Stockton's Manahawkin site, which has a Foundations of Nursing Lab with simulated patients and seven physical assessment examining rooms. Clinical experiences are held at health care facilities throughout South Jersey.
---
Exhibit Tells History of Alliance Colony
The history of the Alliance Agricultural Colony in South Jersey is on display at the Noyes Gallery of Art at Stockton University's Kramer Hall, 30 Front St. in Hammonton. An opening reception for the exhibit, titled "Growing American," was held, Oct. 21, as part of the Hammonton Third Thursday events.
The Alliance Colony was founded in 1882 by Eastern European Jews who fled Russian pogroms. It was one of several colonies formed in South Jersey, but the settlers were unfamiliar with farming and most failed. Those that succeeded, developed and expanded into other industries. The towns of Rosenhayn, Carmel, Norma and Brotmanville remain today as a testament to the perseverance of the early settlers.
STOCKTON UNIVERSITY ATLANTIC CITY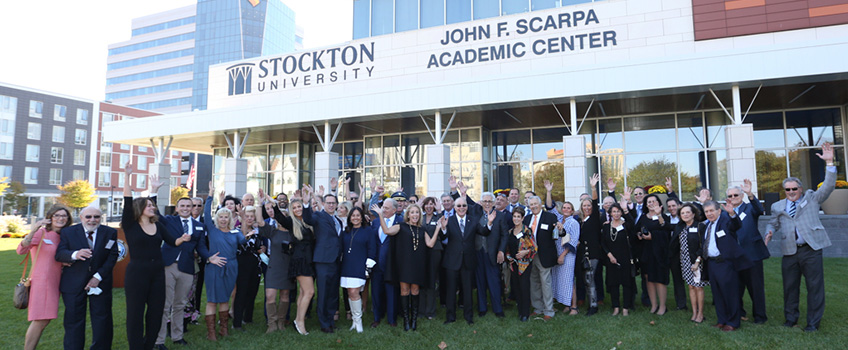 Buildings Dedicated to Donor John F. Scarpa
Fifty years ago, as Stockton was welcoming its first class of students, John F. Scarpa was also taking a chance on a new venture, introducing cable TV and later cellphone service to rural South Jersey, where he was born and raised.
Both grew steadily and successfully. In 2019, Scarpa pledged $8 million from the John F. Scarpa Foundation to Stockton to assist students and programs at the Atlantic City campus, health sciences programs, and other initiatives.
On Thursday, Oct. 21, Stockton formally dedicated both the Atlantic City Academic Center and Health Sciences building on the main campus in Galloway in Scarpa's name and presented him with an honorary doctor of public service degree in recognition of his accomplishments and generosity.
---
Shoreview Panel Predicts Good Fall Season at the Shore
Despite labor shortages, supply chain issues and occasionally less-than-ideal weather, Summer 2021 was a success for Jersey shore businesses and fall and winter also look very promising panelists at the annual Shoreview said on Oct. 21.
Jane Bokunewicz, faculty director of the Lloyd D. Levenson Institute of Gaming, Hospitality and Tourism (LIGHT), Stockton University School of Business, sponsor of Shoreview, moderated the panel and began with an overview showing the number of vehicles at the Pleasantville toll plaza on the Atlantic City Expressway, and the lodging tax revenue generated in June 2021 were both higher than the same months in 2019, which was considered a good year.
FRAME-WORTHY: 🎣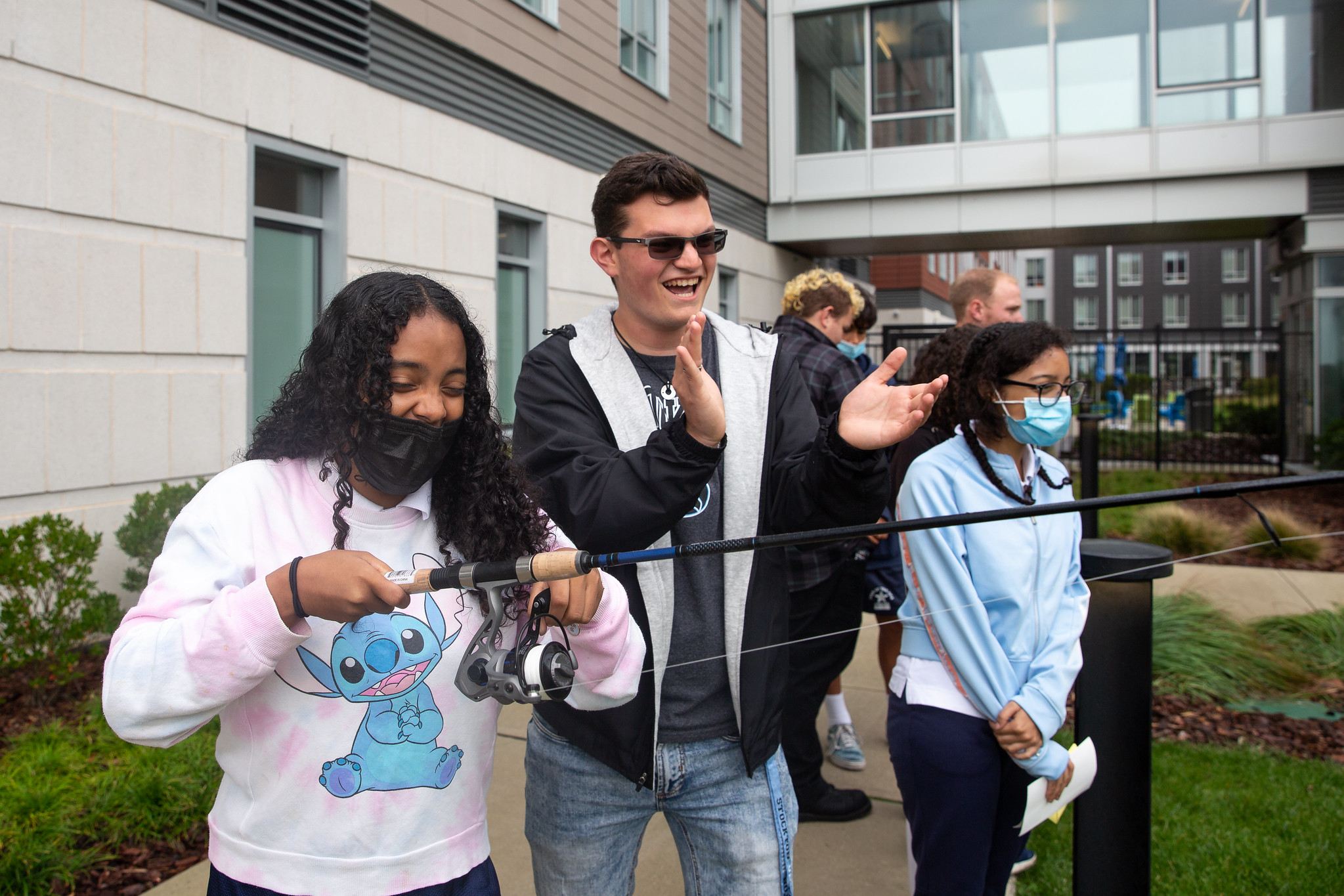 Students Learn Fishing for the Future
Catherine Tran learned how to tie a knot.
Sarahi Nunez learned how to "throw [cast] a fishing pole."
And Christian Wilson, 13, got a shark's tooth and "learned how to avoid stingrays," which he demonstrated by doing the "stingray shuffle."
The three were among some 30 middle school students from Our Lady Star of the Sea School who walked a few blocks to the Stockton Atlantic City campus to learn more about the ocean environment near their school through Stockton's New Angles for Success program.
Adam Aguiar, assistant professor of Biology, and students in his Ecology and Saltwater Fishing class were waiting for the students with tables of sharks' teeth, small ropes to learn knot-tying, and a lawn-based "fishing pond" where the students learned how to cast a fishing rod.
WHAT'S TRENDING @ #STOCKTONU

Facebook:Haley Baum, Dean of Students, shared what celebrating LGBTQ+ History Month at #StocktonU means.
LinkedIn: Tell us you went to Stockton without telling us you went to #StocktonU. We'll go first: Lake Fred
Instagram: Every 2 minutes a woman is diagnosed with breast cancer in the United States.
FROM THE SIDELINES

Stockton to Row at Head of the Charles this Weekend
The Stockton University women's rowing team will compete in the famous Head of the Charles Regatta this weekend. The Ospreys will row in the Women's Collegiate Eights and Women's Collegiate Fours on Sunday, Oct. 24, at 2:39 p.m. and 3:15 p.m., respectively.
Since its inception in 1965, the Head of the Charles Regatta has attracted hundreds of thousands of rowers to the banks of the Charles River. Approximately 11,000 rowers are expected to compete in the three-day event, which regularly attracts around 300,000 spectators.
"We've made significant progress with this young group of athletes in the five weeks since we started our season," said head coach John Bancheri. "I expect them to rise to their best performance to date and set the foundation to meet our goals in the spring."
---
🗓️ View the full schedule of upcoming athletic events here.
WE'RE HERE TO HELP
COVID-19 Information
💭 Health care professionals from AtlantiCare and Stockton will address questions about the COVID-19 vaccine, boosters, testing and additional topics related to the COVID-19 pandemic and fall and winter seasons at a Zoom session at 4:30 p.m. on Thursday, Oct. 28. AtlantiCare's Director of Infection Prevention Acute Care Services Gemma Downham and Stockton's Associate Director for Health Outreach, Promotion and Education Zupenda Davis-Shine will participate. Zoom information will be shared the day of the info session. If you would like to submit a question, email the University Resilience Operations Committee at UROC@stockton.edu.
With the increase of COVID-19 infections in the region's schools and daycare centers, the university will allow for up to 10 days (cumulative) of COVID-19 related leave where an employee is authorized to work from home by their manager/Divisional Executive. If you are unable to work from home or not approved, you must use accrued leave. Please contact the Office of Human Resources at 609-652-4384 for further instructions, including the need for documentation from the daycare facility, school, or physician confirming the need for childcare, along with a statement that there is no other person available to provide childcare.
Reminder: If you are feeling sick with COVID-19 symptoms, don't forget to update your COVID-19 reporting form via the goStockton portal in the "Employee" tab. If you are feeling ill, do not come to campus, notify your manager and see your doctor if necessary.
Stockton has added new information to the COVID-19 FAQ lists and has posted anew set of FAQs with information from AtlantiCare about health questions related to COVID-19. Questions not in the FAQ can be emailed to UROC@stockton.edu.
👉 Eligible employees who get a booster vaccine may now add that information to their vaccination status through the portal on the Stockton website at go.stockton.edu/employee.
OSPREY NOTES
🎓 Spring 2022 Commencement Update
Save the Date: The Spring 2022 Commencement will be held at Jim Whelan Boardwalk Hall in Atlantic City on Friday, May 13.
Students who have completed their degree requirements in the Summer 2021, Fall 2021 or Spring 2022 term will be invited to participate. A ceremony schedule and more details will be posted early in the spring semester here.
Spring 2022 Pre-Registration Information
A note from the University Registrar: Please be advised that the Spring 2022 and Summer 2022 schedules are now viewable from the Faculty tab in the Portal as well as the Registrar homepage. Please see the link to the pre-registration chart based on earned credits that is posted in theAcademic Calendar for Oct. 27 to Nov. 8, as well as the Home tab of the Portal. Also, please advise students that they can check their pre-registration time by going to the Student Services tab in the Portal and clicking on "My Pre-Registration Time."
💭 COVID-19 Student Questionnaire
Please remind your students to complete The New Jersey Office of the Secretary of Higher Education COVID-19 student questionnaire sent to their Stockton email on Oct. 18. Its purpose is to gather statewide data on the transition back to campus and students' mental and financial health. The results will inform New Jersey's COVID-19 response efforts.
UPCOMING EVENTS