Stockton News - Oct. 21, 2022
WHAT WE'RE TALKING ABOUT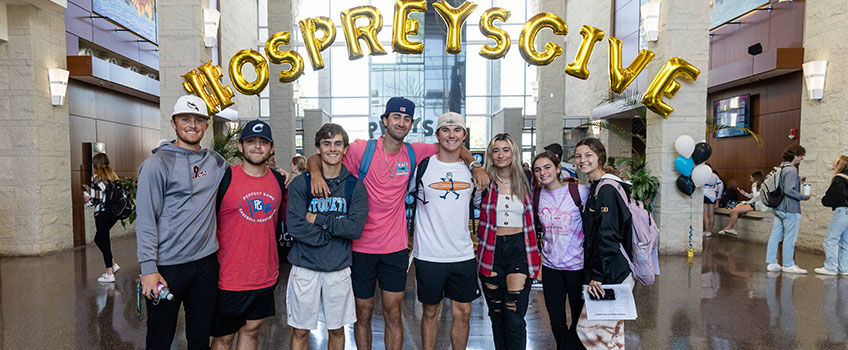 Stockton's Annual Giving Day Sets Records
The Stockton University Foundation's fifth annual giving day drew record participation and raised more than $150,000 for students and university programs.
Ospreys Give kicked off at 1 p.m., Oct. 12, and generated gifts from 915 donors, surpassing the goal of 750.
"The ever-increasing level of support for Stockton and the Foundation continues to be inspiring," Dan Nugent, vice president for University Advancement and executive director of the Stockton Foundation, said. "We are absolutely thrilled and grateful for the incredible outpouring of support from alumni, parents, students, faculty, staff and friends from southern New Jersey and across the country."
📰 In the News: Patch.com
---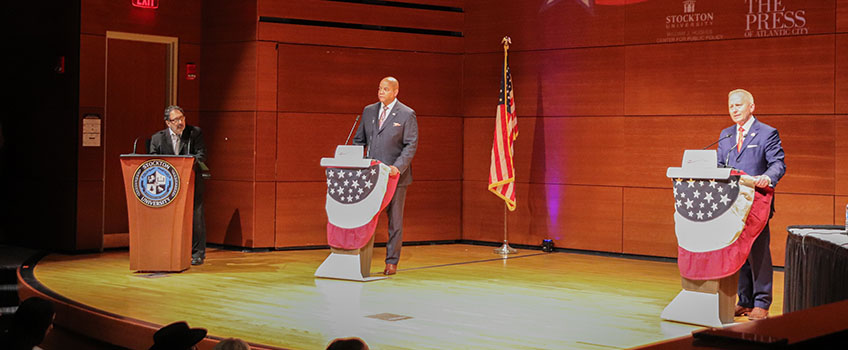 Hughes Center Hosts 2nd Congressional Debate
The William J. Hughes Center for Public Policy at Stockton and The Press of Atlantic City cosponsored a debate Oct. 19 between candidates for the U.S. House of Representatives in South Jersey's 2nd Congressional District.
The major party candidates, Democratic challenger Tim Alexander and Rep. Jeff Van Drew, the Republican incumbent, participated in the one-hour debate at the Galloway campus.
John Froonjian, executive director of the Hughes Center, moderated the event.
📰 In the News: The Press of Atlantic City, Downbeach.com
---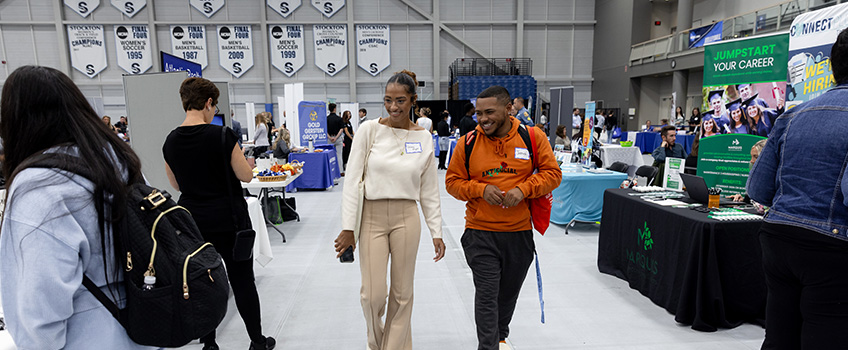 Career Fair Returns In Person
"I came here with five resumes, and now I'm going to have zero left."
Dharamavtar "D.A." Khullar of Galloway, like most of the students attending the Oct. 13 Career Fair, had a successful time meeting different employers and organizations looking to hire Stockton students.
This year's fair was Khullar's first one; he usually has part-time and seasonal employment, but he's now looking for something more permanent that encompasses his interests in either medical malpractice law or developmental psychology. He says that he was unsure about what the fair was going to be like, but six business cards later, he is happy to share that it has been very beneficial.
STOCKTON UNIVERSITY ATLANTIC CITY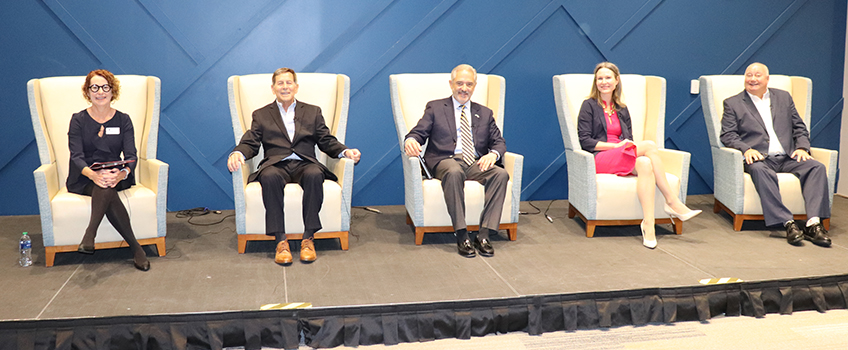 Shoreview Panel: Summer Successful, but Challenges Continue
While many southern New Jersey businesses appear to have weathered the COVID-19 pandemic and had a successful summer, a new set of concerns — labor shortages, higher gas prices and inflation — have all emerged to challenge companies in the future, according to a recent panel discussion of regional business leaders.
"Visitors are still coming to the Jersey Shore," said Jane Bokunewicz, faculty director of the Lloyd D. Levenson Institute of Gaming, Hospitality and Tourism (LIGHT) in Stockton's School of Business. "They may spend a little less when they get here, but they are still looking at it as a good option."
Bokunewicz moderated the Jersey Shoreview at Stockton Atlantic City on Oct. 19. The event featured four business leaders who recapped the summer season and looked ahead to southern New Jersey's economic future.
WHAT'S TRENDING

@ #STOCKTONU

Instagram: Osprey Madness • the first men's and women's basketball 🏀 games of the season are just three weeks away.
Facebook: Catching all the fall feels around #StocktonU this week. What's your favorite season? 📸Mandee McCullough '04
Twitter: It's #NationalTransferStudentWeek! For Sarah Kuperstein, choosing #StocktonU was easy: "My biggest concern was how hard it would be transferring my credits & meeting new people. But it was super easy, fast & I got involved right away. It was the best decision I could've made!"
FROM THE SIDELINES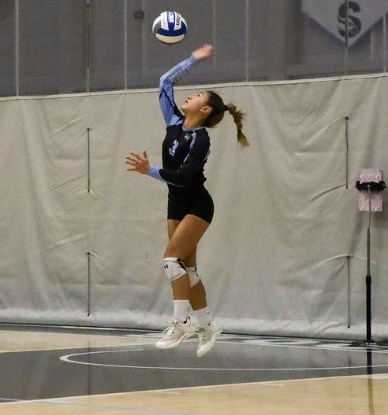 Stockton Sweeps WPU for Ninth Consecutive Win
The Stockton volleyball team swept William Paterson 3-0 on Oct. 18 for its ninth consecutive victory. The Ospreys began their winning streak three weeks ago.
Haley Green led the way with 12 kills, tying for match-high honors. Green also produced a career-high nine digs. Teleyah Witherspoon hit double figures with ten kills.
🏐 Stockton will put its nine-match winning streak on the line at 4 p.m. tonight, Oct. 21, when the Ospreys face eighth-ranked NYU in New York City.
---
Stockton Places Fourth in Arcadia Intercollegiate
Stockton women's golf finished fourth at the Arcadia Fall Intercollegiate on Oct. 18 at Turtle Creek Country Club. The Ospreys posted a team score of 447 that was nearly 100 strokes ahead of fifth place Mount St. Mary (N.Y.).
Ella van Schalkwyk led Stockton with a 98 for 17th place out of 38 golfers in the tournament. Maggie Brennan shot a 104 and finished 22nd.
---
🗓️ View the full schedule of upcoming athletic events here
OSPREY NOTES
President's Annual Report: 50 Years of Putting Students First
The 2022 Annual Report highlights the Stockton community's dedication to teaching, learning and inclusive student success. Read more about all our students, faculty and staff accomplished in the 2021-2022 academic year.
---
ITS Tech Tip: Microsoft FindTime
💻 Microsoft FindTime is a tool in Outlook Web that enables calendar-based polling. When coordinating a meeting, FindTime can present attendees with multiple day and time options of your choice. Comparable to a Doodle poll, FindTime integrates with the Outlook calendars of you and your attendees and makes it easy to settle on a meeting time. Non-Outlook users (e.g. Gmail, Yahoo Mail) may also respond to FindTime polls. Learn more here.
---
Read the SCOSA November Newsletter
Read the Stockton Center on Successful Aging (SCOSA)'s November newsletter for interesting upcoming events and newly added programming.
UPCOMING EVENTS