Stockton News - Friday, Oct. 18, 2019
WHAT WE'RE TALKING ABOUT
Ammon Foundation Gives Scholarships to Students in Recovery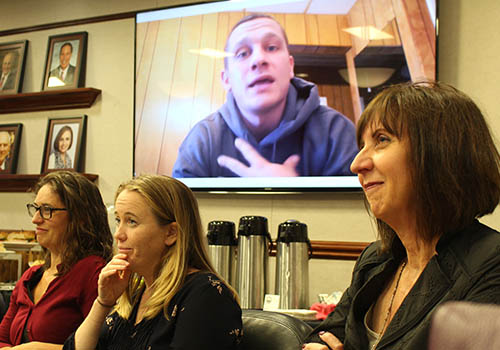 Two Stockton University students in recovery from addiction have each received a $3,000 scholarship through a new partnership between the Stockton Foundation and the Ammon Foundation where the two are matching dollar-for-dollar. This partnership extends Stockton's commitment to helping people in recovery rebuild their lives.
John Pelikan of Ventnor, and a second student who asked to remain anonymous, received their awards at a luncheon on campus last week. Both students expressed tremendous gratitude for the scholarships and credited each Foundation with having a role in their success.
---
Stockton Poll: Climate Change a Major Problem in N.J.
Two-thirds of New Jersey residents believe climate change is a crisis or a major problem and almost three-quarters believe it is affecting New Jersey now, according to a Stockton University poll released Oct. 14.
The telephone poll of 807 adult New Jersey residents, conducted Sept. 18-29, 2019 by the Polling Institute of the William J. Hughes Center for Public Policy at Stockton, shows 67 percent believe climate change is a crisis or major problem. A larger group, 73 percent, believe it is already affecting New Jersey.
"The results show climate change is a concern to people all over New Jersey and not just those who live along the Jersey shore," said John Froonjian, interim director of the William J. Hughes Center for Public Policy at Stockton, who presented an overview of the results at Coast Day at Stockton Atlantic City on Oct. 13.
---
Golf Classic Raises More than $87,000 for Students
More than 150 registered golfers helped raise more than $87,000 at the Stockton University Golf Classic at Seaview, A Dolce Hotel, on Sept. 24.
The Stockton Golf Classic was played on the Bay and Pines courses at the historic Seaview and provides scholarship support for deserving students.
"Our focus is on supporting Stockton students, and the Golf Classic provides an opportunity for the community to engage with us in our effort," said Daniel Nugent, chief development officer & executive director of the University Foundation. "We received an outpouring of support from our sponsors and the community, and we are truly grateful."
STOCKTON UNIVERSITY ATLANTIC CITY
Lots to 'Sea' at Coast Day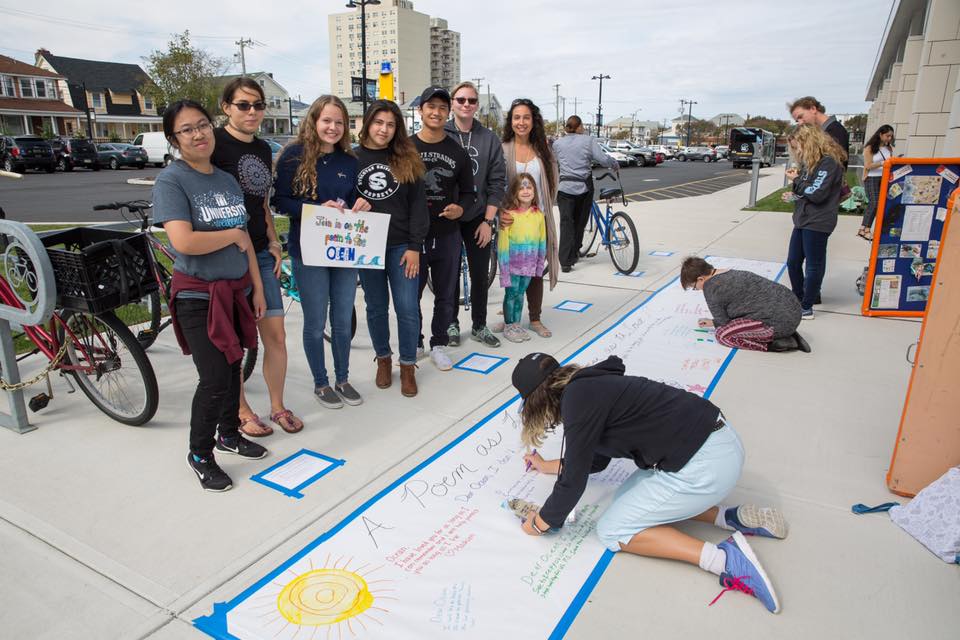 Young anglers reeled in fish from the Stockton Atlantic City lawn, love notes to the ocean were added to a poem as diverse as our coastline, sand from around the country was viewed under magnification, recycled oyster shells were decorated before returning to the bay to create more oyster habitat and so much more happened at Coast Day on Sunday, Oct. 13.
The Press of Atlantic City shared a gallery of photos from the day captured by Susan Allen, University Relations and Marketing.
Catch a Movie Oct. 25 at Stockton Atlantic City
"Fall Cinema in the City" is featuring Us at 8 p.m. Friday, Oct. 25, in the Stockton University Atlantic City residential classrooms B119/120. Attendees are asked to bring their Stockton IDs.
SPOTLIGHT ON
Peer Mentoring Supports First-Year Students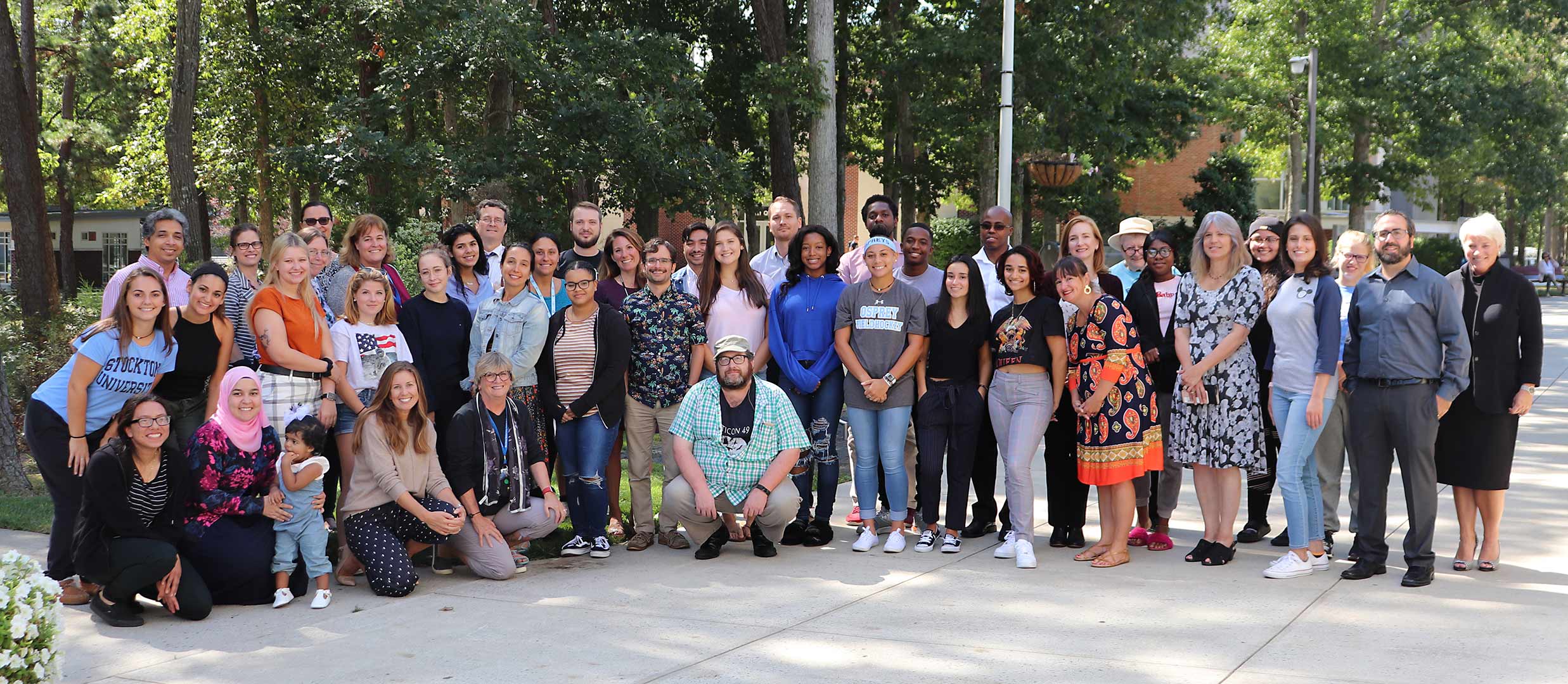 In Fall 2017, Stockton University received a call for funding from the American Association of State Colleges and Universities (AASCU) to pilot a new high-impact practice. After consulting with the First-Year Studies Program and the Tutoring Center, the University focused on the use of Peer Mentors/TAs in First-Year Studies (FRST) courses. The program pairs faculty with students who recently completed a FRST course. The first meeting of the fall semester for FRST faculty members and Mentor/TAs was held on Sept. 25 at the Galloway campus. Participants shared how classes are going and what TAs are doing to maximize students' chances of success.
Pam Cross, Writing Center coordinator, who organizes the program with Lisa Youngblood, First-Year Studies and Writing instructor, described this program as one of the University's retention initiatives that runs on the simple idea that students are more likely to succeed when they feel connected to their instructors. The TAs, former FRST students themselves, help foster that connection.
---
Sherrier Wins Foundation's Auctioned Parking Space
Mary Beth Sherrier, assistant dean of the School of Social and Behavioral Sciences, won the Lakeside Lot parking space raffle that was hosted by the Stockton University Foundation. The raffle raised $475 for scholarships.
FRAME-WORTHY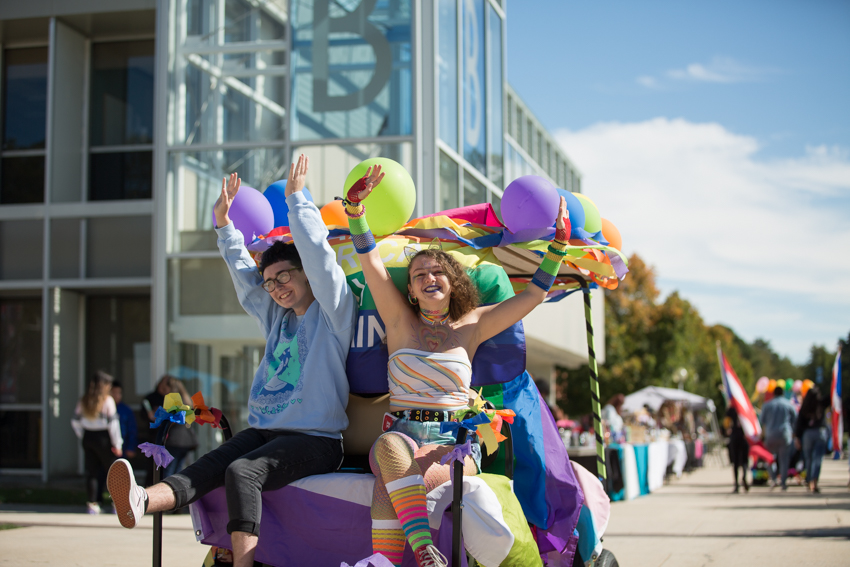 Picture Stockton: Celebrating University Weekend from Campus to Coast
Ospreys and their families celebrated University Weekend at more than 30 events spanning fours days from the Galloway campus to the coast.
Students dressed for success and met with employers at the Career and Internship Fair, stories of Stockton's early days were shared by those who lived them at Myths and Legends, Grandmaster Flash brought hip hop to the Stockton Performing Arts Center, distinctive alumni were recognized at an awards ceremony, the 2019 Athletics Hall of Fame class was inducted and much more.
WHAT'S TRENDING #STOCKTONU
Twitter: This post includes a video explaining the sand mandala Tibetan monks created at Stockton. The Press of Atlantic City did a feature on the interesting process and what it means.
Instagram Highlight: The Stockton Theatre Club did a takeover before their first show, "Almost, Maine".
FROM THE SIDELINES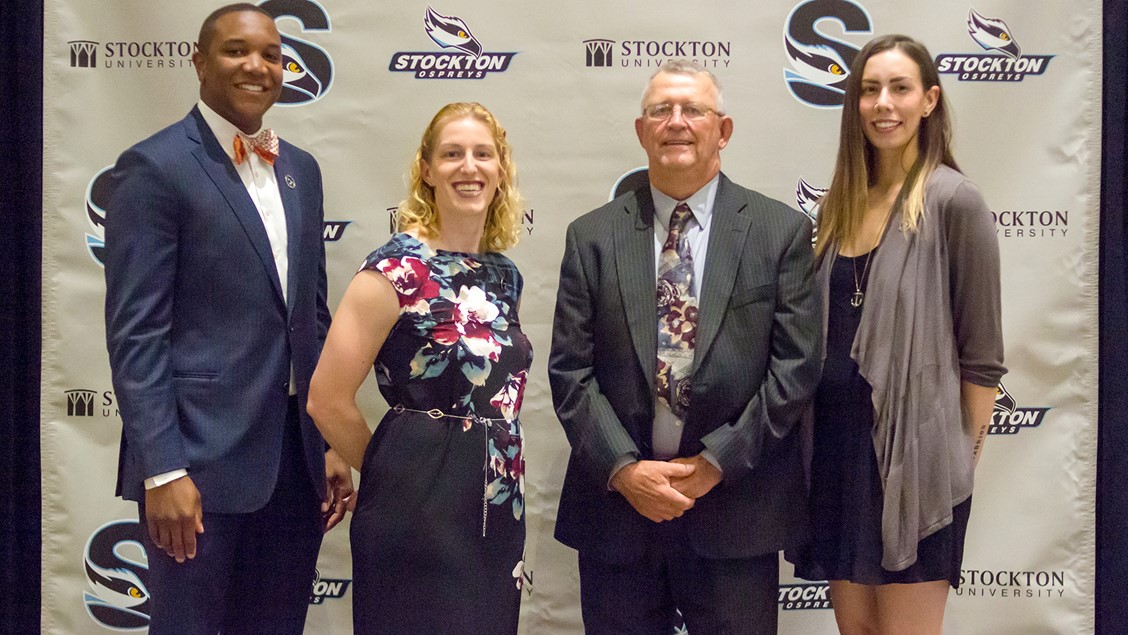 Stockton Athletics 2019 Hall of Fame Class Inducted
Stockton Athletics inducted its 10th Hall of Fame class at a dinner in the Campus Center Event Room on October 11. The inductees were Audra Schappell '07 (track & field), Stephanie Warner '13 (volleyball), Paul Chambers (distinguished service) and the 2008-09 Men's Basketball Team.
Nearly 150 people attended the dinner, which was part of Stockton's University Weekend celebration. The event began with opening remarks by President Harvey Kesselman, before transitioning into the induction speeches.
New Athletics DocuSeries Airs
Stockton Athletics launched a DocuSeries highlighting the Office of Athletics and the athletic programs. Check out Episode 1 which details Athletics past, present and future, including many memorable moments. Each sport will be highlighted in subsequent episodes.
MORE FROM THE HIGHLIGHT REEL:

Some of this weekend's highlights include Men's and Women's Cross Country teams at Inter-Regional Border Battle, Oct. 19; Women's Soccer vs. Montclair, Oct. 19; Men's Soccer vs. Montclair, Oct. 19; and Women's Rowing at Head of the Charles, Oct. 20. Go Ospreys!
For more upcoming sports games, check out the schedule.
OSPREY NOTES
Nominations for Community Engagement Awards Sought
Do you know someone who is outstanding in their contribution to the Stockton Community and beyond? Consider nominating them for a Community Engagement Award, to be presented at the 16th Annual Martin Luther King Day of Service.
The Awards Committee strongly considers each nominee's volunteer service both on campus and in their communities in its selections, and encourages the nominator to highlight these accomplishments and qualities. To nominate an undergraduate student, graduate student, staff member, faculty member, community member or alumna, fill out the form here.
Upcoming SCOSA Events this Fall
The Stockton Center on Successful Aging (SCOSA) is offering a number of interesting events this fall including "Day of the Dead: Death and Dying in Different Cultures" and "Day of the Dead: Death Cafe," both on Nov. 1, at the Galloway campus. View events or register to attend here.
2019 G. Larry James Legacy 5K Run/Walk Oct. 19
The 2019 G. Larry James Legacy 5K run/walk with be held Saturday, Oct. 19, on the Boardwalk in Atlantic City. The 5K is part of the Atlantic City Marathon Weekend, a festival that celebrates community, the City and the memory of James.
Stockton has a team, "Stockton Ospreys," registered for the run/walk with a number of faculty, staff and students signed up to participate.Register to be a part of the 5K here. Proceeds benefit the Stockton Foundation.
Conversations with President Kesselman Oct. 29, Nov. 6

Staff and faculty are invited to join President Kesselman for an engaging group discussion on key issues facing Stockton on the following dates: 12:30-1:45 p.m., Tuesday, Oct. 29 , in Room 316 of Stockton Atlantic City's Academic Center; or 12:45-2 p.m., Wednesday, Nov. 6 , in Campus Center Meeting Room 5 at the Galloway campus.
Fall's theme is "The Value of a Stockton Degree in an Age of Anti-Intellectualism."
RSVP to Kathryn Mason at Kathryn.Mason@stockton.edu or ext. 4521 by Oct. 25, and indicate your date of choice. Registration is limited to the first 25 guests for each venue. Light refreshments will be served.
FAFSA Fridays Begin Oct. 11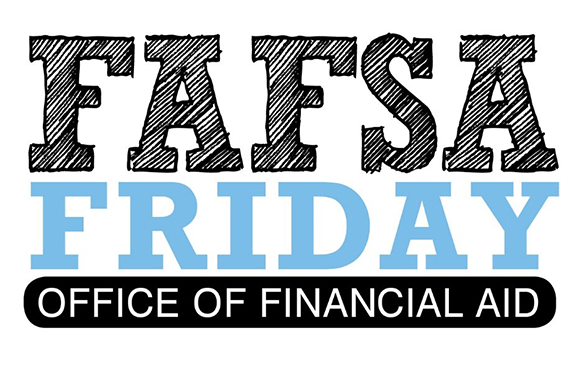 Do you have students who are looking for financial aid assistance? The Office of Financial Aid is hosting "FAFSA Fridays" from 1-3 p.m. every Friday, Oct. 11-Nov. 22, and Dec. 6, in the F210 computer lab to assist students with the financial aid process. Encourage your students to file their FAFSA applications by Stockton's March 1 priority deadline and NJFAMS applications for State aid by April 15. Students who miss these deadlines may miss out on aid they are eligible for.
Continuing Studies Offers a Variety of Courses this Fall

The University's Office of Continuing Studies is hosting a variety of classes for personal and professional enrichment, ranging from mindfulness and yoga to how to make wine and beer this fall.
UPCOMING EVENTS
Wednesday, Oct. 23: Employee Charitable Campaign Kick-Off Breakfast
Sunday, Nov. 3: Open House
Tuesday, Nov. 5: Transfer Admissions Day in Manahawkin
Friday, Nov. 8:38th Annual Council of Black Faculty and Staff Awards Dinner