Stockton News - Oct. 14, 2022
WHAT WE'RE TALKING ABOUT
Author Keisha N. Blain Wants to Expand Our Vision of Freedom
The story of Fannie Lou Hamer usually ends with her fiery speech at the 1964 Democratic National Convention in Atlantic City.
Rather than ending there, author Keisha N. Blain challenged students and guests to look beyond at the 19th annual Fannie Lou Hamer Human and Civil Rights Symposium on Oct. 11 in the Stockton University Performing Arts Center.
Blain is a professor of Africana Studies and History at Brown University, a columnist for MSNBC and former president of the African American Intellectual History Society (AAIHS). Blain's most recent book, "Until I Am Free: Fannie Lou Hamer's Enduring Message to America" (2021), was nominated for an NAACP Image Award and selected as a finalist for the 2022 National Book Critics Circle Award in Biography.
📰 In the News: The Press of Atlantic City
---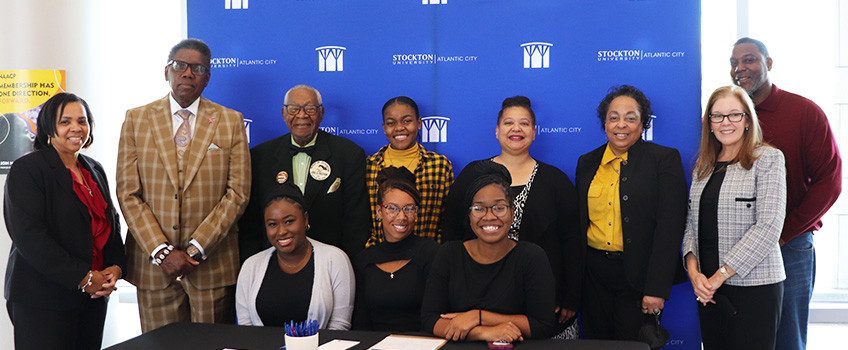 NAACP Panel Discussion: Continuing the Conversation
Following the national NAACP convention in Atlantic City this summer, Patricia Collins seized the opportunity to continue the conversation about youth engagement in politics and civil service with a panel discussion at Stockton on Oct. 10.
"The idea was to get them thinking about important issues like why getting involved in voter registration is important; why representation is valuable where I live, work or attend school; and what kind of impact next-generation leadership plays," said Collins, community engagement liaison for the Stockton Center for Community Engagement and Service Learning (SCCESL), which hosted the event.
---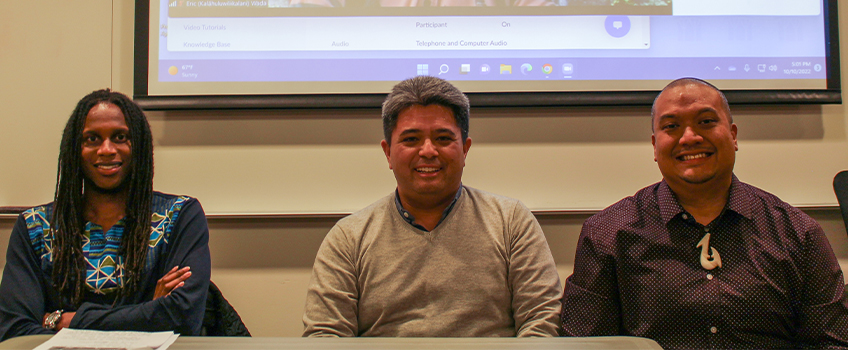 Oct. 10 Event Focuses on Revitalizing Indigenous Cultures
Thousands of years before Stockton, Lake Fred, or even the Caldwell and Woodruff Saw Mill site existed, the lands were known as Lenapehoking, or the traditional and ancestral territory of the Lenape people.
It's revitalizing terms like this that the second annual Indigenous Peoples' Day panel discussion on Oct. 10 centered around.
"Revitalization is a word with many different meanings and approaches when it comes to indigenous cultures around the world, whether it relates to language, culture, knowledge, medical practices and traditions," Adam Miyashiro, the moderator of the night and professor of Literature, explained.
Each of the night's three speakers touched on what revitalization means to them.
---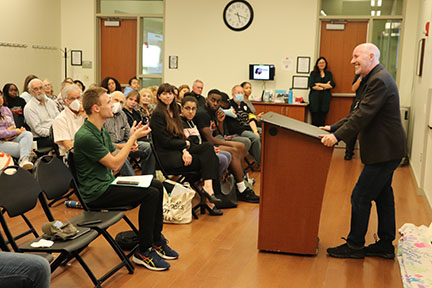 Head of Amnesty International USA Encourages Students
As the head of Amnesty International USA, Paul O'Brien knows how important students are to his organization.
"We are a member-led movement, and our membership always starts with students," said the new executive director of the nonprofit during an appearance at Stockton on Oct. 6.
"I have two board members who were leaders of student groups two years ago and they are my bosses — both under 25," he said. "We as a movement know that our power lies in whether we can be relevant to student groups across the country."
STOCKTON UNIVERSITY ATLANTIC CITY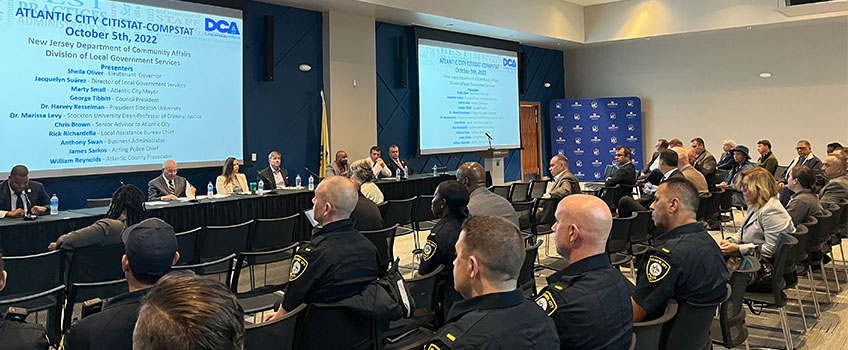 Dean Collaborates with Police to Adapt Data Crime System
"Crime is not just a police problem, crime is everyone's problem."
Those words by Atlantic City acting Police Chief James Sarkos are at the core of a new partnership announced Oct. 5 to help improve the safety of Atlantic City residents.
Stockton is collaborating with the New Jersey Department of Community Affairs, the city of Atlantic City and the Atlantic City Police Department to introduce two new data-driven programs to the city called CitiStat and CompStat.
Both programs rely heavily on community involvement and public engagement to hold the city government and the police department accountable in efforts to improve quality of life.
Marissa Levy, dean of the School of Social and Behavioral Sciences, worked with the NYPD on CompStat in the late 1990s and early 2000s, and she has been working for several months to adapt the system to the Atlantic City Police Department.
---
🕵️ 'Who Dunnit?" at 'Second Saturdays' Oct. 15
Second Saturdays in Atlantic City are a series of family-friendly events, hosted by Stockton University Alumni Relations, held on the second Saturday of every month at Stockton Atlantic City.
Calling all Stockton Jr. Detectives- when a millionaire is poisoned, Sherlock Holmes and his team arrive to help find out Who Dunnit! 11 a.m.-1 p.m., tomorrow, Oct. 15.
Not only must the killer be found, but an inheritance is hidden somewhere on the estate. Can you help uncover the guilty party as well as figure out where the money is hidden? Can you decipher the clues to help figure out how to get to the prize?
It's a race against time to solve "The Case of the Mission Millions!" Register here.
FRAME-WORTHY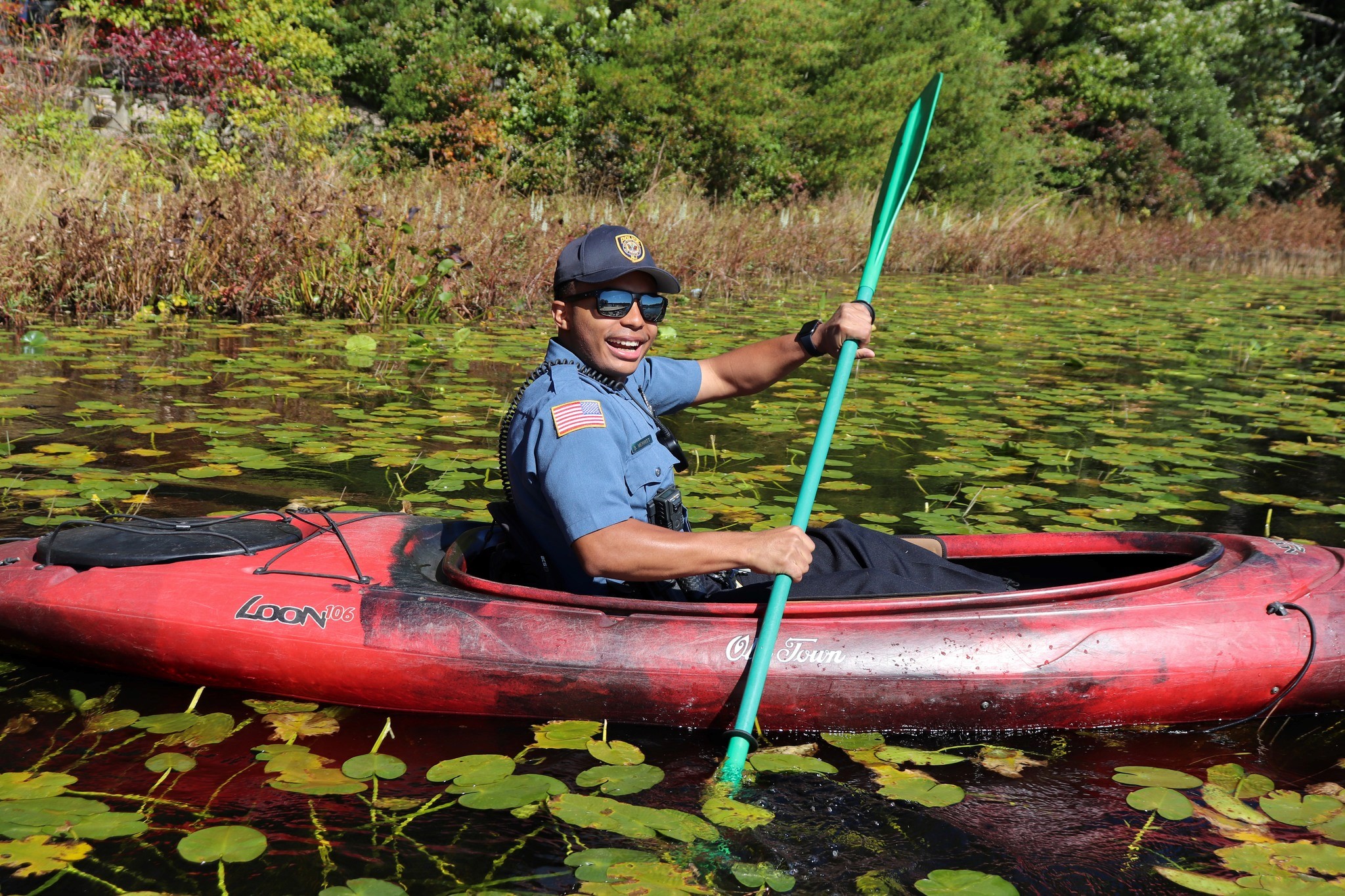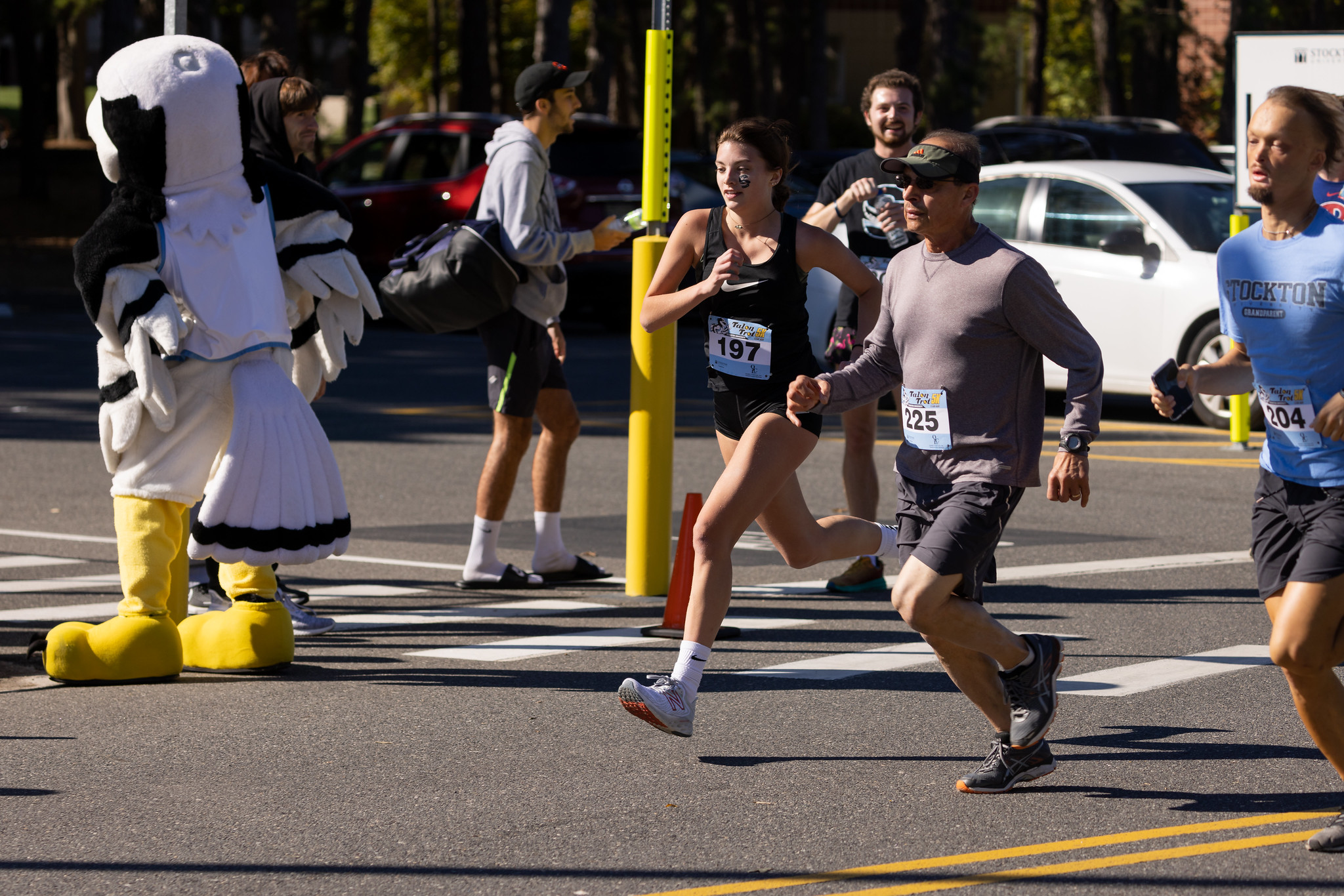 Well-Attended University Weekend Brings the Fun for Everyone 🎉 🦅
University Weekend, held Oct. 6-9, brought the community together with a myriad of events and activities, including the inaugural Talon Trot 5K and Fun Run, a "Hollywood: Stockton Stars" Parade, food trucks, 30+ marketplace vendors, Ospreys on Tap, a magic show with Trigg Watson and more.
🛶 The beautiful fall weather showed up all weekend and was the perfect FredFest forecast on Sunday, Oct. 9, which hosted canoeing and kayaking on Lake Fred.
📸 See more photos from University Weekend on Flickr.
WHAT'S TRENDING

@ #STOCKTONU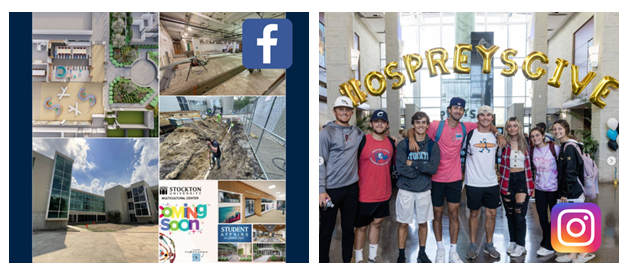 Facebook: Here's a sneak peek at Stockton's Multicultural Center, a space for our students and campus community to focus on social justice programming. The new space is set to open in February of 2023.
Instagram: Ospreys 🦅 Give• More than 500 donors have given more than $92,000 in the first 20 hours of #OspreysGive.
FROM THE SIDELINES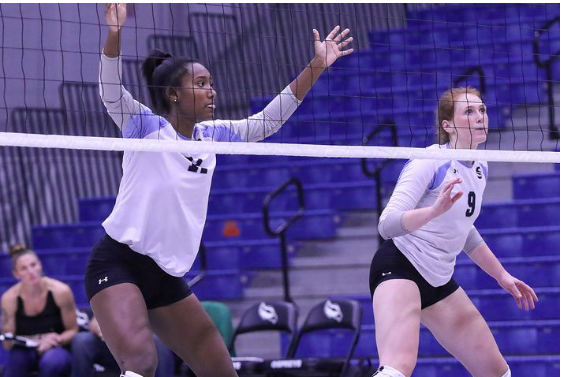 Stockton Volleyball Wins Sixth Straight Match
The Stockton Volleyball team cruised to a 3-0 sweep of Rutgers-Newark in a conference road match for its sixth consecutive win on Oct. 13. Fourteen Ospreys saw action in the rout.
Kate Louer paced Stockton with 11 kills, followed by Haley Green with nine kills. Teleyah Witherspoon tallied a match-high six blocks plus five kills.
---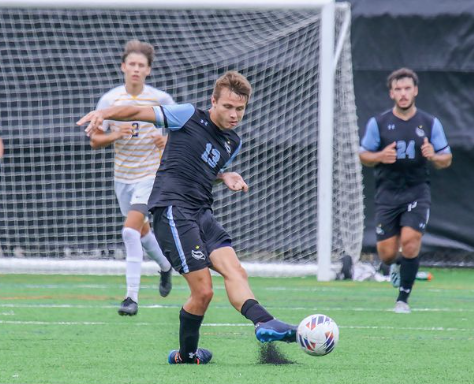 Stockton Men's Soccer Wins 5-1 for Third Straight Victory
The men's soccer team continued its offensive explosion by scoring five goals for the second straight game in a 5-1 victory over The College of New Jersey on Oct. 12. The Ospreys extended their winning streak to three and unbeaten streak to four.
Five different Ospreys scored goals, and freshman Aiden Hoenisch dished three assists to boost his point streak to four straight games, during which he has 10 points.
---
🗓️ View the full schedule of upcoming athletic events here
OSPREY NOTES

Tune into the October episode of Stockton Now at 11 a.m. on Saturday, Oct. 15 on 101.3 FM, 101.9 FM or 1310 AM. The episode will also air on WLFR Monday afternoon. This month's episode includes conversations with Board of Trustees Chair Ray Ciccone discussing the presidential search process; retired Judge Julio Mendez describes his new role with the William J. Hughes Center for Public Policy; and Gail Rosenthal, director of the Sara and Sam Schoffer Holocaust Resource Center, Irvin Moreno-Rodriguez, assistant director of the Sara and Sam Schoffer Holocaust Resource Center, and Michael Hayse, associate professor of History, detail the creation and importance of the Holocaust Survivors of South Jersey Digital Archive.
If you missed previous episodes, you can listen online at the Stockton Now archive page.
---
🛍️ Champion Sale at Follett Bookstore Oct. 17-23
The Follett Bookstore will host a 20% off sale on all Champion clothing and accessories, in-store and online, Monday, Oct. 17-Sunday, Oct. 23.
UPCOMING EVENTS