Stockton News - Friday, Oct. 11, 2019
WHAT WE'RE TALKING ABOUT
Publisher Paul Coates Shares Civil Rights History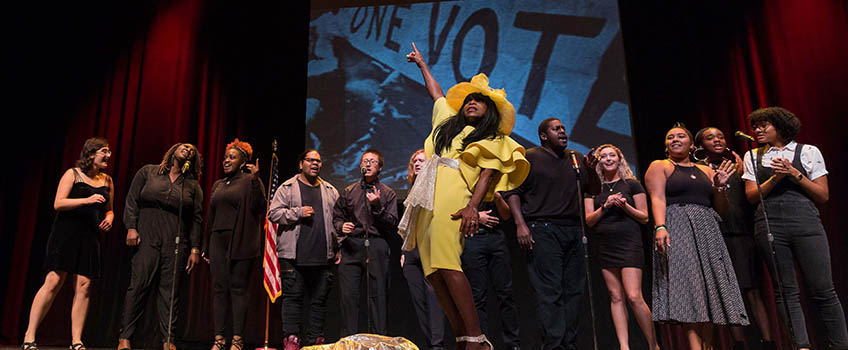 "It doesn't matter if you do not have a lot of money, you must have vision to make change, " W. Paul Coates told students and guests at the 16th annual Fannie Lou Hamer Human and Civil Rights Symposium Oct. 8 in the Stockton University Performing Arts Center (PAC).
"Money with no vision will never amount to anything," Coates added, "but some money and a vision can really make things happen."
The event opened with freedom songs sung by Professor of Music Beverly Vaughn and her lively Freedom Singers.
Unified Black Students Society President Jayden Cohen-Boyce recited a few of his favorite Hamer quotes.
---
WLFR Radio Celebrating 35 Years of Operation
Thirty-five years ago this month, the lively melody of "People Get Ready" by The Impressions blared across the then-Stockton State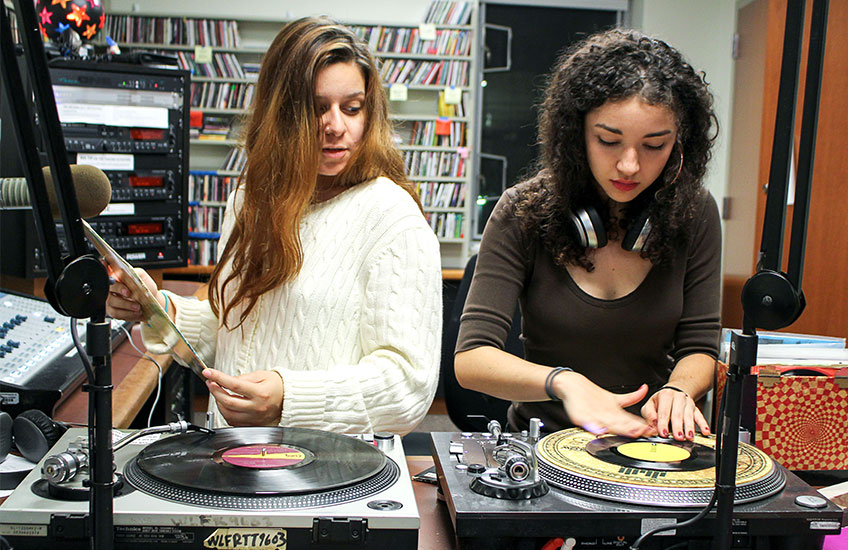 College campus as radio station WLFR 91.7FM went live on the air for the first time.
"This station will stand for teamwork at this college," said then-Dean of Students Peter Mercado to a cheering crowd of students, kicking off the WLFR launch party. "It represents one more step in which we will actualize the dream of reaching out to the South Jersey community."
---
Stockton Poll Shows 52% in N.J. Support Impeachment Inquiry
A small majority of New Jersey adults support the impeachment inquiry started against President Donald Trump in the House of Representatives, although they are split about whether Trump should be impeached at this point, according to a Stockton University Poll released Oct. 10.
---
Ten Students Receive Hollander Scholarships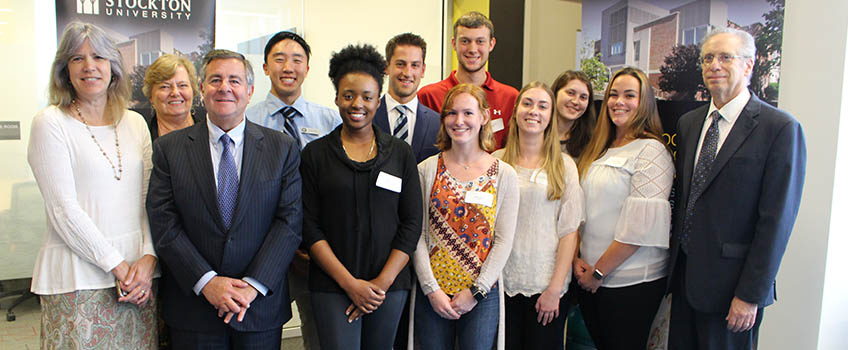 Ten students in the Stockton University School of Health Sciences have each received $5,000 scholarships for the 2019-20 academic year from the Hollander Memorial Scholarship Foundation.
This year's recipients are: Emma Nelson of Manahawkin, Sarah Mavracic of Medford, and Trevor Calimer of Egg Harbor City, Nursing; Katelyn Earles of Bayville and Alexa Pritchard of Cinnaminson, Master of Science in Occupational Therapy; Suzanne Pasalano of Brick and Katie Campbell of Lanoka Harbor, Master of Science in Communication Disorders; and Nicholas Persia of Newfield, Mahogany Reevey of Lumberton and Nathan Roberts of Egg Harbor Township, Doctor of Physical Therapy.
STOCKTON UNIVERSITY ATLANTIC CITY
Nuestro Pueblo Awards Raises Nearly $14,000 for Scholarships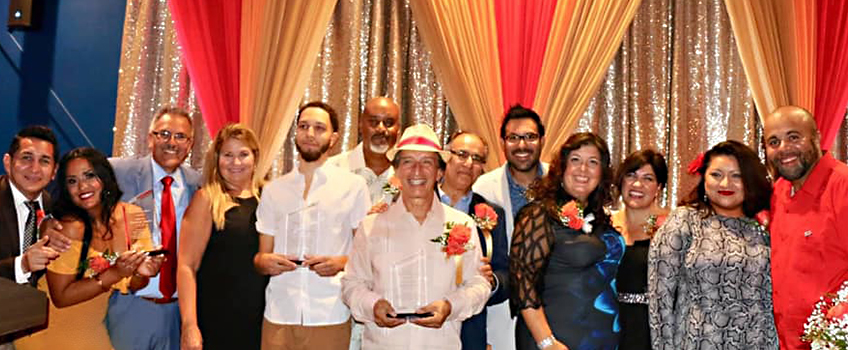 Two hundred people attended the first Nuestro Pueblo Awards on Sept. 27 at Stockton University Atlantic City, raising nearly $14,000 for Stockton UNIDOS and Hispanic Association of Atlantic County (HAAC) scholarship funds.
Christian Cabrera, a freshman biochemistry/molecular biology major; Stockton senior Edbelinda "Mimi" Nambo; and Arnaldo Cordero-Roman, associate professor of Spanish, were among the 11 people honored at the event.
Jessica Grullon, Nuestro Pueblo Awards planning committee chair, said the event was designed to "promote community involvement and advancement of our Hispanic cultural heritage by recognizing individuals and/or organizations that are making a difference in 'nuestro pueblo' – our community."
---
Catch a Movie Tonight at Stockton Atlantic City
"Fall Cinema in the City" is featuring Men In Black International at 8 p.m. tonight, Oct. 11, in the Stockton University Atlantic City residential classrooms B119/120. Attendees are asked to bring their Stockton IDs
SPOTLIGHT ON
Stockton Well-Represented at NJ Veterans Mental Health Summit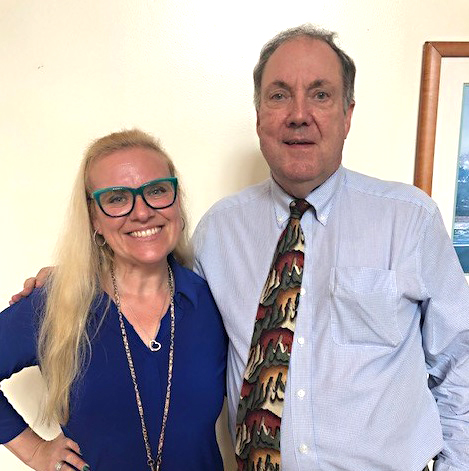 David Burdick, SCOSA director and professor of psychology at Stockton University, delivered a keynote address, "Nurturing Optimal Aging," on Sept. 12 at the Veterans Administration New Jersey Health Care System's annual Mental Health Summit.
Pictured with Burdick is 1993 Stockton alumna Tanya Kero, LCSW, who recently joined the VA-NJ as their Suicide Prevention coordinator and also presented at the conference. Kero earned a BSW and GERO minor at Stockton.
"It was a privilege to learn more about the VA-NJ's many efforts to support the mental health and overall well-being of several generations of veterans," Burdick said. "The veterans panel and Tanya's presentation were personal highlights of the day and SCOSA hopes to bring Tanya to lecture at Stockton next spring."
PHOTO: Tanya Kero with David Burdick at the Veterans Administration New Jersey Health Care System's annual Mental Health Summit on Sept. 12.
FRAME-WORTHY
Career & Internship Fair Helps Ospreys Find Their Flight Path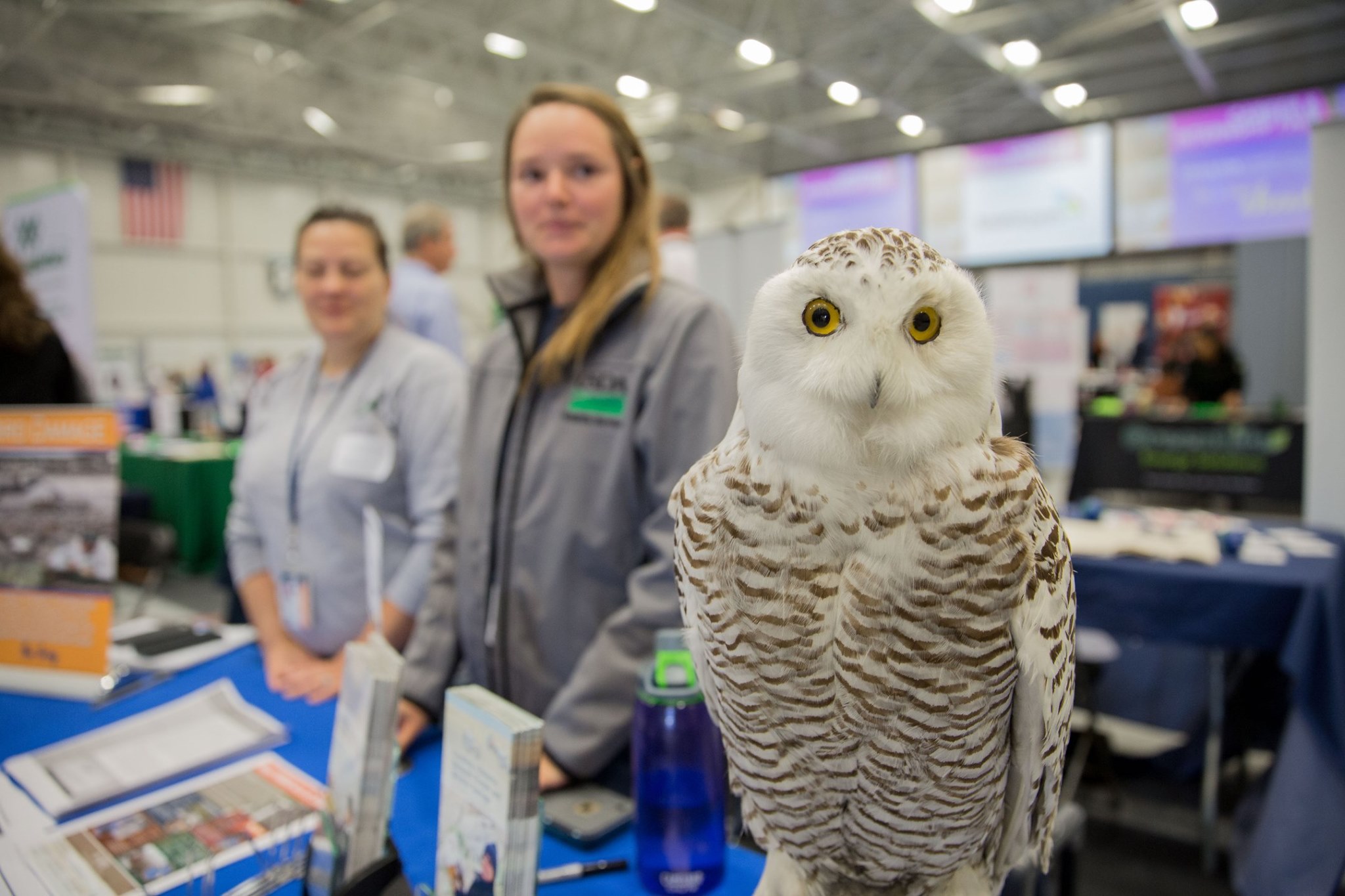 The Office of Career Education and Development hosted its Fall Career and Internship Fair on Thursday, Oct. 10, in the Sports Center of the Galloway campus.
Over 100 employers were on site to meet with professionally-dressed students and talk about future career opportunities. Students were encouraged to bring their resumes, network, and could even get professional headshots taken.
Pictured is a snowy owl representing the New Jersey Department of Agriculture.
WHAT'S TRENDING #STOCKTONU
Facebook: This post will help you map out your University Weekend plans! So many great events are on tap.
Instagram Highlight: Last Sunday's Open House was well-attended and covered by Stockton's Admissions Ambassadors.
FROM THE SIDELINES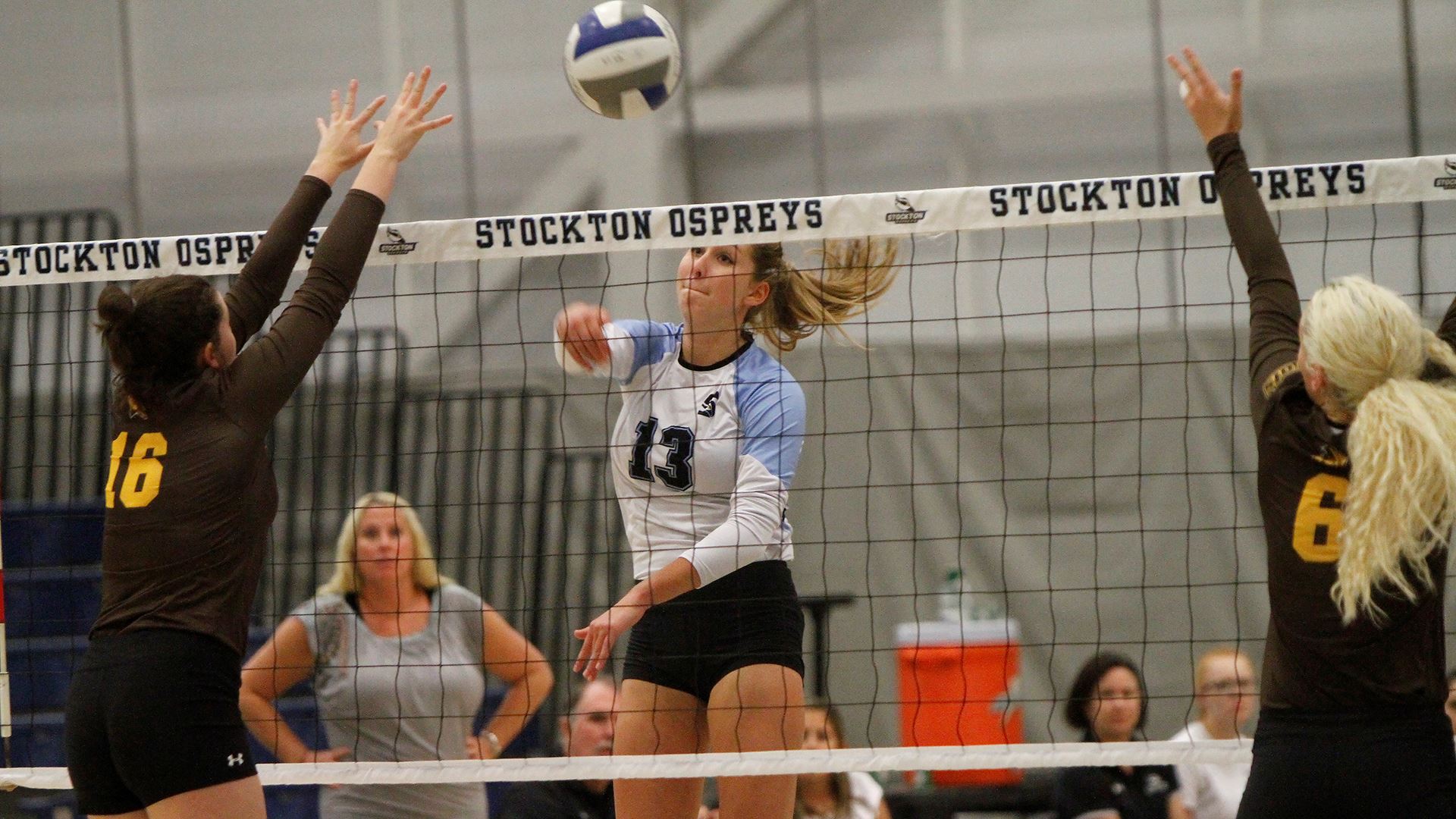 Stockton Extends Win Streak with 3-0 Victory Over Rutgers Newark
Stockton University women's volleyball continued their winning ways, as the Ospreys rolled to a 3-0 victory over Rutgers Newark on Tuesday night. Sarah Walsh and Charlotte Leon led the Ospreys with 12 and 10 kills respectively.
MORE FROM THE HIGHLIGHT REEL:

Some of this weekend's highlights include Women's Soccer vs. William Paterson, Women's Field Hockey vs. Montclair (part of University Weekend), and Men's Soccer at William Paterson, all tomorrow, Oct. 12. Go Ospreys!
For more upcoming sports games, check out the schedule.
OSPREY NOTES
2019 G. Larry James Legacy 5K Run/Walk Oct. 19
The 2019 G. Larry James Legacy 5K run/walk with be held Saturday, Oct. 19, on the Boardwalk in Atlantic City. The 5K is part of the Atlantic City Marathon Weekend, a festival that celebrates community, the City and the memory of James.
Stockton has a team, "Stockton Ospreys," registered for the run/walk with a number of faculty, staff and students signed up to participate.Register to be a part of the 5K here. Proceeds benefit the Stockton Foundation.
Conversations with President Kesselman Oct. 29, Nov. 6

Staff and faculty are invited to join President Kesselman for an engaging group discussion on key issues facing Stockton on the following dates: 12:30-1:45 p.m., Tuesday, Oct. 29 , in Room 316 of Stockton Atlantic City's Academic Center; or 12:45-2 p.m., Wednesday, Nov. 6 , in Campus Center Meeting Room 5 at the Galloway campus.
Fall's theme is "The Value of a Stockton Degree in an Age of Anti-Intellectualism."
RSVP to Kathryn Mason at Kathryn.Mason@stockton.edu or ext. 4521 by Oct. 25, and indicate your date of choice. Registration is limited to the first 25 guests for each venue. Light refreshments will be served.
FAFSA Fridays Begin Oct. 11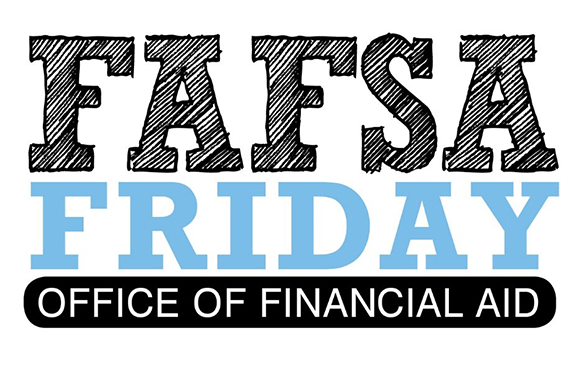 Do you have students who are looking for financial aid assistance? The Office of Financial Aid is hosting "FAFSA Fridays" from 1-4 p.m. every Friday, Oct. 11-Nov. 22, and Dec. 6, in the F210 computer lab to assist students with the financial aid process. Encourage your students to file their FAFSA applications by Stockton's March 1 priority deadline and NJFAMS applications for State aid by April 15. Students who miss these deadlines may miss out on aid they are eligible for.
Continuing Studies Offers a Variety of Courses this Fall

The University's Office of Continuing Studies is hosting a variety of classes for personal and professional enrichment, ranging from mindfulness and yoga to how to make wine and beer this fall.
UPCOMING EVENTS