Stockton News - October 9, 2020
WHAT WE'RE TALKING ABOUT
Spencer Tells Students 'You Are the Movement' During Civil Rights Symposium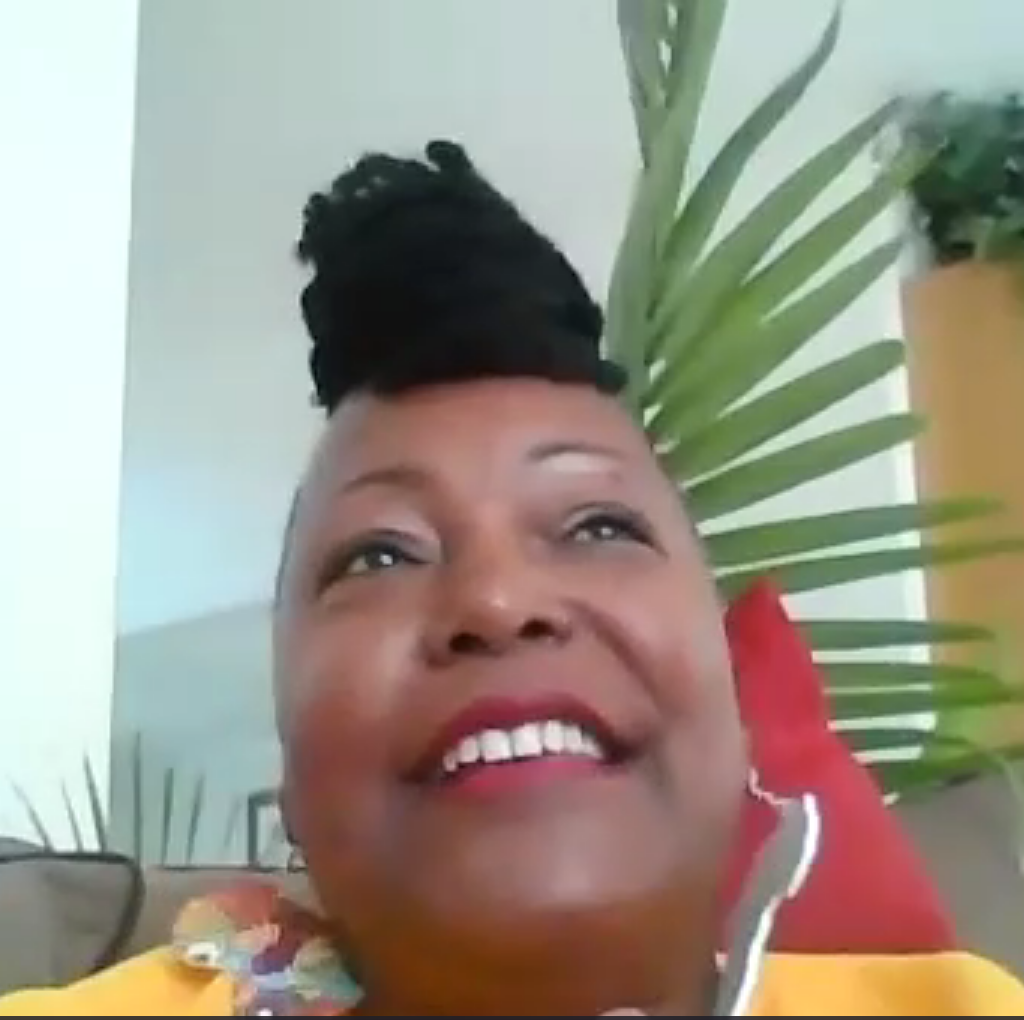 "What people don't understand is that each of the people who proclaimed to be activists have gone through their own struggles. When we talk about the difference between a moment and a movement, we have to look at the moments we all experience that create the movement in us," Dr. Zoe Spencer told viewers tuning in to the 17th Annual Fannie Lou Hamer Human and Civil Rights Symposium Oct. 6 on Zoom.
The symposium commemorates the life and legacy of civil rights activist Fannie Lou Hamer. Traditionally, it is held in Stockton University's Performing Arts Center (PAC), and has featured scholars, politicians, artists, authors, activists, choirs, dancers and dramatic interpretations of Fannie Lou Hamer.
---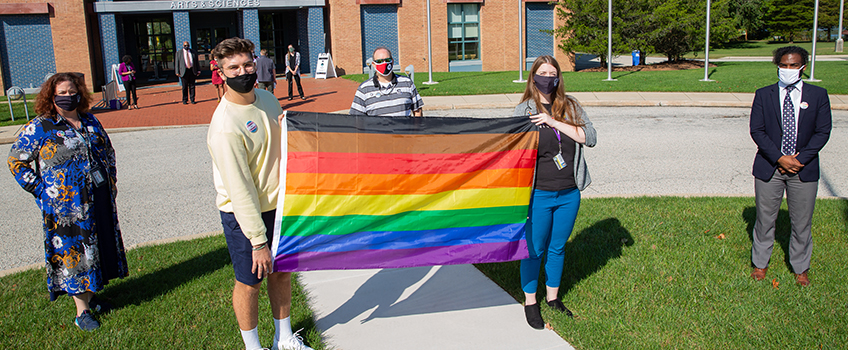 Stockton Recognizes LGBTQ History Month
The Stockton community kicked off LGBTQ History Month with a flag raising in the Arts and Sciences Building circle on Oct. 1.
"We are here to celebrate the rich history of this community, which includes activists, writers, politicians and artists," said Rebecca Longo, assistant director of the Women's, Gender and Sexuality Center (WGSC) at Stockton.
Student Ben Dziobek, the resident assistant for the House of Lavender at Stockton, said they strive to create an inclusive community and campus, and maybe a little more perfect world.
He called the flag a symbol of perseverance, strength, acceptance and social justice.
---
Student Groups Lead March for Justice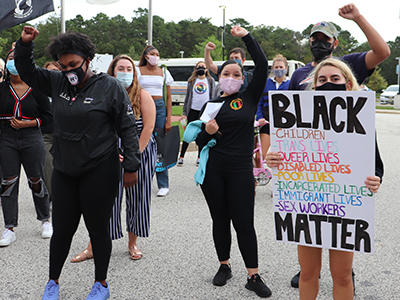 More than 100 students, faculty and staff gathered for a march around campus Sept. 29 to raise awareness of racial, social and environmental injustice.
The #SayTheirNames rally was sponsored by the Unified Black Students Society and Stockton Chapter of the NAACP with support from the Environmental Club.
"We all have a voice," said Amaiya Roundtree, president of UBSS. "We all matter. We can do more. It warms my heart to see so many faces here marching for all the lives we have lost and those facing injustice."
---
Get Politically Engaged with PEP
The presidential election is coming up and Stockton's American Democracy Project/Political Engagement Project (ADP/PEP) has a full season of virtual and a few in-person events.
The group began the semester on National Voter Registration Day with a voter registration drive outside in Independence Plaza.
"Throughout this election, we'll be maintaining up-to-date information about the election and how you can participate on our ADP/PEP website," said Assistant Professor of Political Science Claire Abernathy, who coordinates the ADP/PEP and wore a mask with the word VOTE. "We encourage students and entire classes to participate."
---
Community Invited to Participate in University Weekend Vrtual Events
The Press of Atlantic City featured a myriad of events taking place for University Weekend that community members can enjoy including poetry readings, festive origami creations, virtual yoga and more.
---
👉 In Case You Missed It…
Stockton's terrapin conservation project held its last release of Diamondback Terrapins last Friday, Oct. 2, at Glenn by the Bay in Absecon. The terrapins included some rehabilitated rescue terrapins and some hatched from eggs taken from injured terrapins. John Rokita, assistant supervisor of Academic Lab Services; along with Melissa Laurino, animal care specialist; and alumna Evelyn Kidd were on site for the release.
📰 Media coverage included 6ABC,The Press of Atlantic City, New Jersey 101.5, and the Philadelphia Inquirer.
WE'RE HERE TO HELP
Resources Available to Staff, Faculty
There are many resources and best practices being made available to staff and faculty working remotely that can be found by visiting Information Technology's website.
In addition to assistance with technology available from ITS, Stockton provides faculty and teaching staff with professional development, training, teaching ideas, resources and individual consultations via the Center for Learning Design.

🔴 Reminder: Faculty, staff and students are reminded to complete the Stockton Health Pledge daily, even if you are not coming to campus. The pledge is emailed daily to your Stockton email and assists us in monitoring the health of our community.

🧪 Stockton has updated information on its agreement with AtlantiCare to assist employees seeking COVID-19 testing. Details are on the Office of Human Resources website.
Stockton is compiling notices of confirmed positive COVID-19 cases in a dashboard on the Coronavirus home page. The dashboard is updated daily.
The Student Assistance Resources page has information for students whose academic progress may be affected by the COVID-19 pandemic.
SPOTLIGHT ON: DEBORAH FIGART
Figart Gives Testimony on Public Bank Proposal in Philadelphia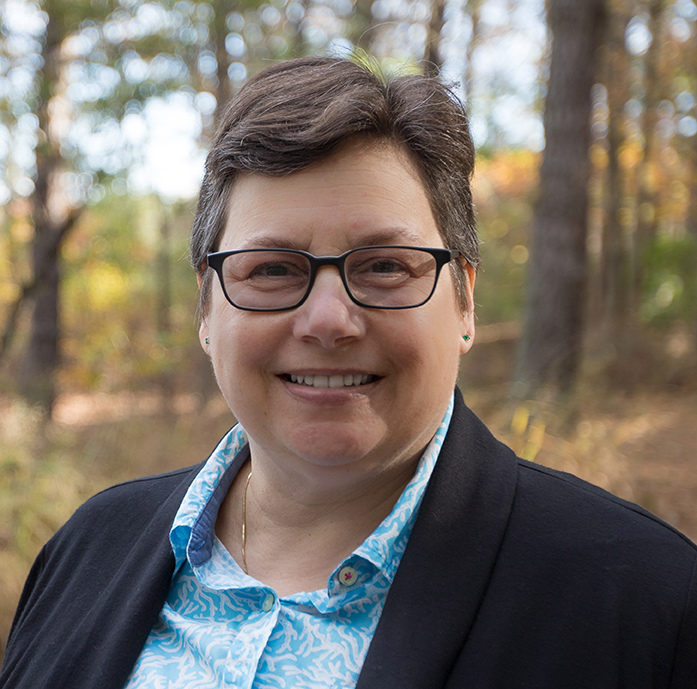 Deborah M. Figart, Distinguished Professor of Economics at Stockton, is a member of the Philadelphia Public Banking Coalition, a public interest group. Figart has been working with Philadelphia City Councilmember Derek Green, who also serves as Chair of the Committee on Finance, on exploring the possibility of a new public bank in Philadelphia for almost two years.
On Oct. 5, Figart gave testimony during hearings regarding her economic impact studies of a proposed State Bank of New Jersey and a proposed Philadelphia public bank.
During her testimony, Figart said, "Pragmatically, public banks are an alternative revenue stream for community development projects in a context where increasing taxes is challenging. A public bank can yield positive local economic development effects through its operations and lending."
The overall takeaway from her economic impact study using input-output analysis is that every $1 billion in new lending would yield approximately $142 million of increased earnings in Philadelphia; 3,171 new jobs in Philadelphia; and $1.50 billion in new metro-area gross product in our Philadelphia-Camden-Wilmington metropolitan region.
"It was a pleasure to share public policy research with the Philadelphia City Council. Councilmembers are interested in hearing how proposed policies can affect people's economic well-being," Figart said about the experience. "Small businesses and local infrastructure have been underfunded for years, and public banks can invest in their own backyards. I hope that legislation will endorse the concept of a public bank in Philadelphia. Influencing legislation is a key reason we do policy-based research."
FRAME-WORTHY:
🌱Organic Learning Blossoms During Pandemic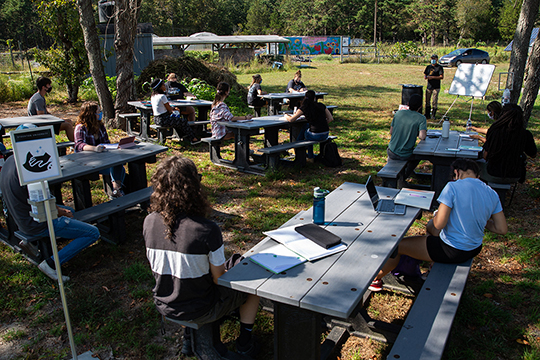 Ron Hutchinson, associate professor of Sustainability, turned the Sustainable Farm into an outdoor classroom with picnic tables for his "Food and Agriculture" students. Over the summer, Hutchinson worked with Robert McKeage to keep the farm operating during the pandemic.
WHAT'S TRENDING @ #STOCKTONU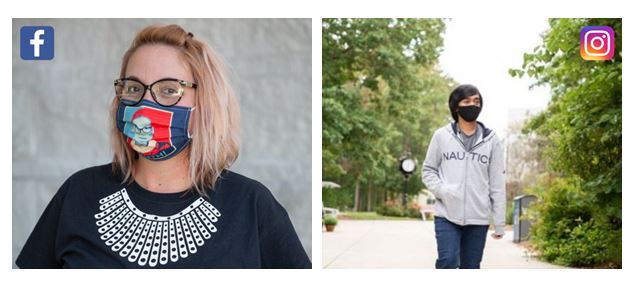 Facebook: #StocktonVoices Monica Viani from the Dean of Students Office wore a shirt adorned with the late Supreme Court Justice Ruth Bader Ginsberg's favorite white jabot from South Africa. Her mask said "Ruth" underneath a stylized portrait of the second woman to serve on the nation's highest court.
Instagram: 🍂Fall is here and #StocktonU is here for you. This week @stockton_activeminds and the @stocktonwellnesscenter have daily, virtual events for #SuicidePrevention Week.
OSPREY NOTES

File FAFSA Starting Oct. 1
The time is coming, Ospreys! Get your FAFSA done, starting Oct. 1! Encourage students to file their FAFSA applications as soon as possible to avoid missing out on any aid they may be eligible for. Direct them to fafsa.gov.
Participate in Survey for Research Study
Stockton faculty and star are invited to participate in a survey for a research study, sponsored by researchers at East Carolina University and the University of Nebraska-Lincoln, in conjunction with leadership at Stockton. Participants have a chance to win a $50 Amazon gift card. Do not share the link with individuals outside Stockton.
Encourage your students to take the survey, as well.
If you wish to speak with someone before participating, contact the SHARE Study project team at sharestudy@ecu.edu.
UPCOMING VIRTUAL EVENTS
Upcoming Events Hosted by the Office of Development and Alumni Relations
Oct. 8-11: University Weekend
🎓 Oct. 23: Spring 2020 Commencement Formal Ceremony