Stockton News - Friday, Oct. 4, 2019
WHAT WE'RE TALKING ABOUT
Eight Boats Named at Rowing Ceremonies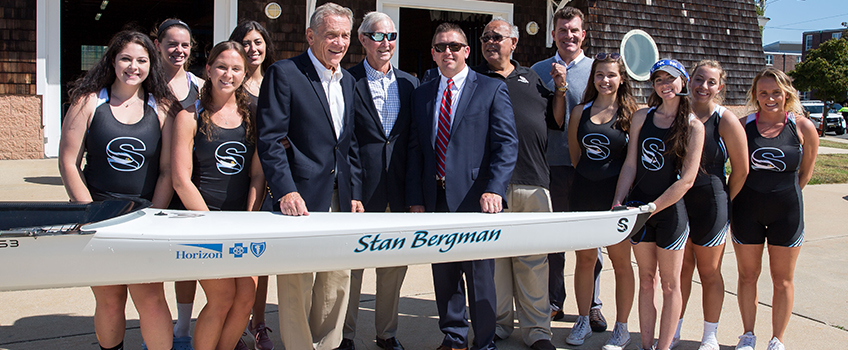 Eight Stockton University varsity eight boats were doused with champagne during naming ceremonies at the Atlantic City Boathouse on Sept. 25 and 28.
Two varsity eight boats were named Sept. 25 for local rowing legend and coach Stan Bergman of Ventnor and supporter and former state senator William "Bill" Gormley of Margate. The Bergman boat was made possible through a generous donation by Horizon Blue Cross/Blue Shield of New Jersey, which is also listed on the Bergman boat.
SNJ Today featured the namings.
---
W. Paul Coates to Speak at 16th Fannie Lou Hamer Symposium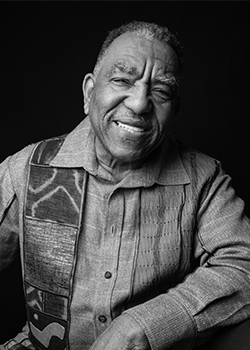 W. Paul Coates, founder and director of the Black Classic Press (BCP), will be the keynote speaker at the 16th annual Fannie Lou Hamer Human and Civil Rights Symposium at 2:30 p.m. Oct. 8 in the Stockton University Performing Arts Center. The theme of this year's symposium will be "The Revolution Will Not Be Televised."
The event is free and open to the public and will also be livestreamed in the Fannie Lou Hamer Event Rooom at the Stockton Atlantic City Academic Center.
The Press of Atlantic City posted the story.
STOCKTON UNIVERSITY ATLANTIC CITY
A.C. Student Lounge Named for Elizabeth B. Alton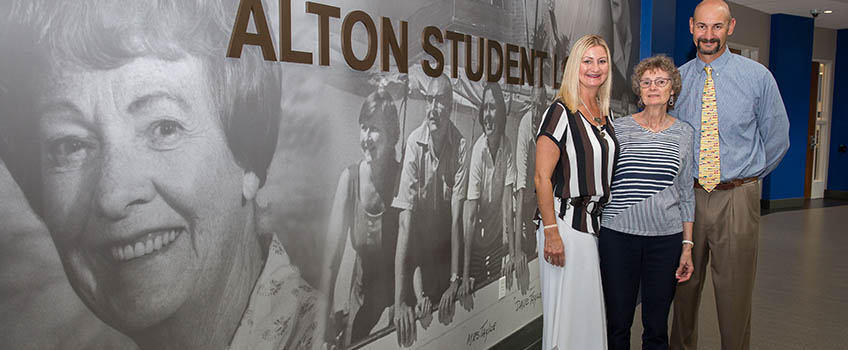 Elizabeth B. Alton believed so strongly in access to higher education that in the 1960s she traveled around the state to convince the legislature to fund a new state college in South Jersey.
South Jersey got its college when Richard Stockton State College opened in fall 1971. Elizabeth Alton served on the first board of trustees.
The Alton family has continued her legacy of support for the college and Atlantic City. On Sept. 28 the Alton Student Lounge was named in her honor at the new Stockton University Atlantic City Academic Center in Alton's hometown.
---
Catch a Movie Oct. 11 at Stockton Atlantic City
"Fall Cinema in the City" is featuring Men In Black International at 8 p.m. on Friday, Oct. 11, in the Stockton University Atlantic City residential classrooms B119/120. Attendees are asked to bring their Stockton IDs.
SPOTLIGHT ON
Magnetic Anomaly Helps Stockton Professor Study Earth's Crustal Magnetism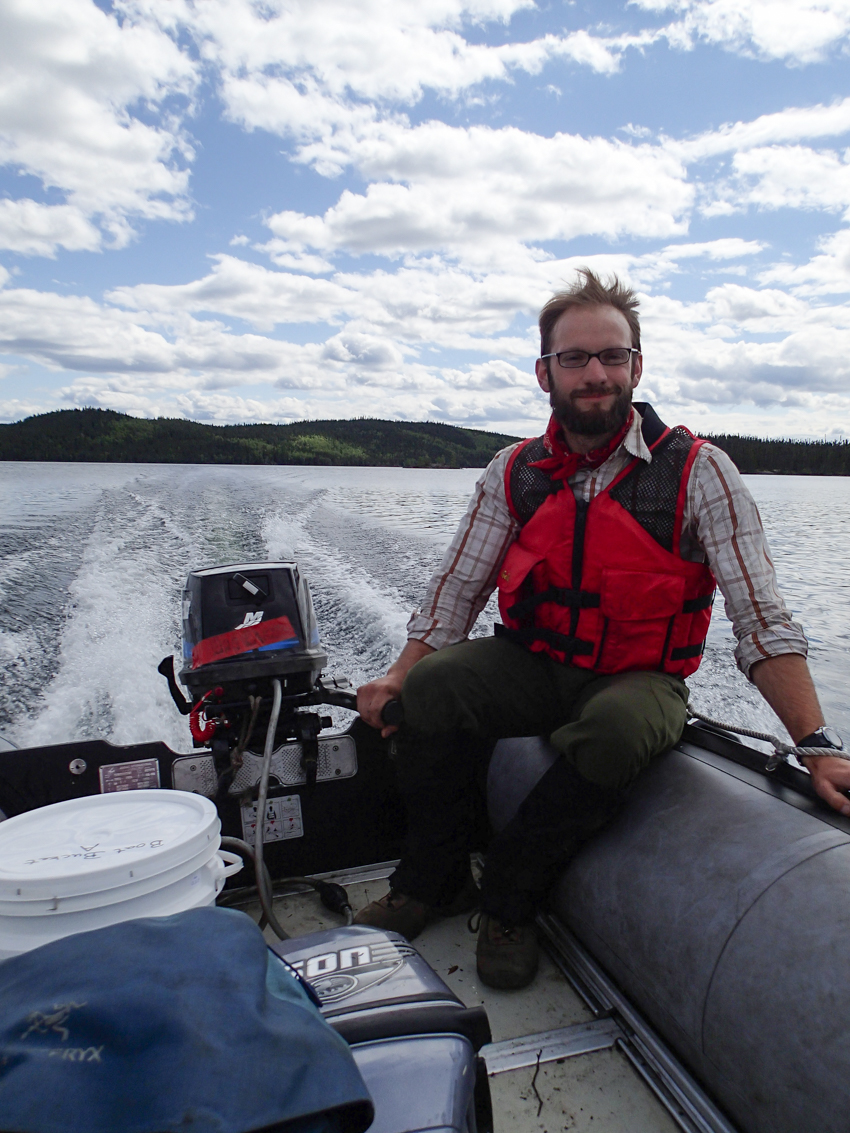 If you want to know what on Earth was happening a few billion years ago that helped form our planet's magnetic field, then you need to study rocks. That is the approach Jeffrey Webber, assistant professor of Geology, took when he and scientists from the University of Massachusetts, Amherst wanted to pinpoint possible sources of Earth's crustal magnetism.
"Rocks tell you about history," Webber said.
Magnetism originates in Earth's core and radiates outward, but there is a component of the magnetic field that comes from the outer shell of our planet with an unknown source. "Some suggest Earth's lower crust accounts for a portion of the magnetic field that we see from space in satellite data," he explained.
FRAME-WORTHY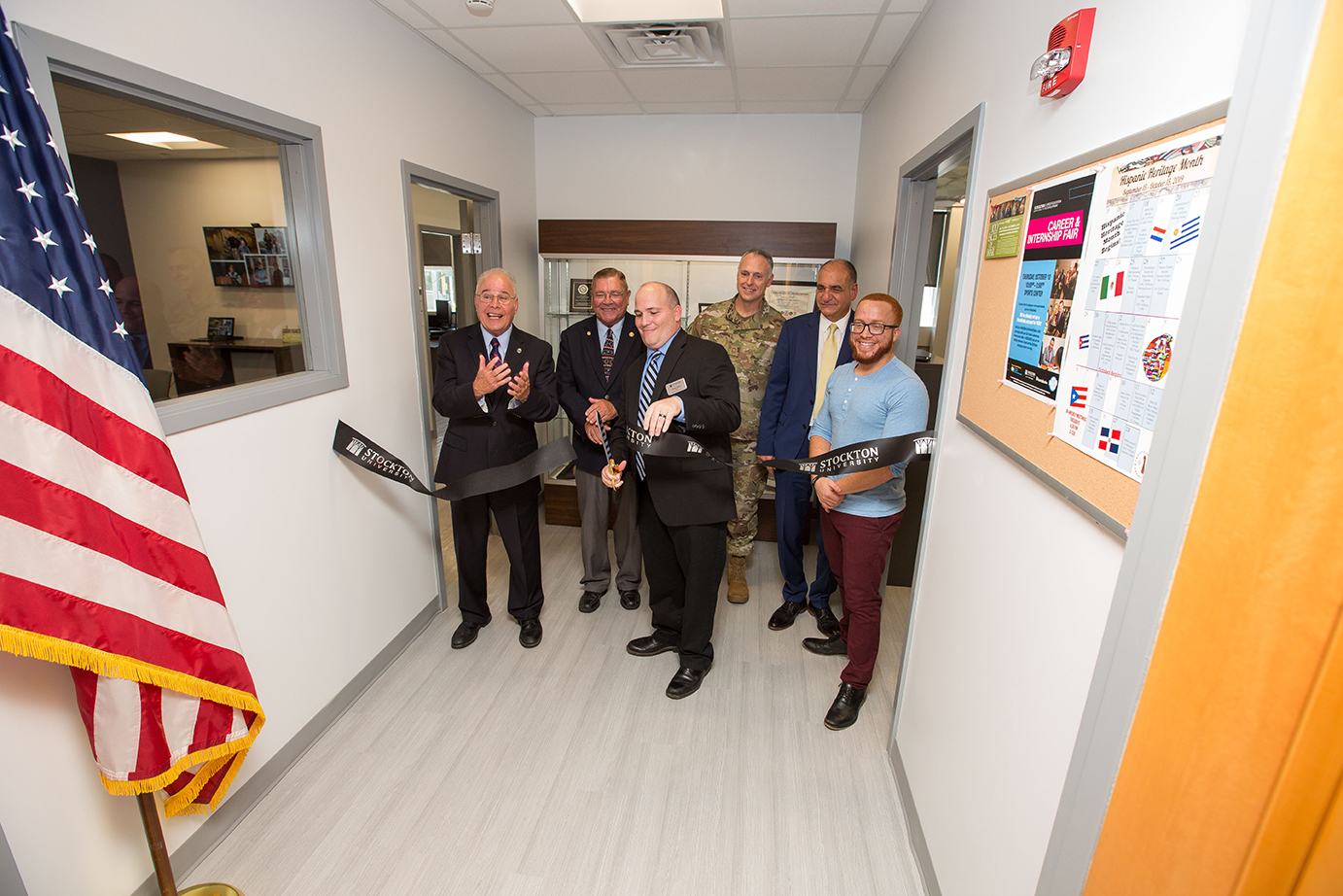 Student Veterans Get New, Larger Office and Lounge
Stockton University's veterans have a new home.
The new, larger Office of Military and Veteran Services in lower F-Wing was formally dedicated Oct. 1 in a ceremony on Independence Plaza followed by a ribbon-cutting and tours. The office includes an expanded lounge for student veterans in a new location.
"Our job is to make sure our veteran students are successful," said director Jason Babin. "We are here for them from when they first walk in, to when they walk at graduation."
The Press of Atlantic City covered the dedication.
WHAT'S TRENDING #STOCKTONU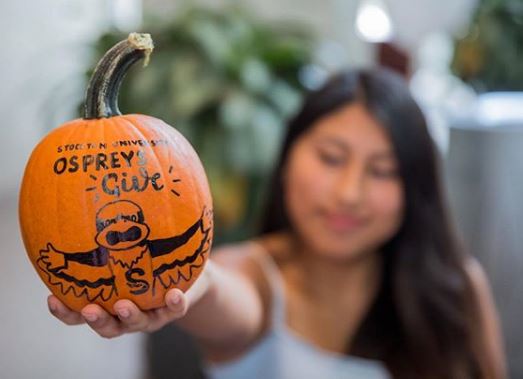 Instagram Highlight: Ospreys Give brought the campus community together this week to raise funds for the University, participate in festive activities and show what it means to have Osprey pride.
FROM THE SIDELINES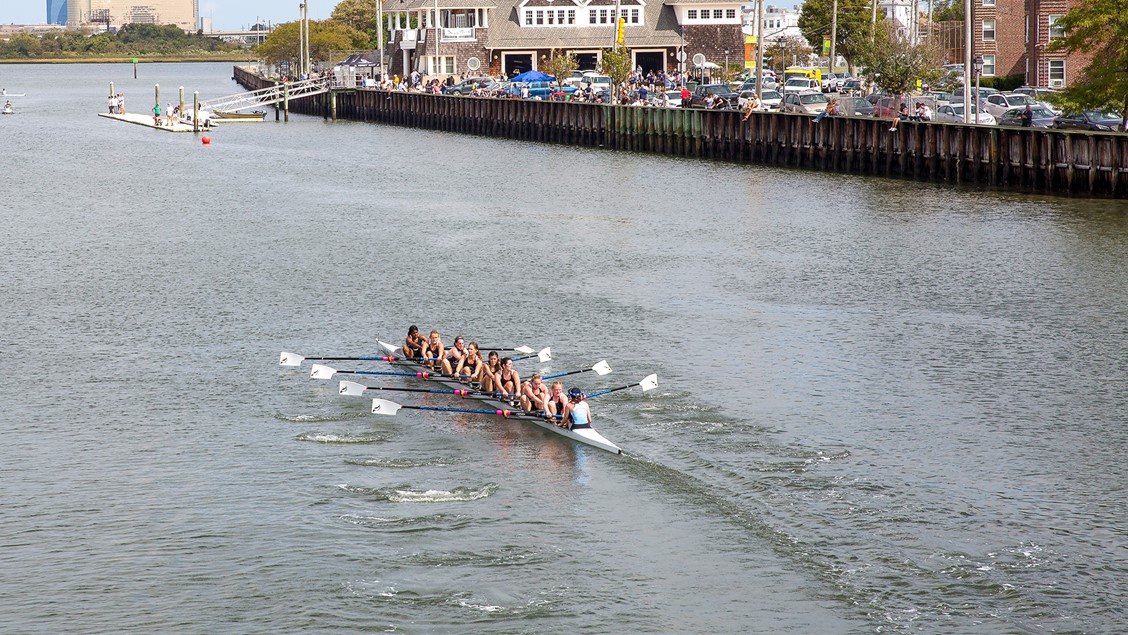 Stockton Hosts AC Stakes Race
Stockton University began the 2019-20 season by hosting the Stockton-AC Stakes Race at the Atlantic City Boathouse on Sept. 28. The Ospreys rowed against Drexel University, an NCAA Division I program, in pairs and fours. Two Stockton entries rowed against each other in the eights as well.
"We've been on the water for two weeks and the growth has been phenomenal," said head coach John Bancheri after his team's season debut. "I'm looking forward to seeing what we can accomplish in the next four weeks before the end of the fall season."
MORE FROM THE HIGHLIGHT REEL:

The Women's and Men's Cross Country Teamsare competing on Oct. 5 in the NJIT Highlander Challenge in Newark; and the Women's Tennis Team is playing Kean University at noon, also on Oct. 5, at home. Go Ospreys!
For more upcoming sports games, check out the schedule.

OSPREY NOTES
Conversations with President Kesselman Oct. 29, Nov. 6

Staff and faculty are invited to join President Kesselman for an engaging group discussion on key issues facing Stockton on the following dates: 12:30-1:45 p.m., Tuesday, Oct. 29 , in Room 316 of Stockton Atlantic City's Academic Center; or 12:45-2 p.m., Wednesday, Nov. 6 , in Campus Center Meeting Room 5 at the Galloway campus.
Fall's theme is "The Value of a Stockton Degree in an Age of Anti-Intellectualism."
RSVP to Kathryn Mason at Kathryn.Mason@stockton.edu or ext. 4521 by Oct. 25, and indicate your date of choice. Registration is limited to the first 25 guests for each venue. Light refreshments will be served.
FAFSA Fridays Begin Oct. 11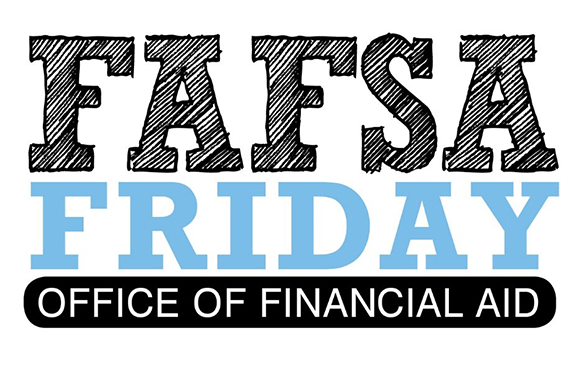 Do you have students who are looking for financial aid assistance? The Office of Financial Aid is hosting "FAFSA Fridays" from 1-4 p.m. every Friday, Oct. 11-Nov. 22, and Dec. 6, in the F210 computer lab to assist students with the financial aid process. Encourage your students to file their FAFSA applications by Stockton's March 1 priority deadline and NJFAMS applications for State aid by April 15. Students who miss these deadlines may miss out on aid they are eligible for.
Continuing Studies Offers a Variety of Courses this Fall

The University's Office of Continuing Studies is hosting a variety of classes for personal and professional enrichment, ranging from mindfulness and yoga to how to make wine and beer this fall.
UPCOMING EVENTS