Stockton News - Friday, Nov. 27, 2019
WHAT WE'RE TALKING ABOUT
Students See the Future of Wind Energy in N.J.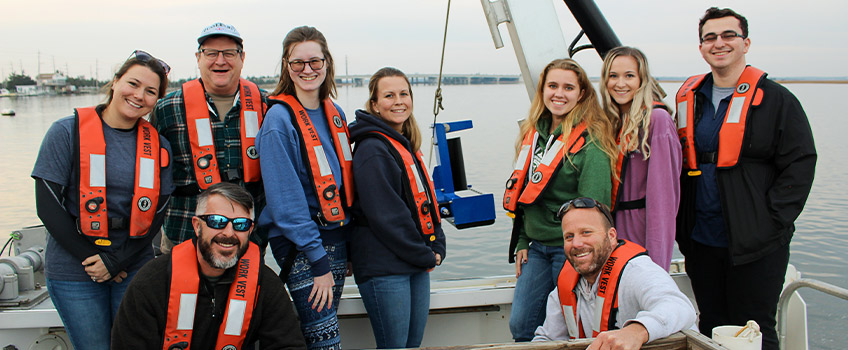 Stockton marine science students are using sonar equipment to look underwater and into the future.
About a dozen students boarded the Stockton research boat Petrel on Nov. 19 to learn hydrography – the science of surveying bodies of water. The trip was sponsored through a partnership with Ørsted U.S. Offshore Wind, which won state approval to build a wind farm off the Atlantic City coast and is now collaborating with Stockton to support research, academic programs and events at the university.
---
Highest Praise Gospel Choir to Back Mariah Carey's Christmas Show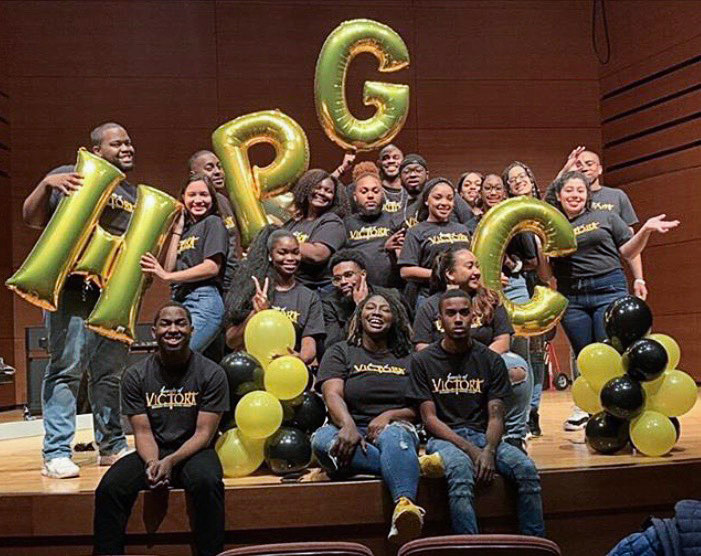 The Highest Praise Gospel Choir, a Stockton club dedicated to worship through the art of song, will be backing Mariah Carey's "All I Want for Christmas" concert at 8 p.m. Saturday, Dec. 7, at the Hard Rock Hotel and Casino in Atlantic City.
Club President Danea Hayes said a few weeks ago, Highest Praise's co-advisor, Professor of Music Beverly Vaughn, ran up to her with a huge grin, eager to give her the news. Hayes said she was "floored" by what Vaughn had to say.
"She told me that Mariah Carey wanted Highest Praise to sing with her in her Christmas concert, and I was like, 'Us? With Mariah Carey?'"
The Press of Atlantic City, Downbeach.com and NJ101.5 FM posted about the story.
---
Faculty, Staff Recognized at Annual Event
The 35th Annual Student, Faculty and Staff Dinner drew hundreds to the Campus Center Event Room Nov. 21 to celebrate the passion and support among the Stockton community.
Student Senate President Arianna DeFillippo and Tahreem Rajput, president of the Campus Religious Council, presented awards to Lauren DelRossi, associate professor of Physical Therapy, and Brian Pluchino, assistant director of Residential Life Facilities and Student Retention.
In nominating DelRossi for Faculty Member of the Year, students said she is dedicated to ensuring students understand the program material and that curriculum is updated and accurate.
---
Read the Fall 2019 Issue of Stockton Now

In our Fall issue of Stockton Now, we highlight the collaboration of the University community coming together to create the incredibly moving Holocaust Rescuers Exhibit that tells the story of Leo Ullman and the families who kept him safe during the Holocaust. We also highlight how alumni, students and staff enhance their own communities – giving a voice to the voiceless and empowering the next generation of leaders.
STOCKTON UNIVERSITY ATLANTIC CITY
Stockton to Honor Local Rowing Coach Bob Garbutt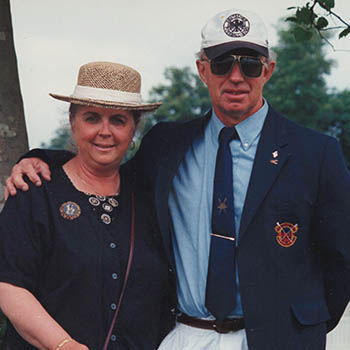 Atlantic City High School teacher and rowing coach Bob Garbutt took the Atlantic City High School crew teams to 13 National Championships, won the Stotesbury Cup eight times and finished second at Henley in 1994.
But Garbutt was much more than a coach. Over his more than 40-year career he's been a role model and mentor to hundreds of young men and women, some of whom went on to their own rowing glory.
Stockton University will honor Bob Garbutt at its second Rowing and Growing with the Ospreys event at 7 p.m. on Friday, Feb. 28, 2020 at the Stockton University Atlantic City Academic Center.
Craft Market Nov. 30 at Noyes Arts Garage
The Noyes Arts Garage of Stockton University in Atlantic City is hosting a Craft Market with local artisans plus kids activities, a hot chocolate station, live music by Steve Kuzma and Band and baked goods from Ventnor 7311 to celebrate Small Business Saturday. Bring your employee ID to receive free parking in the Wave Garage.
Catch a Movie Dec. 6 at Stockton Atlantic City
"Fall Cinema in the City" is featuring "Hustlers" at 8 p.m., Friday, Dec. 6, in the Stockton University Atlantic City residential classrooms B119/120. Attendees are asked to bring their Stockton IDs.
SPOTLIGHT ON
Janice Joseph Keynote Speaker at International Victimology Conference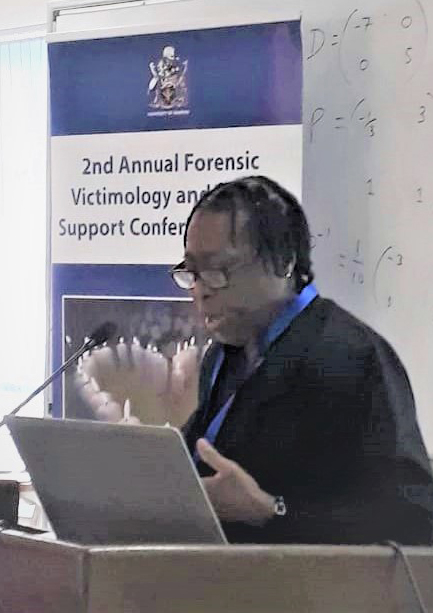 Janice Joseph, Distinguished Professor of Criminal Justice and coordinator of Victimology and Victim Services minor, was the keynote speaker for the Second Annual Forensic Victimology and Victim Support Conference, Oct. 22-24, in Nairobi, Kenya. During her speech on "Vision of Victimology in Africa," she discussed the challenges involved in creating an African Victimology and outlined strategies to address these challenges.
The attendees included faculty, practitioners and students from Africa, Europe, North America, Latin America and Asia. One of the significant activities of the conference was a visit to the Gender Violence Recovery Center, which is a section of the Nairobi Women's Hospital where the medical professionals use a victim- and gender-centered approach when they provide service and support to victims of gender-based violence.
According to Joseph, "This was one of the significant highlights of my trip because this approach combined two areas of my expertise – gender-based violence and victimology. It was indeed an honor and a privilege to participate in this international conference."
FRAME-WORTHY
Picture Stockton...Using Art to Save the Birds
A flock of birds has taken flight in artistic form across the K-Wing breezeway on Stockton University's Galloway campus to warn migrating birds to steer clear of the windows.
To a soaring songbird, reflections of sky and forest on glass are indistinguishable from the hard reality. Building collisions are one of the top anthropogenic threats to birds, causing up to one billion bird deaths annually in the U.S. according to scientific estimates.
The K-Wing breezeway, located between Lake Fred and the Campus Center, is an especially dangerous spot because it is an expansive, double-sided window space adjacent to prime bird habitat in the Pinelands National Reserve.
WHAT'S TRENDING #STOCKTONU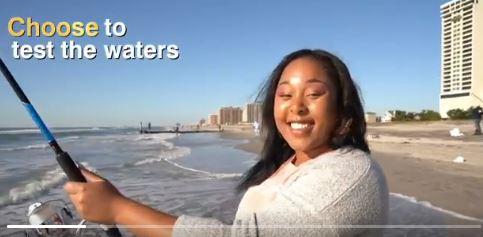 Twitter: Test the waters at #StocktonAC. Exercise your options in the Health Sciences lab. Help to preserve the past for the generations of tomorrow. These are just a few reasons students #ChooseStockton
FROM THE SIDELINES
Osprey Basketball Players Speak at Galloway Middle School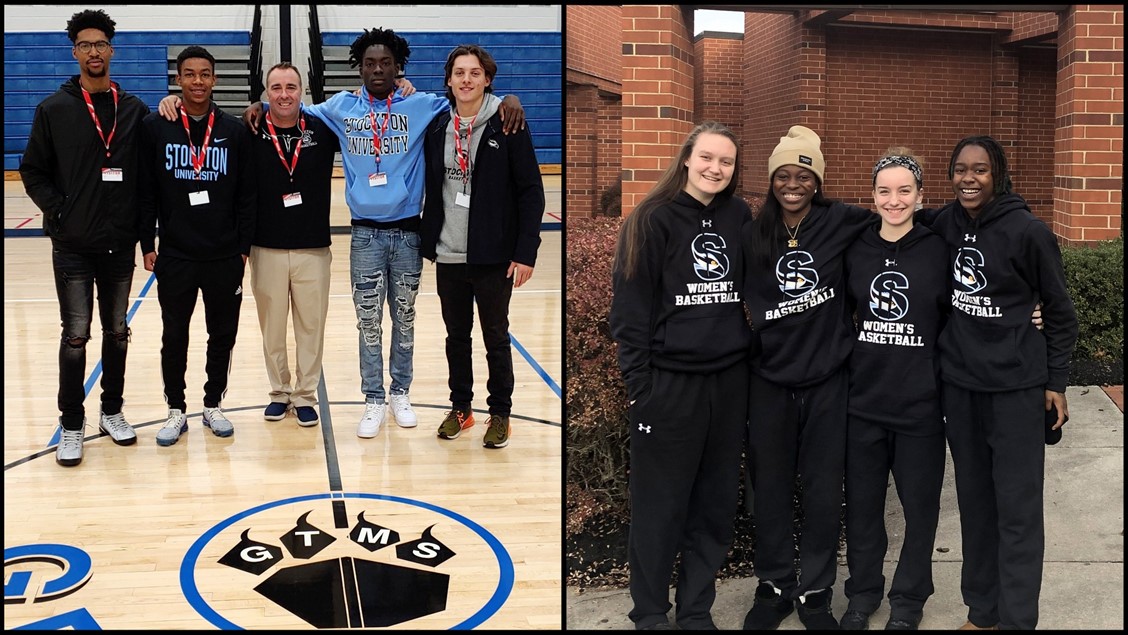 Members of the Stockton University men's and women's basketball teams spoke to students at Galloway Township Middle School earlier this week as part of the National Association of Basketball Coaches (NABC) Stay in to Win program. The Osprey men's players appeared at the school for the third straight year while the Stockton women attended for the second year in a row.
MORE FROM THE HIGHLIGHT REEL:
OSPREY NOTES
ITS Monthly Tech Training Tip: Updating Your Outlook Profile Picture
Information Technology Services is sharing monthly tech training tips with the Stockton community. November's tip focuses on how to update your profile photo in Microsoft Outlook. Learn more here.
NJECC Campaign Underway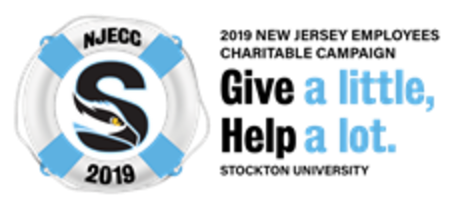 The New Jersey Employees' Charitable Campaign is underway and runs through Dec. 31, supporting over 800 charities.
If you plan to make a gift through payroll deduction, you can register and donate through the NJECC online giving portal or fill out a paper pledge form. If you plan to make a one-time donation, please fill out a paper pledge form. Email stocktonnjecc@stockton.edu or stop by Human Resources (J115) to request a paper pledge form.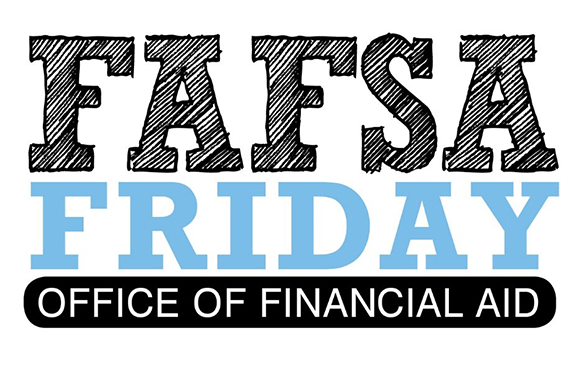 Last Semester FAFSA Friday Dec. 6
Do you have students looking for financial aid assistance? The Office of Financial Aid is hosting the final "FAFSA Friday" event for the fall semester from 1-3 p.m. on Dec. 6 in the F210 computer lab to assist students with the financial aid process. FAFSA Fridays will resume in the spring. Encourage your students to file the FAFSA early, by Stockton's March 1 priority deadline. Students who miss this deadline may miss out on aid for which they are eligible.
UPCOMING EVENTS
Now-Tuesday, Dec. 10:BFA Senior Exhibit
Tuesday, Dec. 3: WGSC Lounge and Victim Advocacy Center Ribbon Cutting
Thursday, Dec. 5: Graduate Toast
Sunday, Dec. 8:Open House
Sunday, Dec. 8:"Messiah" at Borgata Event Center
Wednesday, Dec. 11: Graduate Research Symposium