Stockton News - Nov. 25, 2020
WHAT WE'RE TALKING ABOUT
Students Learn, Network in Washington D.C. Internships

The Washington Internship Program gives Stockton University students the opportunity to live, work and study in the Washington, D.C., metropolitan area.
While the COVID-19 pandemic has presented challenges, The Washington Center has adapted, offering both in-person and virtual opportunities. For Fall 2020, 11 Stockton students are participating, nine of them in person and two virtually.
Carmenchu Mendiola, chief marketing officer for The Washington Center, said they first offered virtual internships over the summer and their survey data show that the quality of the experience was comparable to the in-person experience.
PHOTO: From left, Marian "Mari" Yalong, Sarah BuffaloBoy, Andrew Nash and Chloe Schulze.
---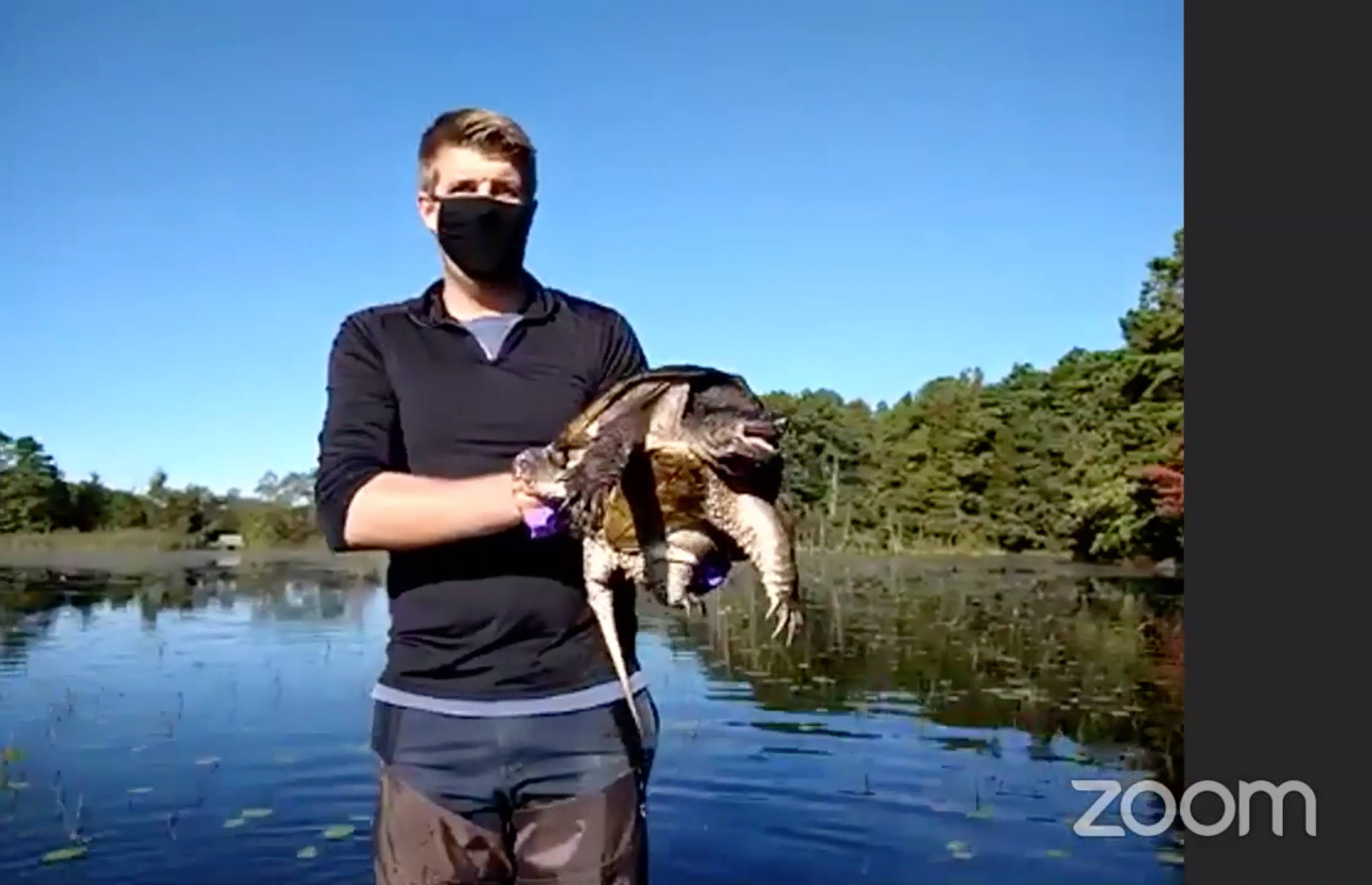 Lake Fred Turtles Help NJDEP Research Mysterious Shell Lesions
Some of Lake Fred's turtles that can be spotted lounging on logs are helping scientists with a research study.
Last year, the New Jersey Department of Environmental Protection (NJDEP) became aware of northern redbelly turtles with mysterious shell lesions in the Delaware watershed. This fall, Craig Lind (pictured), assistant professor of Biology, and students began looking for answers to the cause of the irregular splotches that form on the plastron (underside of the shell).
Lind's work is taking place on Lake Fred, which is serving as a control site for the study lead by NJDEP with Stockton and Montclair State University researchers conducting fieldwork.
STOCKTON UNIVERSITY ATLANTIC CITY
Chelsea Cleanup a Community E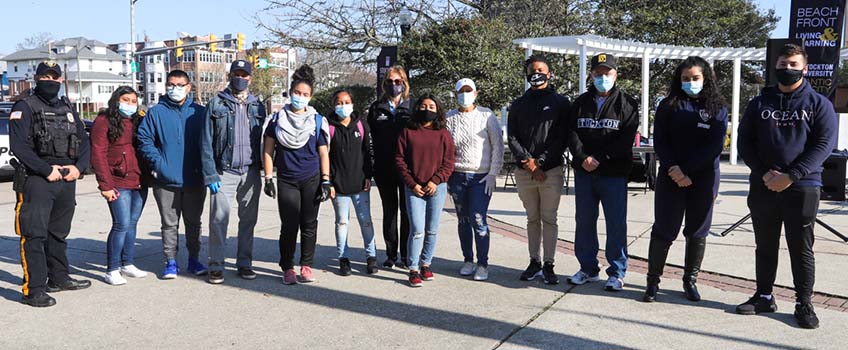 vent
Some 50 Stockton University students and employees joined community members on Saturday, Nov. 21 for a Chelsea Neighborhood Cleanup sponsored by the Chelsea Economic Development Corp., the Chelsea Neighborhood Association and Stockton.
The project was suggested by Stockton First Lady Lynne Kesselman as an opportunity for the community to come together.
📸 View a gallery of photos from the Press of Atlantic City.
WE'RE HERE TO HELP
Resources Available to Staff, Faculty
🔴 President Kesselman announced that beginning Nov. 30 through Dec. 11, Stockton will shift most of its in-person and hybrid courses to fully online for the rest of the semester.
🔴 The Centers for Disease Control website has information on how to safely celebrate upcoming holidays.
There are many resources and best practices being made available to staff and faculty working remotely that can be found by visiting Information Technology's website.
In addition to assistance with technology available from ITS, Stockton provides faculty and teaching staff with professional development, training, teaching ideas, resources and individual consultations via the Center for Teaching and Learning Design.
🧪 Free COVID testing is available to employees and their family (spouse and dependents), and students through a partnership with Optum on the following dates and locations:
📍 Galloway – Lakeside Lodge
Monday, Dec. 7, 9 a.m.-5 p.m.
Wednesday, Dec. 9, 9 a.m.-5 p.m.

📍 Galloway – TRLC Multi-Purpose Room
Saturday, Dec. 5, Noon-7 p.m.
Sunday, Dec. 6, Noon-7 p.m.

The test is a nasal swab and results will be available 2-3 days after the test. Schedule an appointment at lhi.care/covidtesting. You can schedule testing more than once.
Stockton is compiling notices of confirmed positive COVID-19 cases in a dashboard on the Coronavirus home page. The dashboard is updated daily.
The Student Assistance Resources page has information for students whose academic progress may be affected by the COVID-19 pandemic.
WHAT'S TRENDING @ #STOCKTONU
Instagram: #TransformationTuesday: Watch the growth of Stockton's presence in Atlantic City.
Facebook: How do you #PictureStockton
Rocket League Team Places 3rd in Conference
Stockton University's Rocket League Esports Team placed third overall in the North American Fall Collegiate Rocket League (CRL) 2020 Eastern Conference Division
The team of Vincent Nelson (captain), Geno Cupertino and Brian Busse finished 11-4 during the regular season, with wins against Ohio State, University of North Carolina, University of South Florida, Florida Polytechnic, and Waterloo in Ontario, Canada. They also qualified as a Pool 1 Seed for the CRL Wildcard Tournament to potentially earn a berth in the National Championship.
OSPREY NOTES
Payment Plans Available to Students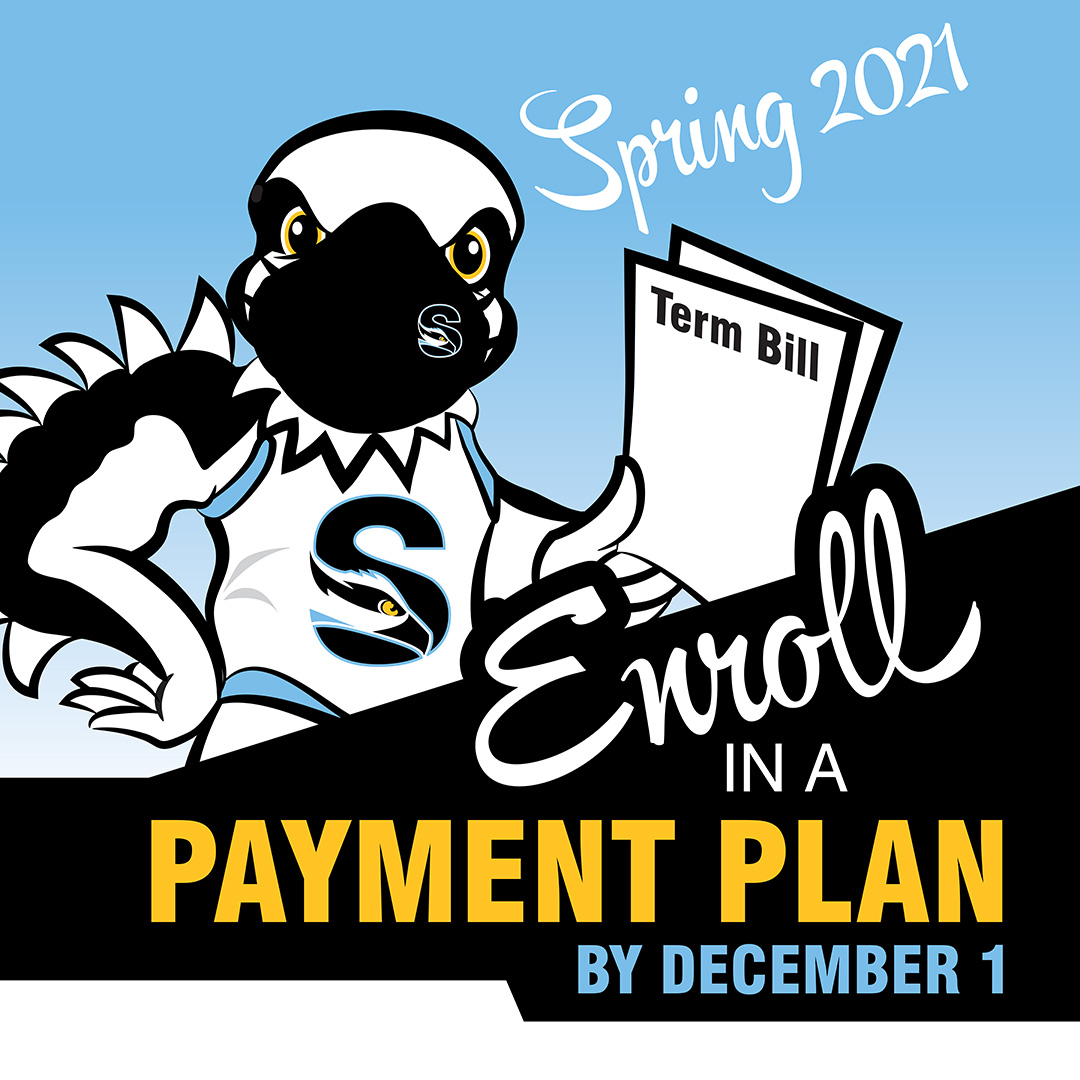 The Bursar's Office announced that students can enroll in a payment plan to pay their bill in installments. Students MUST enroll in a payment plan by Dec. 1 if they are unable to pay their bill in full or their financial aid does not cover the entire amount due. Processing fee applies.
File FAFSA Today
Encourage students to file their FAFSA applications as soon as possible to avoid missing out on any aid they may be eligible for. Direct them to fafsa.gov.
UPCOMING VIRTUAL EVENTS
Upcoming Events Hosted by the Office of Development and Alumni Relations
Dec. 1-4: Open House Week
Dec. 3: Visiting Writers: Jacob Camacho and Thierry Saintine
Dec. 3-11: Fall 2020 Senior Art Exhibit
Dec. 4: Pre-Kwanzaa Celebration
Dec. 9-12:Fall Choreography Project