Stockton News - Nov. 18, 2022
WHAT WE'RE TALKING ABOUT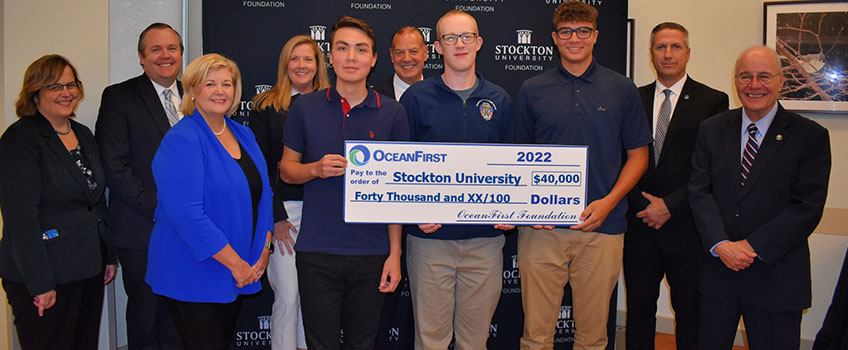 OceanFirst Foundation Donates $40,000 for Scholarships
The OceanFirst Foundation presented a check for $40,000 to Stockton on Nov. 14 that is providing 16 scholarships to first-year students for the 2022-23 academic year.
Stockton President Harvey Kesselman said the $2,500 scholarships mean a lot to students and the University.
"You have been an incredible partner. This really makes a difference to our students," Kesselman said. "I know how grateful our students are for the support. OceanFirst is one of our most significant donors and I appreciate your commitment to the students in this region."
To date, the OceanFirst Foundation has contributed $280,000, which has provided 112 students with $2,500 scholarships.
---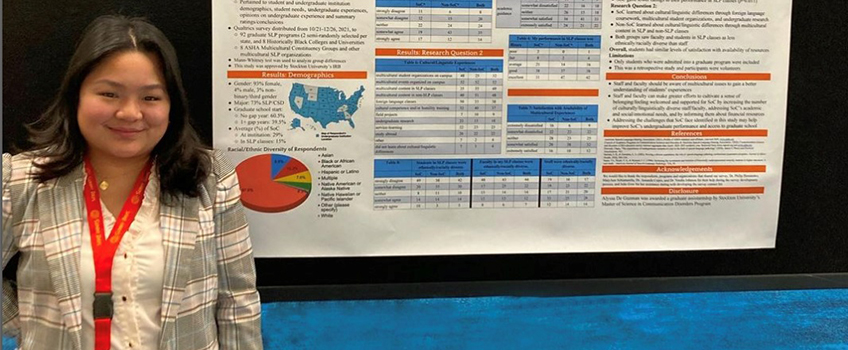 Stockton Student Presents Research to National Audience
Spending three semesters doing research was the last thing Alyssa Erin De Guzman had in mind when she enrolled at Stockton to get her master's degree in 2020.
"When I was an undergrad, I hated research," said the 24-year-old who graduated in 2022 with a Master of Science in Communication Disorders. "I told myself that I would never want to do research, but once I came to Stockton that changed."
That newfound love of research has propelled her to a national platform as the Bergenfield, New Jersey native recently became only the second Stockton student to win an award by the Alpha Eta Society, the national honor society for allied health professionals. De Guzman was honored for her project titled "Experiences of Racially/Ethnically Diverse Undergraduate Students Pursuing Speech-Language Pathology."
---

Tune into the November episode of Stockton Now at 11 a.m. on Saturday, Nov. 19 on 101.3 FM, 101.9 FM or 1310 AM. The episode will also air on WLFR Monday afternoon. This month's episode includes conversations with Michael Cagno, executive director of the Noyes Museum, discussing the Nolan Ryan exhibit and other events happening at the Noyes; Joe Trout, professor of physics, talking about the new telescope at the Observatory; and Erin O'Hanlon, coordinator of Service-Learning, and Toby Rosenthal, teaching specialist, Communication Studies, reviewing the new Community Reporting Innovation Lab.
If you missed previous episodes, you can listen online at the Stockton Now archive page.
STOCKTON UNIVERSITY ATLANTIC CITY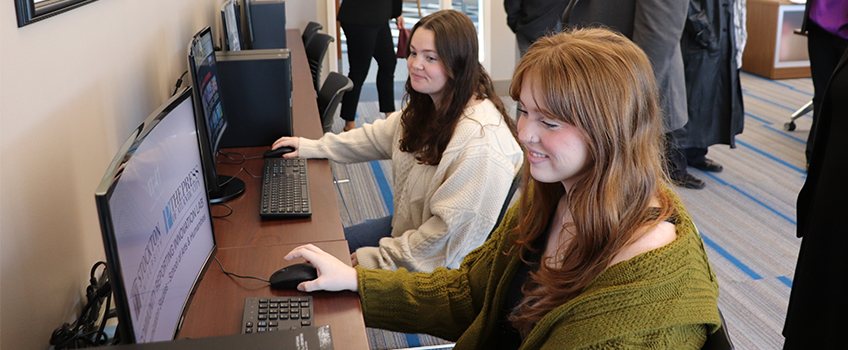 Stockton Partners with Press of A.C. to Open Reporting Lab
Studies have shown communities that read local journalism have stronger connections and are more likely to vote.
"Communities everywhere need journalism to thrive," said Press of Atlantic City Executive Editor Buzz Keough. "Local stories and local reporting are what makes a community stronger in many ways. Journalists serve as watchdogs and community storytellers. They help foster civic involvement."
Giving a boost to the community and training student journalists is the driving force behind the creation of the Community Reporting Innovation Lab — a new partnership between Stockton University and The Press that opened Nov. 16 at the University's Atlantic City campus.
The lab consists of two dedicated rooms in the John F. Scarpa Academic Center with meeting space, computers, and in the future, the capability to record video stories and podcasts.
📰 In the News: The Press of Atlantic City
---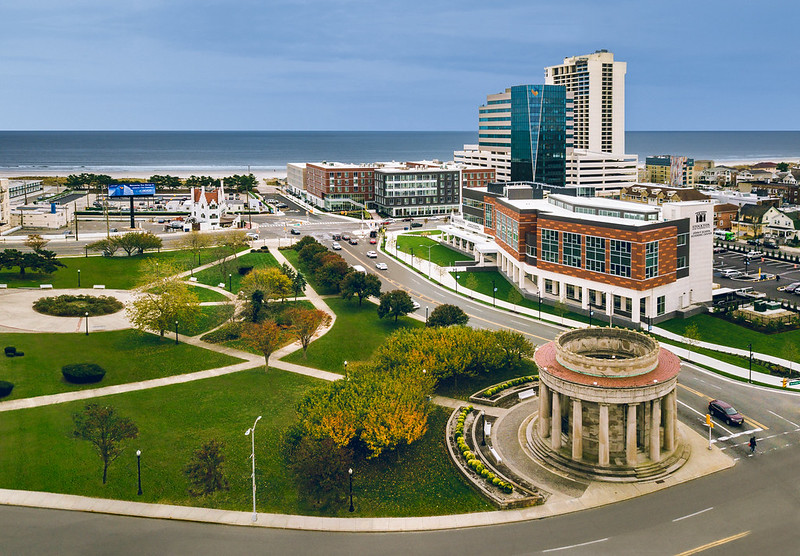 Live, Work, Learn Program Named Promising Practice by AASCU
Stockton's "Live, Work, Learn" Program at the Atlantic City campus was recently named a Promising Practice by AASCU.
The innovative program that began this year not only provided local businesses with employees during the city's busiest time of the year and students with learning opportunities in the city but for as many as 30 students, it gave them continued employment during the fall. To date, 130 students have completedthe program.
SPOTLIGHT ON: JANE BOKUNEWICZ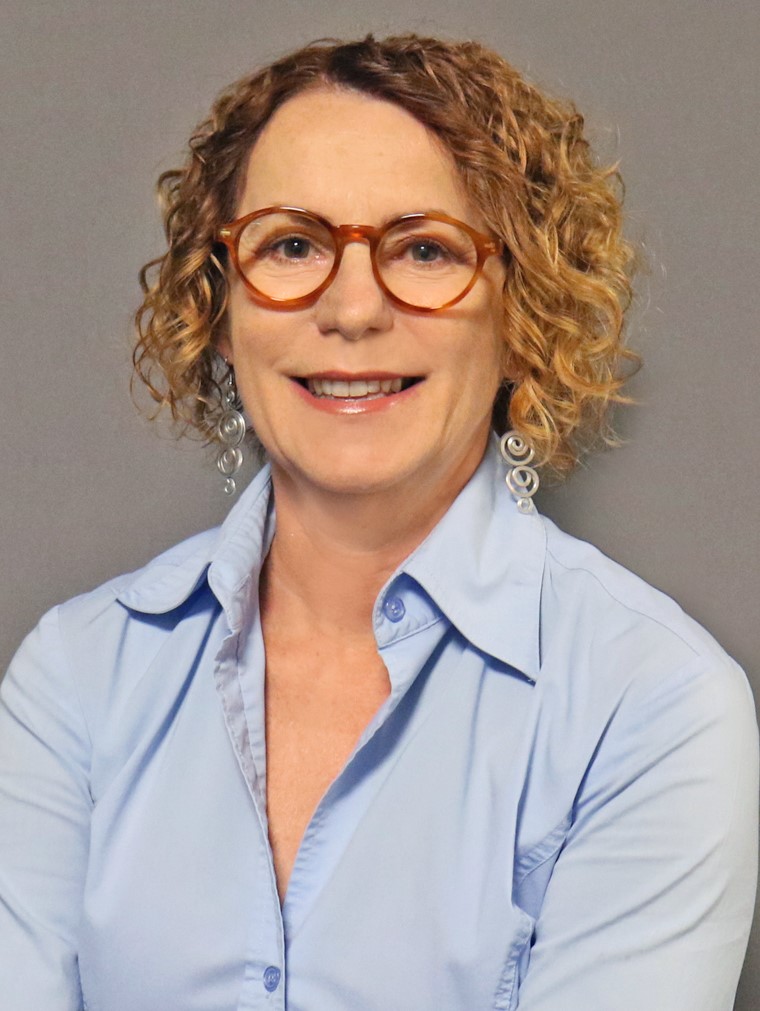 Jane Bokunewicz has been part of Stockton's community for a decade but has only served in her role as faculty director of The Lloyd D. Levenson Institute of Gaming, Hospitality and Tourism (LIGHT) for almost three years.
Bokunewicz was recently named the recipient of the 2022 NJBIZ Education Power 50 award and was in the top ten of those honored. When she learned she was nominated for the award, she was both surprised and thrilled.
"When the list was published, and I saw that I was listed in the top 10 among some very accomplished leaders in education, I truly felt the significance of the acknowledgment. I am deeply honored," Bokunewicz reflected.
WHAT'S TRENDING

@ #STOCKTONU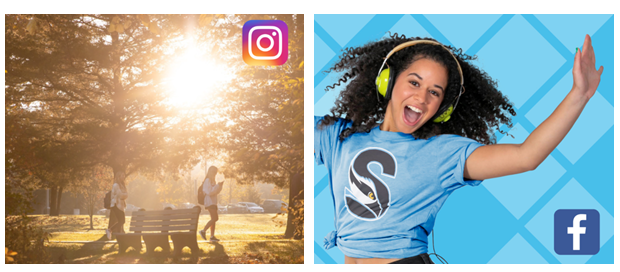 Instagram: We're soaking up all the beauty of fall on campus with less than a month of classes left.
Facebook: Intimacy. Inclusivity. Community. Being heard and welcomed. Countless opportunities. These are just a few reasons why Bianca Teixeira '24 decided to #chooseStockton.
FROM THE SIDELINES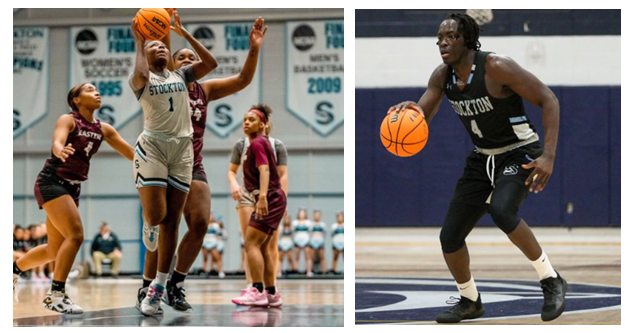 Men's, Women's Basketball Teams Off to Strong Start
The men's basketball team played its third straight road game to open the season and outlasted DeSales University (2-1) 73-70 in overtime on Nov. 16. The contest was a back-and-forth affair with 21 lead changes and 12 ties.
DJ Campbell was the lone Osprey in double figures with a game-high 22 points. He also snagged a team-high eight rebounds and tied for the team lead with four assists. Kyion Flanders chipped in nine points and six boards.
The women's team remained unbeaten as the Ospreys downed Eastern University by a 60-37 score on Nov. 17. Adriyana Jennings topped the Ospreys with her first career double-double of 15 points and a career-high 14 rebounds.
---
Stockton Has Best Finish Ever at NCAA Regionals
The Stockton cross country teams each produced their best finish ever on Nov. 12 at NCAA Regionals. The Osprey women placed third out of 24 teams, while the Stockton men were eighth out of 25 squads at the NCAA Metro Regionals, which DeSales University hosted.
Cooper Knorr became the first Osprey male to qualify for the NCAA Championships since Abad Akhtar in 2010. Jaelyn Barkley became the first Stockton female to qualify for the NCAA Championships since Alicia Belko in 2017.
Stockton's top four finishers in the women's race all qualified for All-Region honors. Barkley finished seventh out of 170 in the women's 6K race with a time of 23:27. Freshman Kayla Kass placed 16th at 24:05 and Jessie Klenk ran 24:25 for 29th place.
---
Green Chosen AVCA All-America Honorable Mention
Stockton senior Haley Green received All-America Honorable Mention recognition from the American Volleyball Coaches Association (AVCA).
Green became the 13th Stockton player to earn All-America status and extended Stockton's streak to 12 straight seasons with at least one All-American (No All-Americans chosen in the canceled 2020 season). The All-America Honorable Mention accolade adds to a list that includes All-Region 4 and NJAC First Team for Green this year.
📰 In the News:The Press of Atlantic City
---
🗓️ View the full schedule of upcoming athletic events here
OSPREY NOTES
Call for Community Engagement Awards Nominations
The MLK Day of Service Planning Committee is pleased to announce the 18th Annual Community Engagement Awards for 2023. This year, five members of the Stockton Community will be recognized for their outstanding community engagement activities in the following categories: one undergraduate student, one graduate student, one student club/organization, one staff member and one faculty member. All nominations must be submitted by Friday, Dec. 16. For more information and to submit your nomination, visit here.
For more information, contact Chris Lipari Pazienza at Christopher.LipariPazienza@stockton.edu.
---
REMINDER: Holiday Week Schedule
The University is observing Thanksgiving Thursday, Nov. 24, and for this year only, will be closed Friday, Nov. 25 (staff will not be required to use accrued leave for this day).
As a result, for Monday through Wednesday next week, the University's office hours will be 8:30 a.m.–5 p.m., and there will not be a compressed work week/flexible work schedule option.
📰 Due to the holiday schedule, Stockton News will publish Wednesday, Nov. 23.
UPCOMING EVENTS