Stockton News - Friday, Nov. 15, 2019
WHAT WE'RE TALKING ABOUT
Stockton Remembers Veterans, Past and Present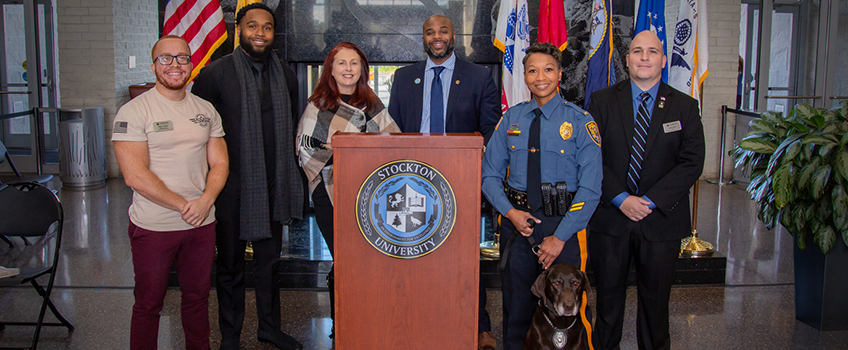 The contributions of the United States military and its members have had an impact on American's lives in ways they may not even consider speakers said at the annual Veterans Day ceremony in the Campus Center Grand Hall on Nov. 8.
Keynote speaker Stockton Police Lt. Tracy Stuart brought her K-9 Hemi and guest K-9 Officers Cory Silvio and Argos from the Hamilton Township Police and Sgt. Michael Gilmore and Billie from the Atlantic County Sheriff's Department to highlight the role of K-9s in the military.
Stockton Veterans Week activities also included a Veterans Resource Fair, a screening of the documentary "The Weight of Honor," veterans' stories, and a free performance by the Bay Atlantic Symphony Nov. 9, and a tribute by Stockton Athletics during halftime Nov. 12.
Frontline Paper also spent three days on campus demonstrating and working with veterans and students to convert old uniforms into paper. View a photo story of student veteran Justin Cruz making paper.
---
Hughes Center Joins Initiative to Revive Civility
The William J. Hughes Center for Public Policy at Stockton University is partnering with a national organization dedicated to returning civility to political dialogue.
As part of the Initiative to Revive Civility, a program of the National Institute for Civil Discourse, the Hughes Center will hold small-group and community discussions about civility in our political conversations during the 2020 election year. The Hughes Center was recently named as a Revive Civility partner.
Members of the public will be invited to participate in dialogue about how to reduce the hostility and polarization found in political talk today. Sessions will also be offered to Stockton University students, said John Froonjian, interim executive director of the Hughes Center.
SNJ Today and the Press of Atlantic City featured the story.
---
Black Faculty and Staff Honor Six at Dinner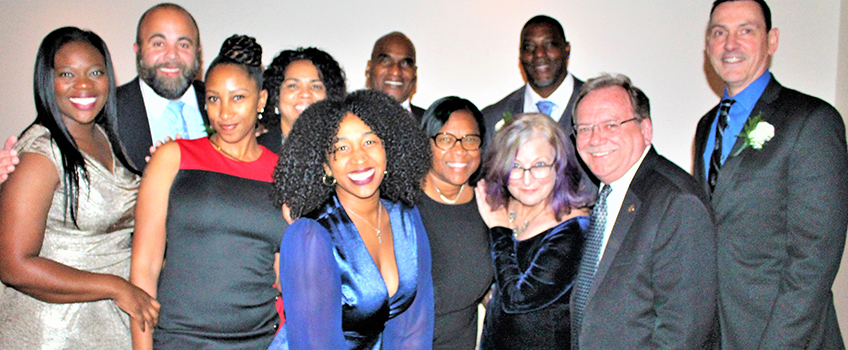 Two Cumberland County residents active in their communities were among five individuals and a Stockton club honored by the Stockton Council of Black Faculty and Staff at the 38th Annual Scholarship Awards Dinner and Dance at the Carriage House on Nov. 8.
Carole D. Seabrook Green, director of Family and Youth Programs at Gateway Community Action Partnership in Bridgeton, received the Lifetime Achievement Award for her work with young people. She has also worked for Kintock Group, the Cumberland County Guidance Center and the N.J. Juvenile Justice Commission.
STOCKTON UNIVERSITY ATLANTIC CITY
Catch a Movie Nov. 22 at Stockton Atlantic City
"Fall Cinema in the City" is featuring "Spider-man: Far From Home" at 8 p.m., Friday, Nov. 22, in the Stockton University Atlantic City residential classrooms B119/120. Attendees are asked to bring their Stockton IDs.
SPOTLIGHT ON
Stockton Professors Share Connection Between Writing and Community, Social Change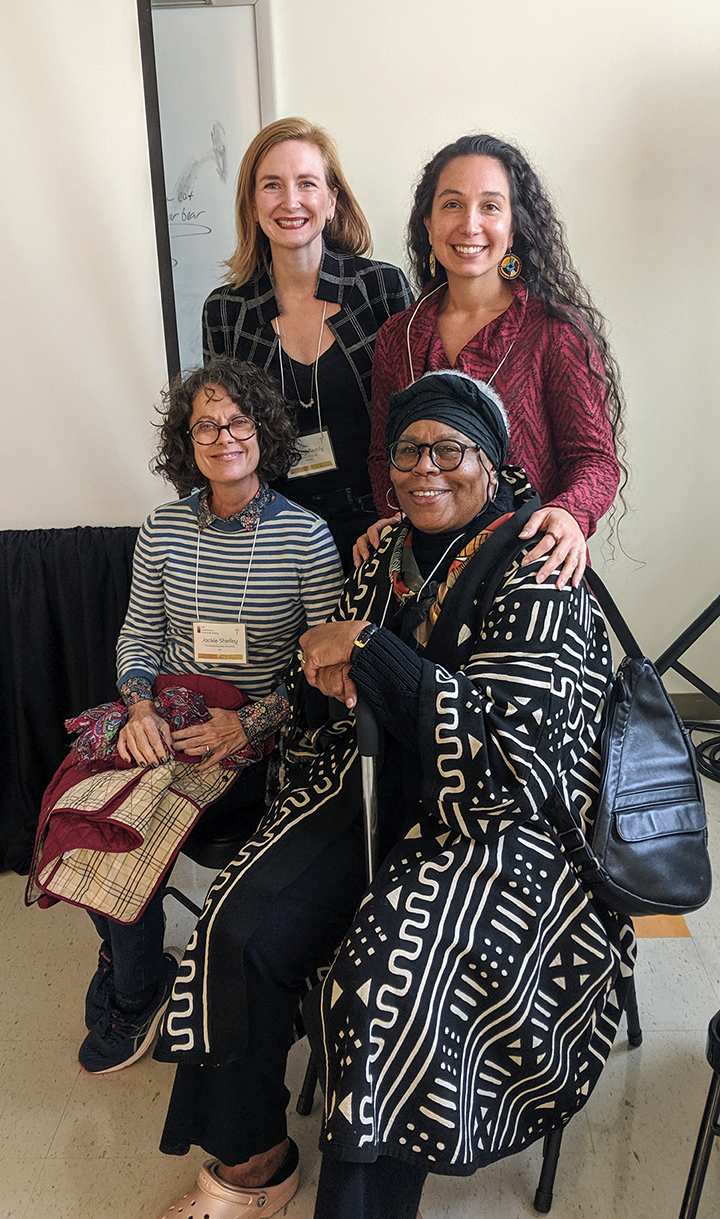 Nancy Reddy, assistant professor of Writing and First-Year Studies, and Emari DiGiorgio, professor of Writing and First-Year Studies, presented "The South Jersey Poets Collective on Creative Writing and Community Listening" alongside local writers Belinda Manning and Jackie Shelly at the Conference on Community Writing on Oct. 18 at Drexel University.
The conference brought together academics, community organizers and writers from around the country to share resources and strategies for using writing on campuses and in communities as a tool for social change.
Their panel shared the work of World Above and other Stockton-supported programs that have bolstered creative writing across Atlantic County. Manning and Shelly talked about what it meant to them to be part of this community of writers, as well as the ways that they'd shared their writing expertise, like participating in the Poets on a Jitney event during Atlantic City's 48 Blocks celebration of the arts and judging a poetry contest in Pleasantville. Manning and Shelly have long been involved in SCOSA Tour of Poetry for Seniors workshops and the World Above poetry series, held at Stockton's Noyes Arts Garage in Atlantic City.
"Serving as an anchor institution can take many forms. This partnership, between Stockton University and the local writing community, reflects the University's commitment to supporting community engagement and arts and culture," said DiGiorgio. "Though poetry cannot close the equity gap or reduce financial insecurity in Atlantic City, it unites disparate groups and helps people see each themselves in the other."
"It was really inspiring to hear Brenda and Jackie talk about what writing and sharing their writing meant to them – and our audience, which included writers, academics and community leaders from around the country, were really impressed by the vitality of writing and the writing community in South Jersey," said Reddy.
PHOTO: Nancy Reddy, left, with Emari DiGiorgio, standing behind Jackie Shelly, left, and Belinda Manning, both seated.
FRAME-WORTHY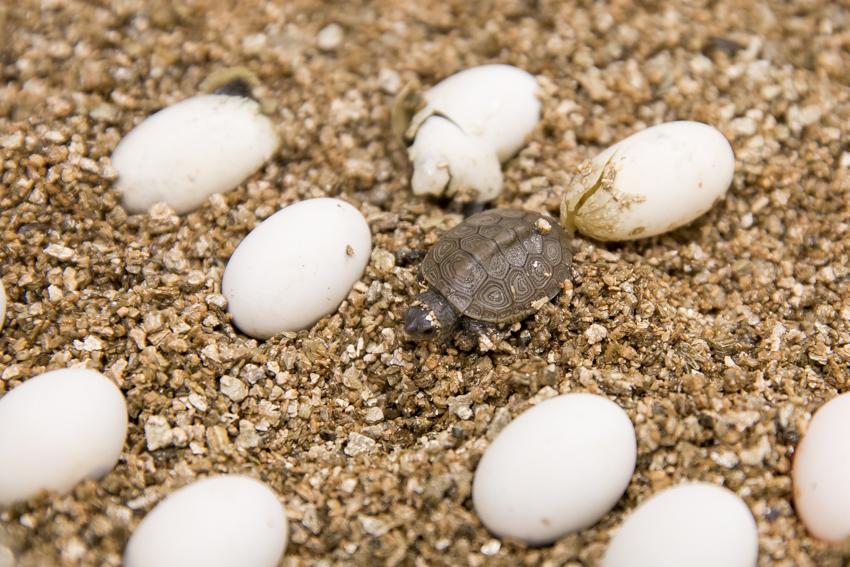 Picture Stockton...Giving Terrapins a Second Chance
When a female Diamondback terrapin gets struck by a car, there is still hope for her eggs.
This season, The Wetlands Institute in Stone Harbor rescued 884 eggs from 763 female terrapins that were hit by cars before they could dig nests to lay their eggs. This winter, 401 of the hatchlings will be raised by John Rokita, assistant supervisor of Academic Lab Services, in Stockton's new and more spacious vivarium, a facility for raising animals, which moved from F-Wing to the Unified Science Center II.
WHAT'S TRENDING #STOCKTONU
Facebook: Three-time U.S. Olympian Bryan Volpenhein will appear in a show called "Journey to the Olympics" at the Stockton Performing Arts Center on Nov. 19. In Athens in 2004, the U.S. won gold with Volpenhein in stroke. This was the first time a U.S. eight had won gold in 40 years. Reserve your free ticket at www.stocktonpac.org.
FROM THE SIDELINES
Stockton Headed to Baltimore for NCAA Tournament
Stockton University learned its destination and opponent for the 2019 NCAA Division III Volleyball Championship on Nov. 11 when the tournament field was announced. The Ospreys will play in an eight-team regional at Johns Hopkins University and face Penn State Behrend (19-10) in the first round.
The first-round matches will take place tonight, Nov. 15. With a victory over the Lions, Stockton would advance to face unbeaten Johns Hopkins (29-0) in the second round on Saturday, Nov. 16. The Blue Jays are ranked sixth in the American Volleyball Coaches Association Division III poll.
MORE FROM THE HIGHLIGHT REEL:

Men's and Women's Cross Country teams participate in the NCAA Atlantic Regionals on Nov. 16 at Saint Lawrence University; and the Men's and Women's Basketball teams play in the annual Tip-Off Tournaments Nov. 14-17 in the Sports Center. For more upcoming sports games, check out the schedule. Go Ospreys!
'ROLE' CALL
Ed Wuillermin, pictured, joined University Relations & Marketing as director of Creative Services Nov. 11. Wuillermin most recently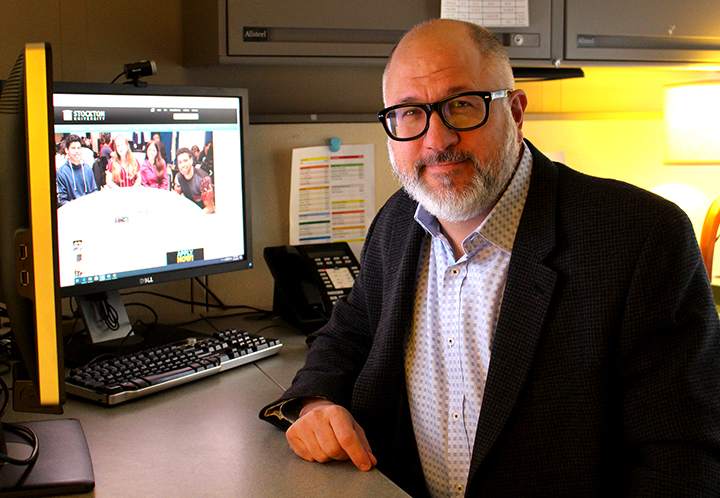 served as art director for 6abc in Philadelphia, where he led a team of eight designers responsible for all newscast graphics, as well as brand development and management. Wuillermin will oversee the Graphics department and Print Shop in this new role.
"We're very excited to have Ed join the URM team. His experience with helping frame the strategic communications for one of the most respected regional brands will be an asset to the University," said Geoff Pettifer, executive director of University Relations and Marketing. "Ed's background in video animation and production will help boost our collaborative efforts with our partners in Production Services, too."
The Graphics department was restructured slightly over the summer: Karen Quinn was promoted to associate supervisor and Ryan Schocklin is now a professional services specialist 2.
"Our department's restructuring would not have been successful without Karen's outstanding leadership of the graphics team," said Pettifer. "Karen drives the creative vision for the team and leads the artistic approach for many projects URM handles. I also want to commend Ryan for stepping up and taking on additional roles in his new position. Ryan's design knowledge and support for the technical side of our operation positions the department to focus on developing new efficiencies.
"The graphics productions crew is rarely acknowledged publicly for what they do. Graphics and Print shop are always just 'there' doing what they do," Pettifer said. "They're the ones who make all of our ideas and projects come to life visually. These teams consistently produce impactful, engaging communications pieces that represent our University. I am very proud to lead this team."
OSPREY NOTES
NJECC Campaign Underway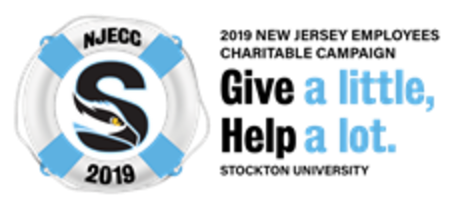 The New Jersey Employees' Charitable Campaign is underway and runs through Dec. 31, supporting over 800 charities.
If you plan to make a gift through payroll deduction, you can register and donate through the NJECC online giving portal or fill out a paper pledge form. If you plan to make a one-time donation, please fill out a paper pledge form. Email stocktonnjecc@stockton.edu or stop by Human Resources (J115) to request a paper pledge form.
FAFSA Fridays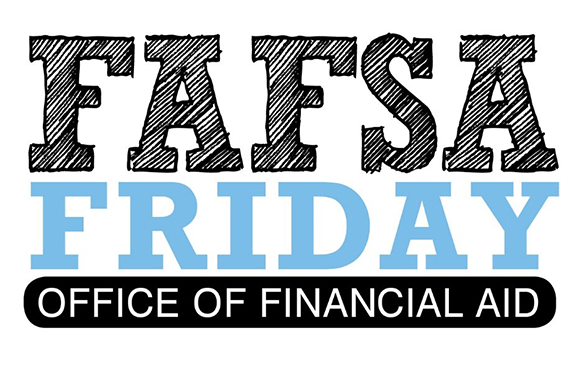 Do you have students who are looking for financial aid assistance? The Office of Financial Aid is hosting "FAFSA Fridays" from 1-3 p.m. every Friday, Oct. 11-Nov. 22, and Dec. 6, in the F210 computer lab to assist students with the financial aid process. Encourage your students to file their FAFSA applications by Stockton's March 1 priority deadline and NJFAMS applications for State aid by April 15. Students who miss these deadlines may miss out on aid they are eligible for.
UPCOMING EVENTS
Thursday, Nov. 21:Transfer Admission Day at Manahawkin
Thursday, Nov. 21: 35th Annual Student, Faculty & Staff Dinner
Monday, Nov. 18-Friday, Nov. 22:International Education Week
Sunday, Dec. 8:Open House
Sunday, Dec. 8:"Messiah" at Borgata Event Center