Stockton News - Nov. 12, 2021
WHAT WE'RE TALKING ABOUT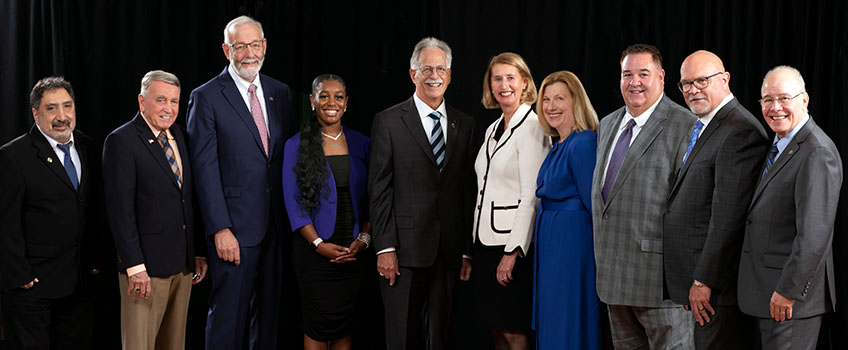 Hughes Center Honors Hon. Steven P. Perskie
Steven P. Perskie's first visit to Stockton was in 1971 when the campus was still under construction.
His most recent visit was Nov. 10, when he received the Distinctive Lifetime Achievement Award at the Hughes Center Honors, sponsored by the William J. Hughes Center for Public Policy at Stockton University and held in the Campus Center Event Room.
In between, he served as the first president of the Stockton University Foundation in 1974, where he helped the fledgling group apply for non-profit status and continues to support its mission.
"The fact that this award is from Stockton is very special to me," Perskie said before an audience of some 150 friends, family and guests. "I was a friend and colleague of Bill Hughes. Tonight, I really consider myself the luckiest man on the face of the earth."
---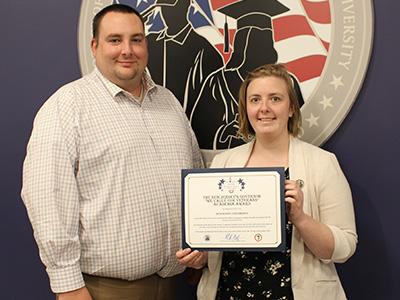 Stockton Earns N.J. 'We Value Our Veterans' Award
As Stockton celebrates its 50th anniversary of teaching, Stockton's new Director of the Military and Veterans Success Center, Michael Barany, wondered how many student veterans had attended the University.
"To our best research, we found just over 7,300 military students served by Stockton since its creation," Barany said at the annual Veteran's Day program in the Campus Center on Nov. 9.
The program was held early this year so that representatives from the University could attend the Veterans Day Ceremony at the New Jersey Vietnam Veterans' Memorial in Holmdel on Nov. 11 to receive the "We Value our Veterans" New Jersey Governor's Academia Award from Gov. Phil Murphy.
📰 In the News:Downbeach.com, The Press of Atlantic City
STOCKTON UNIVERSITY ATLANTIC CITY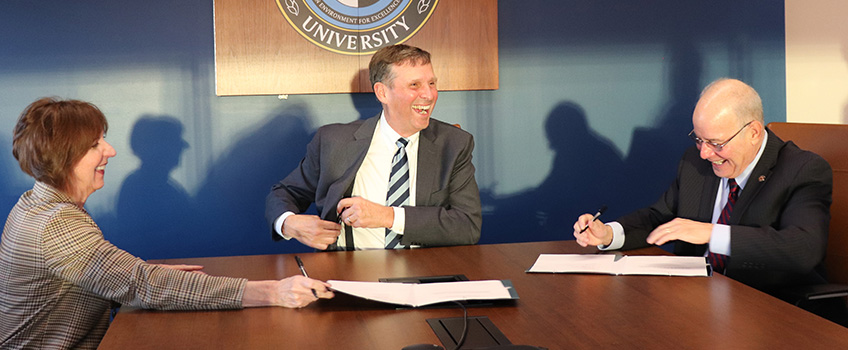 William R. Hagaman, Jr. Named Outstanding Business Alumnus
William R. Hagaman, Jr., Stockton Class of 1979, almost didn't make it through his freshman year.
Due to a variety of circumstances, he just did not have the money to pay for his second semester. He went to say goodbye to his preceptor, Professor Charles Yeager, and instead left with a personal check from Yeager to cover his tuition and books.
"If not for him, I probably never would have gone back to college, and I would not be where I am today," an emotional Hagaman said after receiving the inaugural Outstanding Alumni Award from the Stockton University School of Business in a ceremony Nov. 9 attended by more than 75 friends and family at the John F. Scarpa Academic Center at Stockton Atlantic City.
He also announced his commitment to fund a new First-Generation Student Endowed Scholarship, in perpetuity. Starting in 2023-24, two first-generation college students in the School of Business will receive a $2,000 award to help defray their college costs. This was the same amount given to him by Professor Yeager.
📰 In the News:New Jersey Business, ROI-NJ
SPOTLIGHT ON: IRVIN O. MORENO-RODRIGUEZ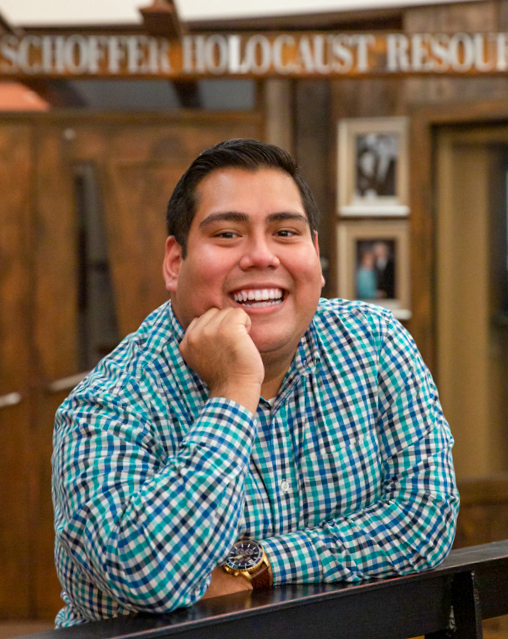 Irvin O. Moreno-Rodriguez, program assistant of the Sara and Sam Schoffer Holocaust Resource Center at Stockton University, was recently named to the New Jersey Commission on Holocaust Education. He was appointed by Governor Phil Murphy after making it through the final selection process. He will serve in this role for 12 months, Sept. 1, 2021-Sept. 1, 2022. The core mission of the New Jersey Commission on Holocaust Education is to promote the education of the Holocaust in the State of New Jersey.
He sat down to talk to us about what this appointment means for him, his passion for Holocaust Education and what he hopes to gain from this experience.
WHAT'S TRENDING @ #STOCKTONU

Facebook: It's National First-Gen Week! About 50% of #StocktonU students are #ProudToBeFirstGen
Instagram:Cecilia Munoz, a sophomore Social Work major, welcomes you to the @osprey.pantry, a place where students in need can go for food, fresh produce and toiletries.
Twitter: The weather couldn't have been more perfect to welcome Buena Regional High School students to #StocktonU's Galloway campus today! Future Ospreys in the works?
FROM THE SIDELINES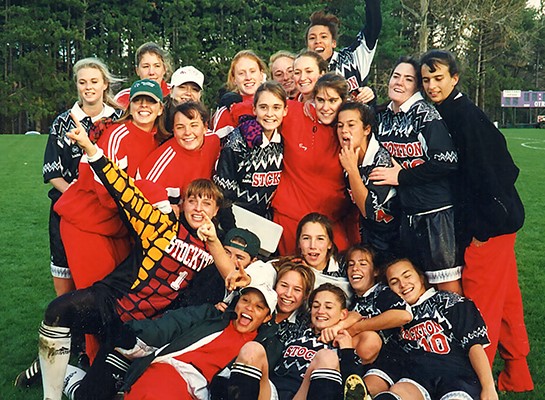 Stockton Hosts 1995 Women's Soccer Final Four
"It was a magical group of women," said Roy Wilkins when asked about the 1995 Stockton University women's soccer team.
That team, which he coached, advanced to the NCAA Division III Final Four. It remains the only Stockton team in any sport to host an NCAA Final Four and is the only Stockton women's team in any sport to reach the Final Four.
"Every girl was the captain of their high school team, every girl was wicked competitive, and we had one of the highest GPAs in the nation. We had a 3.8 GPA on that team," said Wilkins, who was camping in Vermont when he took the call about his former team.
---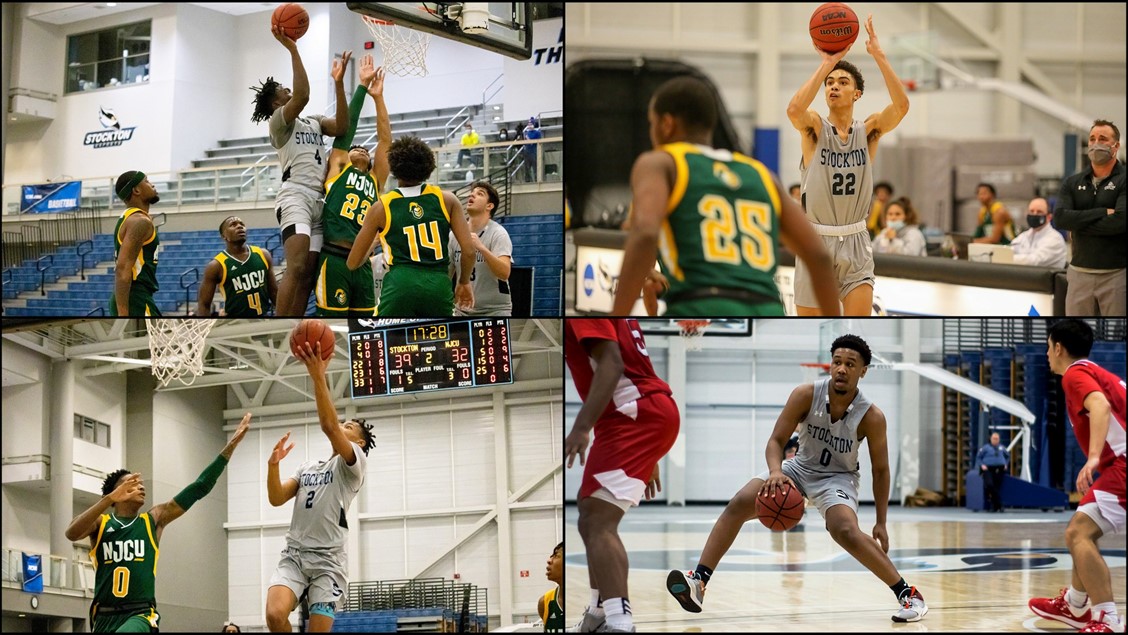 🏀 Osprey Outlook: Men's Basketball Preview
The Ospreys were picked in a tie for first with New Jersey City in the NJAC preseason coaches poll. Stockton, which fell to NJCU on a buzzer-beater in the NJAC championship last year, will seek a third straight berth in the NJAC title game.
Head coach Scott Bittner has a deep and experienced roster with four seniors and 10 juniors, including three NJAC All-Conference selections from the COVID-shortened Spring 2021 season. The Ospreys return players who accounted for 76% of their scoring and 74% of their rebounding last spring and also add two more who played at least 24 games in 2019-20.
🗓️ View the full schedule of upcoming athletic events here.
WE'RE HERE TO HELP
Resources Available to Staff, Faculty
Stockton provides faculty and teaching staff with professional development, training, teaching ideas, resources and individual consultations via the Center for Teaching and Learning Design. Visit herefor more information and for upcoming events.
SUPPORT4U: A variety of counseling, referral and consultation services are available to Stockton employees and household members through the Employee Assistance Program. Learn more here.
COVID-19 Information
The Zoom recording for Stockton's Oct. 28 COVID-19 information session is now available for viewing here. The information session, featuring Gemma Downham, AtlantiCare's Corporate Director, Patient Safety and Infection Prevention, and Zupenda Davis-Shine, Stockton's Associate Director for Health Outreach, Promotion and Education, addresses many important topics regarding COVID testing, vaccines, boosters, and other health and safety issues relating to the pandemic.
📍 REMINDER: The COVID-19 screening facility has moved to the house at 237 Pomona Road in Galloway (formerly Free to Be), located next to the intramural fields on Pomona Road/Route 575. The hours of operation and the COVID-19 screening facility location in Atlantic City will remain the same.
👉 Eligible employees who get a booster vaccine may now add that information to their vaccination status through the portal on the Stockton website at go.stockton.edu/employee.
OSPREY NOTES
Middle States Self-Study Draft Document Review; Discussion Sessions Scheduled Nov. 15, 18
Stockton University is accredited by the Middle States Commission on Higher Education, a voluntary, non-governmental membership association that promotes educational excellence across institutions of higher education with diverse missions, student populations, and resources.
Next week, there are two community discussions scheduled to review Stockton's Self Study Draft document. In advance of next week's review with the campus, the co-chairs shared a link to the draft version of the self-study.
As you review the document, you are encouraged to provide your feedback directly within the document using the comment tool. During the review session, each of the co-chairs from the Standard Working Teams will be sharing an overview of their chapters.
First session: 2:30 p.m. Monday, Nov. 15, on Zoom; Password: 470547
Second session: 4:30 p.m. Thursday, Nov. 18, on Zoom; Password: 279560
Both sessions will be recorded and the archives will be made available.
Learn more at Stockton's Middle States website.
Reverse Advent Calendar Donations for Food Pantry
The Osprey Pantry, in collaboration with Mu Sigma Upsilon Sorority, Inc. and Lambda Sigma Upsilon Latino Fraternity, Inc., is holding another Reverse Advent Calendar donation drive this season to help stock the shelves. View this list of items most needed to serve as a guide.
📦 If your office is interested in participating, emailMonica Viani, program supervisor, to arrange a box to be sent over for the collection. On the last day of the calendar, Dec. 17, someone will come pick up the items you collected.
Additionally, there will be a collection box set up outside
---

Stockton memories, past and present . . .
"As an Osprey Nation member, Class of 1985, I am proud of my time at and after my academic studies at Stockton University. My brother, John, attended and graduated from Stockton in the late 1970s. He went on to obtain advanced degrees and a long and successful career in education. In 1980, I attended Rotary Youth Leadership Conference at the Stockton campus. The weeklong leadership school incorporated sessions that helped provide training in leadership and life skills. The conference was led by Larry James, Stockton's Athletic Director." ...Read entire entry here.
- Henry Glickel '85
Have a memory you'd like to share in celebration of Stockton's 50th anniversary? Submit it here.
UPCOMING EVENTS