Stockton News - Nov. 10, 2022
WHAT WE'RE TALKING ABOUT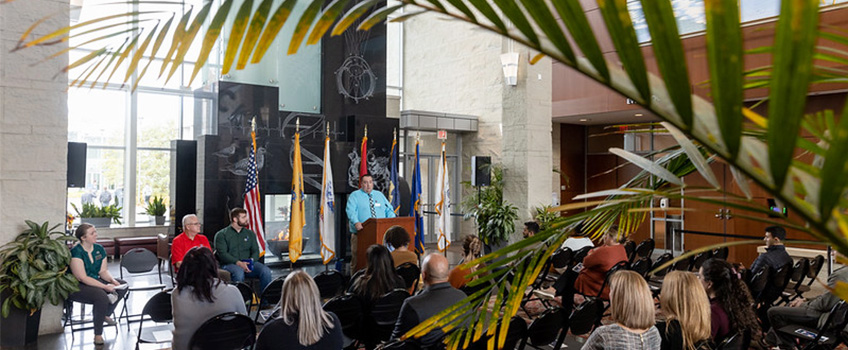 Annual Veterans Day Celebration Shows Gratitude
For this year's celebration of veterans and active-duty servicemembers, the Office of Military and Veteran Services (OMVS) hosted a week of events, including a ceremony Nov. 9 in the Campus Center Grand Hall.
Following a rendition of the National Anthem by Lynda Larkin of Financial Aid, the ceremony included speeches from Health Sciences major Luke Lallo and Retired Brigadier General Douglas R. Satterfield.
Lallo, who served as a military police officer in the N.J. Army National Guard for five years, spoke about what it is like to be a soldier transitioning to civilian life and how Stockton has helped him through it.
---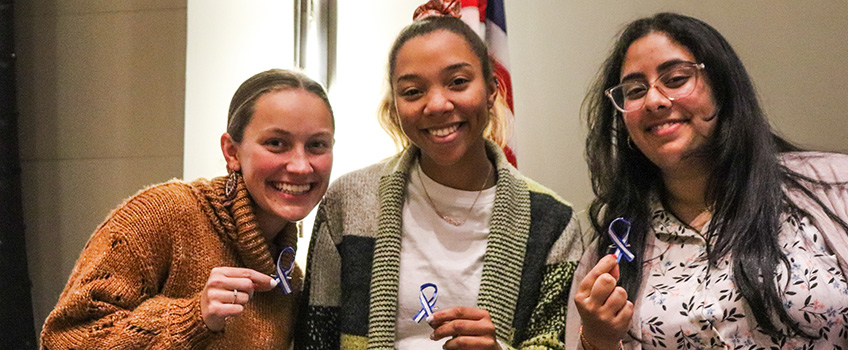 First-Generation Students Honored at New Pinning Ceremony
Students at the Nov. 9 National First-Generation Week Reception learnedjust how large of a community they have at Stockton when Christopher Catching, vice president of Student Affairs, shared that around 50% of the students here identify as first-generation students.
"Being first-generation is part of the DNA here," Catching said. "This institution was founded in 1969 and officially opened in 1971, and it's always served first-generation and post-traditional students. Based on this year's numbers, about 4,700 students identify as first-gen."
First-generation students are students whose parents or immediate families don't currently hold a four-year college/university degree. This can impact one's college experience, as explained by Priya Parikh, a student and treasurer for First Ospreys.
---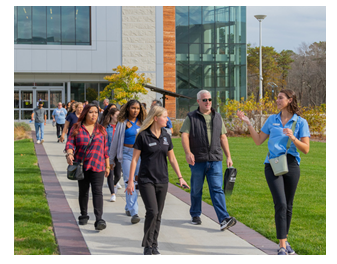 Discover Stockton Day Has Best Attendance Since 2019
Nearly 600 families toured Stockton Sunday, Nov. 6, and attended Discover Stockton Day, making it the largest open house since 2019.
Prospective students heard from Admissions and attended sessions hosted by each school. With blue skies and temperatures in the 70s, families enjoyed tours of the Galloway and Atlantic City campuses.
"Guests were impressed with our beautiful campus and caliber of our programs," said Bob Heinrich, vice president for Enrollment Management. "This was truly a campus-wide event and we appreciate the support of all of our partners to make this our largest recruitment event since the pandemic began."
View pictures from the event. The next Discover Stockton Day is March 26.
SPOTLIGHT ON: AUDREY LATOURETTE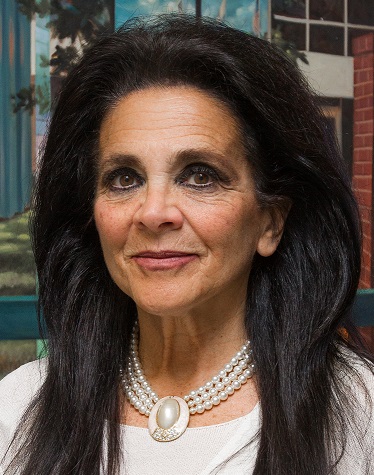 Audrey Wolfson Latourette, distinguished professor of Business Law at Stockton, presentedher research, "Plagiarism: Legal and Ethical Implications for the University," on Oct. 28 for The Faculty Collaborative, a new consortium of colleges and universities dedicated to professional development and support.
This specific research was published several years ago as the lead article in The Journal of College and University Law, issued by the National Association of College and University Attorneys.
During her presentation, Latourette shared several examples of recent plagiarism incidents conducted by students and professors on prominent university campuses throughout the country.
FRAME-WORTHY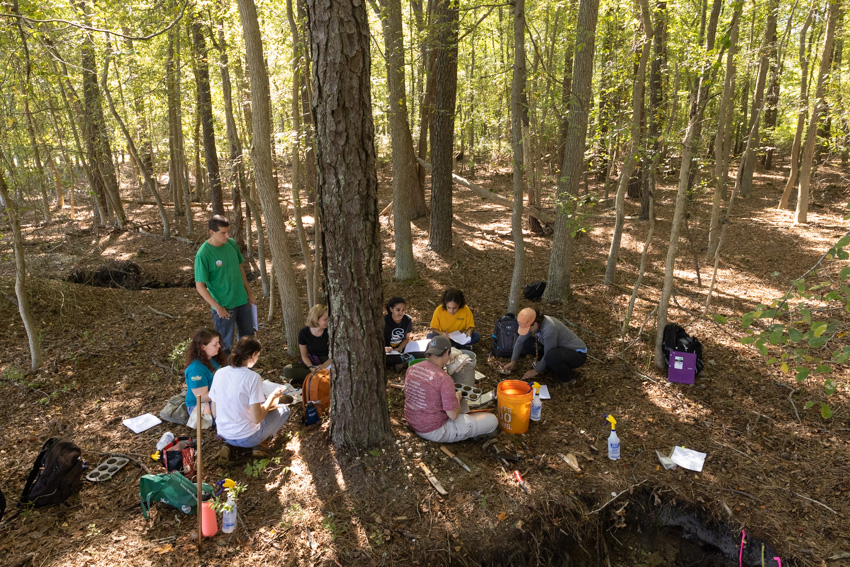 Stockton Soil Judging Team Digs into Their Major
There's a group of students at Stockton who aren't afraid to get their hands dirty while digging into their lessons. Last month, the soil judging team competedin the Northeast Regional Collegiate Soil Judging Contest earning Stockton a spot in the top five.
Stockton's team took 5th place in the group portion of the Northeast regional competition held at Bloomsburg University Oct. 11-14.
Zachary Lenzi, a senior Environmental Science major from Egg Harbor City, took 4th place among the individuals out of 57 students.
Jessica Hallagan, assistant professor of Environmental Science, teaches soil science and is the coach for the Stockton soil judging team, which is the student group that competes in soil judging contests against other schools. Stockton is the only New Jersey college or university with a competitive team.
WHAT'S TRENDING

@ #STOCKTONU
Instagram: Did you see the lunar 🌕 eclipse this morning? If you missed it, the @stocktonuniversityobservatory captured these close-up images 🔭
LinkedIn: Let's take a walk down memory lane: what dorm did you live in your first year at #StocktonU? 🏫
Twitter: Stockton University Comm Studies students gathered to listen to @CourtBragg, a 3x award-winning producer and director for @NFLFilms, talk about how to break into sports broadcasting.
FROM THE SIDELINES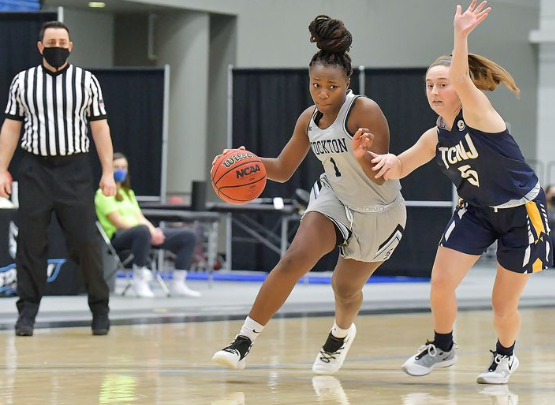 Stockton Wins Season Opener 51-47
The women's basketball team began the 2022-23 season on a high note with a 51-47 victory on the road at Alvernia University (0-1) on Nov. 9. The Ospreys outscored the Golden Wolves 16-10 in the last eight minutes to secure the win.
Adriyana Jennings scored a career-high 18 points to lead Stockton. Jennings tied for game-high honors in scoring and also swiped a game-high five steals. The junior shot 6-13 from the field and 6-8 at the line.
Madison LaRosa and freshman Nicole Strumolo tossed in eight points apiece, with Strumolo also grabbing seven rebounds in her first college game. Emma Morrone tied her career high with ten rebounds and dished four assists.
---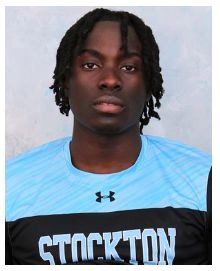 Campbell Named D3hoops.com Preseason All-American
Stockton junior DJ Campbell was named to the D3hoops.com Preseason All-America Fifth Team for the 2022-23 season. The D3hoops.com Preseason All-American Teams are chosen from the previous year's All-American and All-Region nominations.
Campbell is coming off one of the best individual seasons in Stockton history. Last year, he was chosen NABC First Team All-American, NABC District 4 Player of the Year, NJAC Player of the Year, ECAC Player of the Year, NJAC First Team, NABC District 4 First Team, D3hoops All-Region 4 First Team, and All-ECAC First Team.
---
🗓️ View the full schedule of upcoming athletic events here
IN MEMORIAM 🕊
Tim Kelly passed away on Nov. 7 after a two-year-long battle with brain cancer. Tim worked at Stockton for 20 years as a communications professional and was an original member of the External Affairs department. He was the founding editor of The Stockton Times, which later became Stockton News you are reading now.
Rob Gregg, dean of the School of General Studies and Graduate Education, shared the following message on his passing:
Tim Kelly will indeed be much missed. While working at Stockton he had an incredible impact helping our reputation to grow throughout the region. It was he, after all, who came up with the slogan, "An Environment for Excellence," which is still to be seen on the wall in front of the entrance to the Campus Center.
One thing that is little known about Tim is the way in which he involved himself in all aspects of the Stockton community. This didn't mean just attending events, which he did, of course; it meant also taking our G courses as a [non-matriculated] student. During his early years at Stockton he constantly took courses, obviously to educate himself fully, but also to understand our students and faculty and what animated them.
I was very sad to see Tim leave Stockton. He was a great student, colleague, and friend – and, in his own way, a teacher of human decency and engagement. I am now even sadder to learn of his succumbing to a long battle with cancer. A terrible loss to his family and the community to which he contributed so much.
OSPREY NOTES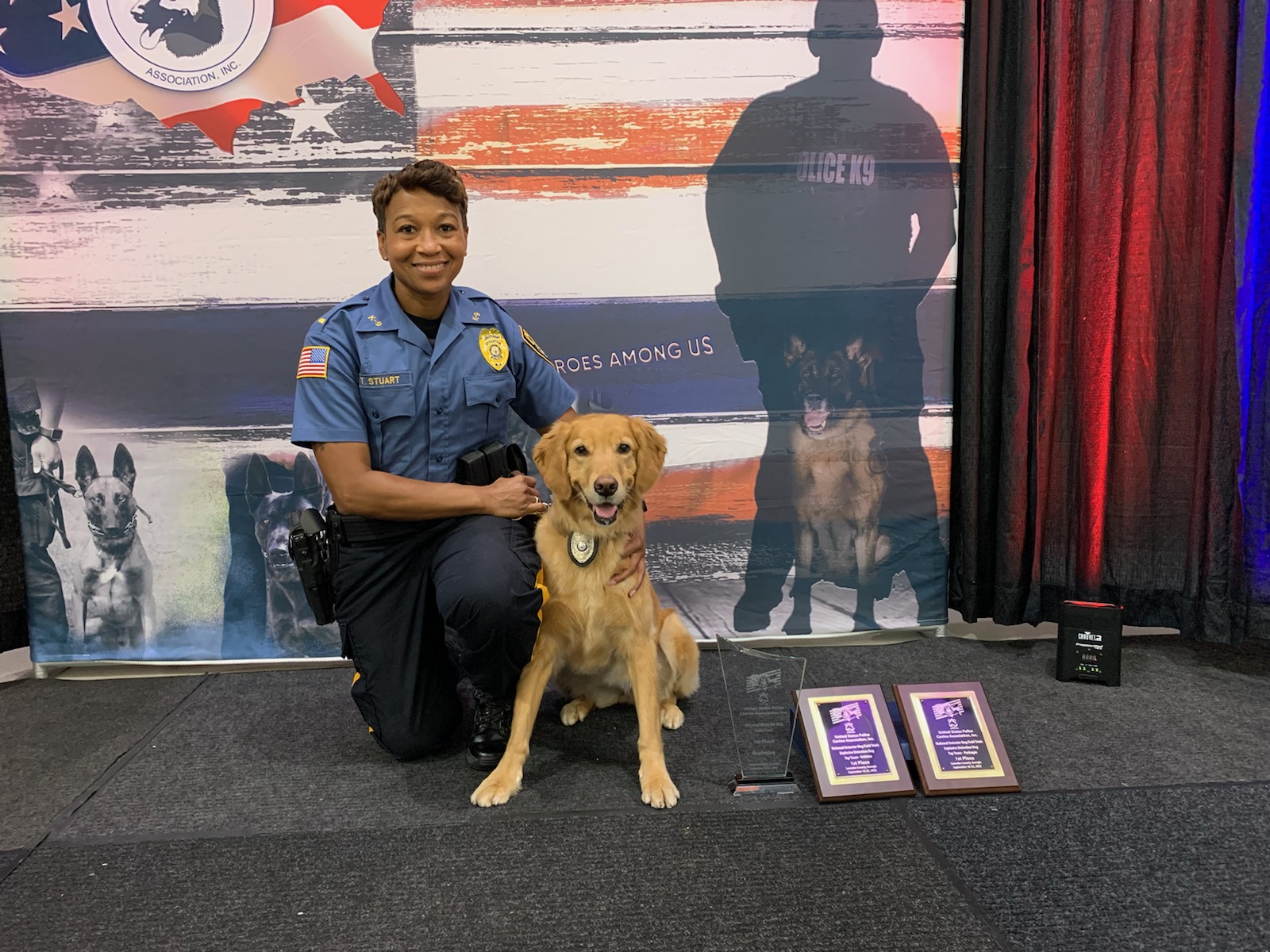 Lt. Tracy Stuart, K-9 Freya Featured in Documentary
Lt. Tracy Stuart and K-9 Freya will be featured in the new documentary "Dynamic K-9 Duos," airing at 4 p.m. this Sunday, Nov. 13, on ESPN2. The documentary details the relationships of several K-9 units that competed at the United States Police Canine Association National Detector Dog Trials in September. There, Stuart and Freya placed first in the explosive detection competition.
🎬 Watch the trailer.
---
2nd Issue of Journal of Gaming, Hospitality and Tourism Released
The second issue of the International Journal of Gaming, Hospitality and Tourism (IJGHT) was released Nov. 7 by the Lloyd D. Levenson Institute of Gaming, Hospitality and Tourism at Stockton. The peer-reviewed, open access journal was developed to share original research that bridges the gap between industry practitioners and academic researchers and educators.
"We want this journal to provide readers with relevant information that can inform and enhance the gaming, hospitality and tourism industries and those that support them," said LIGHT Faculty Director and IJGHT Founding Editor Jane Bokunewicz.
UPCOMING EVENTS