Stockton News - Friday, Nov. 8, 2019
WHAT WE'RE TALKING ABOUT
Students Lead Project to Refurbish Observatory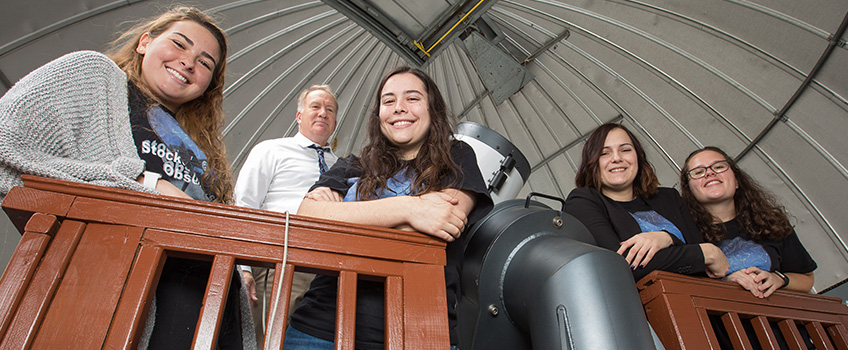 The first thing Stockton students saw when they opened the doors to the Harold E. Taylor Observatory were pieces from the telescope on the floor and spiders.
"There were soooo many spiders," said sophomore Courtney Weber of Jefferson Township, one of a group of seven female physics majors who have spent the last year repairing and restoring the observatory, which has been closed for more than 15 years.
The project began with one student, Mariam Saad, asking Associate Professor of Physics Joseph Trout why the observatory was closed, and what might be done to reopen it.
The Press of Atlantic City and 101.5 FM posted about the story.
---
Scholarship Recognition Dinner Honors Donors
Gratitude was the theme of the evening at the 2019 Scholarship Recognition Dinner, held at the Carriage House in Galloway on Oct. 29.
The annual event recognizes those donors who have contributed to scholarships for Stockton students. This year, 569 students are receiving more than $890,000 in scholarship funds.
"My mom lost her job my sophomore year," said senior music major Bob Fell. "This scholarship money is a huge help with paying for my college; it's made things so much easier on us."
STOCKTON UNIVERSITY ATLANTIC CITY
Catch a Movie Tonight at Stockton Atlantic City
"Fall Cinema in the City" is featuring "Where'd You Go" at 8 p.m., tonight, Nov. 8, in the Stockton University Atlantic City residential classrooms B119/120. Attendees are asked to bring their Stockton IDs.
SPOTLIGHT ON
Latourette Presents at Four NYU Events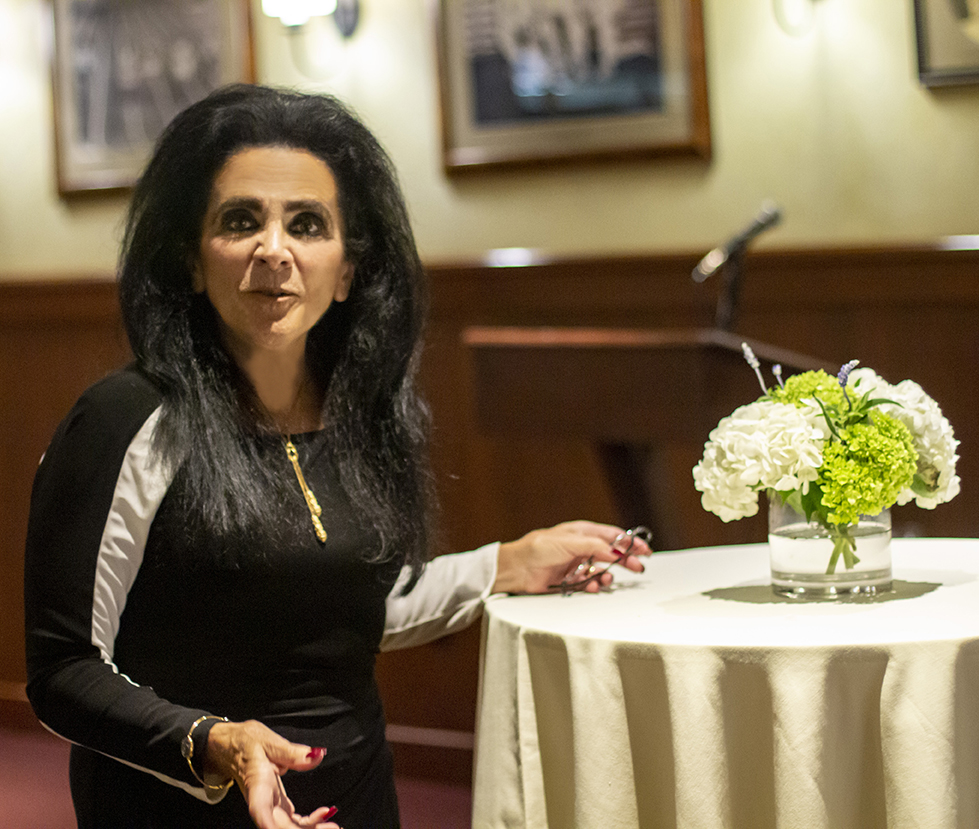 Audrey Wolfson Latourette, Distinguished Professor of Business Law at Stockton University, first served as a Scholar-in-Residence at New York University during a sabbatical in 2004 and 2013 and has since occupied summer scholar-in- residencies there. Stockton is a participating member of the Faculty Resource Network (FRN) at NYU, which enabled Latourette to apply for such residencies or participate in one-week seminars offered during the summer. Stockton's provost serves as our liaison officer with regard to the FRN.
"The FRN became acquainted with my research and my presentation of same at meetings of the scholars in residence held during one's residency," Latourette said. "Further, I provide the FRN hard copies (and links) to my research wherein I always note in the author's footnote that research was conducted, in part, as a Scholar-in-Residence at New York University, as appointed by the Faculty Resource Network."
These opportunities have fostered a relationship recognizing Latourette as an expert in her field of study and led to being asked to present at a variety of workshops at NYU.
FRAME-WORTHY
Picture Stockton... Celebrating its Diversity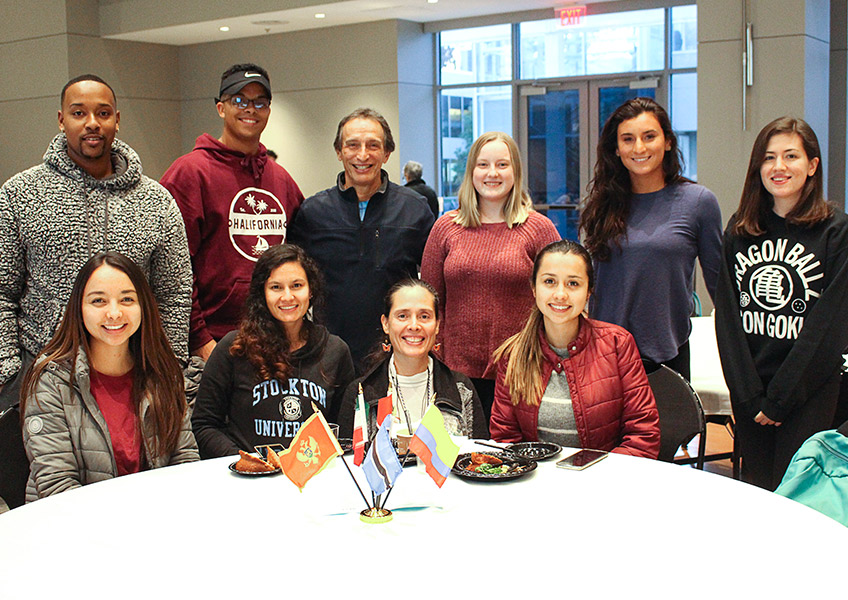 From Caribbean jerk chicken to Asian stir fry, Greek salad to vegetable lasagna, attendees at the Multicultural Dinner on Nov. 4 were met with tons of mouth-watering aromas as they entered the Campus Center Event Room.
Students eagerly filled their plates, making sure to leave room for another serving.
As students dug in, a few of Stockton's Multicultural Committee members and student representatives talked about the importance of Stockton's commitment to diversity.
WHAT'S TRENDING #STOCKTONU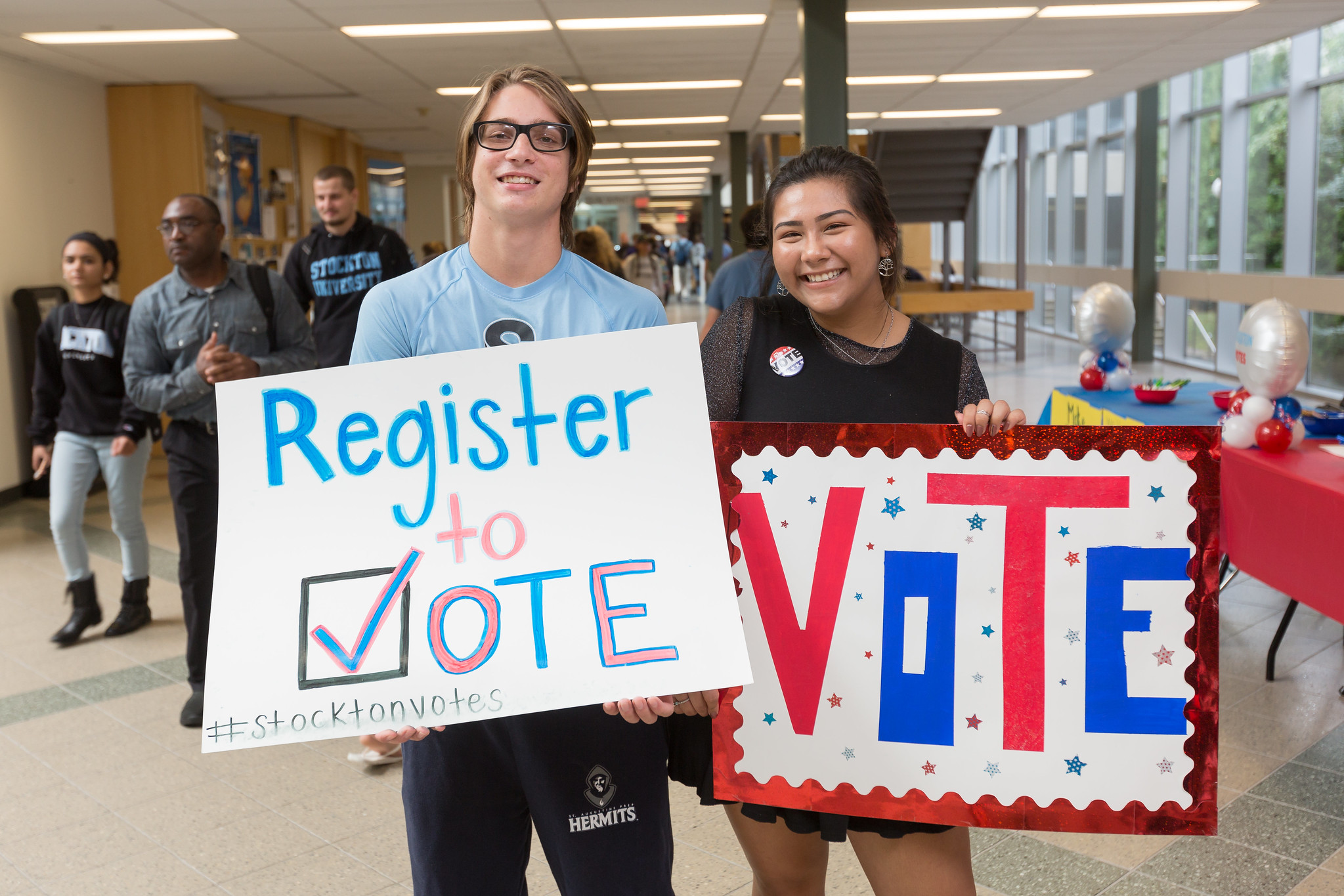 Facebook: #StocktonVotes: Stockton students' voter registration and turnout rates have been on the rise. Claire Abernathy and John Froonjian, co-chairs of the Stockton American Democracy Project and Political Engagement Project, shared these key findings from a report by the National Study of Learning, Voting and Engagement.
Instagram Highlight: The Nov. 3 Open House.
FROM THE SIDELINES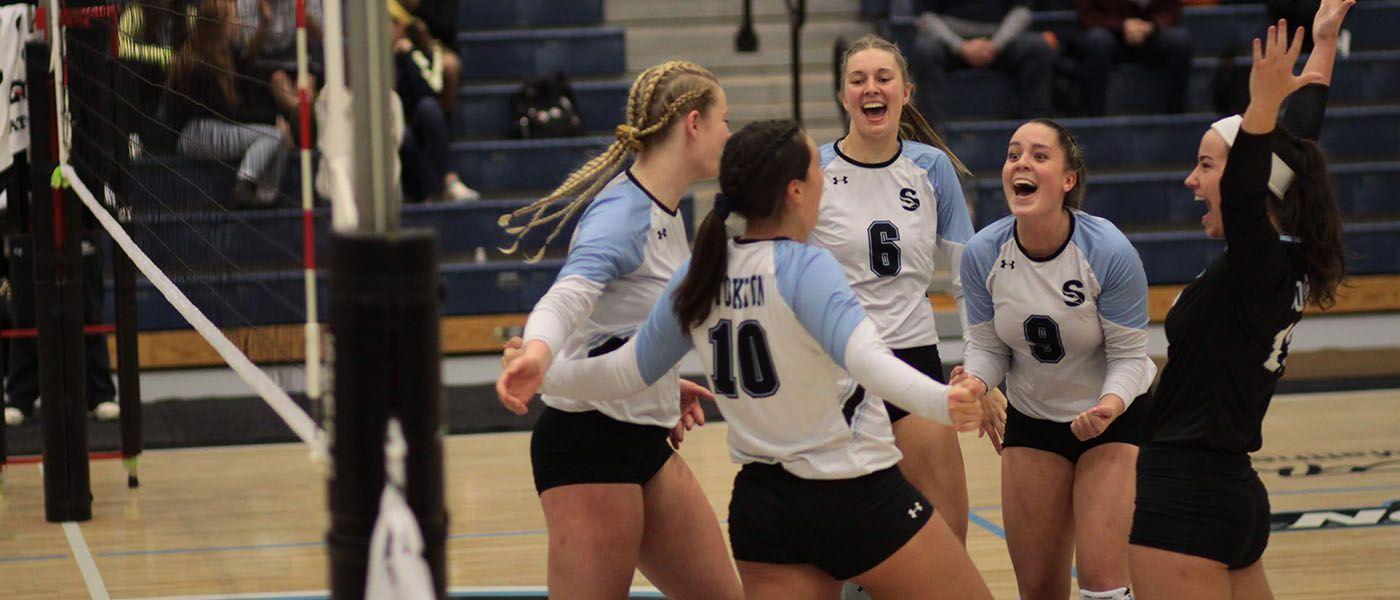 Stockton Rolls to NJAC Finals 3-0 Win; Big Game Tomorrow
Stockton University (29-3) advanced to the finals of the NJAC Tournament with a convincing 3-0 victory over Montclair State (21-10) on Nov. 7. The scores were 25-14, 25-15, 25-13. Charlotte Leon led a balanced Osprey attack with 10 kills. The Press of Atlantic City covered the win.
The Ospreys host Rowan University at 1 p.m., tomorrow, Nov. 9, in the Sports Center. This game will not only determine the NJAC Volleyball Champion, but will also send the winner on to the NCAA Tournament. Support the team by coming to cheer them on; tickets are $5 for adults and $2 for children, senior citizens and students; or watch live here.
MORE FROM THE HIGHLIGHT REEL:

The Men's Basketball team plays Salisbury University on Nov. 12!
For more upcoming sports games, check out the schedule. Go Ospreys!
OSPREY NOTES
NJECC Campaign Underway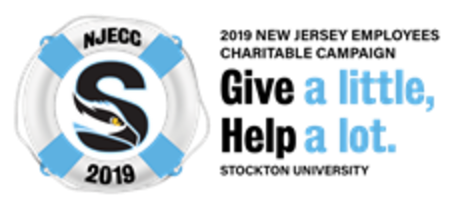 The New Jersey Employees' Charitable Campaign is underway and runs through Dec. 31, supporting over 800 charities.
If you plan to make a gift through payroll deduction, you can register and donate through the NJECC online giving portal or fill out a paper pledge form. If you plan to make a one-time donation, please fill out a paper pledge form. Email stocktonnjecc@stockton.edu or stop by Human Resources (J115) to request a paper pledge form.
FAFSA Fridays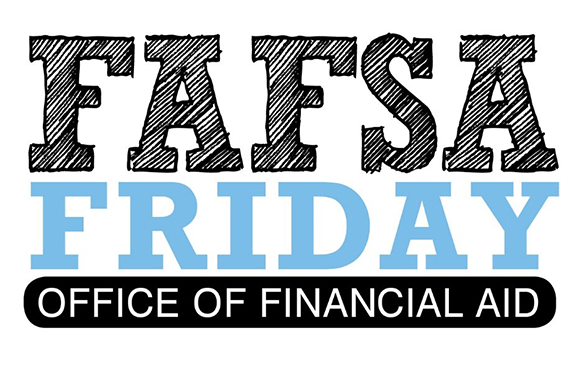 Do you have students who are looking for financial aid assistance? The Office of Financial Aid is hosting "FAFSA Fridays" from 1-3 p.m. every Friday, Oct. 11-Nov. 22, and Dec. 6, in the F210 computer lab to assist students with the financial aid process. Encourage your students to file their FAFSA applications by Stockton's March 1 priority deadline and NJFAMS applications for State aid by April 15. Students who miss these deadlines may miss out on aid they are eligible for.
Continuing Studies Offers a Variety of Courses this Fall

The University's Office of Continuing Studies is hosting a variety of classes for personal and professional enrichment, ranging from mindfulness and yoga to how to make wine and beer this fall.
UPCOMING EVENTS
Thursday, Nov. 7-Friday, Nov. 15:First-Gen Week
Friday, Nov. 8:38th Annual Council of Black Faculty and Staff Awards Dinner
Thursday, Nov. 14: Hughes Center Honors
Thursday, Nov. 21:Transfer Admissions Day at Manahawkin
Monday, Nov. 18-Friday, Nov. 22: International Education Week