Stockton News - Nov. 4, 2022
WHAT WE'RE TALKING ABOUT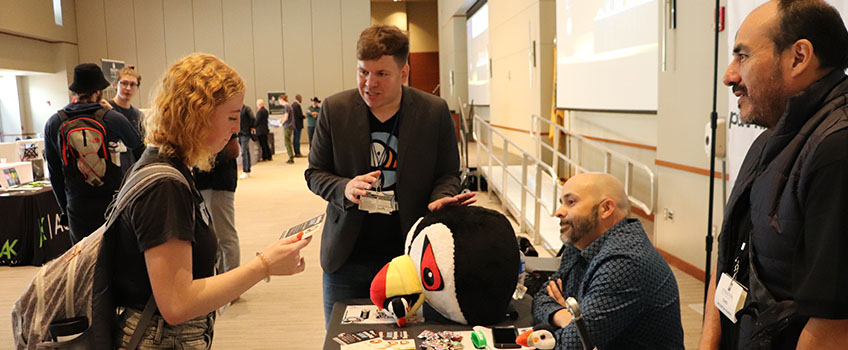 Entering a 🌱 Budding Industry: Fall Cannabis Career Fair
Vendors from all over New Jersey came to talk to Stockton students about the cannabis industry and how to get involved on Nov. 1 in the Campus Center.
In partnership with the New Jersey CannaBusiness Association, the third annual Cannabis Career Fair and Business Expo offered job and internship opportunities for interested students.
Robert Mejia, a teaching specialist in the Cannabis Studies program, considers the Student Employer Panel to be one of his favorite events of the fair since it is where students and employers are able to really connect and learn from each other.
---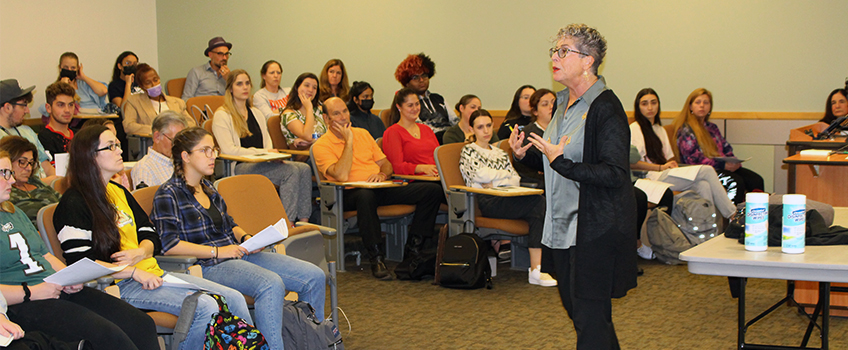 Workshop Provides Tools for Teaching the Holocaust
Sheryl Ochayon knows how difficult it is to teach the Holocaust.
"It's a dark, depressing, complicated subject, which is surrounded by misinformation," said the project director of the Echoes and Reflections project and an educator at the International School for Holocaust Education at Yad Vashem in Israel.
"But if we are going to keep the memory alive, we have to have teachers who know how to do this. How to communicate it to their students and how to use the resources that are available."
Ochayon hoped to accomplish that during a recent free workshop for educators sponsored by the Sara & Sam Schoffer Holocaust Resource Center at Stockton. Before a packed lecture hall of at least 75 educators, Ochayon emphasized the impact of Holocaust teaching in middle and high schools and discussed the benefits and caveats of using photographs to teach about the historical event.
---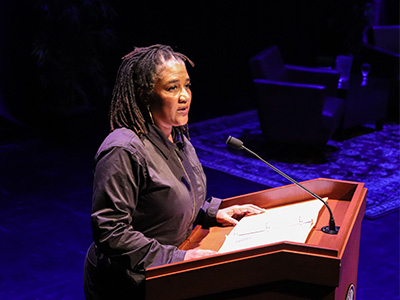 Lynn Nottage to Students: Replace Judgment with Curiosity
On the Performing Arts Center mainstage in front of hundreds of students and faculty, Lynn Nottage captivated and surprised them all with her first story about getting forcefully escorted off of the premises of a mega-church after a heated altercation with the pastor.
"Rather than using his stage to spread love, foster community and make it a sanctuary of healing, he decided to use God as a wedge, hammer and eraser," Nottage shared. "I felt compelled to let him know that what he was saying was dangerous. I felt compelled to loudly question his hatred."
After the exchange, Nottage had a revelation about her complex identity and how that impacts the way she tells stories, which she shared with the audience on Oct. 26 during the annual Pappas Visiting Scholar Series.
---
📊🗳️ At the ballot box: New Jersey's voters, especially Republicans, are enthusiastic about voting in next week's midterm elections in which the economy and inflation are seen as top issues, according to a Stockton poll released Nov. 2.
SPOTLIGHT ON: NOEL CRISCIONE-NAYLOR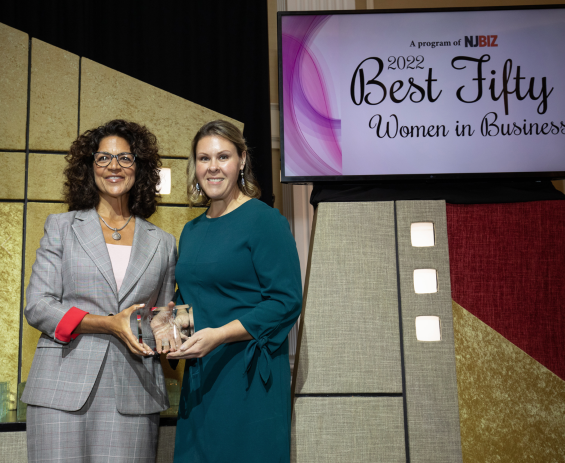 Noel Criscione-Naylor, associate professor of Hospitality, Tourism and Event Management Studies at Stockton, worked for many years in the fast-paced hospitality industry of Atlantic City before transitioning full-time into her teaching role.
She knows what it takes to be on both the corporate side of the business world and the academic component of teaching it, having made tenure in 2022.
As a result, it is not surprising that Criscione-Naylor was named as an honoreeof NJBIZ's 2022 Best Fifty Women in Business due to her vast experience and different roles
FRAME-WORTHY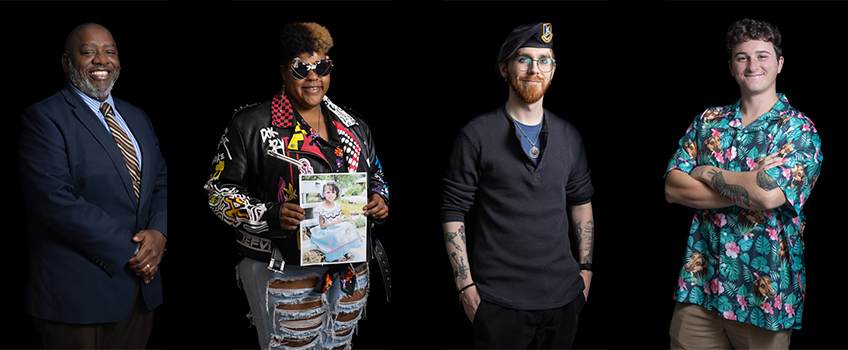 📸 Picture Stockton...Introducing Our Military Community in Portraits
William Cousins, a first-year student, brought an x-ray showing the bar of titanium in his hip.
Karl Schute, a senior History major, brought a stack of century-old books and a Civil War-era Union Army dress hat adorned with a brass infantry bugle that he bought in Gettysburg.
Kenia R. Euba-Ruiz, a Master of Arts in Counseling graduate student, brought her son, Arturo, her mother, Carmelita, and a pile of books on therapy, aging and counseling.
Last month, 36 students and employees came to the Military and Veteran Success Center to have a portrait taken for the Faces of Stockton's Military Community Photograph Project.
Michael Barany, director of the Military and Veteran Success Center, asked that participants wear or bring something that defines who they are and shares a piece of their military experience.
"There are stereotypes of what a veteran looks like. We don't all look alike. We are all different in our own way, and people might not even realize we are veterans," he said.
🗓️ Meet with members of our veteran community and view the opening of the photo exhibit on Monday, Nov. 7, 10 a.m.-2 p.m. in the Lower F Wing hallway. The images will be on display for the duration of Veterans Week, through Nov. 11, and will be archived online.
WHAT'S TRENDING

@ #STOCKTONU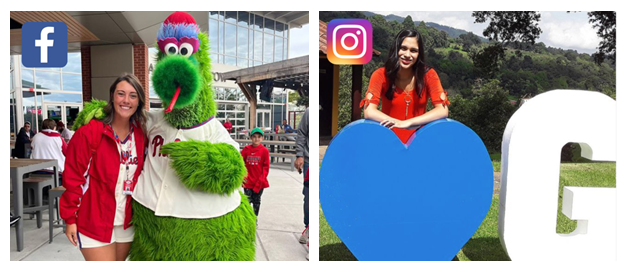 Facebook: Tonight is a dream come true for Kelly Fleck, '21, a Phillies Ballgirl who will be on the field at Citizens Bank Park for Game 3 of the World Series.
Instagram:From participating in Semana Santa in Guatemala to enjoying her grandmother's arroz con gandules here in the states, Esmeralda Rivera loves her cultures and sharing that love with others.
FROM THE SIDELINES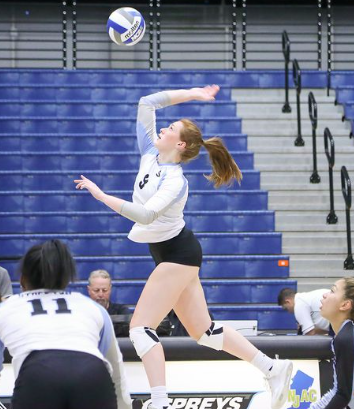 Stockton Eliminated in NJAC Tournament
The Stockton volleyball team saw their 2022 season come to a halt as Kean University swept the Ospreys by a 3-0 score on Nov. 3 in the semifinals of the NJAC Tournament. The scores were 25-22, 25-20, and 25-17. Freshman Kate Louer posted her seventh double-double of the season with ten kills and 15 digs in the loss.
The Cougars jumped out to a 9-7 lead in the first set before Stockton rallied with five straight points for a 12-7 margin. The home team kept the five-point advantage until the visitors clawed their way back into the set.
---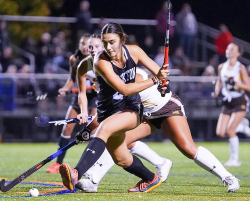 Palumbo Selected NJAC First Team for a Second Season
Stockton sophomore Alexandria Palumbo was selectedNJAC First Team in field hockey for the second consecutive season. With the honor, Palumbo became the sixth player in the Stockton program's 20-year history with at least two NJAC First Team accolades.
Palumbo had another outstanding season with six goals and two assists for 14 points while starting all 15 games in which she played. The midfielder led the team in goals and points. Palumbo tied for the team lead with two game-winning goals as well.
---
🗓️ View the full schedule of upcoming athletic events here
OSPREY NOTES
Holiday Week Reminder
The University is observing Election Day, Tuesday, Nov. 8, and Veterans Day, Friday, Nov. 11.
As a result, for Monday, Wednesday and Thursday next week, the University's office hours will be 8:30 a.m. – 5 p.m., and there will not be a compressed work week/flexible work schedule option.
📰 Due to the holiday Friday, Stockton News will publish Thursday, Nov. 10.
---
🍂⏰ It's almost time to "fall back!"
This is a friendly reminder to set your clocks back one hour, as Daylight Saving Time ends at 2 a.m. Sunday, Nov. 6.
UPCOMING EVENTS