Stockton News - Friday, Nov. 1, 2019
The William J. Hughes Center for Public Policy and Stockton University
mourn the passing of Ambassador William J. Hughes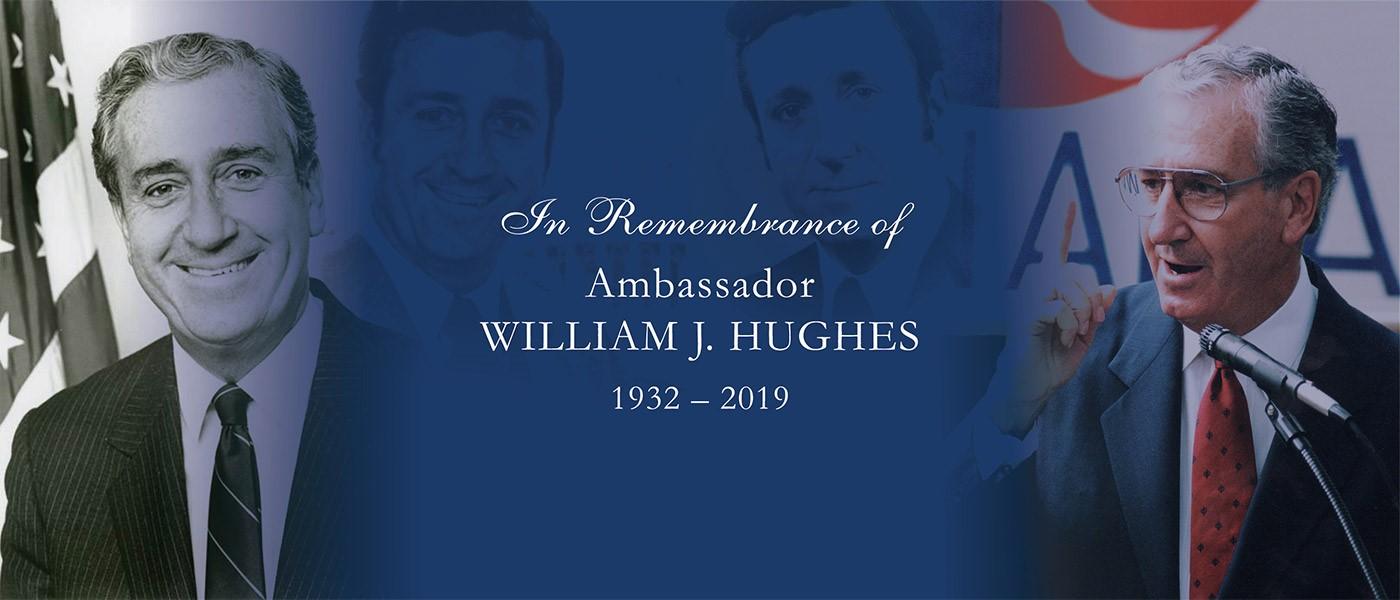 WHAT WE'RE TALKING ABOUT
Holocaust Rescuers Exhibition Tells Ullman Family Story [VIDEO]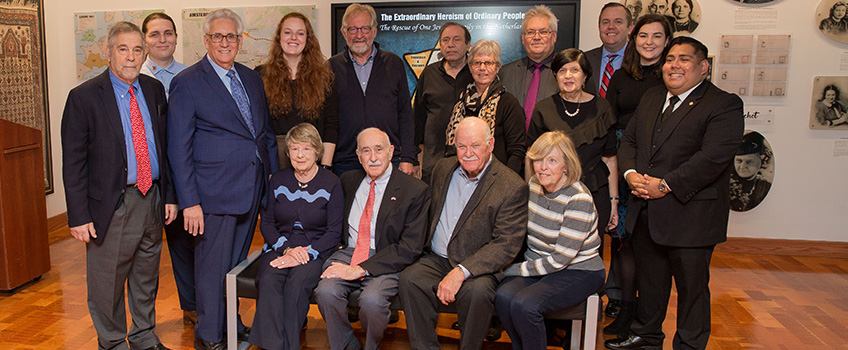 A new exhibition dedicated to non-Jewish families who risked their lives to protect Jews during the Holocaust in Amsterdam has opened at the Sara and Sam Schoffer Holocaust Resource Center at Stockton University.
Titled "The Extraordinary Heroism of Ordinary People," the interactive exhibition tells the history of the Holocaust in the Netherlands through the story of Leo Ullman and his family, who were saved through the heroic acts of non-Jewish families who hid them and provided them with forged documents.
CBS Philly and the Press of Atlantic City covered the dedication.
---
Six Alumni Honored at Recognition Dinner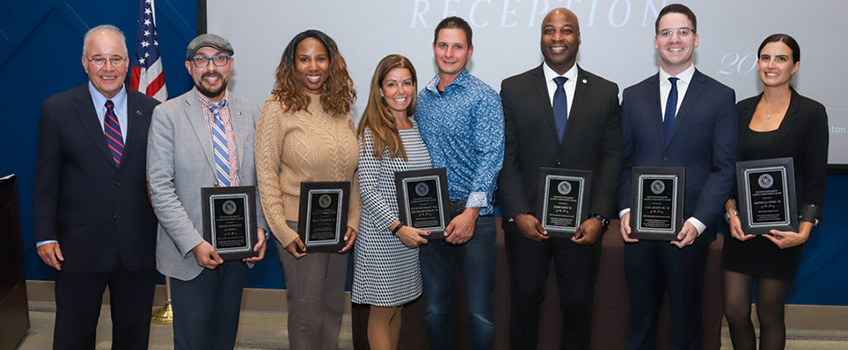 Six Stockton University alumni were honored at the Alumni Achievement Awards & Volunteer Recognition ceremony Oct. 10 as part of University Weekend celebrations.
Hosted by the Office of Development and Alumni Relations, more than 75 alumni and their families attended the event, which also recognized all alumni volunteers and previous Atlantic City Weekly Top 40 Under 40 winners
.
STOCKTON UNIVERSITY ATLANTIC CITY
Hughes Center Co-Hosts 2nd District Assembly Debate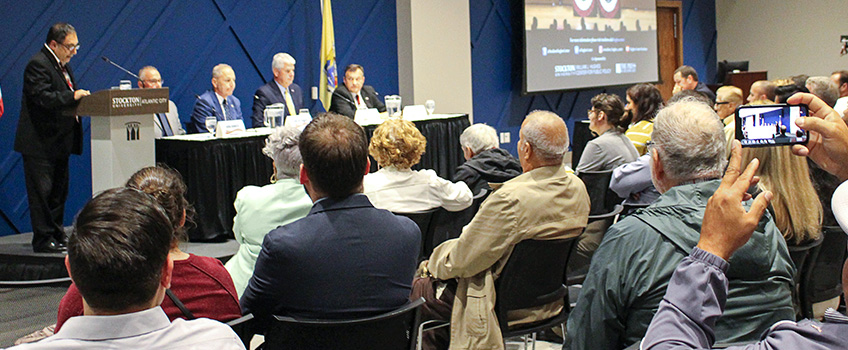 The William J. Hughes Center for Public Policy at Stockton University and The Press of Atlantic City co-sponsored a debate on Oct. 23 among the four candidates for the New Jersey Assembly from District 2, which includes most of Atlantic County.
Incumbent Assemblymen Democrats Vincent Mazzeo and John Armato and Republican challenger Philip Guenther, a former Brigantine mayor, and John Risley, an Atlantic County freeholder answered questions on topics relating to the local district and statewide issues.
Catch a Movie Nov. 8 at Stockton Atlantic City
"Fall Cinema in the City" is featuring Where'd You Go at 8 p.m., Nov. 8, in the Stockton University Atlantic City residential classrooms B119/120. Attendees are asked to bring their Stockton IDs.
SPOTLIGHT ON
Goodnight Receives 'Best Doctoral Paper' Award from SMA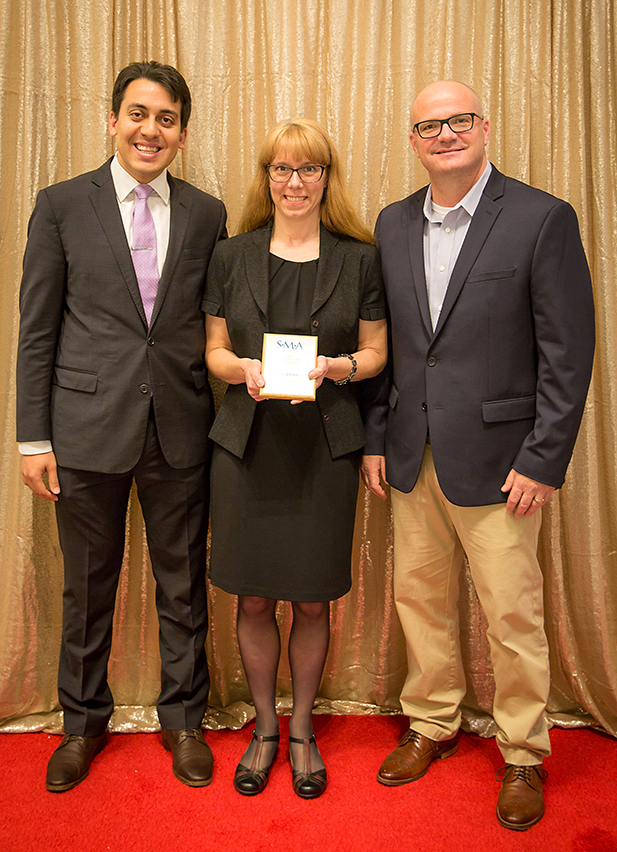 Christy Goodnight, assistant professor in the Richard E. Bjork Library (pictured center), received the Best Doctoral Paper Award in the "Innovative Teaching/Management Education" track for her piece, "Organizational Fluxx: Adapting the Card Game Fluxx to Teach Business Management." She was recognized at The Southern Management Association (SMA) 2019 Annual Meeting, Oct. 8-12, in Norfolk, Virginia.
"The paper put into words the innovative final project that I had my students in Organizational Behavior (MGMT3124) complete when I taught the course last spring here at Stockton," Goodnight said. "It was a great honor to receive the award, and I would not have written about it if my students here [at Stockton] hadn't loved the project. I had them using management theory to inform their creation of the cards for the game, and their creativity blew me away."
SMA's primary mission is to advance the research, teaching, learning and practice of management. SMA membership consists of over 1,000 management professors, doctoral students and professionals representing more than 200 colleges, universities and business firms in 43 states and several foreign countries.distinction."
FRAME-WORTHY
Fall Feels Arrive On Campus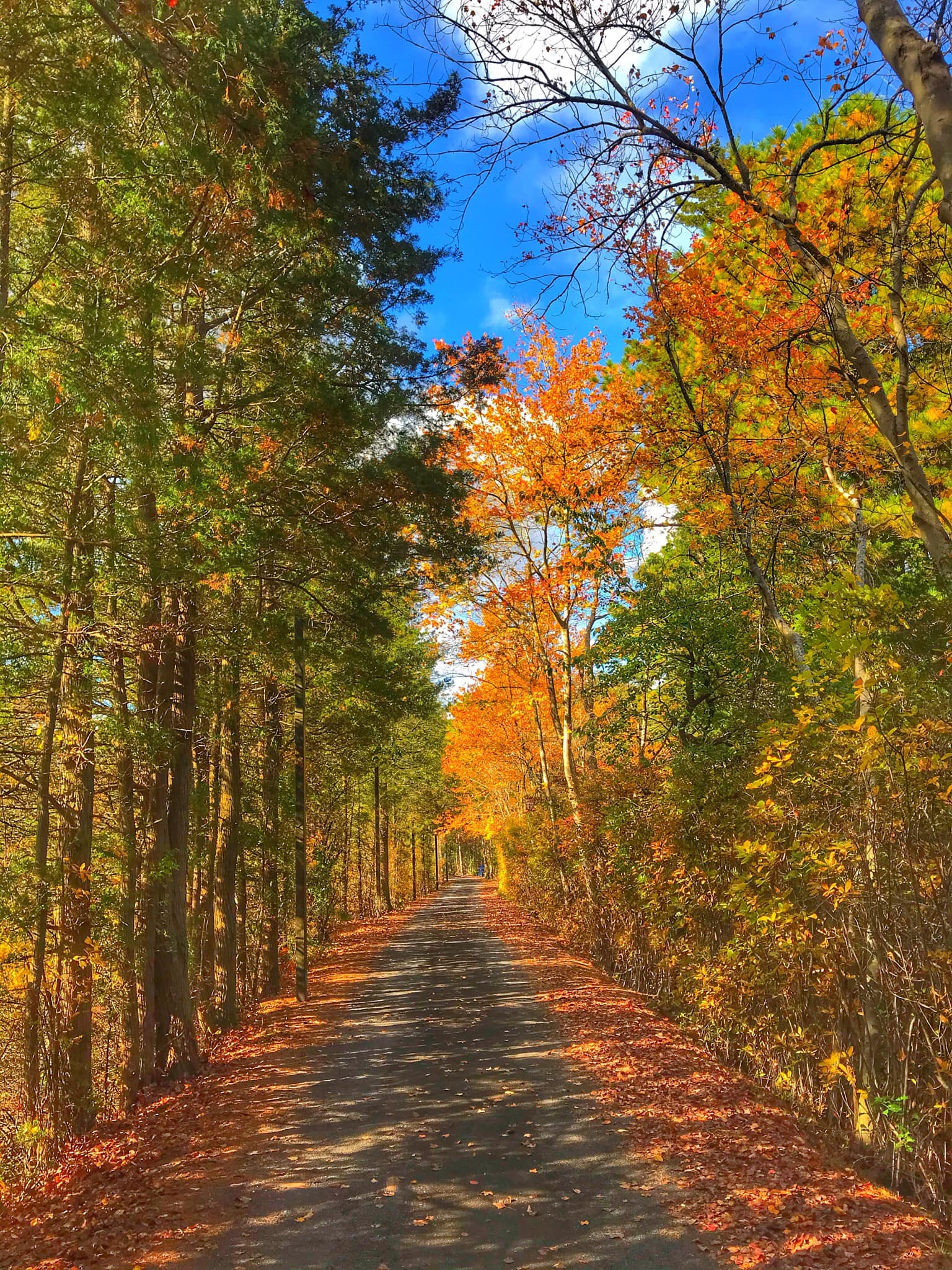 The beautiful colors of autumn have begun arriving at Stockton's Galloway campus.
Robust shades of orange, yellow, brown and red adorn the trees lining Lake Fred's Dark Path.
Speaking of fall, it's almost time to "fall back!"
Daylight Saving Time ends at 2 a.m. Sunday, Nov. 3, which means you will need to turn your clocks back an hour before you go to bed Saturday night, Nov. 2.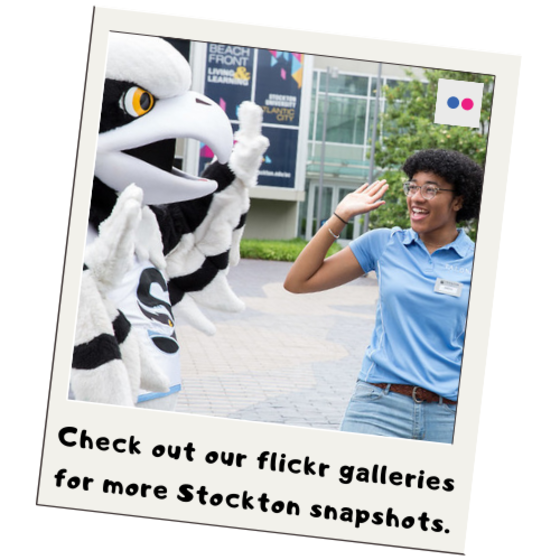 WHAT'S TRENDING #STOCKTONU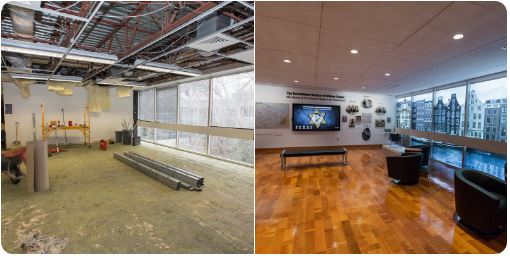 Twitter: #TransformationTuesday: At the start of the year, a renovation began to transform a study space in the @StkLibrary into an interactive exhibit that tells the story of Leo Ullman, a hidden child during the Holocaust, and how two families risked their lives to him and his family.
FROM THE SIDELINES
Nunez, Van Schalkwyk, Silverstein Receive NJAC Postseason Honors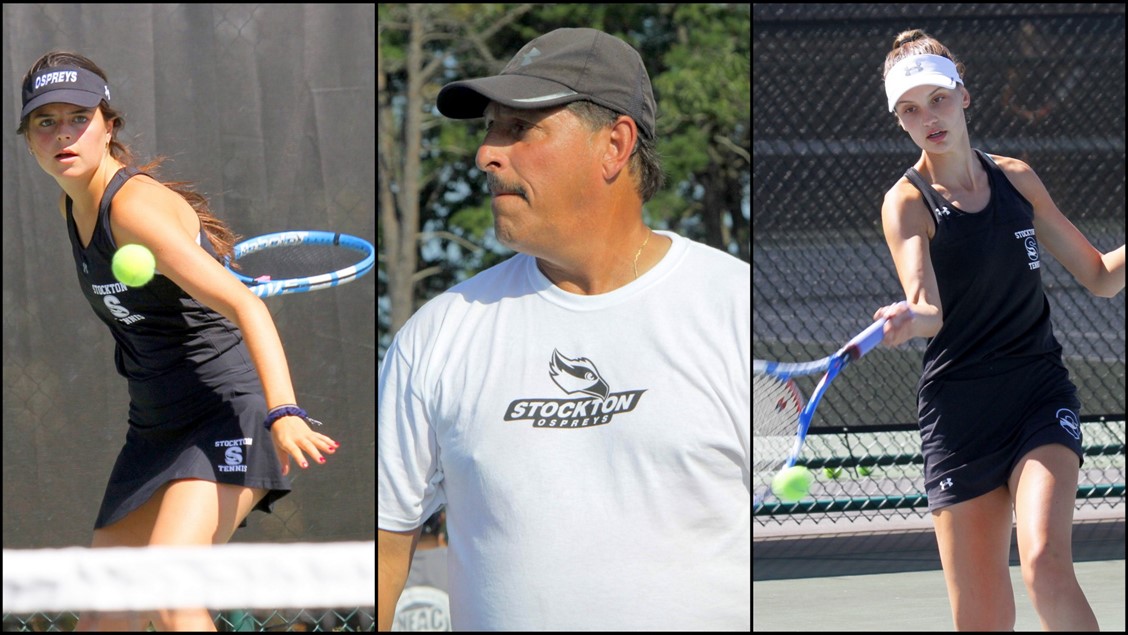 Two Stockton University freshmen and head coach Harry Silverstein received NJAC postseason honors in women's tennis. Elena Nunez was voted NJAC Rookie of the Year and Silverstein was chosen NJAC Coach of the Year.
Nunez also was selected NJAC All-Conference in singles and in doubles along with partner and fellow freshman Audrey van Schalkwyk.
Athletics Mourns Hall of Famer George Briscoe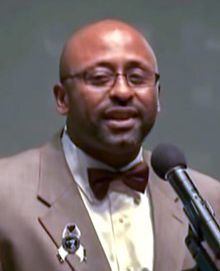 Stockton Athletics mourns the loss of George Briscoe '88, a men's basketball alumnus and member of the Stockton Athletics Hall of Fame, who passed away over the weekend. Briscoe was a Newark, N.J. native who played two seasons for the Ospreys from 1986-88.
MORE FROM THE HIGHLIGHT REEL:

Some of this weekend's highlights include Field Hockey vs. The College of New Jersey, Nov. 2; Men's Soccer vs. Rutgers-Camden, Nov. 2; and Volleyball vs. Neumann University, Nov. 2. Go Ospreys!
For more upcoming sports games, check out the schedule.
OSPREY NOTES
ITS Monthly Tech Training Tip: Microsoft To Do
Information Technology Services is sharing monthly tech training tips with the Stockton community. October's tip focuses on how to begin using Microsoft To Do, which integrates with Outlook and other Microsoft Office Suite products. Learn more here.
NJECC Campaign Underway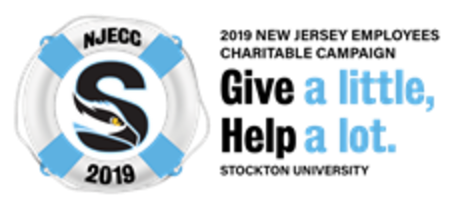 The New Jersey Employees' Charitable Campaign is underway and runs through Dec. 31, supporting over 800 charities.
If you plan to make a gift through payroll deduction, you can register and donate through the NJECC online giving portal or fill out a paper pledge form. If you plan to make a one-time donation, please fill out a paper pledge form. Email stocktonnjecc@stockton.edu or stop by Human Resources (J115) to request a paper pledge form.
FAFSA Fridays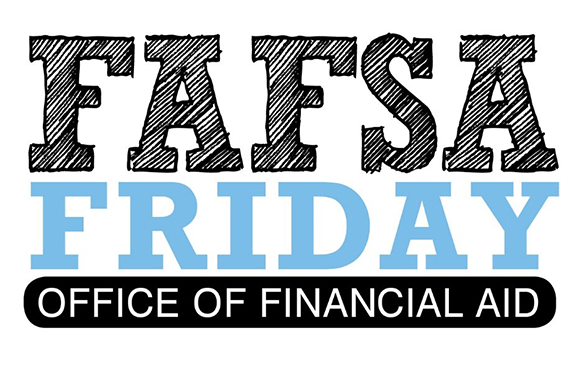 Do you have students who are looking for financial aid assistance? The Office of Financial Aid is hosting "FAFSA Fridays" from 1-3 p.m. every Friday, Oct. 11-Nov. 22, and Dec. 6, in the F210 computer lab to assist students with the financial aid process. Encourage your students to file their FAFSA applications by Stockton's March 1 priority deadline and NJFAMS applications for State aid by April 15. Students who miss these deadlines may miss out on aid they are eligible for.
Continuing Studies Offers a Variety of Courses this Fall

The University's Office of Continuing Studies is hosting a variety of classes for personal and professional enrichment, ranging from mindfulness and yoga to how to make wine and beer this fall.
UPCOMING EVENTS
Sunday, Nov. 3: Open House
Monday, Nov. 4-Saturday, Nov. 9:Veterans Week activities
Tuesday, Nov. 5: Transfer Admissions Day in Manahawkin
Thursday, Nov. 7: Transfer Admissions Day in Hammonton
Thursday, Nov. 7-Friday, Nov. 15:First-Gen Week
Friday, Nov. 8:38th Annual Council of Black Faculty and Staff Awards Dinner
Thursday, Nov. 14: Hughes Center Honors