Stockton News - Friday, May 29, 2020
WHAT WE'RE TALKING ABOUT
Master in Education Students Recognized
Five students in the Master of Arts in Education received awards at the 2020 virtual MAED symposium. Professor of Education Kimberly Lebak, MAED program coordinator, said 40 students shared posters of their capstone projects.
Program Distinction and Meritorious Capstone Project recognition went to Patrick Reidy, Melissa Schiffman and Daniel Wasilewski.
Best Capstone Poster honors went to Melisha Anderson-Ruiz and Aaron Segin.
This feature includes a summary of their projects. Segin's was not available
---
Report Finds Huge Federal Court Backlog in N.J.
The U.S. District Court case backlog in New Jersey has grown by 230% since 2016 and now stands at almost 39,000 cases.
The cause is a combination of unfilled vacancies on the federal bench combined with a surge in federal case filings, according to a student research paper published May 21 by the William J. Hughes Center for Public Policy at Stockton University.
New Jersey's federal case backlog, known as pending cases per judgeship is larger than the backlog in Pennsylvania, which covers three district courts to New Jersey's one, and edges out New York State, which encompasses four district courts.
NJ 101.5 covered the story.
---
Press of A.C. Interns Help Produce Special Section
Each spring, The Press of Atlantic City publishes a special Young Leaders section, honoring talented high school students who are nominated by their schools and communities. An independent panel of judges selects twenty-five students from the nominees to be Young Leaders.
This year, The Press also enlisted six Stockton University student interns to help produce the section, which features biographies and photos of the selected students. For the Stockton interns, Gabrielle Brodde, Edward Kovalski, Emily Montgomery, Paige Crain, Andrew Torres and Marissa Luca, it was an opportunity for real-life journalism experience.
---
How We Are Helping #StopTheSpread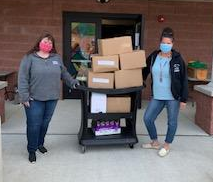 This week's #StopTheSpread feature highlights Stockton Center on Successful Aging (SCOSA) working with the Little Free Pantry movement in Stafford Township to address food insecurity during COVID-19.

Recently, the SCOSA staff read a N.Y. Times article about this issue and it touched their hearts. SCOSA staffer Gina Maguire contacted Jen McBrien from Stafford Township Recreation Department (which is across the street from Stockton's Manahawkin site). Stafford donated seven boxes of food and a case of Vitamin Water to the Stockton Student Food Pantry. Stafford has a Little Free Pantry, and SCOSA is working with them to address food insecurity in our communities by also developing plans for Little Free Pantries at the Galloway campus and Kramer Hall in Hammonton. The Little Free Pantry movement is a grassroots, crowd-sourced solution to immediate and local need. Anyone interested in participating can join SCOSA's Zoom discussions at 1 p.m. on June 2, 15 and 30. To register, click HERE or contact Gina.Maguire@stockton.edu for more information.

"SCOSA will be doing our part to minimize food insecurity for our students and community members," Maguire said. The pantries would be available to students and the community.
PHOTO: Maguire, left, and McBrien.
Have a story to share? We want to hear it! If you, or someone you know in the Stockton community, is doing something to help, let us know by emailing Diane D'Amico or sharing on social media and tagging @stockton_edu or #stocktonu. Don't forget to include a photo!
WE'RE HERE TO HELP
Resources Available to Staff, Faculty During COVID-19
There are many resources and best practices being made available to staff and faculty working remotely that can be found by visiting Information Technology's website. ITS shared their May Training Tip that focuses on assigning scheduling privileges in Zoom.
In addition to assistance with technology available from ITS, Stockton provides faculty and teaching staff with professional development, training, teaching ideas, resources and individual consultations via the Center for Learning Design.
The Office of Human Resources offers online Training Options for Stockton Employees. In case you missed it, this week's spotlight focuses on new COVID-19 resources provided by the Deer Oaks Employee Assistance Program. Resources are broken down into the following areas: Physical Health, Emotional Health, Coping with Lockdown, Families & Parenting, Financial Tips, Online Events and Back to Work. To access and explore these resources click here to directly access the secure Deer Oaks website without a password. Once on the page click COVID-19 Information from the homepage or scroll down to NEW to see newly added resources.
👉 Don't forget that while public programs and events have moved online, they still may benefit from publicity. Press releases and social media promotions may be requested using the
URM service request form
.
FRAME-WORTHY
Fuzzy Friends Fans of Stockton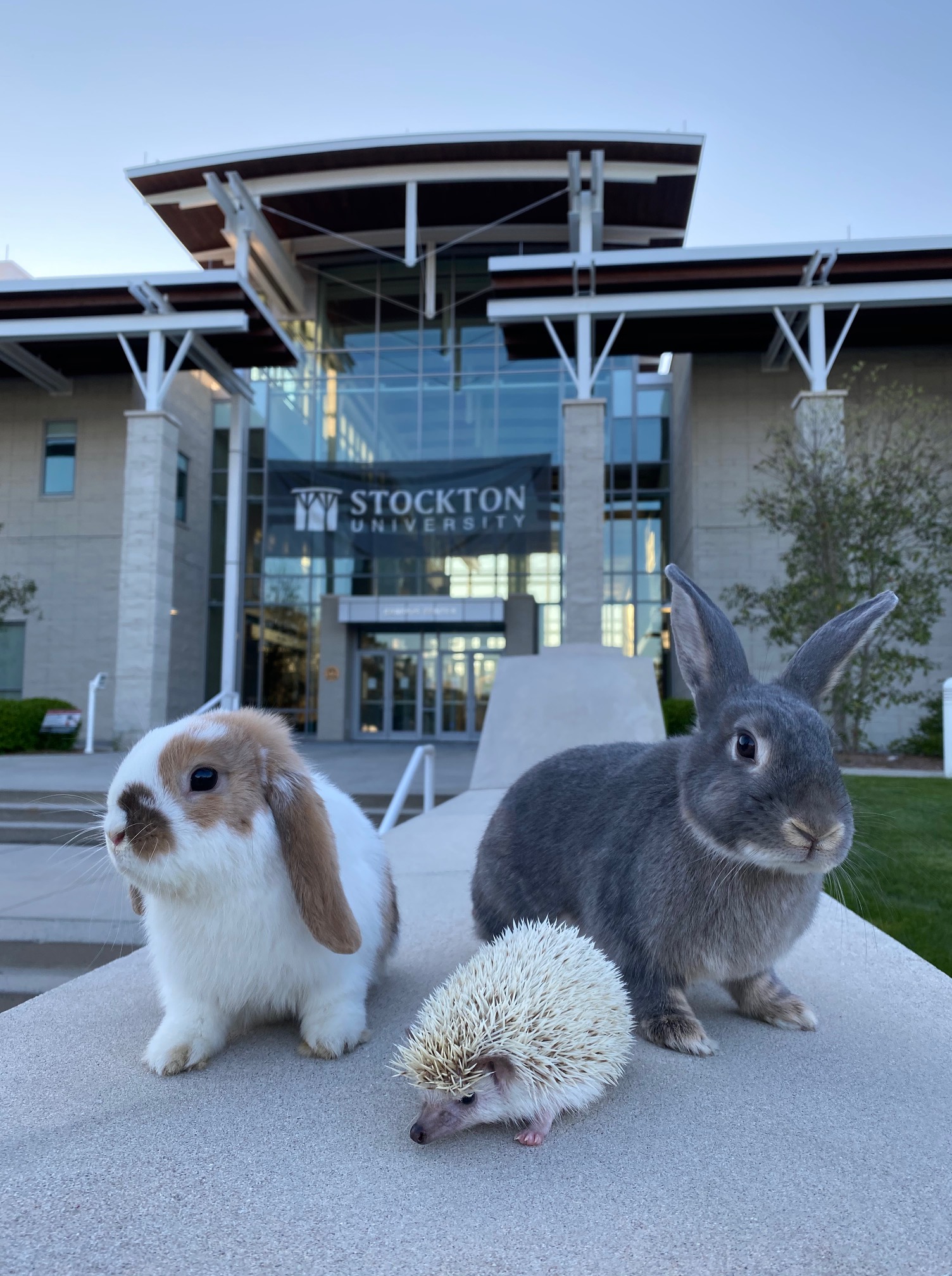 Cuteness overload alert! Jennifer Ling '18 and Kevin Lynch '20 shared images from their photoshoot with their adorable rabbits, Dave and Jim, and hedgehog, Hamm.
WHAT'S TRENDING #STOCKTONU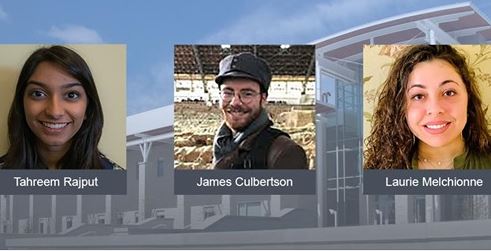 Facebook:Darya Hrybava, of the Stockton University Hughes Center, interviewed three Stockton University student leaders about how they coped with remote learning during the pandemic.
Twitter: #WildlifeWednesday: These three Osprey chicks were covered by a plastic bag, but not for long. Read about their rescue. P.S. Recycling, not releasing balloons and picking up trash helps our wildlife.
Swedlund Receives Second CoSIDA Academic All-District 2 Nod
Stockton University junior Luc Swedlund was voted to the CoSIDA Academic All-District 2 Men's At-Large Team by the College Sports Information Directors of America for the second consecutive year. Swedlund, an attack for the Stockton men's lacrosse team, has a 3.85 grade point average as a History Education major.
FAFSA Filing Deadline this Monday
The New Jersey Higher Education Student Assistance Authority (HESAA) announced on April 1 that the deadline for current students to apply to renew their State financial ai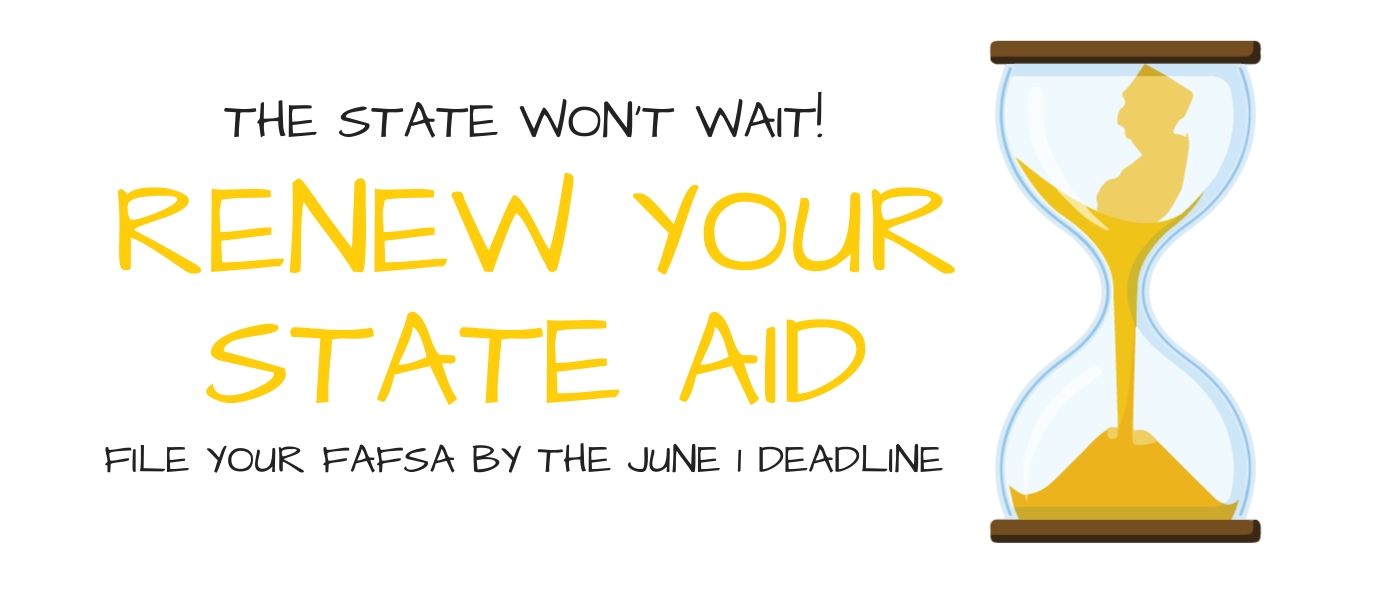 d has been extended from April 15 to June 1.
Faculty, please encourage your students to file the 20-21 FAFSA by this Monday, June 1. Anyone who misses this deadline will lose out on over $7,500 of free money for the 20-21 academic year, if eligible.
Please note: All remaining FAFSA Friday sessions for the Spring 2020 semester have been cancelled; however, the Office of Financial Aid is still available to help.
Remember, the State Won't Wait! Students can apply at fafsa.gov.
Staff in the office are working remotely, so please have students contact us at finaid@stockton.edu with any questions they may have and someone will work to respond as soon as possible.
Upcoming Events Hosted by the Office of Development and Alumni Relations
🍃 Streaming with Stoler Schedule
May 31: Virtual Open House