Stockton News - May 28, 2021
WHAT WE'RE TALKING ABOUT

Operation Adjustments in Accordance with New Jersey, CDC Guidance
An email was sent from the University Resilience Operations Committee Thursday, May 27, to faculty, staff and students with updates to campus operations pertaining to COVID-19, effective today, May 28.
As Stockton continues to respond to new state and CDC guidelines, you will notice important changes:
Beginning May 28, COVID-modified room occupancy limits are ending per Executive Order 242. Normal room occupancy limits will be reinstituted, and the University's Division of Facilities & Operations will begin removing temporary signs and placards

Per Executive Order 242, physical distancing guidelines are ending. This will apply to all campus functions and facilities, including classrooms, science and computer labs, the library, athletic facilities, residence halls, dining facilities, and meeting rooms; and Facilities & Operations will restore rooms to their original furniture capacity

Beginning June 4, general indoor gathering limits will be lifted.
Everyone should continue following current University protocols regarding mask-wearing until further notice. Continue to refer to the return to campus FAQs on the University's website and the email for more information.
---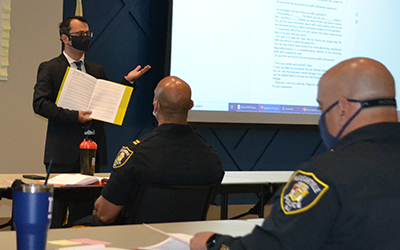 Pleasantville Police Join Procedural Justice Training
Officers from the Pleasantville Police Department recently joined Atlantic City Police at Procedural Justice training session offered by Stockton University Criminal Justice faculty members Nusret Sahin, Jess Bonnan-White and William McKnight, a retired Atlantic City Police Department Captain.
Procedural justice is the concept that individuals believe fairness within a procedure is more important than the outcome. Using procedural justice techniques has been shown to increase citizen compliance and cooperation with police.
---
Son Creates Scholarship for Father's 80th Birthday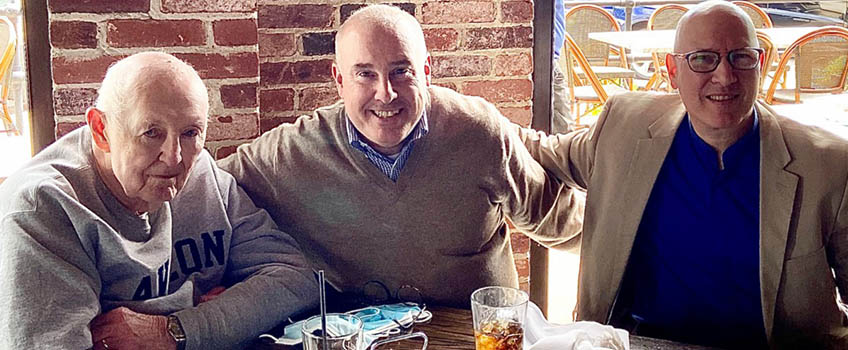 Robert Watters Jr. of Chester Springs, Pa., wanted to do something special to honor and celebrate his father, Robert Watters, Sr., on his 80th birthday in April.
Watters Sr. of Avalon has been a pivotal figure in the success of the Bay Atlantic Symphony as a long-standing member, current advisory board member and past president of its board of trustees. Through his years of service and dedication, he has elevated the profile of the Symphony within the greater Avalon community and started its summer residency program.
Watters, Jr. consulted with close family friend and Bay Atlantic Symphony director Jed Gaylin and together they created the Robert Watters Sr. Music Scholarship at Stockton University, which will provide an annual award of $1,000 to a Stockton University music student majoring in the Performing Arts.
📰 In the News: News 12 The Bronx
---

Six Receive Alan Arcuri Pre-Law Fund Awards
Six Stockton University students were named recipients of the Alan F. Arcuri Pre-Law Fund Awards for 2021.
A former Stockton professor, Arcuri was known for his tireless efforts in advising pre-law students. The fund, started in 2019 in his memory, assists students by providing a stipend to cover the cost of a prep program for the LSAT exam and providing mentors for them as they apply to and attend law school.
"Alan was always available to help students and we are grateful that his family and friends are continuing that tradition through these awards," said Professor of Political Science Linda Wharton, who coordinates the awards.
*Not pictured: Armando Linares
---
Hughes Center Q&A with GOP Senate Primary Candidates
Candidates for the Republican nomination for the 2nd Legislative District state Senate seat shared their positions on various issues in a Q&A posted online May 25 by the William J. Hughes Center for Public Policy at Stockton University.
📰 In the News:The Press of Atlantic City, Downbeach.com
WHAT'S TRENDING @ #STOCKTONU
Instagram: Nursing major Michaella Butrico is a vaccine recipient who also administered COVID-19 vaccines with more than 100 classmates during a clinical experience at the Megasite in the Atlantic City Convention Center this spring.
Twitter: Professors Patricia Reid-Meritt and Christina Jackson reflect on racism, equality and social justice in a @cpsj article marking today's one-year anniversary of the murder of George Floyd.
Facebook:Dylan Veit, a freshman Psychology major with minors in French and Music Studies, joined the Stockton Music Union at the recommendation of his friend Joey.
FROM THE SIDELINES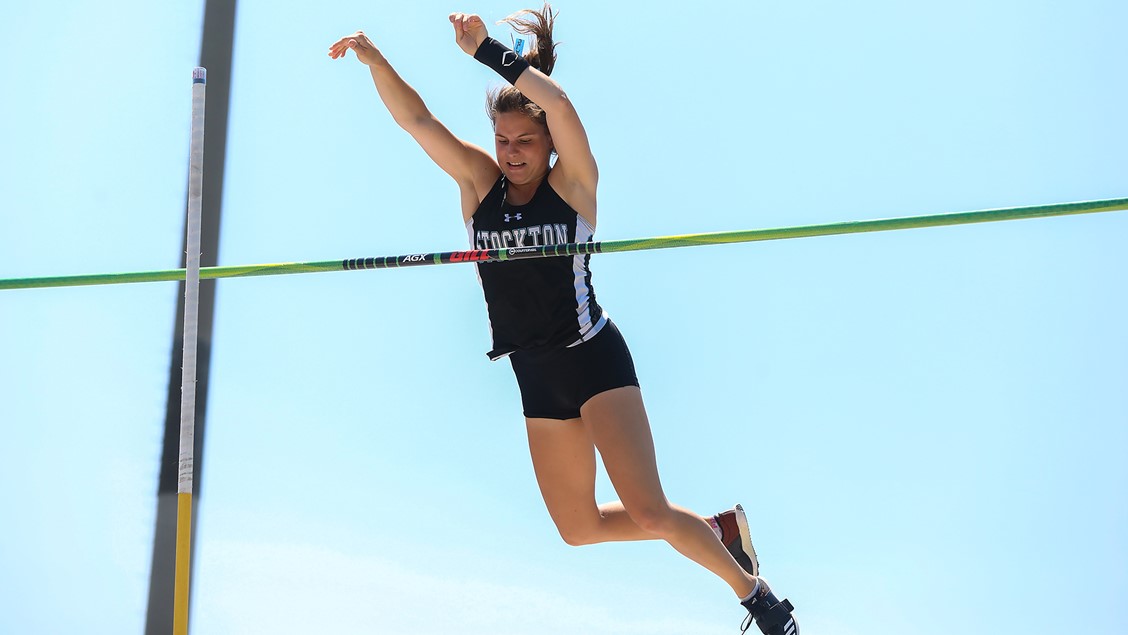 Preston Fifth, Holland T-Ninth at NCAA Championships
Two Stockton University pole vaulters competed at the NCAA Division III Outdoor Track & Field Championships, which are taking place at the Irwin Belk Track Complex on the campus of North Carolina A&T State University, May 27-28.
Lauren Preston, pictured, qualified for All-American status by placing fifth in the women's pole vault. Keith Holland tied for ninth in the men's pole vault. Preston and Holland each were competing at an NCAA championship meet for the first time in their careers.
---
Athletic Director Kevin Mchugh Announces Retirement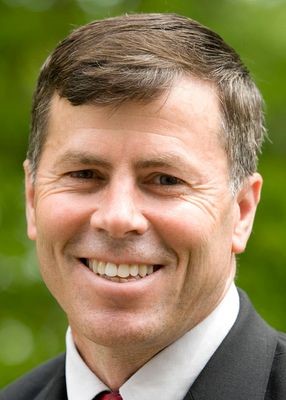 Stockton University Executive Director of Athletics Kevin McHugh has announced his retirement, effective June 30. McHugh arrived at Stockton in July 2017 and headed the Osprey athletic department for four years. His retirement concludes a distinguished career in athletic administration that spanned more than four decades.
"We expected a lot from Kevin when he joined Stockton, and he more than delivered," said Stockton President Harvey Kesselman. "He led Stockton's athletic programs and student-athletes to greater recognition. He kept the staff and athletes motivated and connected during the pandemic. His work on the Athletics Task Force Report has set the stage for athletics programs and facilities into the future. We wish him all the best on his retirement."
⚾️ Catch more athletic news here
WE'RE HERE TO HELP
🧠 Stockton provides faculty and teaching staff with professional development, training, teaching ideas, resources and individual consultations via the Center for Teaching and Learning Design (CTLD). Visit the CTLD events page for a variety of workshops.
🧪 Stockton is offering FREE COVID-19 testing to students and employees at K141, now-Aug. 31. Go to Stockton University Testing to schedule a test. Visit Health Care now provides antigen rapid tests, which take 15-20 minutes to receive results. Students and employees may choose that option when they arrive at their appointment.
💉 Faculty, staff and students can check with their local providers and schedule a COVID-19 vaccination appointment. Stockton will require students to get the COVID-19 vaccine for the Fall 2021 semester. Vaccination is currently voluntary but strongly encouraged for employees.
🔴 Students and employees no longer receive a daily health pledge email. A link for reporting is accessible on the Employee and Student Life tabs in the goStockton portal. Complete if you are experiencing COVID-19 symptoms, are not vaccinated and have been exposed to COVID-19, are not vaccinated and returning from international travel, or have tested positive for COVID-19. If you are feeling ill, do not come to campus, notify your manager and see your doctor if necessary.
You may voluntarily report if you have been vaccinated. The link is included in the Employee section of the goStockton portal; personal information remains confidential. A daily report is on the coronavirus website.
If you have an appointment to be vaccinated during your normal work hours, you do not need to utilize personal sick time. When completing your timesheet you will record these hours under the "CV19SickSelf" code to cover that time. If you use this code, you must submit your vaccine documentation to Joyce Wilson in Human Resources at Joyce.Wilson@stockton.edu. If you have already submitted sick, personal or vacation time for a COVID-19 vaccine appointment, you can submit a payroll recap form through stockton.edu/payroll.
OSPREY NOTES
Online Leadership Program Approved
Stockton University's Office of Continuing Studies has expanded its Online Leadership Program to support local government workers.
Eleven courses in the Online Leadership and Social Worker Continuing Education Program are now approved for Continuing Education (CE) Hours by the State of New Jersey Division of Local Government Services. Stockton is one of just two universities in the state approved to offer these courses.
🚔 Distracted Driving Video PSA
Stockton University Police Department has shared a series of Public Service Announcement videos on their website that address a number of campus community issues.
🎬 Watch the most recent one here that raises awareness about distracted driving.
Read the SCOSA Newsletter
Read the Stockton Center on Successful Aging (SCOSA) June newsletter for interesting upcoming events and newly added programming.
Division of Administration & Finance May 2021 Newsletter
Read the Division of Administration & Finance May 2021 Newsletter here. Highlights include Accounts Payable updates, Payroll updates, fiscal year end and other reminders.
UPCOMING EVENTS