Stockton News - Friday, May 24, 2019
WHAT WE'RE TALKING ABOUT
Fulbright Scholar Vijaya Heads to Sri Lanka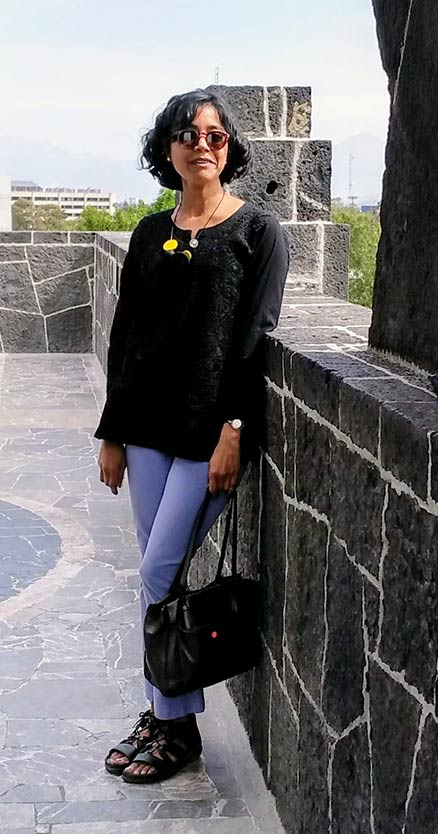 Ramya M. Vijaya, professor of Economics at Stockton University, received the 2019-20 Fulbright U.S. Scholar Award that will take her to the University of Peradeniya in Kandy, Sri Lanka.
There, Vijaya will help support curriculum development efforts for a new initiative expanding activity in teaching and research in Gender Analysis in Economics at the graduate level within the Department of Economics and Statistics for Fall 2019.
During the fall semester, she will present a series of seminars on research methods and will help support the development of collaborative research projects with Master and MPhil level DES students and faculty. They will focus specifically on research related to the declining labor force participation rates of women in Sri Lanka and a comparative analysis of women and work in different stages of economic development in Asia.
"I am excited about this opportunity since it connects my research interest in gender and economics with my passion for global engagement. I have been a strong supporter of various global perspectives initiatives at Stockton and have been inspired by our Global Studies Minor students and faculty to pursue new connections," Vijaya said. "I look forward to bringing back new perspectives and networks from this experience and continuing to support the expansion of global engagement on campus."
---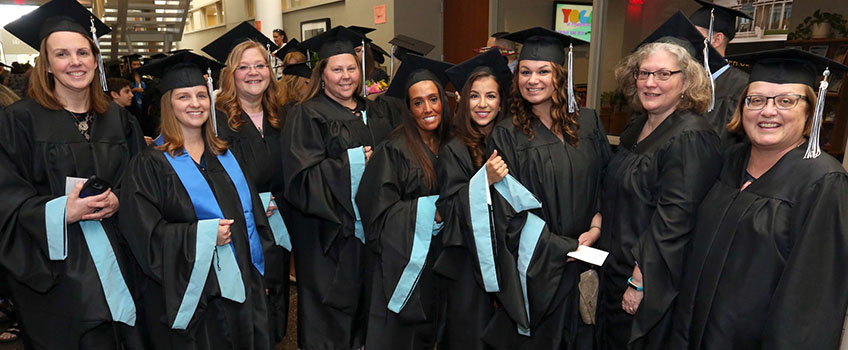 Partnership Helps 10 Teachers Earn Masters in Education
It took six years, but 10 teachers from Cape May and Cumberland counties received their Master in Education degrees at Stockton University's Graduate School Commencement May 8 through a partnership with the N.J. Department of Education and sponsorship by a Stockton donor.
---
Read the Spring 2019 Issue!
In our Spring issue of Stockton Now, we celebrate Stockton "founders" – the visionaries who were part of Stockton's beginnings and current alumni who have pursued their own entrepreneurial dreams, as well as the success of Stockton's rowing program under the leadership of John Bancheri, the University's first full-time rowing coach.
STOCKTON UNIVERSITY ATLANTIC CITY
State Higher Education Officials Meet with Students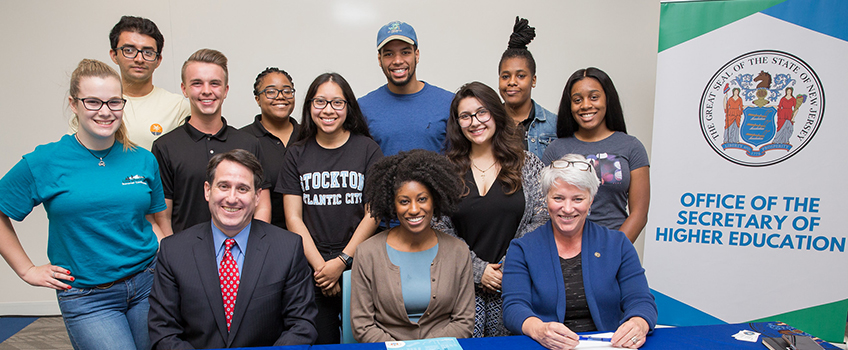 Paying for college is difficult, obtaining financial aid can be complicated and confusing, and high schools should start helping students plan for college far earlier than their senior year a panel of Stockton University students told state higher education officials at a roundtable discussion at the Stockton Atlantic City Residential Complex.
The Press of Atlantic City covered the discussion.
SPOTLIGHT ON
Hrybava Receives U.S. Citizenship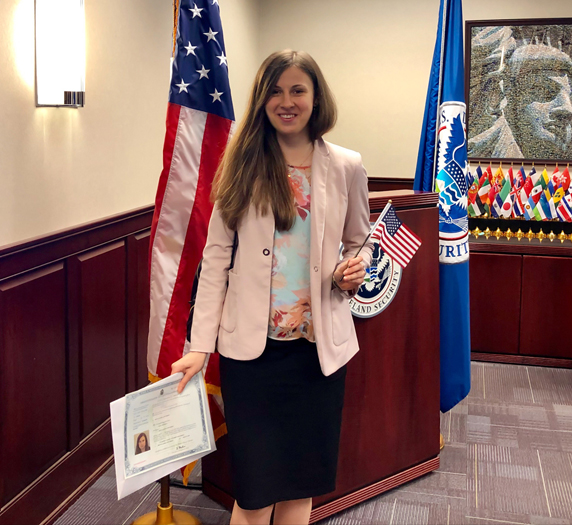 Darya Hrybava, events and communications specialist for the William J. Hughes Center for Public Policy at Stockton University, recently received her United States citizenship. Her naturalization ceremony also took place on the same day, which is not the norm.
"In most states the ceremony happens about six to eight weeks after the interview, but New Jersey is one of two states that offer the opportunity of having both the test and the ceremony on the same day," Hrybava shared in a post for the Policy Hues – William J. Hughes Center for Public Policy Blog that describes the process she went through to accomplish such a tremendous goal.
Physical Therapy Student Grows from Hands-On Experience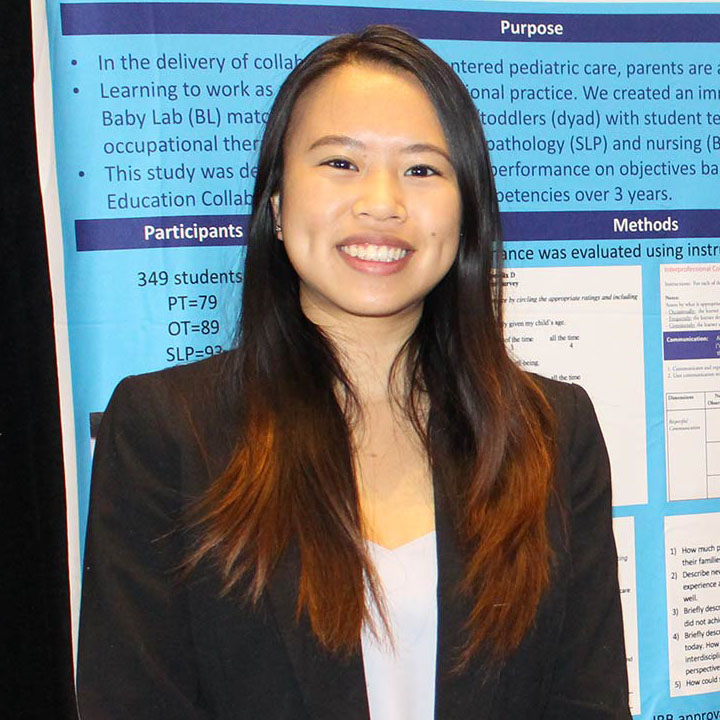 Ziwei Li aspires to be a physical therapist working in the home care or outpatient orthopedic setting one day. Li, who is currently enrolled in the Doctor of Physical Therapy Program at Stockton University, is gaining the experience and knowledge needed to help her realize those goals.
Grullon Shares Advice on Applying to College with 700 High School Students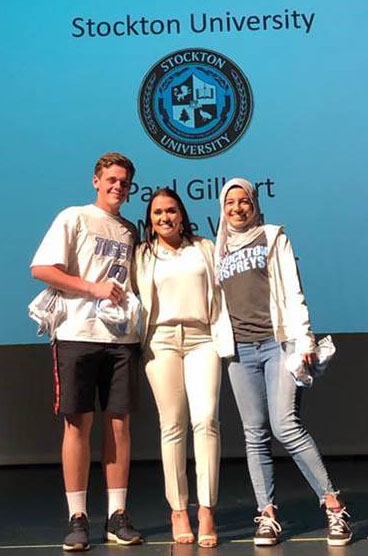 Jessica Grullon, assistant director of Admissions, had the opportunity to share helpful advice on the college application process with 700 students at Lower Cape May Regional High School's College Decision Day Assembly on April 29.

"Students and teachers alike appreciated that a representative from Stockton took time to provide helpful advice on the complexity of such a life-changing decision," Grullon said. "It was so good to see these students celebrate seniors going into the service, attending trade schools and committing to a college/university."
FRAME-WORTHY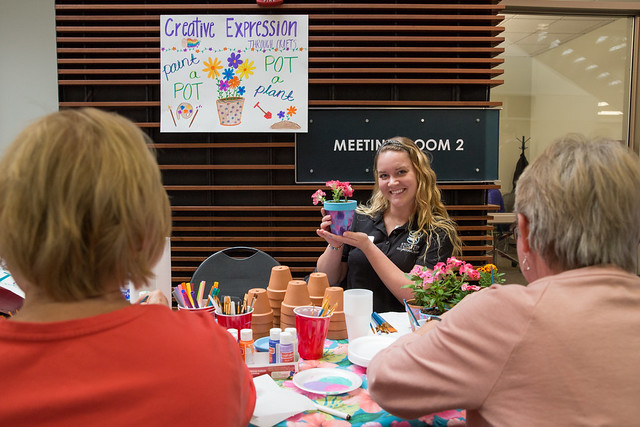 Successful Aging Festival Gets Older Adults Involved
"Successful aging is simple," said former Congressman Ambassador to Panama William J. Hughes. "You just have to stay involved."
Hughes was among the speakers and programs at the annual Successful Aging Festival, sponsored by the Stockton Center on Successful Aging, or SCOSA, at Stockton's Campus Center on May 16.
Speakers said today's older adults are working longer, living longer and staying active longer, and have needs and interests that businesses, universities and society as a whole should address.
WHAT'S TRENDING #STOCKTONU
Facebook: Stockton students are writing and filming untold stories of Atlantic City. May 2019 graduate Shannon Joyce looks at jazz through the decades and how education is keeping traditions alive. Stories of Atlantic City is a collaborative project that uses storytelling to strengthen the community.
Read more about the students' projects here.
THE SIDELINES
Swedlund Voted to Google Cloud Academic All-District 2 Team
Stockton University sophomore Luc Swedlund was voted to the Google Cloud Academic All-District 2 Men's At-Large Team by the College Sports Information Directors of America (CoSIDA). Swedlund, a sophomore who plays lacrosse, has a 3.82 grade point average as a History/Education major at Stockton.
'ROLE' CALL
Stockton News Editor Accepts Position at Saint Joseph's University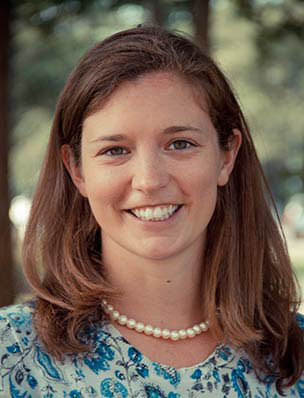 Meaghan Haugh Resta, editor of Stockton News and Stockton Now, has accepted a position as editorial director at Saint Joseph's University and will be leaving Stockton. Her last day is Thursday, May 30. During her time as director of Publications & Special Projects, she has produced 14 editions of Stockton Now and countless editions of Stockton News, among many other contributions to projects in University Relations & Marketing and campus-wide. She will be greatly missed, but we wish her the best of luck in her new venture.
"Meaghan's creativity and leadership on significant projects and initiatives made a tremendous impact at the University. I am proud to see Meaghan take a new step in her career and build upon her success at Stockton," said Geoffrey Pettifer, executive director of University Relations & Marketing.
OSPREY NOTES
Normal Academic Hours Next Week; Closed Monday
As a reminder, the University will follow normal academic hours next week and will be closed for Memorial Day on Monday, May 27. All offices are open minimally from 8:30 a.m.- 5 p.m., Tuesday-Friday.
Strategic Planning Summer Learning Sessions Announced
Dates and times for the Strategic Planning Summer Learning Sessions have been announced: Money, Money, Money: Financial Sustainability, 9:30 a.m.-3:30 p.m., Tuesday, May 28, in the Campus Center Board of Trustees Room; This is Me: Diversity & Inclusion, 9:30 a.m.-3:30 p.m., Thursday, June 6, in the Campus Center Board of Trustees Room; Rock 'Enroll' is Here to Stay: Strategic Enrollment Management, 9:30 a.m.-3:30 p.m., Wednesday, June 19, in the TRLC; What a Wonderful World: Teaching and Learning, 9:30 a.m.-3:30 p.m., Thursday, June 20, in the Campus Center Event Room; Hall of Fame: Inclusive Student Success, 11 a.m.-4:30 p.m., Thursday, June 27, in Room 101 of the Unified Science Center 2. Sign up for these sessions here.
A new Strategic Plan draft is available for review and can be accessed by logging into your GoStockton portal.
Choose Summer at Stockton
Stockton's summer sessions are open to undergraduate and graduate students enrolled in degree programs, non-matriculated students, and students currently enrolled at other institutions who wish to study during their summer break and transfer Stockton credits.
UPCOMING EVENTS
Summer Camps at Stockton: Students Solve a Murder, Go to Trial at CSI Camp
Wednesday, May 29: 9 a.m., Stockton University Board of Trustees Open Public Special Meeting to discuss Atlantic City Phase II Project, President's Office Conference Room K203r
Saturday, June 1:2019 GLJ Legacy Ride
Tuesday, June 4: Transfer Open House
Thursday, July 18: Pinelands Summer Short Course
Tuesday, July 23: Transfer Open House