Stockton News - May 20, 2022
WHAT WE'RE TALKING ABOUT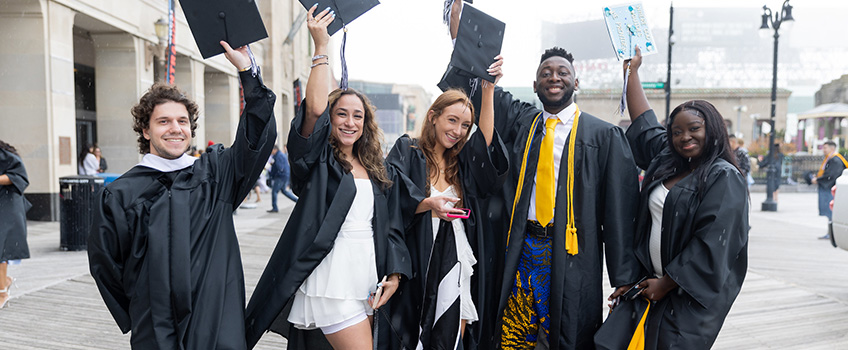 Stockton Graduates 2,700 at Commencement
Members of Stockton University's Class of 2022 were encouraged by speakers at Commencement ceremonies May 13 to use their voices and skills to take on new challenges in their own lives and to benefit their communities.
"I may not know your story or your struggles, but today I know your success as we are gathered here to celebrate our achievements together," said Alyssa Erin Lopez De Guzman of Bergenfield, the student speaker for the morning ceremony, who received a Master of Science degree in Communication Disorders.
🥂 Congratulations to all Stockton employees who received degrees at this year's Commencement Ceremony, including Brittany Boone, Budget and Financial Planning, Master of Business Administration; Amanda Copes, Stockton's Speech & Audiology Clinic, Ed.D. in Organizational Leadership; Jessica Ehlers, Bursar's Office, B.A. in Business Studies; Mary Gibson, adjunct, School of Health Sciences, Ed.D. in Organizational Leadership; Kimberly Gotthold, Fiscal Affairs, Master of Business Administration; Laurie McNally Griscom, Event Services and Campus Engagement, Ed.D. in Organizational Leadership; Nicholas Hitzel, Universi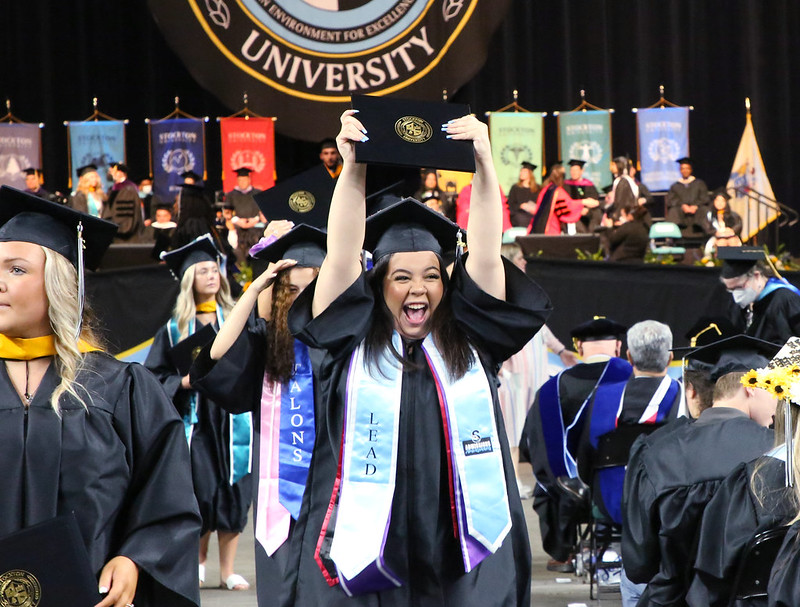 ty Relations & Marketing, M.A. in Instructional Technology; Abigail Laird, School of Business, M.A. in Instructional Technology; Joselyn Peoples, Accounts
Payable, Master of Business Administration; Roxana Perez Nieves, Enrollment Management, M.A. in Counseling; Chad Roberts, WLFR, Ed.D. in Organizational Leadership; and Lt. Tracy Stuart, Stockton Police Department, Ed.D. in Organizational Leadership.
📰 In the News: The Press of Atlantic City, Downbeach.com
📸 View photos from the morning ceremony.
📸 View photos from the afternoon ceremony.
---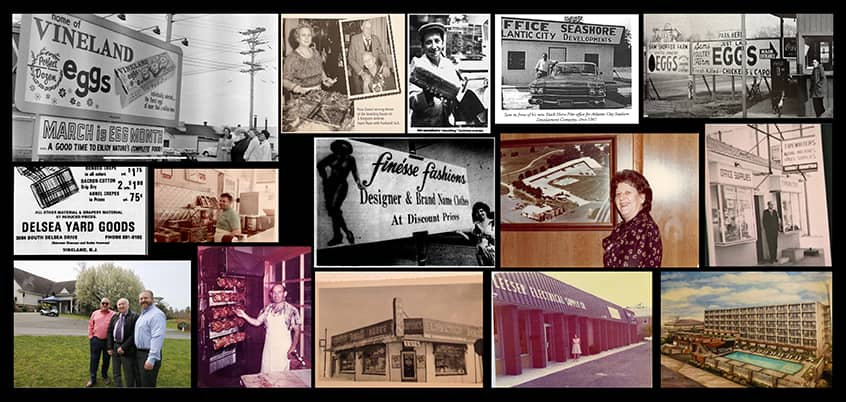 Project Tells Stories of Holocaust Survivor-Owned Businesses
Egg farming gave many Holocaust survivors a chance to start a new life in rural southern New Jersey. But many survivors expanded that opportunity into other successful businesses. Twenty-six of those businesses in Atlantic, Cape May and Cumberland counties are profiled on a website and presentation, "Holocaust Survivor-Owned Businesses in South Jersey."
The presentation was created for the Sara & Sam Schoffer Holocaust Resource Center at Stockton University by political science major George Quinn of Mays Landing. Quinn received a Stockton University Board of Trustees Fellowship for Distinguished Students to work on the project with Michael Hayse, associate professor of Historical Studies.
---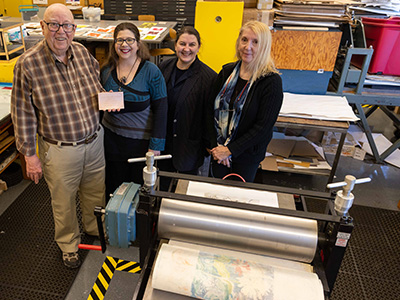 Artist's Legacy Continues in Printing Press Donated to Stockton
When June Ann M. Sullivan of Little Egg Harbor passed away in 2021, she left behind a legacy of art, nurtured through her business, Watermark Gallery in Tuckerton.
That legacy is now continuing at Stockton University through the donation by her family of her printing press and supplies.
"I am just so delighted to see it here being used," said her husband, Gene Sullivan, as he, daughter Dawn DeZan and friend Diane Tomash toured the room in the Arts and Sciences Building with Associate Professor of Art Mariana Smith, who teaches printmaking at Stockton.
---
Stockton Named to PTK Transfer Honor Roll
Stockton University is among 171 colleges and universities nationwide named to the 2022 Transfer Honor Roll by Phi Theta Kappa Honor Society, which recognizes the achievements of students at associate-degree and community colleges.
STOCKTON UNIVERSITY ATLANTIC CITY

Students Attend Stockton AC Summer Experience Orientation
The first of two orientations for the Stockton Atlantic City Summer Experience was held on May 17 at the Atlantic City campus and yielded a great turnout. Students were welcomed by Leamor Kahanov, provost and vice president for academic affairs, and Brian Jackson, chief operating officer of Stockton University's Atlantic City campus, and participated in team-building and networking exercises, met the faculty teaching the course and received an overview of the summer course. The morning session concluded with a Q&A.
The second orientation will be held on Tuesday, May 31. Learn more about the Stockton Atlantic City Summer Experience here.
SPOTLIGHT ON: PATRICIA REID-MERRITT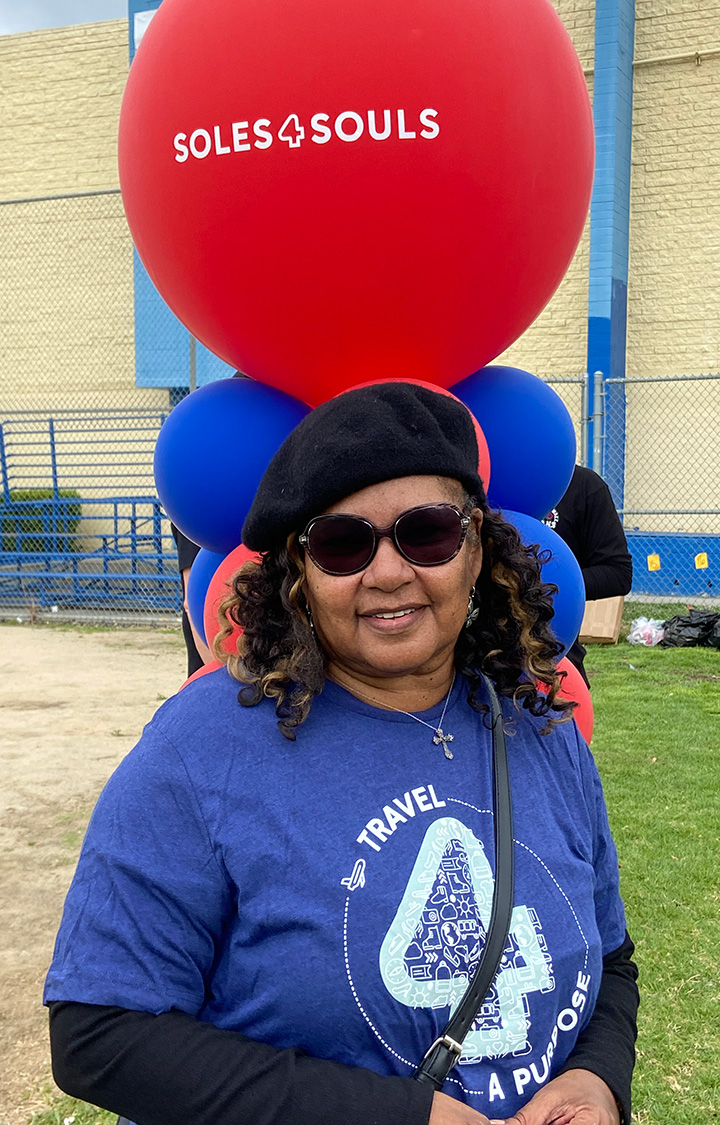 Patricia Reid-Merritt, Distinguished Professor of Africana Studies and Social Work, has been partof many successful charity drives during her time at Stockton. For more than a decade, she led the initiative for the Loose Change Project, held in conjunction with the Annual Fannie Lou Hamer Human and Civil Rights Symposium and co-sponsored by the Social Work Club
"Over the years we raised thousands of dollars, the most successful in the first year of the campaign when $1,500 was donated to the Fannie Lou Hamer Memorial Statue Fund. Other nonprofit projects received support in subsequent years," she reflected.
Her passion for helping others in need led her to recently serve as a Goodwill Ambassador to Soles 4 Souls, a national and international nonprofit organization that distributes free shoes in economically disadvantaged communities. DSW, the shoe company, put out the call, looking for 10 people willing to travel to Honduras to distribute free shoes to children in several local communities.
FRAME-WORTHY
🩺 Nursing Program Holds 13th Pinning Ceremony
The School of Health Sciences held its 13th annual Nursing Pinning Ceremony on May 12 in the Campus Center Theatre.
Judith Schmidt, the chief executive officer of the New Jersey State Nursing Association, was the keynote speaker.
Thirty-five students in the Class of 2022 celebrated earning their Bachelor of Science in Nursing. The Academic Scholar Award went to two students: Sarah Naumchik and Devyn Richter. The Dr. Mary Ellen Florence Nurse Practice Award went to Mariabella Ferraina, and the Excellence in Student Leadership Award was presented to Bailey Farrell.
WHAT'S TRENDING

@ #STOCKTONU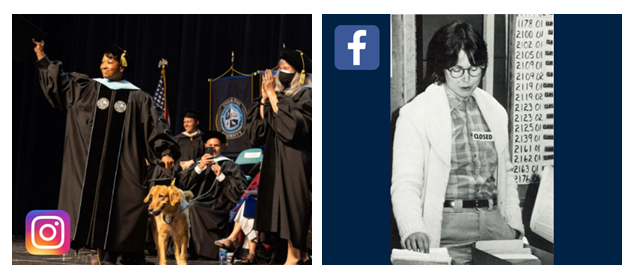 Instagram: K-9 Freya isn't camera shy, especially when she's wearing a 🎓 cap and gown and proudly walking with her mom Lt. Tracy Stuart, who earned a Doctor of Education in Organizational Leadership at Commencement.
Facebook: "We learned to walk a mile in someone else's shoes," said Dawn Celona about Penny Dugan's class, "The Personal Essay."
FROM THE SIDELINES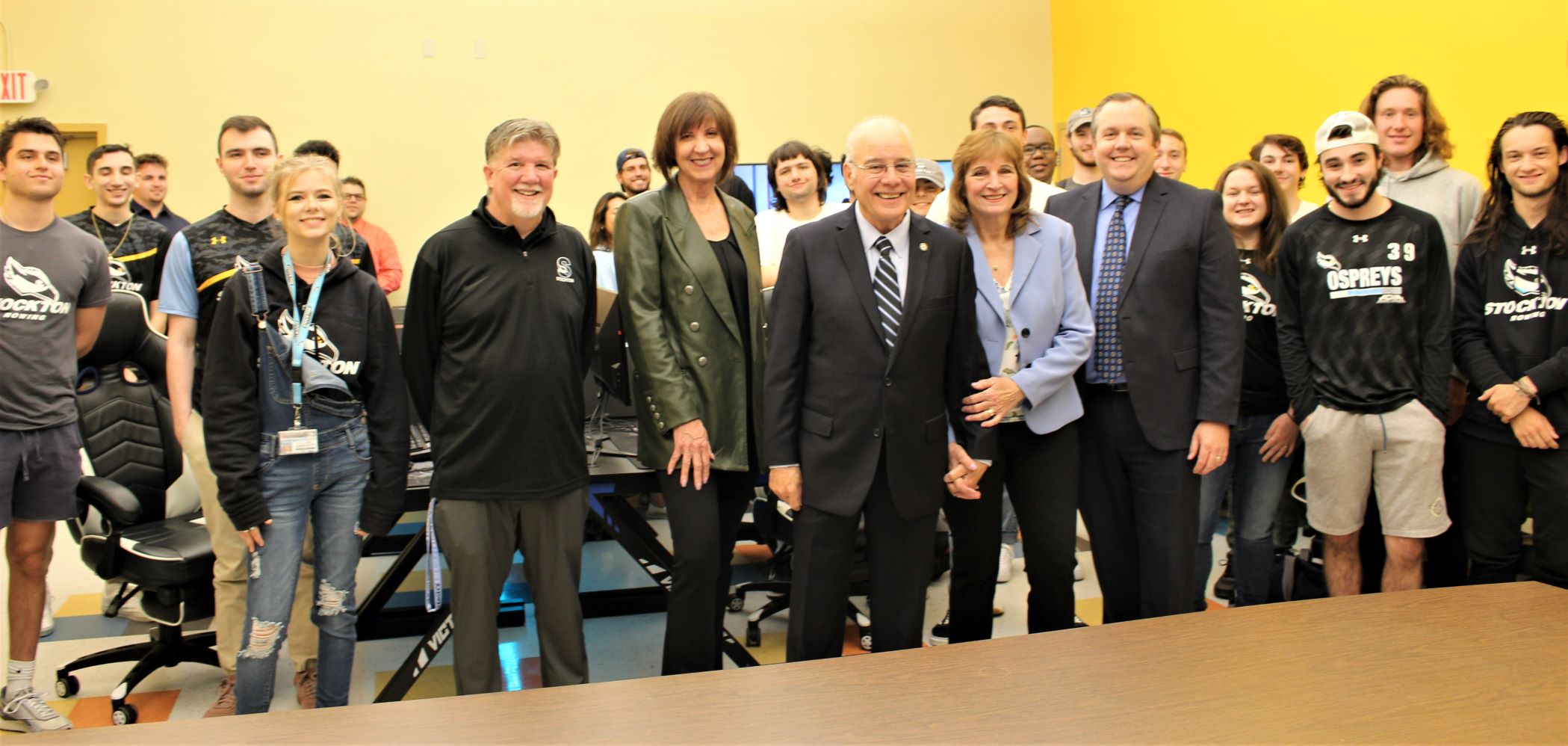 Kesselman Fund Will Support Club and Intramural Sports
Stockton's table tennis team may not be as well-known as the N.J. Athletic Conference champion men's basketball team, but a new fund endowed by President Harvey Kesselman and First Lady Lynne Kesselman will help them and other club teams attend competitions and enhance their presence on and off campus.
The Kesselmans signed an agreement May 5 in the Stockton esports gaming room creating the $25,000 Kesselman Club Sports & Intramurals Achievement Fund. The fund will help pay for costs such as tournament entry fees and travel for students in the more than 20 club and intramural sports at Stockton.
📰 In the News: The Press of Atlantic City
---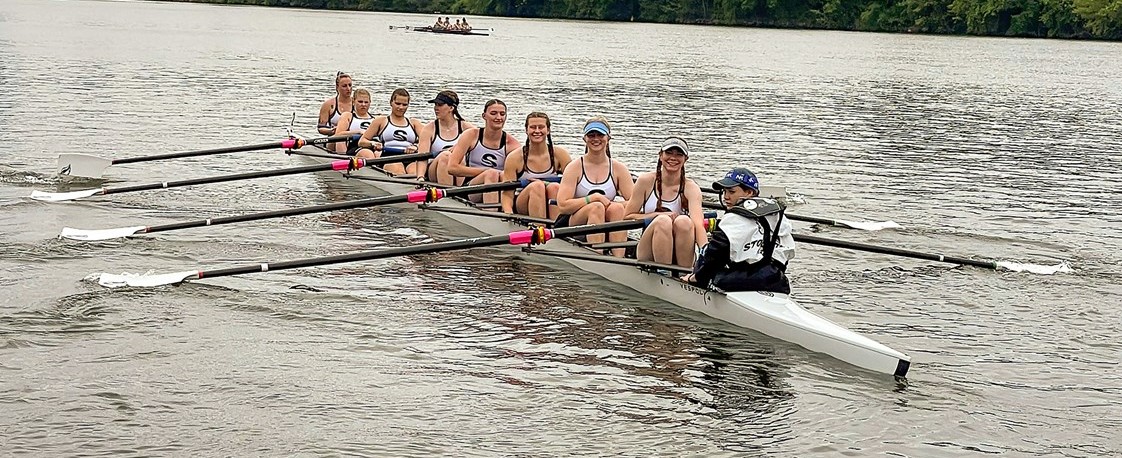 Stockton Fourth in Varsity Eighth at Dad Vail
Rowing: Stockton finished fourth out of six teams in the grand final of the Women's Varsity Heavyweight Eight (Division III) at the Dad Vail Regatta on May 14. The Ospreys missed out on a medal by less than a second in a virtual dead heat with Marietta College for third place.
The Osprey eight was led by Emily Culmone, Carrie Alpin and Nicole Iatarola all of whom were All-Mid Atlantic Rowing Conference selections this season.
---
Stockton Downed by #1 Salisbury in NCAA Second Round
Men's Lacrosse: Stockton (17-3) was eliminated from the NCAA Tournament on May 14 with a 22-13 defeat to No. 1 ranked Salisbury University (19-1) in the second round. The Ospreys, winners of 15 straight entering the game, stayed close to the top-ranked team in Division III throughout the first half.
Sean Haddock led Stockton with a team-high four goals followed by Reegan Capozzoli with three goals. Dante Poli scored twice for the Ospreys.
OSPREY NOTES
☀️ Summer Hours Begin this Monday, May 23
The summer work schedule will begin the week of Monday, May 23, through the week of Monday, Aug.19. The University will remain open on Fridays, but employees do have the option of a four-day workweek. Hours of operation for the University during this time will be 8 a.m.-5:15 p.m., Monday through Friday.
The University will be closed Monday, May 30 (Memorial Day), Friday, June 17 (Juneteenth), and Monday, July 4 (Independence Day.) During these weeks, Stockton will follow a normal academic year work schedule (8:30 a.m. – 5 p.m.) and there will not be a summer schedule option.
---
Honor Societies Induct New Members
Stockton University honor societies embraced the return to in-person events on campus with events inducting new members for the 2021-2022 year. Here, view a list of some of the students who have been recognized at individual ceremonies.
---

Stockton Sentiments and Memories . . .
"MLK Day of Service, I was crying and Brian Pluchino (who I didn't even know at the time) saw me and bought me a travel-size pack of tissues. He's the best ever, and some of my favorite memories were being in Circle K after that. And as a sister of Zeta Tau Alpha. ZLAM!"
- Gianna Graw '18
Have a memory you'd like to share in celebration of Stockton's 50th anniversary? Submit it here.
UPCOMING EVENTS