Stockton News - Friday, May 17, 2019
WHAT WE'RE TALKING ABOUT
More than 1,800 Stockton Grads Leap to New Heights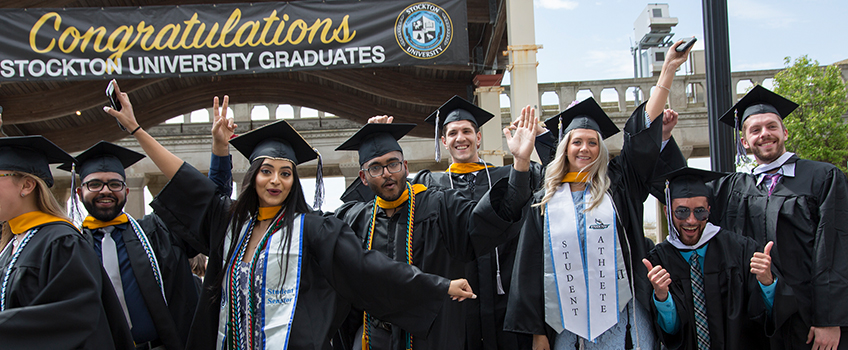 There were cheers, a few tears and a lot of photographs taken on the Atlantic City Boardwalk and beach May 10 as more than 1,800 undergraduates and 10,000 guests celebrated Commencement at Jim Whelan Boardwalk Hall on a beautiful spring day.
The graduates were told that while they may face failures, they are strong enough to keep fighting for their dreams.
The Galloway Patch and the Press of Atlantic City highlighted the commencement, and The Cape May County Herald featured Congressman Jeff Van Drew delivering the keynote address. The Galloway Patch also posted a feature on Stockton grad Luana Cordeiro's inspiring story.
Check out our Instagram story highlight.
Congratulations to the following Stockton employees who received degrees at the Baccalaureate Commencement Ceremony: Daniel Anner, professional services specialist, B.S. in Computer Science; Tammy Chance, SASI seasonal specialist, B.S. in Social Work; Erin Rossell, education program assistant, B.A. in Psychology; and Catharine Tarquinio, professional services specialist.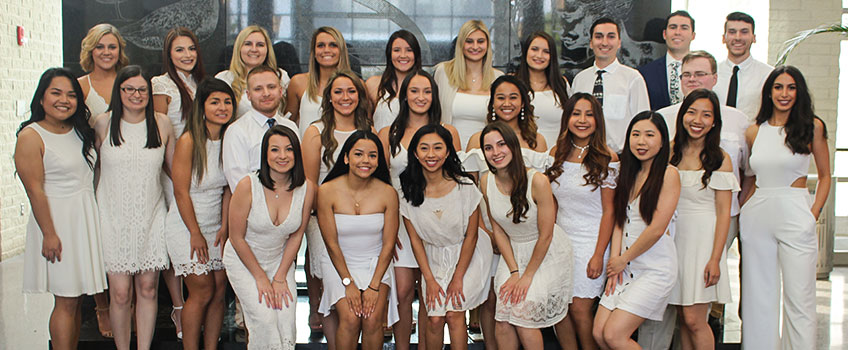 Nursing Pinning Ceremony Recognizes 27 BSN Graduates
Twenty-seven Stockton University Nursing students were recognized at the Bachelor of Science in Nursing Pinning Ceremony on May 9 in the Campus Center Theatre.
The event's keynote speaker was Donna Bonacorso, chief nursing officer and vice president for Patient Care Services at Community Medical Center in Toms River, New Jersey. Bonacorso discussed her nursing background and extended her well wishes to the new graduates.
---
Stockton Finishes Season with Medal at Dad Vail Regatta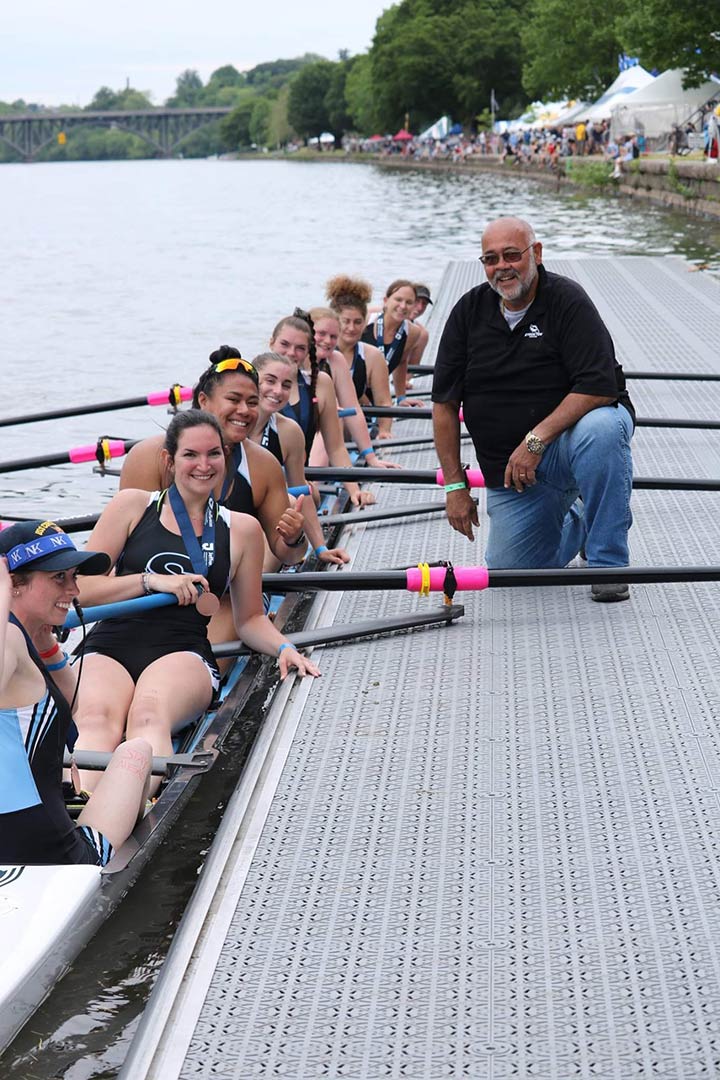 Stockton University finished the 2018-19 season by competing in the 81st Dad Vail Regatta, the largest collegiate regatta in North America with over 100 colleges and universities participating. Stockton rowed in the Dad Vails for the first time since 2011 and made some history while competing in three women's events, May 10-11.
Stockton finished third out of six in the DIII Varsity Eight with a time of 6:51.539 to earn a bronze medal on May 11 and became the first Stockton boat to snag a medal at the Dad Vails since a women's pair won silver in 1998. The Ospreys, who trailed only Vassar and Washington College (MD) in the race, also became the first varsity eight in school history ever to medal.
To cap off a terrific season, Stockton Rowing is ranked 20th nationally in the most recent row2k Collegiate Rowing Poll for DIII and #121 for all rowing programs combined (DI, DII, DIII).
PHOTO: The Women's Rowing Team with first-year head coach John Bancheri at the Dad Vail Regatta. | Photo by Theresa Bancheri
---
New Online Cannabis Certificate Program Begins at Stockton
Stockton University's Office of Continuing Studies is offering a new, online, non-credit certificate program in Cannabis Studies. This program was developed to address a growing demand for training for people interested in entering the cannabis industry, either as growers, medical cannabis providers, or individuals involved with business and/or legal aspects of the industry.
---
Stockton Receives Grants for Barnegat Bay Projects
The New Jersey Department of Environmental Protection (NJDEP) recently awarded Stockton University two grants totaling $525,000 to continue restoration efforts in the Barnegat Bay estuary, the largest coastal bay in New Jersey.
Since 2012, Stockton has been working to improve the ecological health of the bay by focusing on oyster restoration and SAV – submerged aquatic vegetation and seagrass – through grants funded by the Barnegat Bay Partnership.
STOCKTON UNIVERSITY ATLANTIC CITY
Jersey Shorecast Panelists Predict Good Season at the Shore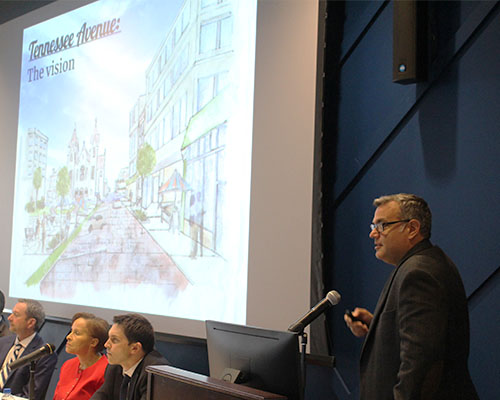 A strong economy, low unemployment and diverse offerings should make 2019 a good summer for the Jersey Shore, a panel of experts said at the 11th annual Jersey Shorecast, sponsored by the Lloyd D. Levenson Institute of Gaming, Hospitality and Tourism at Stockton University on May 9 at the new Stockton Atlantic City Academic Center.
"There was more competition in Atlantic City in 2018 with two new casinos, but there was also more advertising and marketing which had a positive impact," said Brian Tyrrell, professor of Hospitality and Tourism Management Studies at Stockton. "People have more disposable income, and that is good for this industry."
Revised Summer Shuttle Schedule
The Atlantic City shuttle schedule has been revised to support students attending evening classes Monday through Thursday. The *added service will be one-way only from the Galloway campus to the Atlantic City campus.
The revised schedule is in effect as of May 15 and is: Monday - Thursday, 7:30 a.m., 8:45 a.m., 10 a.m., 11:15 a.m., 12:30 p.m., 1:45 p.m., 3 p.m., 4:15 p.m., 5:45 p.m., *8:30 p.m., and *9:45 p.m.; Friday, 7:30 a.m., 8:45 a.m., 10 a.m., 11:15 a.m., 12:30 p.m., 1:45 p.m., 3 p.m., 4:15 p.m., and 5:45 p.m.; and Saturday-Sunday, 10 a.m., 11:30 a.m., 1 p.m., 2:30 p.m., 4 p.m., 5:30 p.m., 7 p.m., and 8:30 p.m.
In addition, the shuttles will not operate on Memorial Day (Monday, May 27) or Independence Day (Thursday, July 4).
SPOTLIGHT ON
Hemi, Stuart Win Second USPCA Championship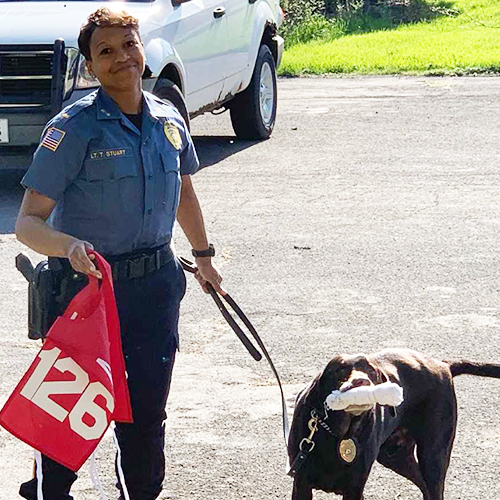 The Stockton University Police Department K9, Hemi the chocolate lab, and his handler, Lieutenant Tracy Stuart, had another explosive performance at the 2019 United States Police Canine Association (USPCA) National Detector Dog Trials, bringing home the title of the top explosives detection team in the nation for the second year in a row.
This annual event, held this year in Albany, New York from May 5-8, brings certified detector dogs and their handlers together for training, certification, and competition.
Student Project Benefits Peers in Need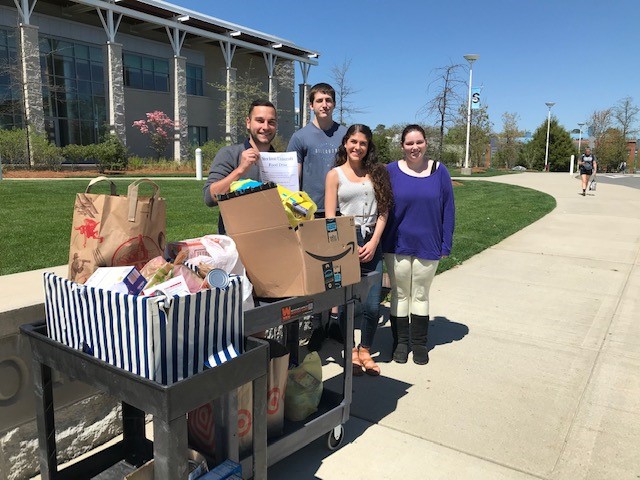 Peter Adamopoulos '20, a junior Business Finance major, recently spearheaded a food drive with classmates in his Social and Ethical Considerations of Business class to help fellow students in need. The class was taught by Shawn Zakar, adjunct faculty of Business Studies, at Stockton University at Manahawkin; and his project team included Kevin Stewart, Alexandria Vira, Sarah Adams, Andrew Kelly and Erika Retamar.
Adamopoulos and his group collaborated with Enterprise Rent-A-Car in Manahawkin and Seabreeze Ford in Belmar to create a food drive to benefit Stockton's Food Assistance Program. The drive ran for two months, starting in the beginning of March and ending at the close of April. The students posted on social media, made fliers and reached out to family and friends to build awareness about the project.
"When my group and I first started this project, we all knew that we wanted to do something that would benefit people who have maybe fallen on tough times. When we heard about Stockton's Food Pantry and realized how many of our peers were struggling to afford meals on a daily basis, we knew that setting up a food drive and donating everything to the food pantry was exactly what we wanted to do," said Adamopoulos of Manahawkin.
At the end of the drive, they gathered the donations and met with Monica Viani, professional services specialist for the Dean of Students; and Carol LoBue, associate supervisor for the Vice President of Student Affairs Office, who accepted them and made sure they were distributed to the pantry.
"It was truly a pleasure for my group and I to run this food drive and we are incredibly happy to say that it was very successful and will assist to provide food for a lot of our peers in need," Adamopoulos said.
PHOTO: From left to right, Peter Adamopoulos, Kevin Stewart, Alexandria Vira and Sarah Adams.
Marketing Seniors Use Sales Skills at FOX Sales Challenge
Three Stockton University seniors James Pearson, Jose Rivera Sinclair and Thomas Bekete (pictured from left to right) participated in the 2019 Collegiate FOX Sales Challenge, hosted by Temple University's Fox School of Business, on April 7 in Philadelphia. The students are all Business Studies majors with Marketing concentrations in Associate Professor of Business Studies/Marketing Amit Mukherjee's Personal Sales and Sales Management class.
"The opportunity to network with regional sales managers, company recruiters and other students that are studying to be good salesman was one of the most valuable aspects of the event," Pearson said. "There was even a mentorship portion where students could ask about the role play, career advice and general questions. I found it a great learning experience and would recommend it to future business students. The event has a lot of opportunity for those willing to seize it."
"Competitions like the FOX Sales Challenge allows our marketing students an opportunity to test their sales techniques and skills in real-life scenarios; and compete against and collaborate with similarly interested students from across the Greater Philadelphia region," Mukherjee said.
FRAME-WORTHY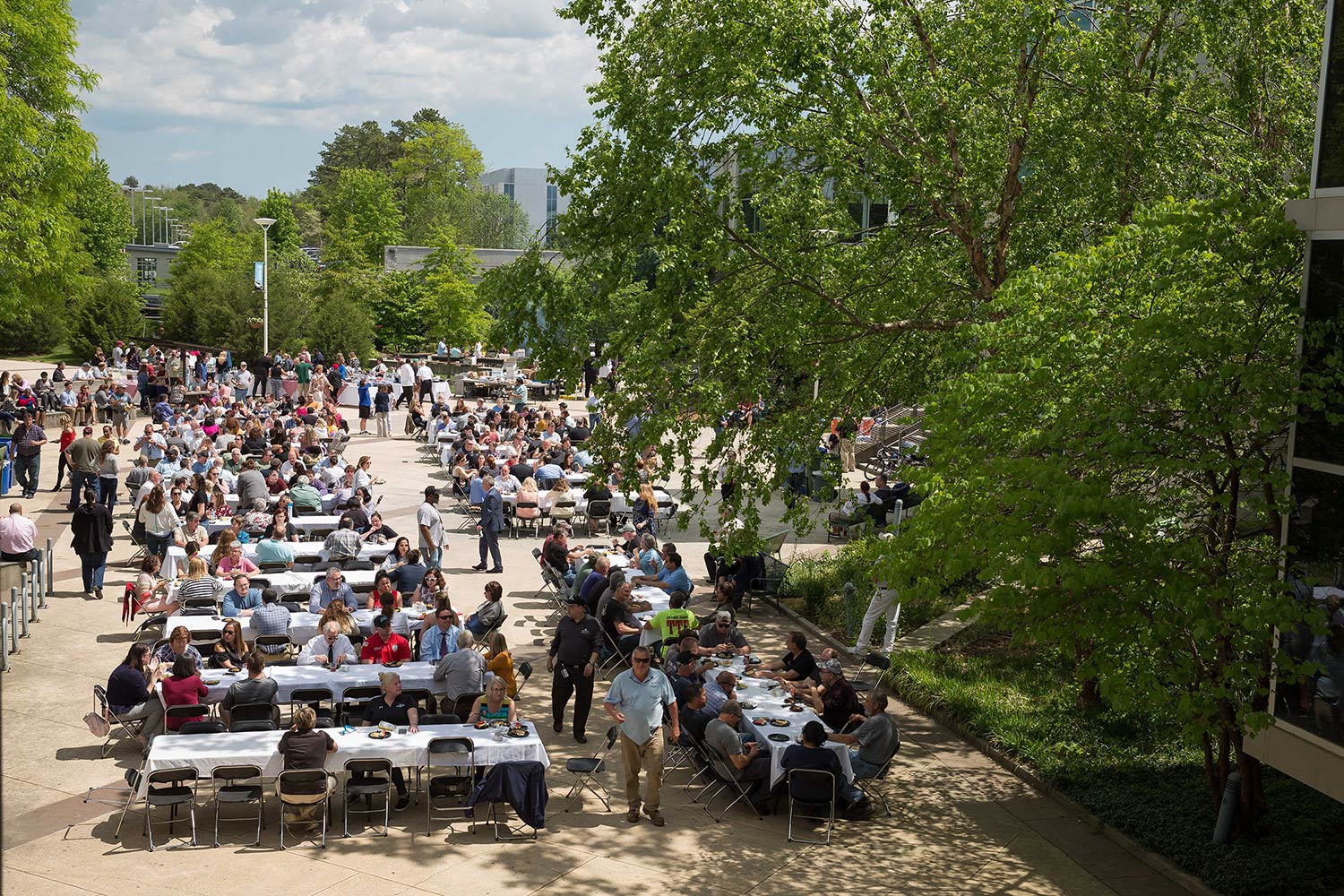 Campus Community Gathers for Food, Fellowship
The Stockton University Community Barbecue for faculty and staff was held on May 16, in the D-F Wing Plaza of the Galloway Campus. This annual event is a way to celebrate the successful completion of another academic year that was filled with growth, change and accomplishments.
It is sponsored and supported by a partnership between the Communication Workers of America (CWA), Stockton Federation of Teachers (SFT), IFPTE Local 195, the Office of the President and Human Resources.
See this Facebook post for additional photos.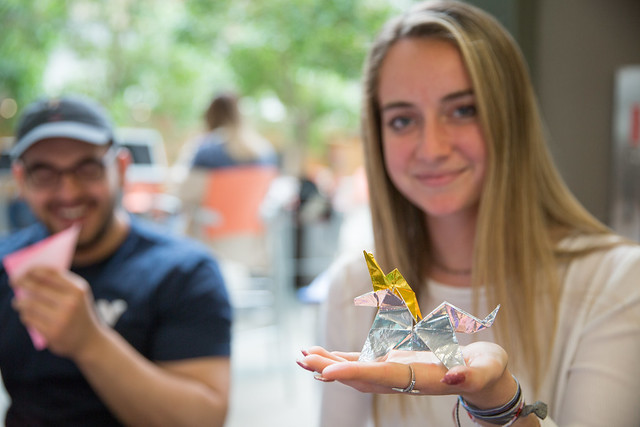 Flashing Back to Intricate Folds
#FlashbackFridaying (that's a verb, right?) to the 2019 Origami Showcase held on April 17 in the lower E Wing Gallery and lower F Wing Atrium of the main campus. The showcase is part of a course, The Art & Math of Origami, taught by Norma Boakes, associate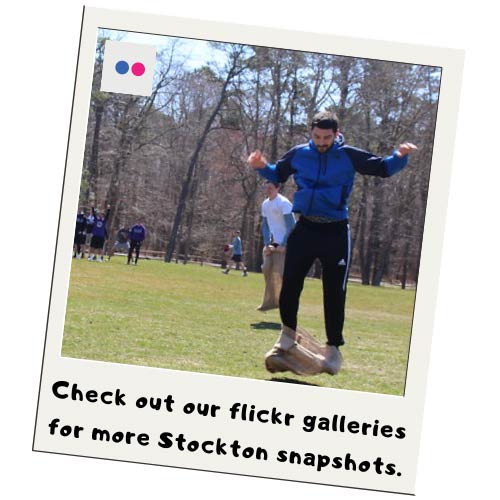 professor of Education.
This year's theme was "entertainment," where students created origami inspired by travel, video games, television series, books, movies and music.
If you weren't able to attend, check out this Facebook video Boakes took during the event.
See the flickr gallery for more photos.
WHAT'S TRENDING #STOCKTONU
Facebook: #WildlifeWednesday: Join Stockton's resident birding experts, John Rokita and Lester Block, for a guided bird walk at Forsythe's First Annual Bio Blitz this Saturday at 8 a.m. Bring binoculars, bug spray and sunscreen. Rokita and Block are both Stockton graduates who work for the Stockton University School of Natural Sciences and Mathematics.
THE SIDELINES
D'Amico &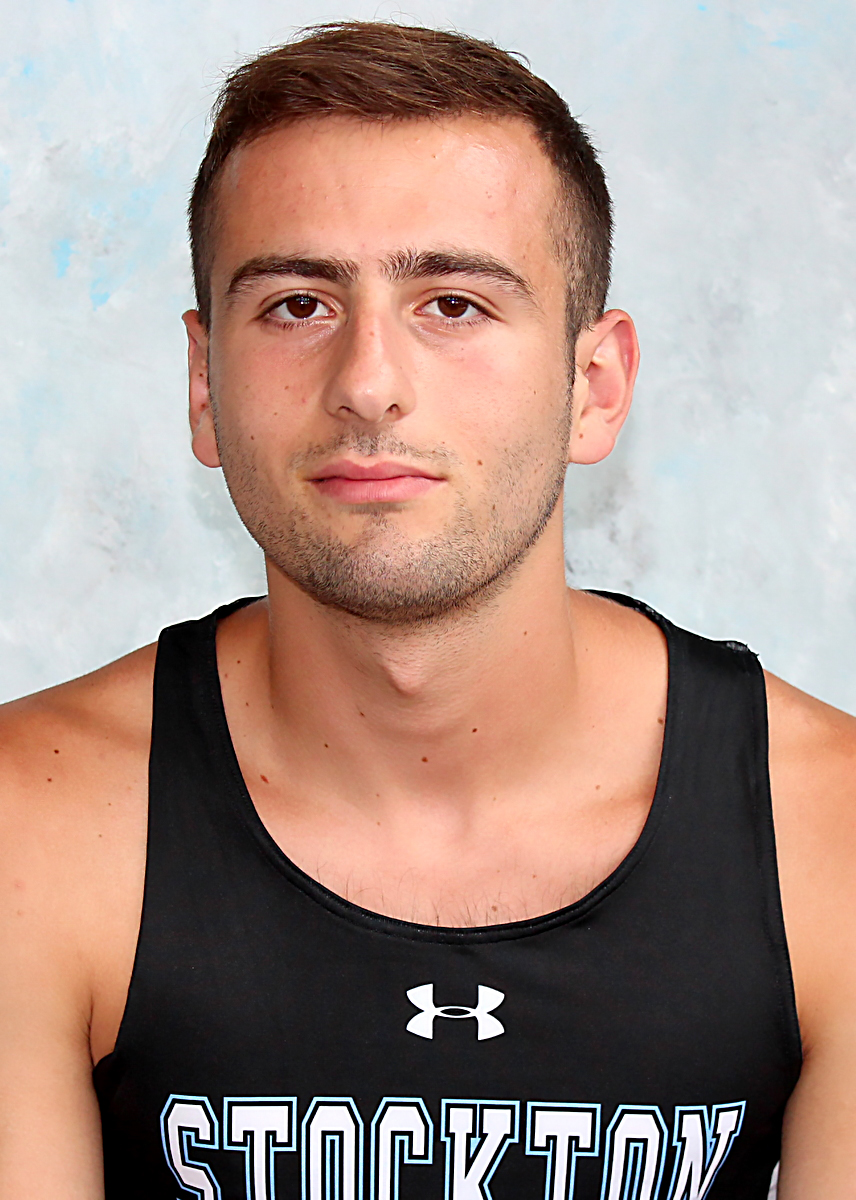 Strychowski Get NJAC Awards; 12 Earn All-Conference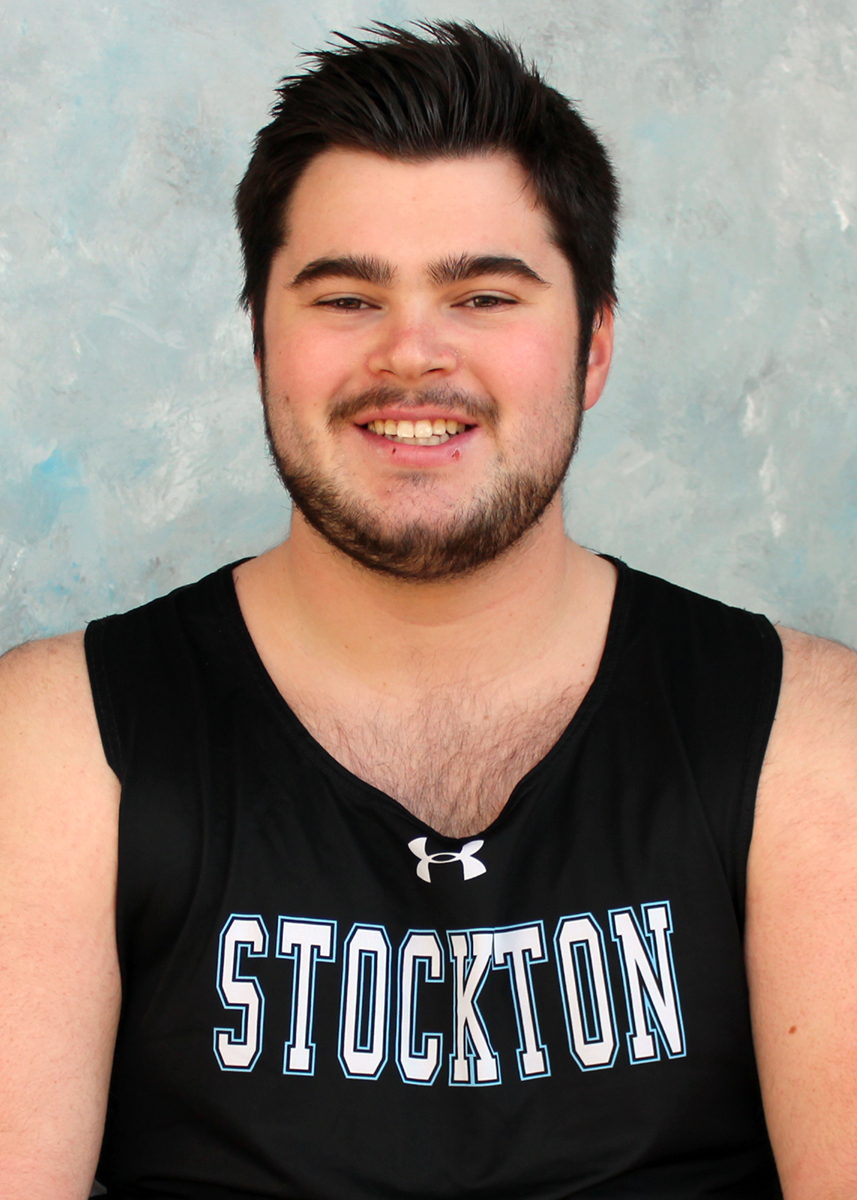 Stockton University men's track & field team members received two major NJAC postseason awards for the 2019 season. Tom Strychowski (right) was voted Thomas M. Gerrity Co-Most Outstanding Athlete and Joe D'Amico (left) was chosen NJAC Co-Outstanding Track Athlete.
OSPREY NOTES
Strategic Planning Summer Learning Sessions Announced
Dates and times for the Strategic Planning Summer Learning Sessions have been announced: Let's Work Together: People, Communication and Shared Governance, 9:30 a.m.-3:30 p.m., Monday, May 20, at Lakeside Lodge; Money, Money, Money: Financial Sustainability, 9:30 a.m.-3:30 p.m., Monday, May 28, in the Campus Center Board of Trustees Room; This is Me: Diversity & Inclusion, 9:30 a.m.-3:30 p.m., Thursday, June 6, in the Campus Center Board of Trustees Room; Rock 'Enroll' is Here to Stay: Strategic Enrollment Management, 9:30 a.m.-3:30 p.m., Wednesday, June 19, in the TRLC; and What a Wonderful World: Teaching and Learning, 9:30 a.m.-3:30 p.m., Thursday, June 20, in the Campus Center Event Room. Sign up for these sessions here.
A new Strategic Plan draft is available for review and can be accessed by logging into your GoStockton portal.
Choose Summer at Stockton
Stockton's summer sessions are open to undergraduate and graduate students enrolled in degree programs, non-matriculated students, and students currently enrolled at other institutions who wish to study during their summer break and transfer Stockton credits.
UPCOMING EVENTS
Tuesday, June 4: Transfer Open House
Thursday, July 18: Pinelands Summer Short Course