Stockton News - May 14, 2021
WHAT WE'RE TALKING ABOUT
Perseverance, Optimism Define Class of 2021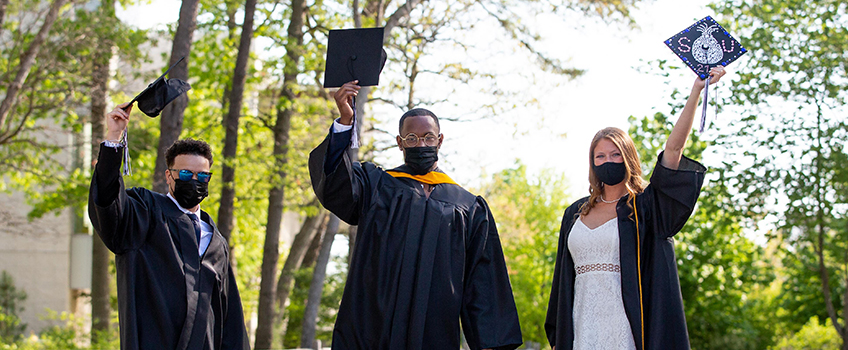 Perseverance, resilience and optimism were the themes of the Stockton University Commencement ceremonies held May 11-13.
"In the last year you have experienced challenges in our world that have baffled minds and broken hearts," President Harvey Kesselman said. "But, to our amazement, these same challenges have sparked new ways of thinking and generated faith in causes bigger than ourselves."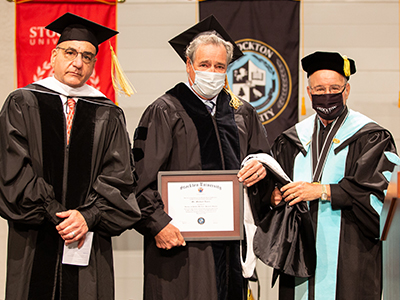 Area philanthropist and businessman Michael Azeez was awarded an honorary doctorate for his community work and support of Stockton.
📸🎓 See more photos from the ceremonies on Flickr.
📰 Read The Press of Atlantic City's feature and view their gallery
Stockton Welcomes Four New Trustees
Stockton University welcomed four new members to its Board of Trustees at the May 5 board meeting. The addition of Rev. Collins A. Days, Sonia Gonsalves, Michelle Keates and Jose Lozano represents a historic expansion of the board, from 12 members to 15.
Four Nurse Practitioners Earn Doctoral Degrees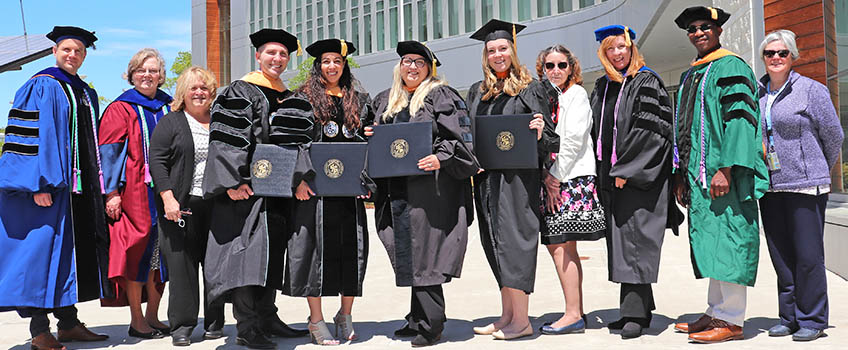 As nurse practitioners, Holly Ann Donald, Lisa Mason and Shawn and Kelsey Denning are used to patients asking if they are doctors.
They can now say yes.
The four are the first graduates of the Stockton University Doctor of Nursing Practice program. They received their diplomas at the May 12 Commencement.
First Master's in Counseling Cohort Graduates
Abe Velasquez wants to help underserved communities in his hometown of Atlantic City.
Joseph Black of Mullica Township is a Marine Corps veteran who served two deployments to Afghanistan and came home realizing the need for more mental health services for veterans in South Jersey.
Nurses Pinned on National Nurses Day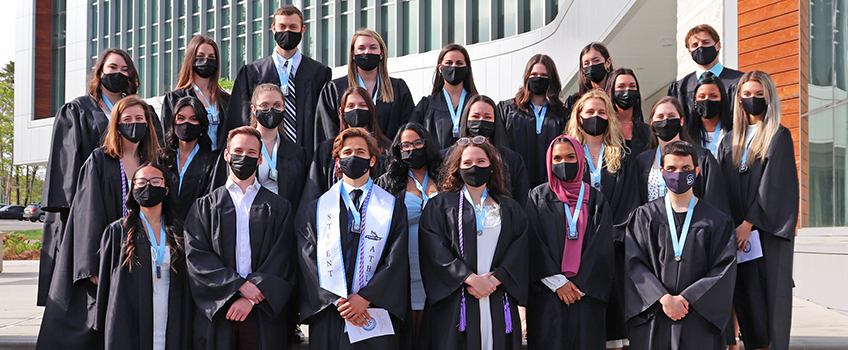 Graduates of Stockton University's Bachelor of Science in Nursing Class of 2021 received their pins and took the Nightingale Pledge on May 6, National Nurses Day.
---
Terrapins Get a Head Start at Stockton … and People Are Talking About It Worldwide
With so much of the news focusing on serious and dire issues, 826 Diamondback terrapin hatchlings getting their head start at Stockton's Vivarium seemed to be the story that everyone needed, Jimmy Fallon (fast forward to 5:25) included.
📰 🐢 The feature was picked up by People.com, INSIDER, OCNJ Daily, Newsweek, CNN, FOX 5 New York, 6 ABC Action News, nj.com, Nerdist, The Press of Atlantic City, Cape May County Herald, FOX 40 and more from around the globe.
STOCKTON UNIVERSITY ATLANTIC CITY
Jersey Shorecast Panel Predicts Successful Summer
The Jersey Shore is rebounding from COVID-19 restrictions and the availability of ample outdoor activities should help make the summer of 2021 a good season, if not quite yet a full recovery panelists said at the 13th Annual Jersey Shorecast sponsored by the Lloyd D. Levenson Institute of Gaming, Hospitality and Tourism (LIGHT) and held via Zoom on May 12.
They said while people may be back, convention business will recover more slowly. The job loss during the pandemic has created a new hiring dynamic that will take some time to level out.
FRAME-WORTHY: #PhightLikeChad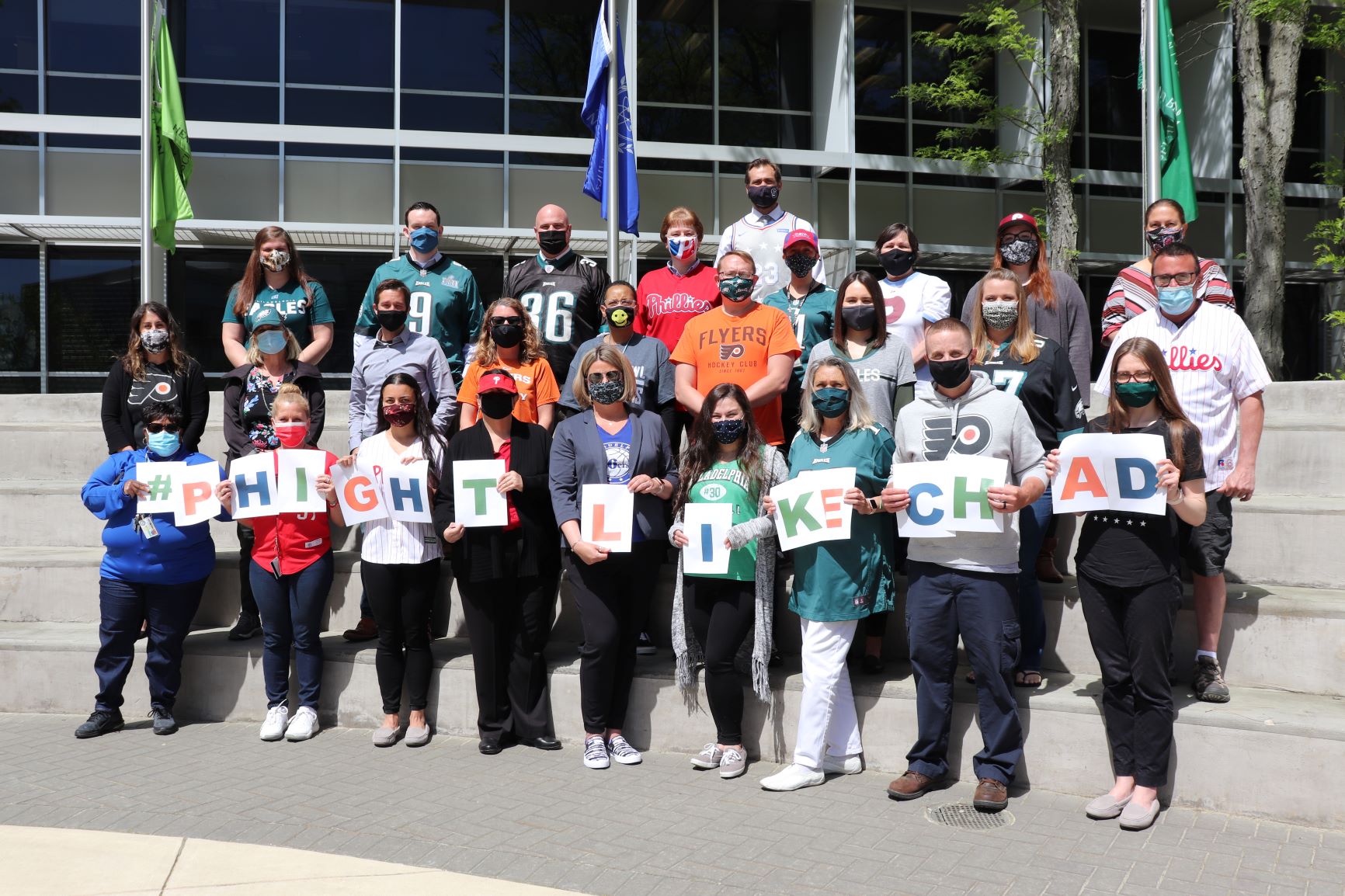 Chad is the son of a member of the Division of Administration & Finance (A&F) who has been sick and fighting for his life in the cardiac unit of the Children's Hospital of Philadelphia (CHOP) since March.
Members of the division are pictured wearing Philadelphia sports teams' jerseys and shirts for Chad, who loves Philly sports. The A&F Family embraces the motto, "#PHIGHTLIKECHAD" to show its support.
WHAT'S TRENDING @ #STOCKTONU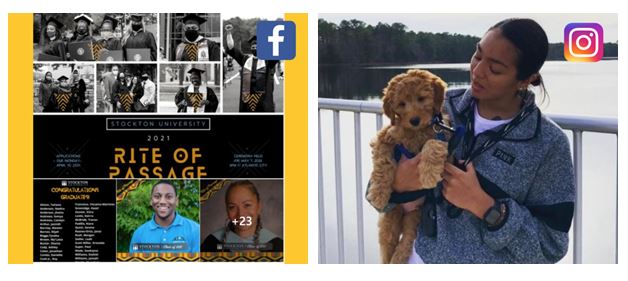 Facebook: "This is your time to stand up and stand firm in your excellence," said Darius Edwards, coordinator for Inclusive Communities & Social Justice Education, at the 2021 Rite of Passage eCeremony.
Instagram: Dear younger self, Thank you for believing in yourself. Life has been a long rollercoaster; you've made mistakes, you've fell, but always rose back up.
FROM THE SIDELINES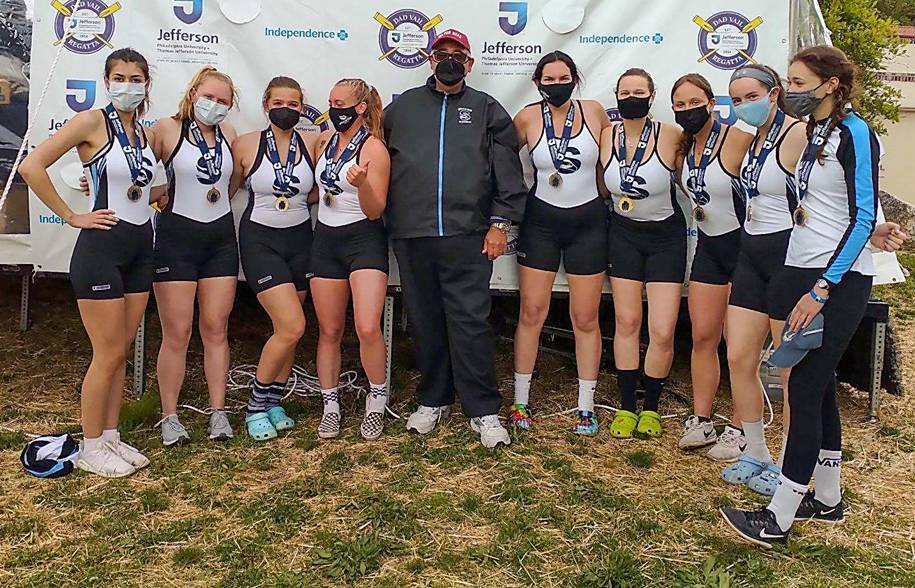 Stockton Varsity Eight Wins Gold at Dad Vail Regatta
Stockton University finished third or higher to earn medals in all three events in which the Ospreys competed at the famous Dad Vail Regatta on May 8, highlighted by a history-making gold medal for first place in the varsity eight. Now in its 82nd year, the Dad Vail Regatta is the largest collegiate regatta in North America.
📰 In the News:The Press of Atlantic City, WPG Talk Radio
---
Foley Receives NJAC Field Award; 13 Ospreys All-Conference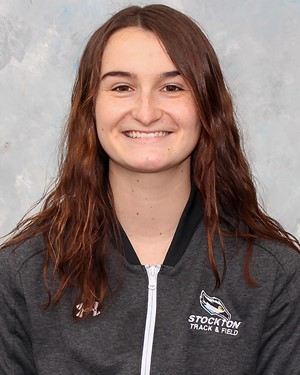 Thirteen Stockton University student-athletes earned NJAC All-Conference recognition in women's track & field, highlighted by junior Susann Foley (pictured), who was voted NJAC Outstanding Field Athlete. Foley also collected a pair of NJAC First Team accolades.
⚾️ Catch more athletic news here
WE'RE HERE TO HELP
🧠 Stockton provides faculty and teaching staff with professional development, training, teaching ideas, resources and individual consultations via the Center for Teaching and Learning Design (CTLD). Visit the CTLD events page for a variety of workshops.
🧪 Stockton is offering FREE COVID-19 testing to students and employees at K141 from May 14-Aug. 31. Go to Stockton University Testing to schedule a test. Visit Health Care now provides antigen rapid tests, which take 15-20 minutes to receive results. Students and employees may choose that option when they arrive at their appointment.
💉 Faculty, staff and students can check with their local providers and schedule a COVID-19 vaccination appointment. Stockton will require students to get the COVID-19 vaccine for the Fall 2021 semester. Vaccination is currently voluntary but strongly encouraged for employees.
You may voluntarily report if you have been vaccinated. The link is included in the Daily Health Pledge email; personal information remains confidential. A daily report is on the coronavirus website.
If you have an appointment to be vaccinated during your normal work hours, you do not need to utilize personal sick time. When completing your timesheet you will record these hours under the "CV19SickSelf" code to cover that time. If you use this code, you must submit your vaccine documentation to Joyce Wilson in Human Resources at Joyce.Wilson@stockton.edu. If you have already submitted sick, personal or vacation time for a COVID-19 vaccine appointment, you can submit a payroll recap form through stockton.edu/payroll.
OSPREY NOTES
First Ospreys Digital Magazine: RISE UP!
Read the inaugural edition of the First Ospreys Digital Magazine: RISE UP! The magazine highlights the continued mission of celebrating, supporting and preparing first-generation students for success. The publication looks to inspire the University's first-generation students as well as faculty/staff to join the continued efforts of supporting this population of students.
UPCOMING EVENTS