Stockton News - May 13, 2022
WHAT WE'RE TALKING ABOUT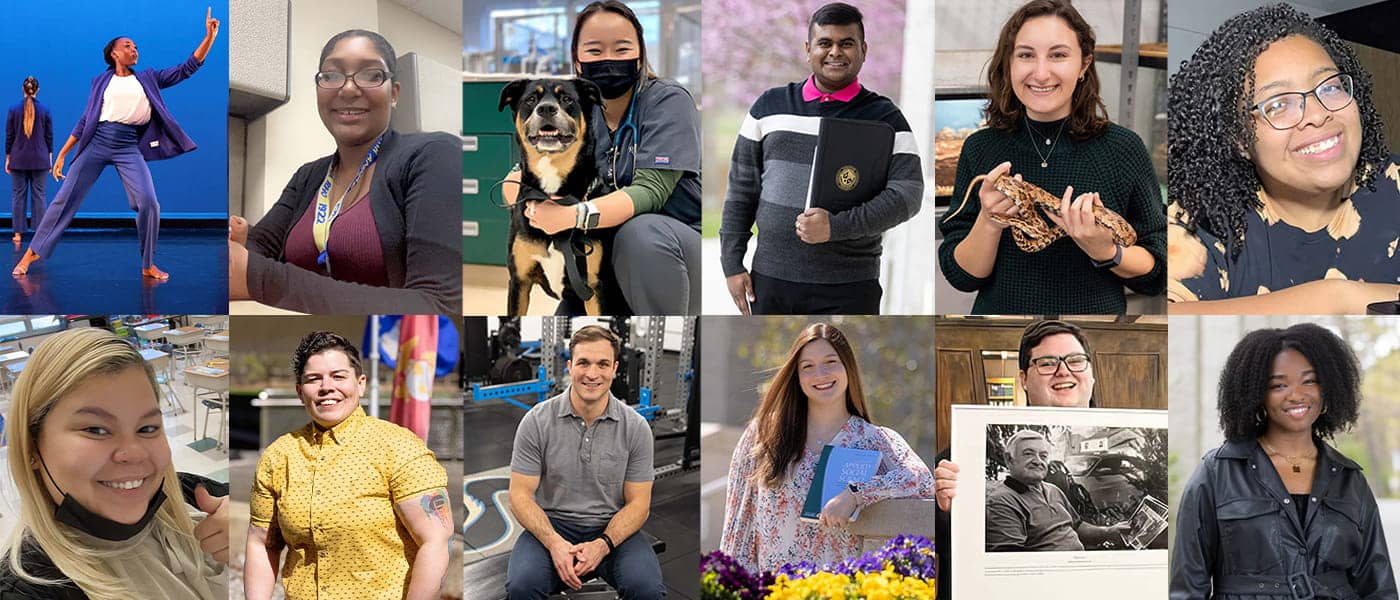 🎓 Congratulations, Class of 2022
Perseverance. Resilience. Optimism. These are traits of Stockton University's Class of 2022.
Each of the more than 2,000 students graduating today, May 13, at Jim Whelan Boardwalk Hall has their own story of obstacles, hardship and adversity that led to the triumph of earning their Stockton degree.
Here, we spotlight 12 of these students and congratulate the Class of 2022.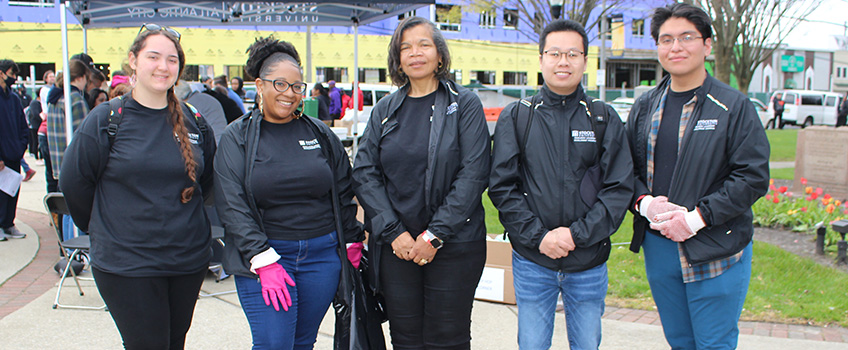 First Cohorts of Engelberg Scholars, MBA HAL Graduating Today
When the first cohort of Atlantic City area students were invited to apply to the Engelberg Leadership Scholarship Program (ELSP) they almost couldn't believe the program would pay all of their tuition, fees, room, board, books and other costs, and provide opportunities to meet and network with community and business leaders.
Fast forward to today, and the four scholars, Loukaia Taylor, Steven Bythe, Elena Gonzalez and Bao T. Pham (pictured with former coordinator Maralyn Mason)are graduating. All said they are honored and grateful to have been part of the first cohort and hope they can serve as role models for the future.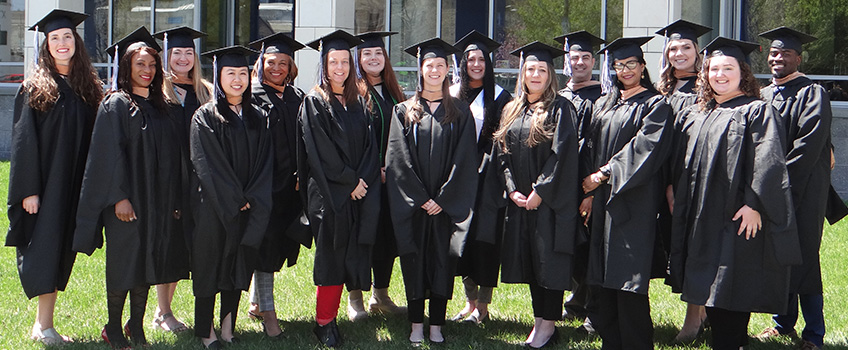 Additionally, the first cohort of 17 students (pictured in their cap and gowns) in the MBA in Healthcare Administration and Leadership program are graduating today.
"This program was designed to provide our graduates with the skills and knowledge necessary to reduce inefficiencies and contribute to care enhancement," said Assistant Professor of Business Studies, Christian Ehiobuche, the MBA-HAL program chair. He cited issues ranging from Medicare and Medicaid to the economics of health insurance, regulation, healthcare reform and social justice in healthcare as issues addressed in the program.
Watch Ceremony Live: 🎥 Catch the 2:30 p.m. ceremony on YouTube here. Fly high, Ospreys! 🦅
Full commencement coverage will be included in next week's edition of Stockton News.
---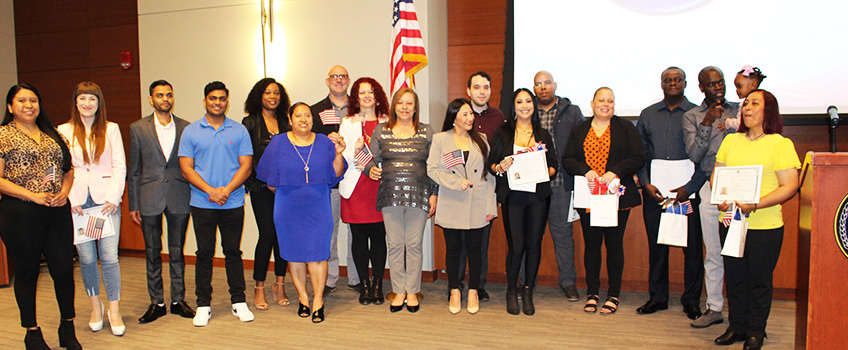 Nineteen Take Oath to Become American Citizens
They came from Colombia, Ghana, India, Poland and Peru years ago to start a new life in America,
On Friday, May 6, 19 natives of 11 countries officially became Americans, taking the Oath of Allegiance in a ceremony at the Campus Center at Stockton University.
📰 In the News: The Press of Atlantic City, Downbeach.com
---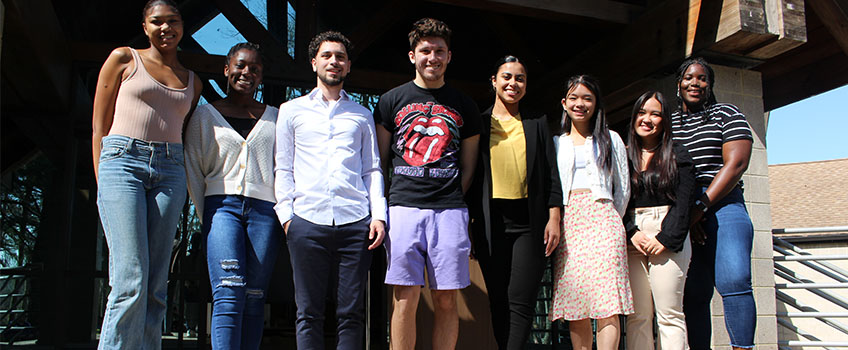 Nine Receive Alan F. Arcuri Pre-Law Awards
Nine Stockton University students were namedrecipients of the Alan F. Arcuri Pre-Law Fund Awards for 2022.
The fund started in memory of Arcuri, a former Stockton professor known for his tireless efforts in advising pre-law students, provides a stipend to cover the cost of a prep program for the LSAT exam, and provides mentors for them as they apply to and attend law school.
Linda Wharton, professor of Political Science and coordinator of the awards, expressed how grateful she was for the mentors, many of them Stockton alumni, for their willingness to assist promising students who are pursuing a career in law. She is also impressed with this year's students.
STOCKTON UNIVERSITY ATLANTIC CITY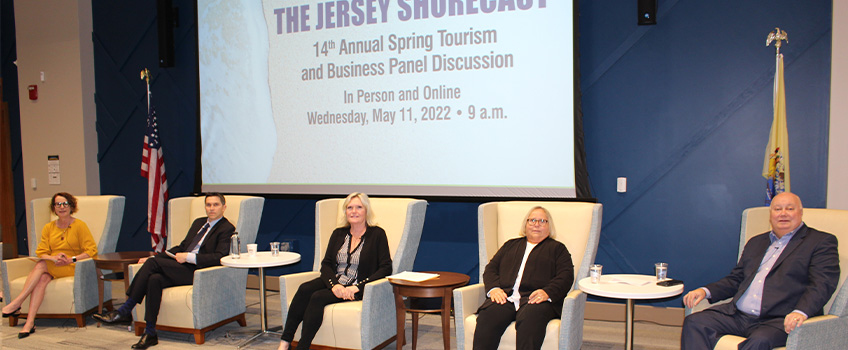 Jersey Shorecast Panel Predicts Strong Summer
The Jersey Shore has recovered economically from the shutdowns caused by the COVID-19 pandemic and is expecting a busy 2022 summer.
That's the main message that came out of the 14th annual Jersey Shorecast on May 11, sponsored by the Lloyd D. Levenson Institute of Gaming, Hospitality and Tourism (LIGHT), Stockton University School of Business.
The seminar, which was also streamed online, was held at the Stockton University Atlantic City John F. Scarpa Academic Center.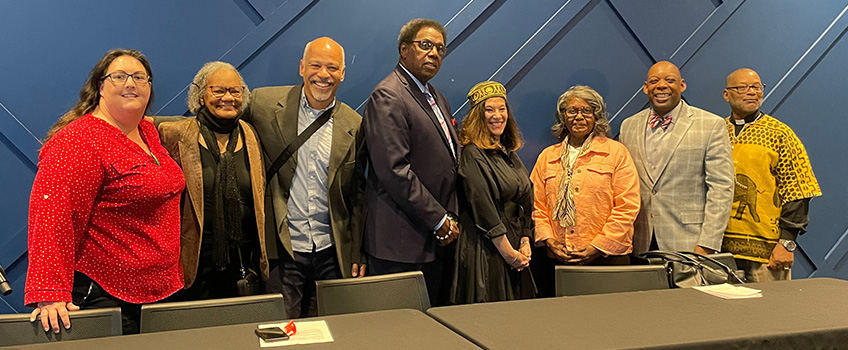 Short Course Highlights African-American History in S.J.
About 100 people braved a May nor'easter to learn about the history of African Americans in South Jersey at the second African American Cultural Heritage Short Course held at the Stockton Atlantic City campus on May 7.
The daylong event was built around the theme "Migration and Movement" and featured speakers, exhibits, films and a book fair, plus a guided tour of the Atlantic City mural project and the Northside.
"Despite the huge rainstorm, everyone showed up," said Diana Strelczyk, assistant director of the Stockton Office of Continuing Studies, a sponsor of the event. This is the second African American short course and Strelczyk said she hopes to build on the event each year. The first short course was held in 2019, but COVID-19 restrictions prevented the event from being held in 2020 and 2021.
🎨 Paint with a Professor for 'Second Saturdays' May 14
Second Saturdays in Atlantic City are a series of family-friendly events, hosted by Stockton University Alumni Relations, held on the second Saturday of every month at Stockton Atlantic City.
Paint with Jacob Feige, associate professor of Art, from 11 a.m.-1 p.m., tomorrow, May 14; all ages and skill levels. Register here.
FRAME-WORTHY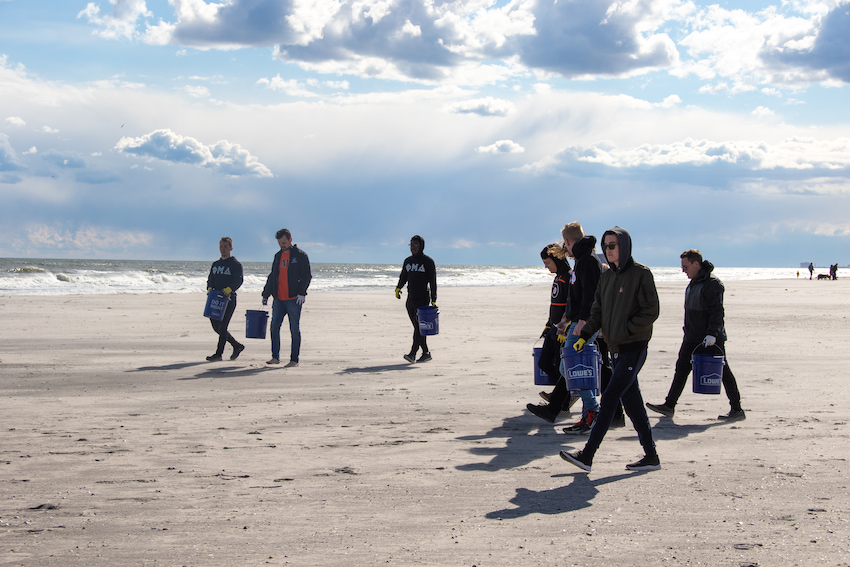 Picture Stockton ... in the Outdoors
Tucked away in the Jersey Pines, one of Stockton's most beautiful features is its natural backdrop. With nature being such a prominent part of our campus identity, the University prides itself on providing this unique environment for students to grow and learn.
Students have discovered how to most effectively utilize the natural environment of our campus recreationally. After being challenged by their classes, students feel freed by getting outdoors. For this reason, our campus has grown host to multiple clubs which represent different special interests in nature.
See how each of these student groups spend time outdoors in this photo story by Chris Melillo, a senior Communications major who was a spring 2022 photography intern in University Relations and Marketing.
WHAT'S TRENDING

@ #STOCKTONU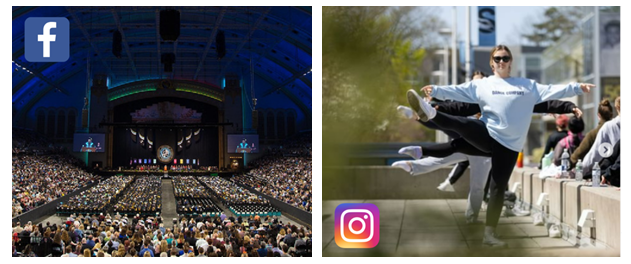 Facebook: Is it starting to feel real yet, graduating Ospreys? In exactly 1 day, you will be walking across the stage at Jim Whelan Boardwalk Hall.
Instagram: With spring flowers in full bloom, Rain Ross, associate professor of @stocktonudance, took her ballet 🩰 class outdoors.
FROM THE SIDELINES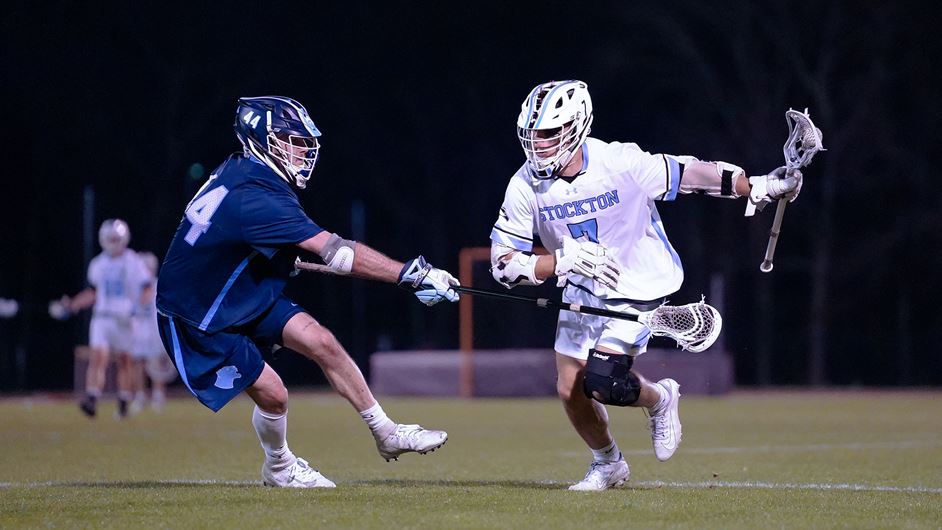 🥍 Stockton Advances in NCAA Tournament with 26-11 Win
Men's Lacrosse: Stockton outscored UMass Boston 10-1 in a deciding second quarter and cruised to a 26-11 victory on May 11 in the first round of the NCAA Division III Tournament. Dante Poli set a season high with eight goals and dished three assists to tie his career high of 11 points in the rout.
🗓️ Stockton will travel to Maryland on Saturday, May 14, to face Salisbury University, which is ranked No. 1 in the nation by the USILA, in the second round of the NCAA Tournament. Game time is scheduled for noon.
🗓️ View the full schedule of upcoming athletic events here.
WE'RE HERE TO HELP
COVID-19 Information
🔴 SCREENING UPDATE: Beginning on Monday, May 16, COVID-19 screening centers in both Galloway and Atlantic City campuses will only be open Mondays and Tuesdays from 5 a.m. to 7 p.m. Eligible employees must report to a screening center once a week, either Monday or Tuesday, to be tested. Testing in Galloway is at the Pomona House. Testing at the A.C. Campus has moved to AC224-N in the John F. Scarpa Academic Center.
😁 MASK UPDATE: The University is now mask optional. Faculty may continue to require masks in their classes. KN95 and surgical masks remain available at the Campus Center Information Desk, Wellness Center, Division offices, the library, and off-site Stockton locations. Details are in the Campus Operations FAQ.
💉 BOOSTER REQUIREMENT: Employees are now required to receive a COVID-19 booster dose. Use the Employee tab in the Portal to update your booster status or submit to Joyce.Wilson@stockton.edu in the Office of Human Resources so that your status can be confirmed. Should you have any questions, contact Mamta.Patel@stockton.edu.
Resources for Faculty and Staff
The Office of Human Resources announced a series of employee training and development opportunities for 2022. Visit here for a calendar of the opportunities available, and here for descriptions of the specific trainings and development offerings.
🧠 Stockton provides faculty and teaching staff with professional development, training, teaching ideas, resources and individual consultations via the Center for Teaching and Learning Design. Upcoming events include: FAWN Writing Retreat, May 17-18; Google Classroom as a Collaborative Tool, May 19; Collaborative Google Tools for Faculty and Staff; May 20; and Google Tools and Add-Ons You're Not Using But Should Be, May 26. Visit here for more information and Zoom links.
OSPREY NOTES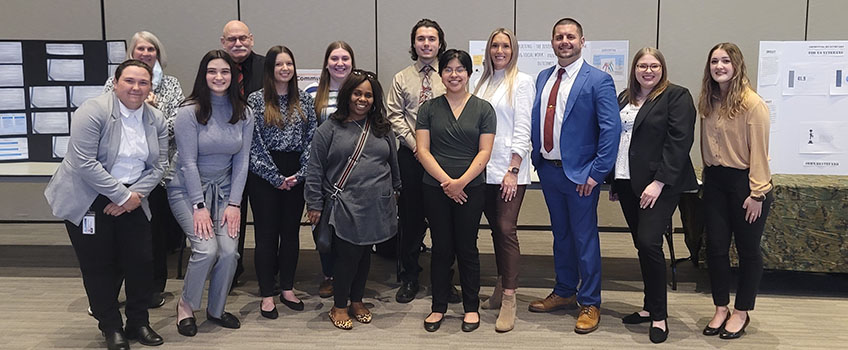 Ten Social Work Seniors Receive Program Distinction
Ten seniors in the Social Work Program received Program Distinction Honors for presentations and research they prepared.
The students recognized are Kathryn DeMuro, John DeStefano, Ashley Francesco, Gina Hoffman, Kassidy Lechner, Dana DeMola, Alexandra Mussman, Spencer Salas, Dana Sandoval and Sarah Sharp.
Students gave oral presentations of their work and displayed poster presentations and answered questions from the judges. Assistant Professor of Social Work Ted Alter, Professor of Social Work Lisa Cox and Associate Professor of Social Work Maya Lewis judged the presentations.
---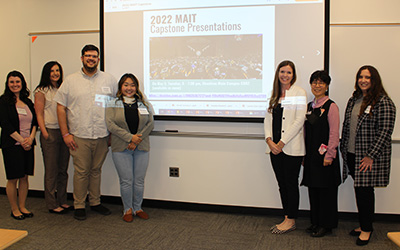 Graduate Symposium Shares Student Projects
Students in graduate programs at Stockton University presented their final research and capstone projects at the annual Graduate Research Symposium May 2-3 in the C-D Atrium and at an MBA event at the Stockton Atlantic City campus.
Some 50 projects were displayed with a range of topics.
"This is a wonderful opportunity to celebrate and share the results of our students' hard work," said Dean of General Studies and Graduate Education Rob Gregg.
---
Stockton Sentiments and Memories . . .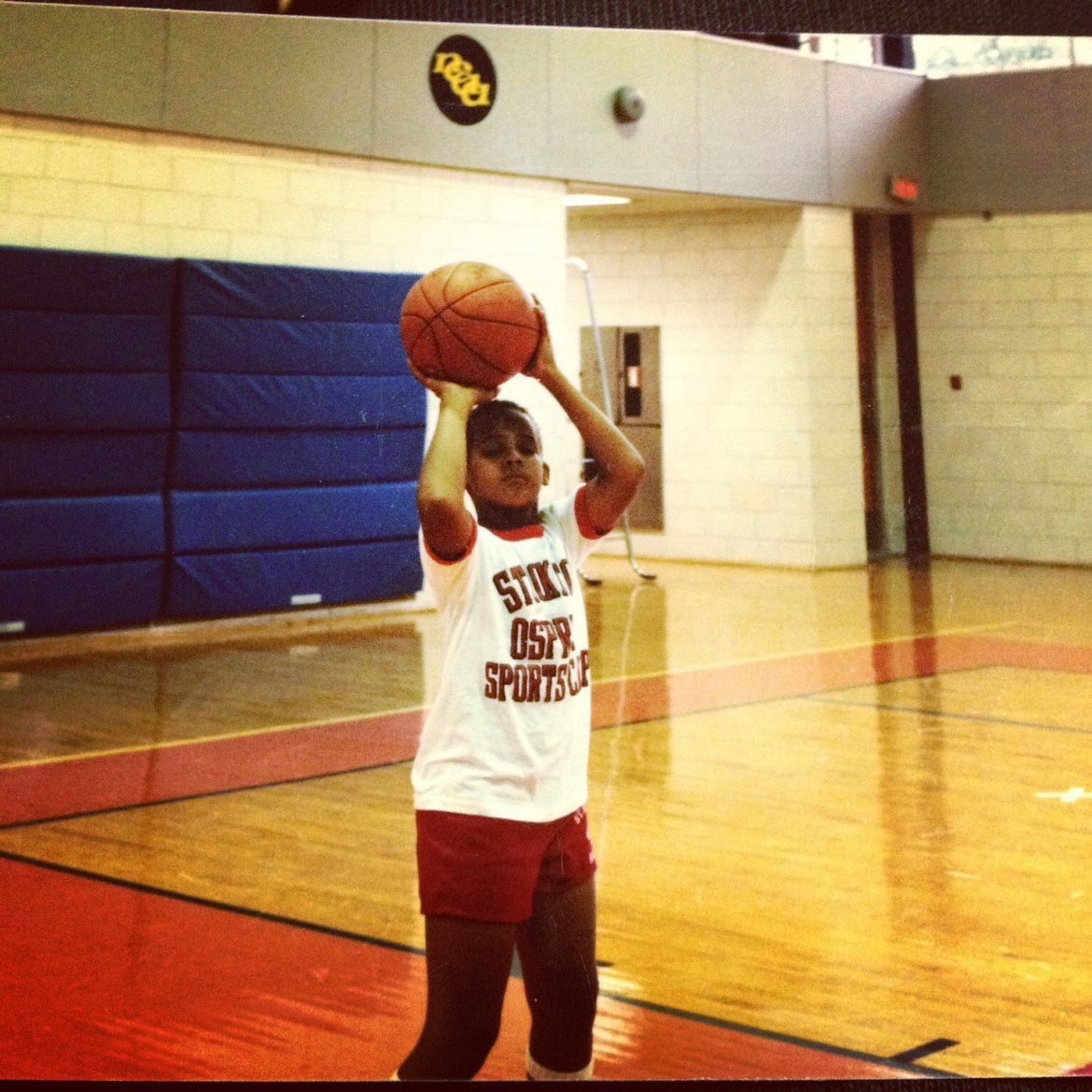 "My father used to teach at Stockton State College and also directed the EOF program in the mid-80s. As a young kid, I spent many summers around campus. Coach Matthews taught me the game of basketball at the Osprey Sports Camp. I knew the family very well and played all the time with his son. Sleepovers! Everything."
- Kamil Ward
Have a memory you'd like to share in celebration of Stockton's 50th anniversary? Submit it here.
UPCOMING EVENTS