Stockton News - May 7, 2021
WHAT WE'RE TALKING ABOUT
President Kesselman Issues Statement on Vaccine Requirement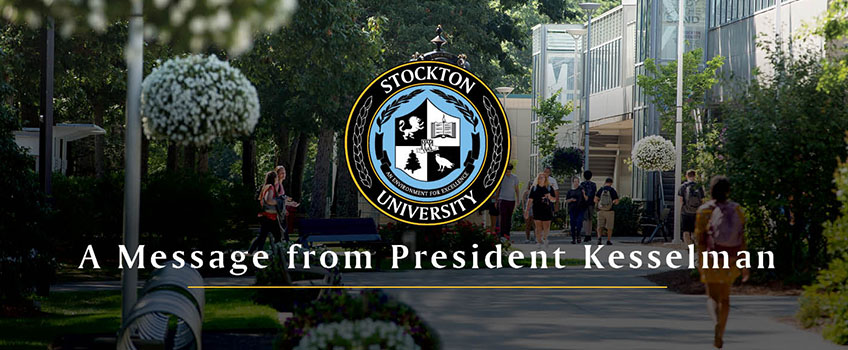 Throughout the pandemic, Stockton's leadership and employees have worked diligently to provide a safe environment while continuing to serve our students. As we move toward fully reopening in the fall, our efforts will continue.
One of the most important steps we all can take to keep ourselves and each other safe is to get vaccinated. It is the responsible thing to do. The COVID-19 vaccine is now plentiful and available to everyone over the age of 16.
The American College Health Association (ACHA) has stated that comprehensive COVID-19 vaccination is the most effective way to return to a safe, robust on-campus experience in Fall 2021.
To ensure that we can all return safely in September, and provide the college experience our students expect and deserve, Stockton will require all residential and commuter students receive a COVID-19 vaccine authorized by the U.S. Food and Drug Administration and submit complete vaccination documentation to Student Health Services at least two weeks prior to arrival on campus, but no later than August 1, 2021, unless they have a medical or religious exemption.
Read the entire message here.
---

Stockton Welcomes Four New Trustees
Stockton University welcomed four new members to its Board of Trustees at the May 5 board meeting. The addition of Rev. Collins A. Days, Sonia Gonsalves, Michelle Keates and Jose Lozano represents a historic expansion of the board, from 12 members to 15.
President Harvey Kesselman said the expansion of the Board of Trustees reflects the growth of the University and leadership's desire for a robust board that reflects the strengths and diversity of the Stockton community as the University enters its 50th year of teaching in Fall 2021.
Provost, V.P. for Academic Affairs Named; Dean of School of Health Sciences Approved
The Stockton Board of Trustees also approved the appointments of Leamor Kahanov as the new provost and vice president for academic affairs; and the new dean of the School of Health Sciences, Brent Arnold, was approved. Both positions take effect July 1.
Course Requirement on Race and Racism Approved
The Board of Trustees approved a resolution to require all incoming students to take two courses that address race and racism.
The requirement will take effect for the incoming class in Fall 2021. It was proposed by Donnetrice Allison, coordinator of the Africana Studies program at Stockton and professor of Africana Studies and Communication Studies.
Allison, who is currently also serving as director of Strategic Initiatives, said the Race/Racism Education Across the Curriculum requirement will ensure that all students, no matter what their major, will receive education in the history and impact of race and racism in America.
---
Stockton Creates Partnerships with Middlesex College, Camden Academy Charter High School and Camden County College
Stockton continues to expand access to education for students interested in pursuing higher education degrees.
The University signed a dual admission and transfer partnership agreement with Middlesex College that will help students make a smooth transition from the two-year college to Stockton's bachelor's degree program.
Additionally, students at Camden Academy Charter High School will have multiple paths to complete two- and four-year college degrees under a new agreement between Camden Academy Charter High School, Camden County College and Stockton University.
STOCKTON UNIVERSITY ATLANTIC CITY
New Tradition Celebrates Students, Advances Equity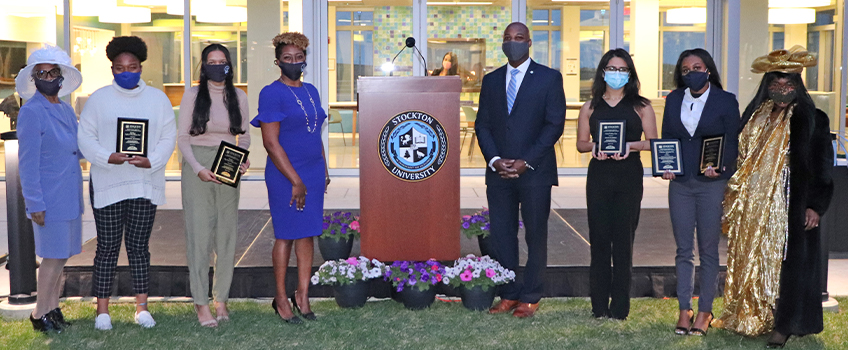 As the sun set, staff, faculty, students and alumni celebrated the accomplishments of students of color engaging in high impact practices at Stockton University, shining a light on the power of creating impactful experiences for underrepresented communities during the inaugural Equity in Academic Achievement Award Dinner and Fundraiser on April 23 in the Atlantic City Residential Complex Quad.
---
GOALS Program Gearing Up for Summer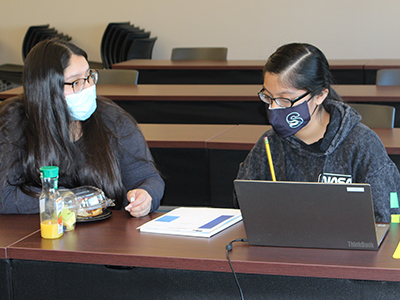 Atlantic City High School senior Zikra Naz is looking forward to attending Stockton University in the fall. But she already knows her way around.
Naz participates in Stockton's GOALS GEAR UP program, which offers students in grades 7-12 from Atlantic City and Pleasantville a head start on preparing for college. More than 180 students participated in the program, and even during the pandemic students continued to receive virtual services.
WHAT'S TRENDING @ #STOCKTONU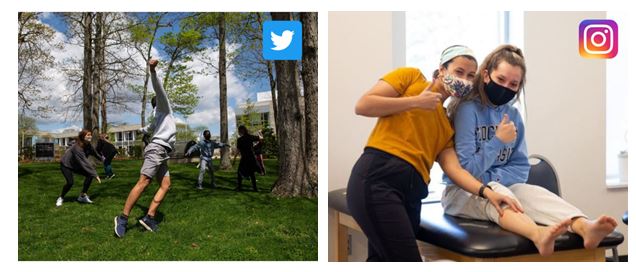 Twitter: When you're a graduating dance major, this is how you celebrate
Instagram: You've reached the home stretch, Ospreys.
FROM THE SIDELINES
Women's Tennis: Stockton Advances to NJAC Championship with 5-0 Win
Stockton University advanced to the championship match of the inaugural NJAC Tournament in women's tennis with a 5-0 victory on May 6 over Rutgers-Camden in the semifinal round. The Ospreys swept the doubles and won two singles matches to clinch the team victory.
---
Women's Rowing: Stockton Posts Best Finish Ever At MARC Championships
Stockton University recorded its best finish ever at the Mid-Atlantic Rowing Conference Championship on April 25 by placing second at the regatta, which was held on Mercer Lake. The Ospreys' previous best was third in the 2019 MARC Championship, which was the last time the conference crowned a champion (2020 canceled due to COVID).
📰 In the News: The Press of Atlantic City, WPG Talk Radio
The team also received votes in a national poll for the first time in school history.
---
Baseball: Viani Selected NJAC Honorable Mention
Stockton University pitcher Rico Viani was chosen NJAC Honorable Mention for the Spring 2021 season. The senior earned his first career all-conference honor for his work on the mound this year.
Viani has tossed 33.2 innings and picked up a pair of wins, tying him for the team lead. He has a sparkling 2.41 ERA that tops the pitching staff and ranks fifth in the NJAC. Viani has held opponents to a .254 batting average that is the best on the team and ninth in the conference. He also is third on the team with 18 strikeouts.
⚾️ Catch more athletic news here
WE'RE HERE TO HELP
Surveys indicate that as the pandemic drags on, student, faculty and staff stress levels have increased. Is this what you are noticing in yourself, in your students, in others? There are resources and events available to Stockton community members, including training, self-care tips and yoga. See how you can Choose Wellness. Additionally, The Deer Oaks Employee Assistance Program (EAP) is a free, confidential benefit that offers "Support4U" AND members of your immediate household. Learn more here.
💻 A note to faculty from Information Technology Services: Starting with the upcoming Summer 2021 semester, you may choose to create and deliver your courses in a new Blackboard Ultra format. Using Ultra is not required, you may continue to use the original course view. Once a view for your course is selected, it is set for the duration of the semester and cannot be changed. Training is available here.
🧠 Stockton provides faculty and teaching staff with professional development, training, teaching ideas, resources and individual consultations via the Center for Teaching and Learning Design (CTLD). Visit the CTLD events page for a variety of workshops.
🧪 Stockton is offering FREE COVID-19 testing to students and employees at the Lodge at Lakeside. Go to Stockton University Testing to select a date and time to be tested and register on the Visit-Health portal. Visit Health Care now provides antigen rapid tests, which take 15-20 minutes to receive results. Students and employees may choose that option when they arrive at their appointment.
💉 Faculty, staff and students can check with their local providers and schedule a COVID-19 vaccination appointment. All residents over the age of 16 in New Jersey are eligible to receive the vaccine. The Atlantic County COVID-19 Vaccination Megasite (Atlantic City Convention Center) has walk-in vaccination appointments available from 9 a.m.-4 p.m. daily.
You may voluntarily report if you have been vaccinated. The link is included in the Daily Health Pledge email; personal information remains confidential. A daily report is on the coronavirus website.
🔴 The New Jersey Civil Service Commission (CSC) has adopted a new, temporary rule which provides eligible State employees in the career, unclassified or Senior Executive Service with two new types of COVID-19 Paid Leave: COVID-19 Sick Leave and COVID-19 Family Leave. For more details and additional FAQs, visit here.
If you have an appointment to be vaccinated during your normal work hours, you do not need to utilize personal sick time. When completing your timesheet you will record these hours under the "CV19SickSelf" code to cover that time. If you use this code, you must submit your vaccine documentation to Joyce Wilson in Human Resources at Joyce.Wilson@stockton.edu. If you have already submitted sick, personal or vacation time for a COVID-19 vaccine appointment, you can submit a payroll recap form through stockton.edu/payroll.
OSPREY NOTES
Stockton Applauds Student Leaders, Clubs in Annual Ceremony
Hosting events in a pandemic with most students living off-campus was no easy feat for student organizations this year, with many overcoming significant obstacles to bring events online or hold them safely in person. However, students' hard work and efforts were recognized during the virtual Student Involvement Awards on April 29, bringing together Ospreys near and far to celebrate the student-led programming held throughout the 2020-2021 academic year. The ceremony was livestreamed on Student Development's Facebook page and Zoom.
👉 ICYMI: Employees Recognized During Virtual Celebration
A virtual Employee Recognition Day celebration held May 5 recognized Stockton University's employees who achieved milestones for their many years of dedicated service. If you missed the email, you can still view the webpage highlighting employees and their milestones.
FYI: Parking & Transportation Advisory for May 11-13
🚗 Faculty and staff are directed to park in Lots 0, 7 and the Lakeside Lane Lot on May 11-13 due to the University's Spring 2021 Commencement Ceremonies. Police will be on site to direct traffic.
Parking Lots 1, 2, 3, 6A and 6B will be earmarked for graduates and their guests.
Parking Lots 4, 5 and Athletes Way will be closed for operational purposes.
View the University Parking Map for reference.
Impact of Community Engagement Survey
The Stockton Center for Community Engagement and Service-Learning is assessing the impact of community engagement on our staff members. Your responses to this brief survey will help us to measure our strengths and learn about opportunities for growth in the next academic year. Data will be analyzed in the aggregate.
UPCOMING EVENTS