Stockton News - March 24, 2023
WHAT WE'RE TALKING ABOUT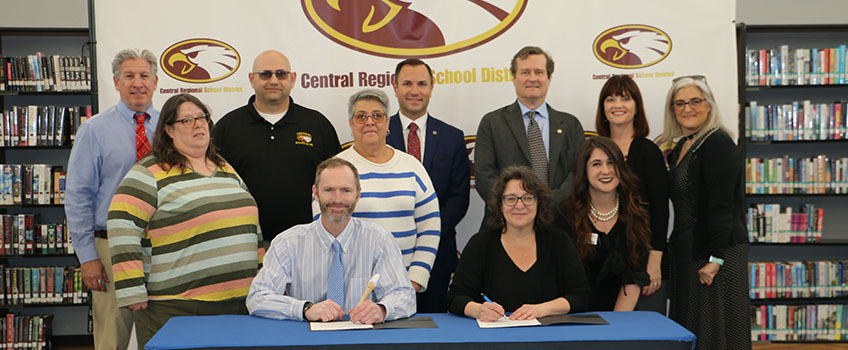 Agreement Offers Stockton Credits to Central Regional Seniors
Stockton is offering college credit to Central Regional High School (CRHS) students through a new agreement signed March 22. High-achieving seniors in the Humanities Academy Program at Central Regional in Bayville, Ocean County, will have the opportunity to earn 24 Stockton credits for free beginning this fall.
Stockton faculty will teach six college courses in person at Central Regional. Students will come to Stockton's Galloway campus for an orientation and tour. Participating students and their families will be offered financial aid guidance, college admission seminars and career development services from Stockton.
"This partnership brings everything full circle for me. As a proud CRHS alumna, this opportunity would have opened up so many doors for me in the college selection and search process. Now, as assistant director of Admissions at Stockton University, and the admissions counselor for CRHS, it warms my heart to provide my students with the chance to grow and get ahead," Stockton recruiter Grace Talian said.
---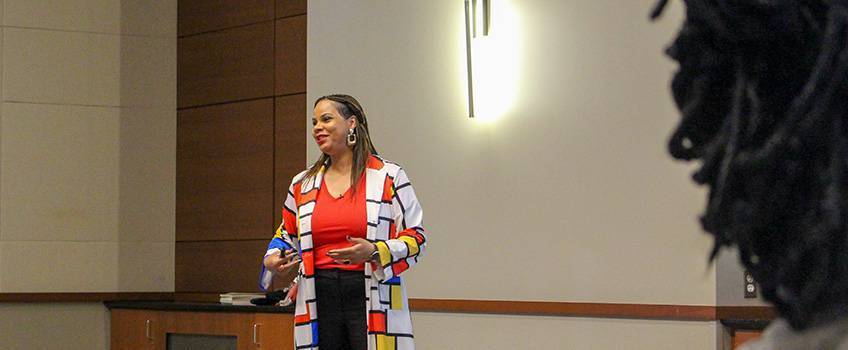 Gilchrist Urges Students to Move Forward Fearlessly
What's the first thing that comes to mind when you hear, "WTF?"
Well, for motivational speaker Erika Gilchrist, it's her brand and the mantra that she created to empower herself and others: women thriving fearlessly.
The fearlessness and ease that Gilchrist exudes were palpable – the students, staff and faculty who came to listen to her story in the Campus Center Board of Trustees Room on March 20 were enthralled with her confident presence.
"Erika came out, and she helped everybody feel more comfortable and empowered from being her authentic self," Sean Trin, a Finance major who attended the program, said. "She got everybody laughing and that really set the tone for the rest of the presentation."
---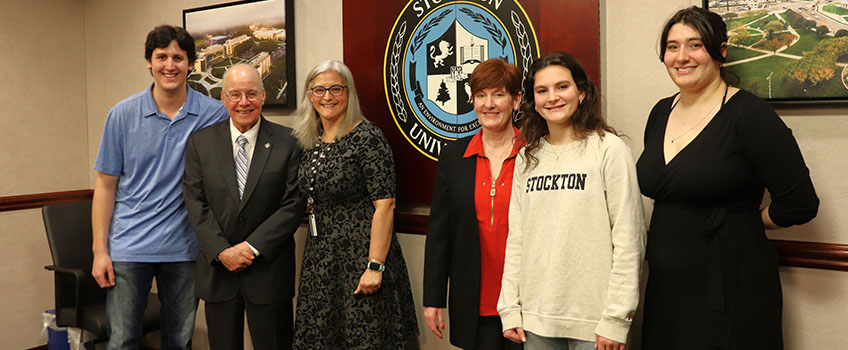 Glass Family Creates Scholarship in Memory of Husband, Father
A new Stockton University Foundation gift will provide an annual scholarship to a student dedicated to service.
The endowed scholarship honors the memory of Stephen A. Glass of Galloway. His wife, AmyBeth, and children Elizabeth, Zachary and Sarah, his mother, Lynette Glass, along with the generous support of family and friends, established the fund.
The scholarship will be awarded annually to a full-time student with a demonstrated commitment to serving others in their school, community, job or at home.
---
📊📚🧐 Did you know? Two-thirds of New Jersey adults believe parents should be more involved in local decisions about what curriculum is taught in the schools, according to a recent Stockton Poll.
STOCKTON UNIVERSITY ATLANTIC CITY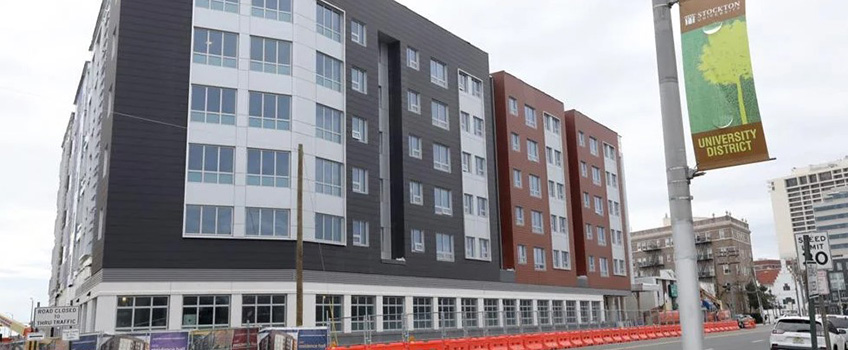 Ribbon-cutting for New Residence Hall on May 3
With views of the beach, O'Donnell Memorial Park and the Atlantic City skyline, Stockton's Phase II Residence Hall is closer to completion. The new building at the corner of Atlantic and South Providence avenues in the Chelsea Heights section of the city is a short walk from the rest of the Stockton Atlantic City campus.
"Construction on the project is proceeding on schedule. Most of the building's façade is complete. Inside, most of the dry wall is up for the suites, and we are beginning to finish the bathrooms by installing tile, showers and toilets," said Mark Ciccotelli, the project manager. "As some of the stoves and refrigerators are being installed, it's exciting to really start to visualize how the living areas are going to come together."
"It's going to be an amazing addition to Stockton Atlantic City."
SPOTLIGHT ON: ALLISON, SINANAN, GRULLON AND JOHNSON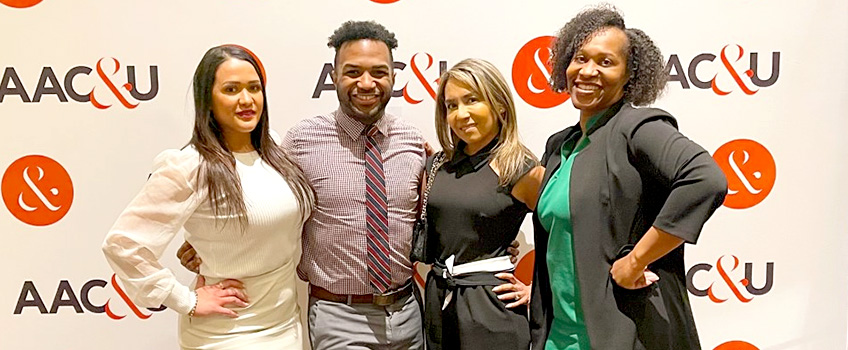 Four Stockton faculty and staff members recently presented a workshop, "Inequities in the Hiring Process and How this Impacts Student Success," at the 2023 Conference on Diversity, Equity & Student Success in Nevada.
Donnetrice Allison, chair of Africana Studies and professor of Communication Studies; Allison Sinanan, chair of the master's in Social Work program and professor of Social Work; Jessica Grullon, associate director of Admissions Services; and Marques Johnson, associate dean of Students, all have a multitude of experience working in Diversity, Equity and Inclusion (DEI) initiatives at Stockton, so presenting on this topic was both familiar and passionate.
"All four of us have done quite a bit of DEI work at Stockton over the years. I served on the Committee for Diversity, Equity, and Inclusion for 12 years. I've worked on countless projects and events, including the 2018 climate survey, and I served as the Director of Strategic Initiatives after the death of George Floyd," Allison said. "In that role, I spearheaded the proposal to require Stockton undergraduate students to take two courses on Race and Racism. I also co-facilitate the Summer Institute for Teaching Race and Racism."
FRAME-WORTHY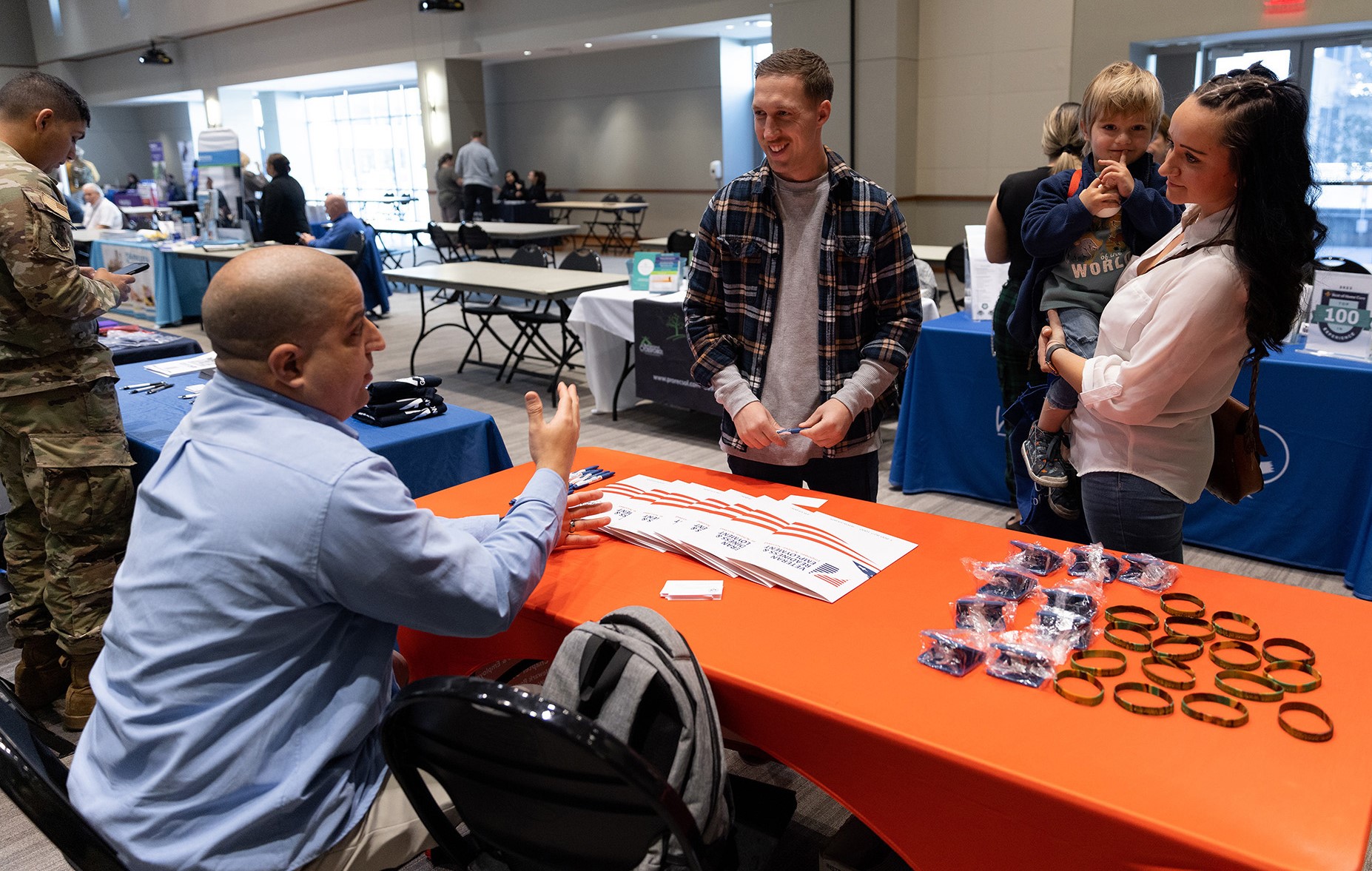 Inaugural Community and Veteran Wellness Fair a Big Success
Dallin Matthews must make some major life decisions soon.
The 30-year-old has spent about the last six years as a firefighter in the U.S. Coast Guard stationed in Cape May, but injuries from the job have forced him to "redesign" his life.
"Soon I will be getting out of the military, and I needed guidance for education and the future of my family," said the Utah native while holding the hands of his 2-year-old son, Raylan, and his wife, Samantha.
Matthews said he's feeling more optimistic since stopping at Stockton's new Community and Veteran Wellness and Resource Fair on March 16.
The inaugural event is a partnership with Stockton's Military and Veteran Success Center and the Wilmington Veterans Affairs Medical Center in Delaware to bring together 75 vendors in one place in the university's Campus Center Event Room.
WHAT'S TRENDING

@ #STOCKTONU

Instagram:Check out five of our @twcinternships Spring interns!
Facebook: 'Tis the season for outdoor study sessions! Happy Spring, Ospreys.
Twitter: If there's one thing you need to know about class registration, it is this pro tip on how to get a slightly earlier registration time.
FROM THE SIDELINES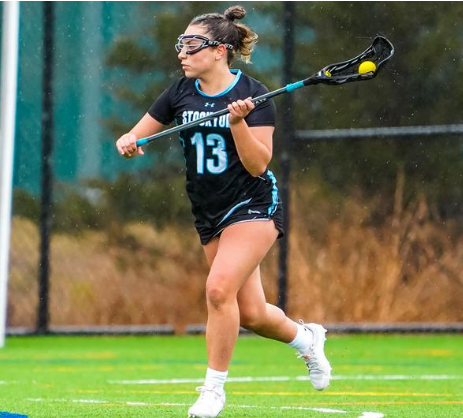 Stockton Women's Lacrosse Team Sets School Record
The women's lacrosse team dominated Arcadia University 13-2 for its eighth consecutive win on March 22, which is a school record for the women's lacrosse program in its 10th season. Two previous Stockton teams won seven in a row (2016, 2017).
Isabella Marinello led the Ospreys with three goals and Margot Costello tallied two goals and an assist. Lilly Alessandro totaled two goals, five ground balls
---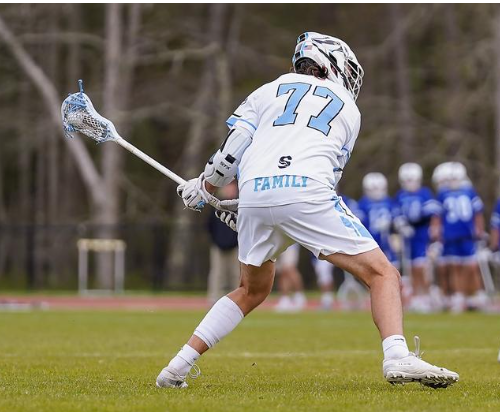 Stockton Downs Eastern 20-13
The men's lacrosse team used a big first half and defeated Eastern University 20-13 on March 22. Luc Swedlund led all players with six goals on the night for Stockton.
Dante Poli opened the scoring 1:05 into the contest for a 1-0 lead. After the Eagles knotted the game at 1-1, the Ospreys ripped off five straight markers on a pair by Swedlund and one each by Poli, Colin Hopkins and Reegan Capozzoli to make it 6-1.
---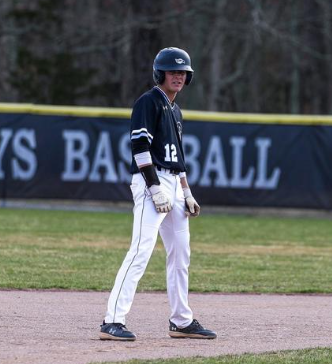 Stockton Rallies for 10-9 Victory
The baseball team scored five runs in the final two innings for a walk-off 10-9 win over Washington College on March 22. Freshman Michael Antonucci led the Ospreys with a career-high three hits on the day.
Stockton took their first lead of the game after a five-run third inning for a four-run advantage at 5-1. The Shoremen opened the scoring with a single tally in the second, before the Ospreys sent 10 batters to the plate in their half of the third frame.
---
🗓️ View the full schedule of upcoming athletic events here.
OSPREY NOTES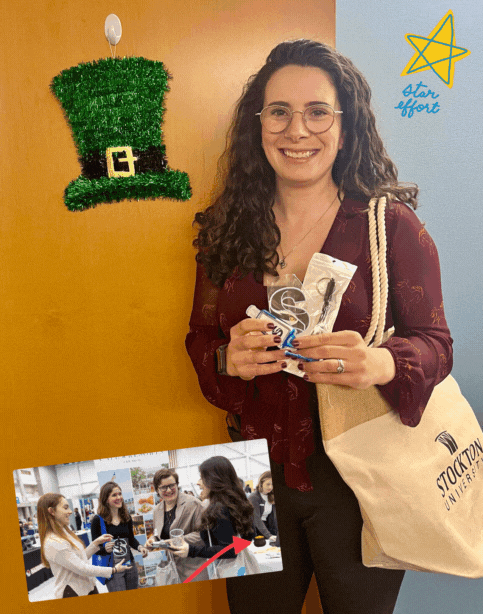 🍀 Pot of Gold Found, Prize Claimed
Kortney Butler, alumni engagement coordinator, had the luck of the Irish on her side last week, finding the pot of gold that was hidden in the March 17 edition of Stockton News.
For those still wondering where the pot of gold was, it was on the table of one of the Career Fair photos.
Kortney stopped by to pick up her prizes, which included a Stockton tote, air freshener, hand sanitizer and a charger cable keychain.
Thanks for playing!
---
🎙️ ICYMI: Listen to the March episode of Stockton Now. In this month's episode, you'll hear from Amanda Norvell, dean of the School of Natural Sciences & Mathematics, about her journey to NAMS; Noel Criscione-Naylor, associate professor of Hospitality & Tourism Management Studies discusses esports as a major and an industry; and Dan Nugent, vice president for University Advancement & executive director of the University Foundation shares what guests can expect at the upcoming Foundation Scholarship Benefit Gala.
---
Participants Wanted for Paid Research
🧠 Stockton's EEG Laboratory is looking for participants between the ages of 30 and 65 for a paid research study using EEG to track brain health. Compensation is $100 for two 45-60-minute sessions on the Galloway campus. Participants must have no history of epilepsy or neurological disorder or be taking medication to treat mental health disorders. Email eeglab@stockton.edu for more information or to schedule your sessions.
---
Read the SCOSA April Newsletter
Read the Stockton Center on Successful Aging (SCOSA)'s April
newsletter
for interesting upcoming events and newly added programming.
UPCOMING EVENTS
Spring Professional Development Opportunities
🎭 Spring Programming at the PAC
📅 March is Women's History Month
Now-May 31: "The Armenian Genocide, One Family's Story" exhibit
March 24:Frankie Negrón
March 25: "Who Hijacked My Fairytale?" with Kelly Swanson
March 26:Discover Stockton Day
March 27-28:Mental Health Wellness Fair
March 28: 13th Annual Paul Lyons Lecture
March 29: Preceptor Day
March 30: Unity Day 2023, 🧘‍♀️ Wellness Day 2023 Health Fair
April 1:Dan Tyminski Band
April 4: Preceptor Day
April 6: The Last Lecture
April 12: ⚖️ Forum on Judicial Safety
April 14: Teaching While Black screening
April 21: 📯 The Brubeck Brothers
April 20-22: 🩰 Emerging Choreographers Showcase
April 22: Community Day Clean Up & Party in the Park, Scholarship Benefit Gala