Stockton News - March 19, 2021
WHAT WE'RE TALKING ABOUT
Stockton Promise Guarantees Free Tuition and Fees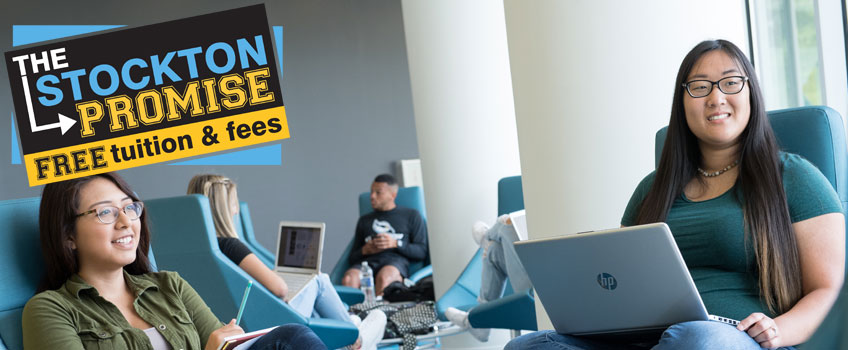 Stockton University has launched a new program for Fall 2021 that will guarantee 100% of the cost of tuition and fees for eligible first-year and transfer students.
The new Stockton Promise grants will cover the balance of the cost of tuition and fees after all federal, state and other institutional grants are applied, bringing tuition and fees to zero for eligible students.
The program is open to all first-year undergraduate and transfer students who enroll as full-time students. Participants must be New Jersey residents and have an adjusted gross income of $65,000 or less. The grants are renewable for up to four years.
---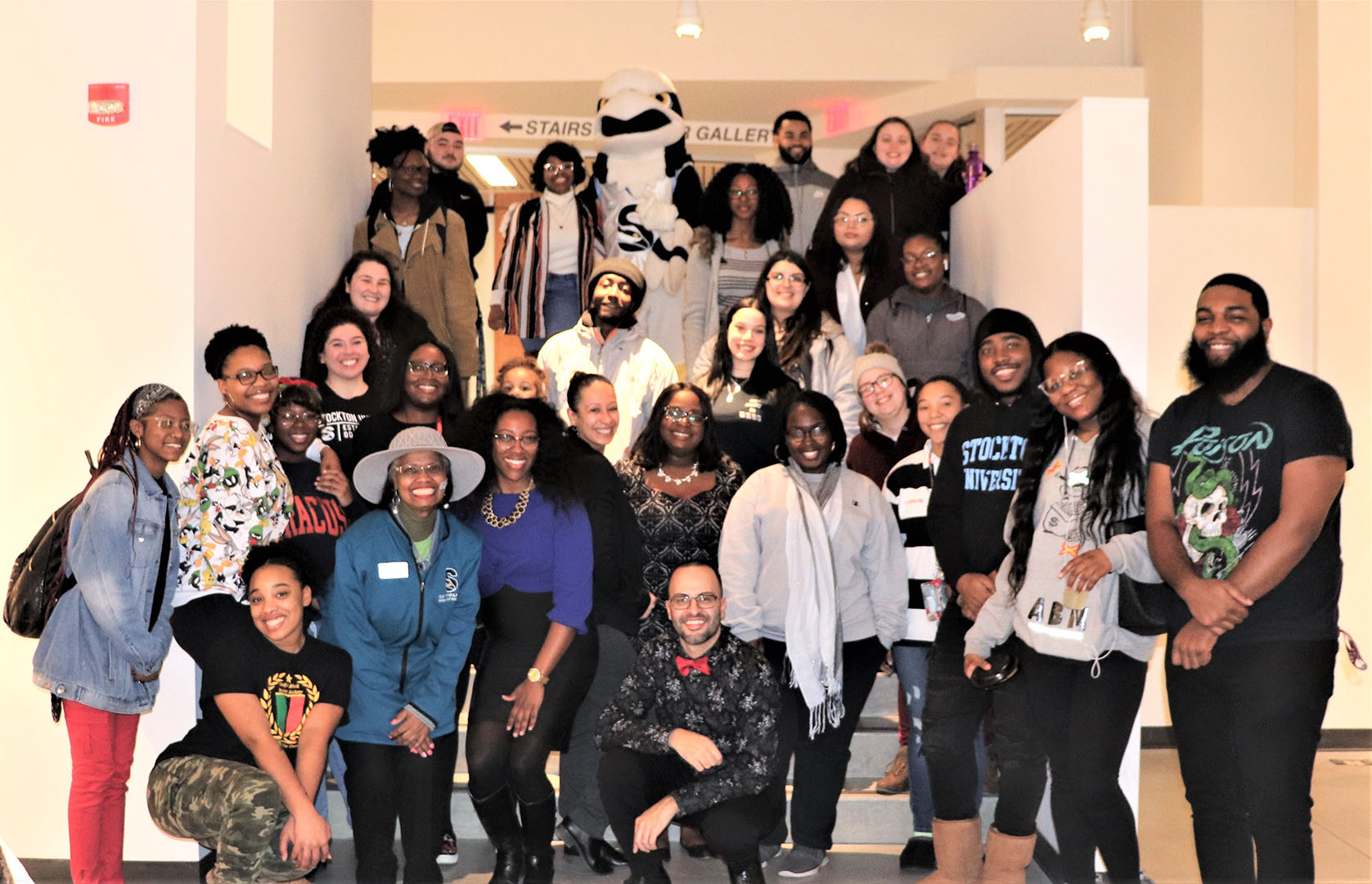 Award-Winning Initiative Supports First-Gen Students
Nearly half of Stockton's student population are first-generation college students. That's a big number. These students need different types of support, resources and engagement to flourish, which is why the First Ospreys initiative was born in Spring 2019 under the leadership of Angel Hernandez, associate director of EOF, Atlantic City.
"As I learned about Stockton's culture, institutional priorities and commitment to inclusive student success, I believed that we were uniquely positioned to not only think outside the box but to think like there was no box. The more I got to know Stockton students, I recognized that many of our students were first-generation and in need of mentorship and guidance," Hernandez said.
---
LIGHT Issues Report on COVID Impact in A.C.
The Lloyd D. Levenson Institute for Gaming, Hospitality and Tourism at Stockton University released a one-year retrospective on March 16 on the impact of COVID-19 on the Atlantic City area in terms of visitors, travel, gaming and revenue.
"This report tells a story of fewer public gatherings, a shift to virtual/remote activities and the loss of thousands of jobs and hundreds of millions of dollars in the service sector. But, after the most challenging year in the history of casino gaming in Atlantic City, there are signs that a recovery is in sight," said LIGHT coordinator Jane Bokunewicz.
---
Tune in for the fifth episode of Stockton Now, Saturday, March 20 at 10 a.m. on WIBG 1020 AM and 101.3 FM or Monday, March 22 at 11

a.m. on WLFR. In March's episode, Special Collections Librarian Heather Perez talks about preserving Stockton's history; Laurie Dutton, director of the Women's, Gender and Sexuality Center, and Van Nhi Ho discuss Women's History Month at the University; and Steve Radwanski, executive director of Residential Life, and Resident Assistant Roy Cook, Jr. talk about the benefits of living on campus and the challenges faced during COVID-19.
If you missed previous episodes, you can listen online at the Stockton Now archive page.
STOCKTON UNIVERSITY ATLANTIC CITY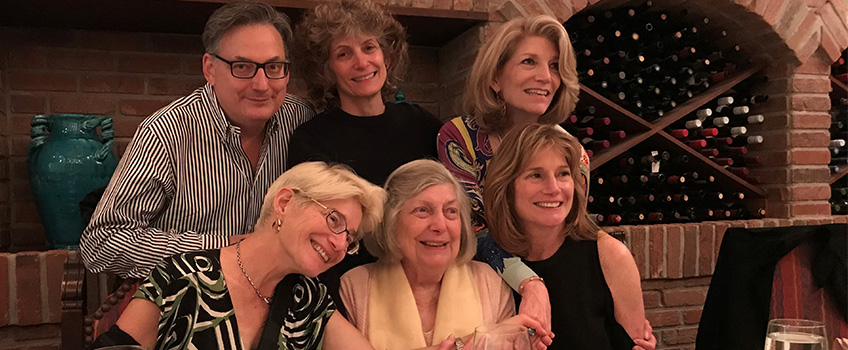 Gravitz Family Endows Scholarship
Joan Gravitz was raising five children in the 1970s when she decided to enroll in what was then Stockton College to pursue a degree.
"I was quite non-traditional," Joan said. "And I loved it there."
She graduated in 1979 with an accounting degree, and for more than 40 years has participated in the life of the University, as an alumna and donor to the Stockton University Foundation.
Gravitz, of Margate, recently fulfilled another goal by donating $50,000 to establish the Gravitz Family Endowed Scholarship at Stockton.
The scholarship threads together Joan's love for Stockton, her daughter, Janet's, nearly 20 years of volunteer service to the Boys and Girls Club of Atlantic City, and the Gravitz family's deep commitment to helping more students obtain a Stockton education.
---
Stockton AC Phase II Named Leading Infrastructure Project
Stockton University Atlantic City Campus Phase II was named one of 2021's New Jersey's Leading Infrastructure Projects (NJ LEADERS) by The Alliance for Action. View the award video here.
WE'RE HERE TO HELP
Resources Available to Staff, Faculty
There are many resources and best practices being made available to staff and faculty working remotely that can be found by visiting Information Technology's website.
Surveys indicate that as the pandemic drags on, student, faculty and staff stress levels have increased. Is this what you are noticing in yourself, in your students, in others? There are resources and events available to Stockton community members, including training, self-care tips and yoga. See how you can Choose Wellness.
🧠 In addition to assistance with the technology available from ITS, Stockton provides faculty and teaching staff with professional development, training, teaching ideas, resources and individual consultations via the Center for Teaching and Learning Design (CTLD). Visit the CTLD events page for a variety of workshops.
🧪 Stockton is offering FREE COVID-19 testing to students and employees at the Lodge at Lakeside. Go to Stockton University Testing to select a date and time to be tested and register on the Visit-Health portal.
👉 Visit the Spring 2021 Campus Operations website for up-to-date information on procedures and guidelines the University is implementing to continue to keep students, staff and faculty safe.
🔴 The New Jersey Civil Service Commission (CSC) has adopted a new, temporary rule which provides eligible State employees in the career, unclassified or Senior Executive Service with two new types of COVID-19 Paid Leave: COVID-19 Sick Leave and COVID-19 Family Leave. For more details and additional FAQs, visit here.
💉 New Jersey has developed a website for residents to pre-register to receive the COVID-19 vaccine.
If you have an appointment to be vaccinated during your normal work hours, you do not need to utilize personal sick time. When completing your timesheet you will record these hours under the "CV19SickSelf" code to cover that time.
🔴 Pledge Reminder: Faculty, staff and students should complete the Stockton Health Pledge daily, even if you are not coming to campus. The pledge is emailed daily to your Stockton email and assists us in monitoring the health of our community. If you are feeling ill, do not come to campus, notify your manager, and see your doctor if necessary.
Stockton is compiling notices of confirmed positive COVID-19 cases in a dashboard on the Coronavirus home page. The dashboard is updated on regular work days.
SPOTLIGHT ON: MATTHEW OLSON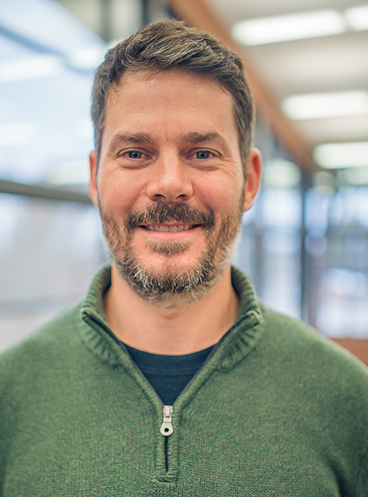 Stockton's Galloway campus is adorned with a variety of trees and shrubbery, one of its most eye-catching features - but besides its beauty, a forest also tells a story. Matthew Olson, assistant professor of Environmental Science, began a project over winter break that grew into a winter tree identification guide to better help his Forest Measurements class understand that story.
"I teach Dendrology (the study of trees and their identification) in the fall when deciduous trees (trees that produce leaves that live for a single season) still have living leaves. However, once winter sets in and deciduous leaves have dropped, tree identification in our forests can be challenging," Olson said. "Additionally, only about half of my students in Forest Measurements have taken Dendrology and the other half may not be familiar with the tree species growing in Stockton's woods (with or without leaves)."
WHAT'S TRENDING @ #STOCKTONU

Facebook: #WildlifeWednesday: They're back! Guess where the New Jersey Osprey Project spotted South Jersey's first osprey of the season---right on Nacote Creek, at the mouth of the Mullica River.
Instagram: Jersey shore for the next 4 years 🌊🦅👏 Congratulations to Garrett, one of the newest additions to our Osprey family!
LinkedIn: What was your first visit to Stockton like? 🦅🌲
FROM THE SIDELINES
13 Field Hockey Players Earn NFHCA Academic Honors
Thirteen of the 16 players on the Stockton University field hockey team qualified for the NFHCA Division III National Academic Squad by posting cumulative grade point averages of 3.30 or higher through the Fall 2020 semester.
The list of Osprey qualifiers was topped by seniors Casey Cordonna, Lauryn Flynn and Issy Gilhooley, all of whom earned the recognition for the fourth straight year.
📰 The Press of Atlantic City covered the story.
---
Men's Soccer: Stockton Tops Kean 1-0
Stockton University (1-2) produced its first win of the short season with a 1-0 win on the road at Kean University (0-1). Michael Echeverria lifted the Ospreys to victory by scoring the game-winning goal with just 5:54 remaining in the second half.
---
🏀 Livestream NJAC Playoffs
Tune in tonight, Friday, March 19, at 8 p.m. to watch the men's basketball team take on New Jersey City University in the final round of the NJAC tournament.
🗓️ View the full schedule of upcoming athletic events here.
OSPREY NOTES
Summer at Stockton Info Sessions March 25, April 14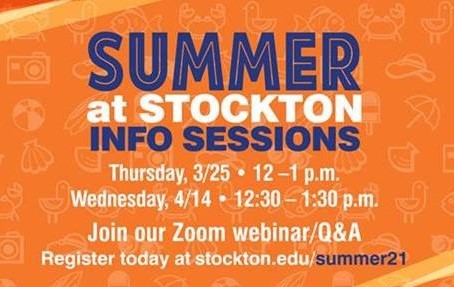 Two information sessions focused on all things Summer at Stockton will be held noon to 1 p.m., Thursday, March 25; and 12:30-1:30 p.m., Wednesday, April 14 on Zoom. Each session will focus on an overview of courses offered, benefits of taking summer courses, how to mix face-to-face and online courses, financial aid, residential life, summer internships & employment, and a Q&A session.
All faculty and staff, especially preceptors, are encouraged to attend to gain a deeper understanding of what's offered at Stockton over the summer semester. Please encourage your students to attend, as well! Registration for the events is available at stockton.edu/summer21.
Host an Event for Stockton's AAPIH Celebration
Stockton offices and organizations are encouraged to get involved in Stockton's Asian American and Pacific Islander Heritage (AAPIH) Celebration, which will be held throughout April & May. Consider hosting an event that highlights AAPI leaders in your field or celebrates AAPI culture, traditions and history, share your story or serve as a panelist at some events.
Fill out this brief survey to get started.
Singers Sought for Virtual Stockton Concert
The Stockton Oratorio Society is looking for area singers who want to participate in a virtual performance of Kirby Shaw's "Let There Be Peace on Earth."
The concert, "Connecting for Peace During COVID," is being coordinated by Stockton University Professor of Music Beverly Vaughn, along with Dianna Hughes and Richard Tinsley.
There will be a few rehearsals in March through Zoom, then participants will record and upload their own performance by April 6. The performances will be edited together and released for viewing on April 26.
Anyone interested in participating can get more information and instructions from Brian Lyons at Brian.Lyons@stockton.edu.
State Aid Renewal Deadline April 15
FAFSA renewal students (those students who have filed a FAFSA in years prior) need to file the 21-22 FAFSA before the April 15 state deadline to be considered for State Aid. Eligible students who miss this deadline could miss out on up to $7,500 in free money.
Remember, the State Won't Wait! Students can apply at fafsa.gov.
UPCOMING VIRTUAL EVENTS
Upcoming Events Hosted by the Office of Development and Alumni Relations
Office of Continuing Studies offerings
Feb. 15-May 9: City of Hope: The 1968 Poor People's Campaign
March 22-26:Open House Week
March 23:Regulating Marijuana in N.J.
March 24: 11th Annual Paul Lyons Memorial Lecture
March 25: "Yellow Star, Red Star: Holocaust Remembrance after Communism"
April 7-28:Reading Poems- Celebrating Spring and Natural World