Stockton News - Friday, March 13, 2020
WHAT WE'RE TALKING ABOUT
Stockton Addresses COVID-19 Concerns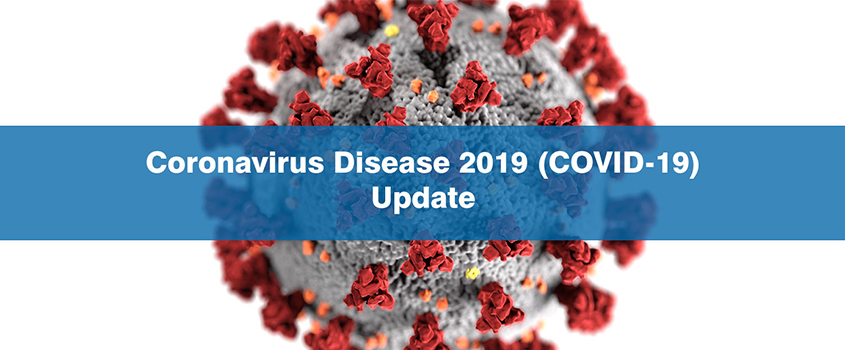 Stockton University will extend spring break through Tuesday, March 24, to allow faculty time to finalize instructional continuity plans. Beginning Wednesday, March 25, and continuing through Sunday, April 5, the University will adopt an alternate instructional model in an effort to help slow the rate of transmission of the coronavirus. All classes will be held online during this period. We will communicate any additions or changes to this plan.
While the campus will remain open, students are strongly encouraged to stay home. Students who choose to return will practice social distancing and also take their classes online
The University is cancelling or postponing many events through Sunday, April 5. For updated event details, visit https://www.stockton.edu/calendars/index.html.
In an effort to collect internal documentation and helpful links related to the Instructional Continuity Planning in one location, as well as create a space for robust discussions during the period of online learning ahead, Information Technology Services has set up a SharePoint site that is available to all Faculty/Staff members at Stockton. To participate, visit Stockton.edu/ICP.
Stay up-to-date as this situation evolves by visiting Stockton's coronavirus webpage.
Stockton News invites faculty to write helpful articles and/or provide their expertise regarding coronavirus or other related issues by emailing UniversityRelations@stockton.edu.
---
Hellenic Studies Welcomes Arch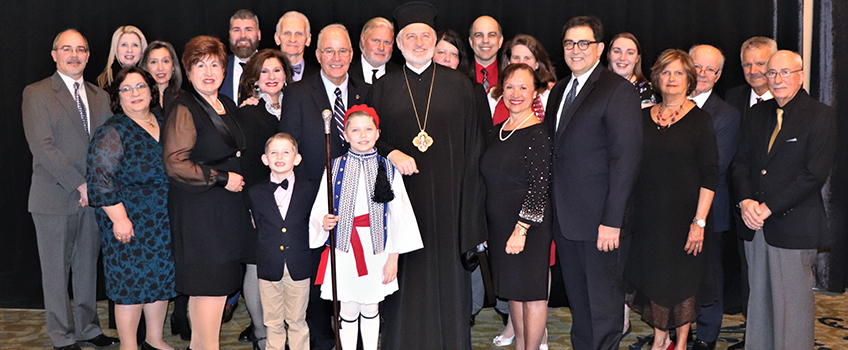 bishop
His Eminence Elpidophoros of America, Greek Orthodox Archdiocese of America, gave up his university teaching position when he accepted his new role in the church. But his love of learning and rapport with people was evident during a visit to Stockton University on March 5, where he met with students participating in Hellenic Studies programs and spoke to a crowd of more than 150 in an evening lecture at Seaview, a Dolce Hotel.
Hellenic News of America and The National Herald covered the story.
---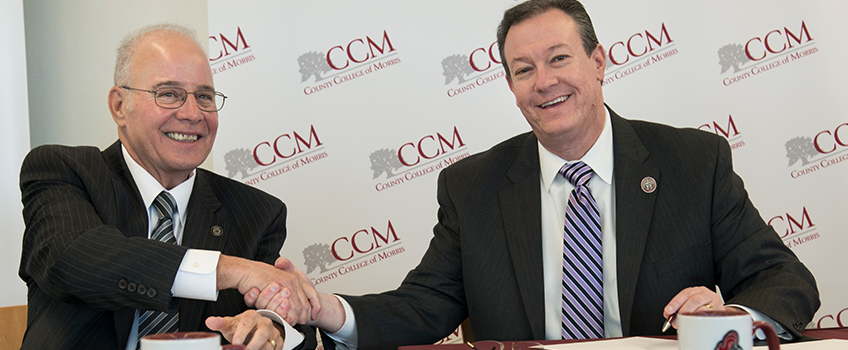 Stockton Signs Transfer Agreement with County College of Morris
The presidents of County College of Morris (CCM) and Stockton University signed a dual admission and transfer partnership agreement on March 9 that will help students make a smooth transition from the two-year college to Stockton's bachelor's degree program.
The Transfer Pathways agreement strengthens the relationship between Stockton and CCM by offering multiple opportunities for students to affordably pursue associate and bachelor's degrees at the two institutions of higher education.
Stockton President Harvey Kesselman said he is excited to provide Morris County students a new opportunity to earn a bachelor's degree and take advantage of Stockton resources while at the community college.
---
Stockton Prescribes Fire to Keep Campus Forest Healthy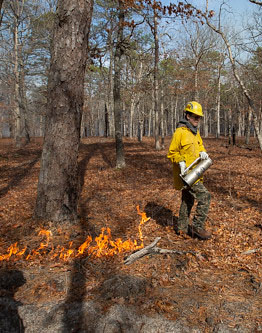 Stockton University students standing in the middle of Delaware Avenue watched smoke lifting from a charred forest floor, burned intentionally by a prescribed fire. In just a few months, the blackened ground will be green with newly generated growth, and the effects of the prescription will kindle a healthy forest ecosystem.
Year five of Stockton's forest management plan called for burning in nine experimental plots. The New Jersey Forest Fire Service conducted the recent burn, and Matthew Olson, assistant professor of Environmental Science, will work with students to study and measure the ecological consequences.
STOCKTON UNIVERSITY ATLANTIC CITY
Spring A.C. Walking Tour Series Begins March 29
Actively experience the historical landmarks, events and subcultures of greater Atlantic City through the Spring Atlantic City Walking Tour Series coordinated by Stockton Continuing Studies from 10 a.m.- noon on four Sundays in March and April.
Guided tours led by Atlantic City Historian and Stockton Adjunct Professor Dr. Levi Fox will explore the "Downbeach" neighborhoods of Lower Chelsea, Ventnor, Margate and Longport. Participants should bring walking shoes and a water bottle, as each tour will cover between two to three miles of parks, city streets and the boardwalk.
SPOTLIGHT ON
Jacobson to Publish Book on 'Adrenaline Narratives;' Alumni Contribute Research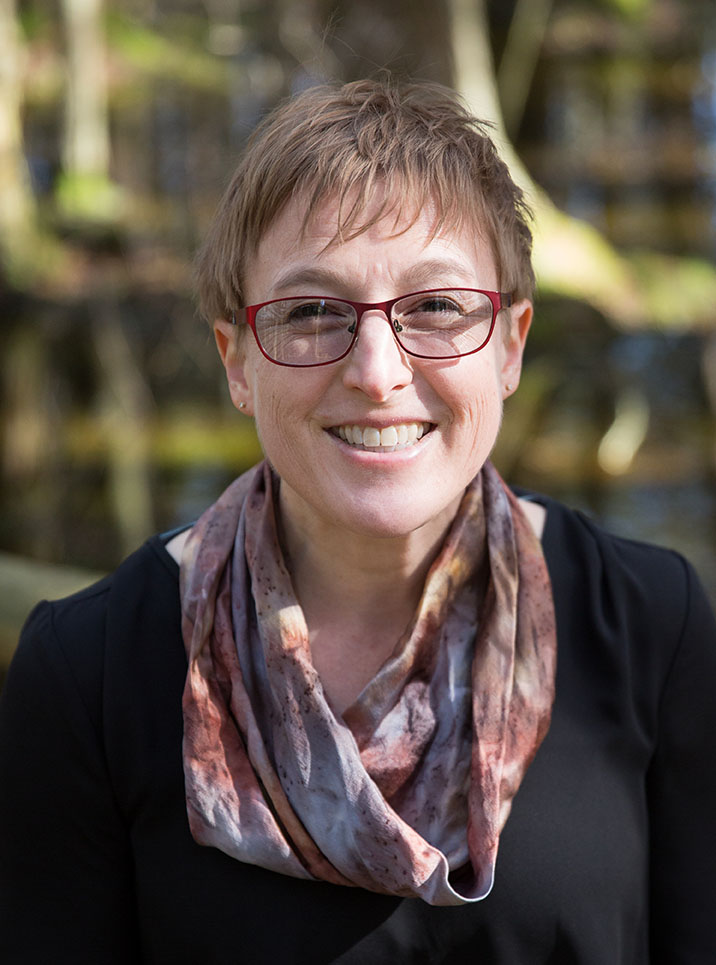 Kristin Jacobson, professor of American Literature at Stockton, collaborated with two Stockton graduates for her upcoming publication, "The American Adrenaline Narrative." The book examines the nature of perilous outdoor adventure tales, their gendered biases and how they simultaneously promote and hinder ecological sustainability.
"The research for the book was assisted by undergraduate Danielle (Nobilucci) Chisholm '11 with whom I had an independent study with, and an American Studies graduate student, Zachary St. George '10," said Jacobson. "Stockton, in addition to funding conference travel that allowed me to test early versions of this work, also supported the project by sending me to the American Association of State Colleges and Universities American Democracy Project's 'Stewardship of Public Lands' seminar in Yellowstone National Park, and a Summer 2012 NYU Faculty Resource Network scholar-in-resident program."
FRAME-WORTHY
Picture Stockton...Celebrating International Women's Day
Stockton University's Women's, Gender and Sexuality Center celebrated International Women's Day by turning a camera lens on students, faculty and staff to give them the opportunity to show their support for equality.
#EachForEqual was the theme of International Women's Day, so community members made the equal sign with their arms to show that reaching gender equality takes each one of us to achieve.
WHAT'S TRENDING #STOCKTONU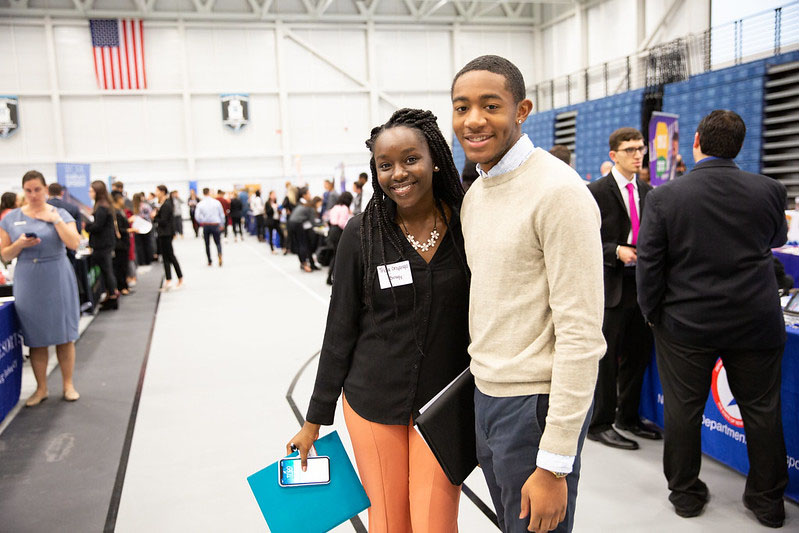 Instagram: Some 📸 from last week's Career & Internship Fair. Thank you to everyone who participated and attended! Read this feature on alumni sharing their job success stories at the fair.
FROM THE SIDELINES
Baseball: Stockton Rolls Over Eastern 13-2Stockton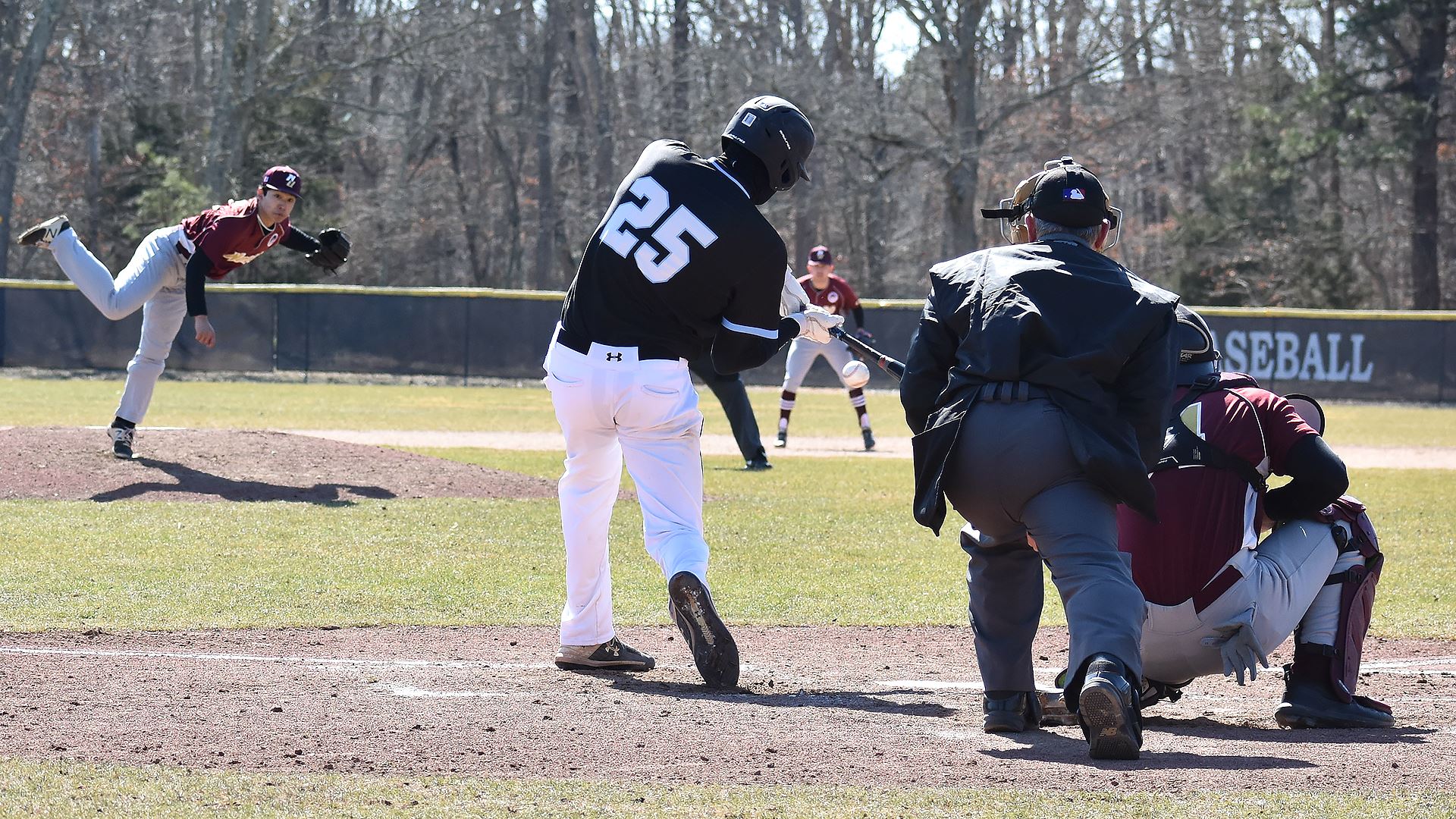 Stockton University (8-3) finished up a stretch of five home games in four days with a convincing 13-2 victory over Eastern University (6-4) on March 10. Rico Viani drove in four runs while Ryan Swift scored five runs.
MORE FROM THE HIGHLIGHT REEL:
OSPREY NOTES
2020 Visions Celebrated at Breakfast on March 12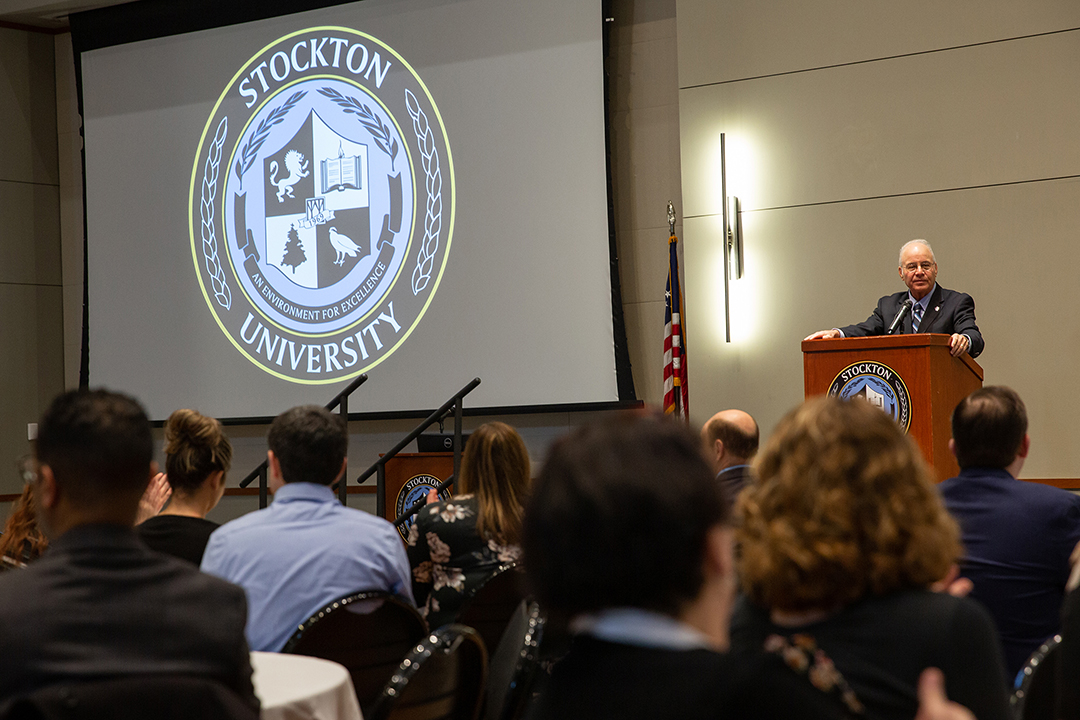 Stockton's 2020 Strategic Planning initiative has awarded $1.3 million to students, faculty and staff over the past decade to bring outstanding projects to life.
On March 12, Stockton hosted a thank-you breakfast to recognize the many individuals who guided 2020 proposals, served on review committees, and managed project budgets.
"What started over a decade ago with a simple online form and some really interesting concepts has grown into one of the most popular and successful funding sources at Stockton," said Peter Baratta, chief planning officer. "It's been amazing to see the 2020 process grow and evolve over the years."
The 2020 initiative started in 2008 with a steering committee that developed four teams for learning, engagement, globalization and sustainability, known as LEGS. Funding was allocated in 2010, and the first grants were awarded in 2011. To see the history of projects, visit the 2020 website.
A short film, produced by Kent Green of Stockton Production Services, was screened with highlights from various projects.
The new Compass Fund continues the 2020 initiative and will provide seed money for pilot projects that directly support the six areas of focus in the University's Strategic Plan 2025 - Choosing Our Path. Those areas of focus are: Inclusive Student Success, Diversity and Inclusion, Teaching and Learning, Strategic Enrollment Management, Financial Sustainability, and Campus Community, Communication, and Shared Governance.
"We are excited to see even more projects come to fruition in the months and years ahead," President Harvey Kesselman said. "These are exciting times for Stockton and the Compass Fund will continue to support innovative thinking and creative ideas."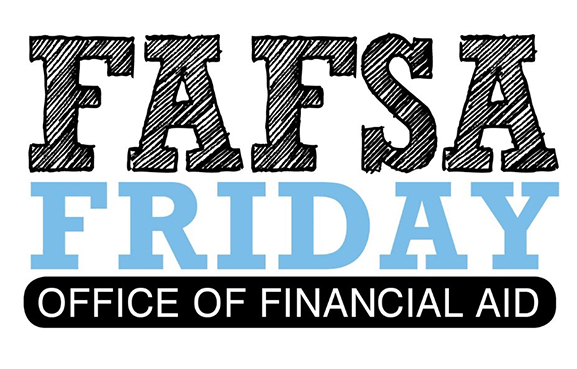 Final FAFSA Friday April 10
The Office of Financial Aid will offer one final FAFSA Friday event from 1-3 p.m., on Friday, April 10, in F210 for students who are looking to take advantage of the one-on-one assistance before the April 15 state filing deadline. Students who file a FAFSA after this date will not be considered for state financial aid programs. As always, all students with questions regarding financial aid are welcome to contact our office.